Your new movie Jurassic Block - in a few words, what is it about?
Itís about a group of people, mostly hot sorority girls, who are trapped in a prison along with some genetically modified velociraptors. When the naughty dinos get loose then the whole place is turned into a prehistoric buffet.
With Jurassic Block being a creature feature, is that a genre you can at all relate to?
Genre is like icing on the cake. Whether itís a monster movie, a zombie horror flick or anything else it still should be about the people and all the crap they have to go through. You know, all that Joseph Campbell stuff. The difference between most of the junk thatís out there and a movie like, say, Aliens, is that Cameron knows how to tell a story. Itís a rollercoaster ride, but has resonance because of the relationship between Ripley and Newt. It becomes something more than just a monster movie. That way we can relate instead of bored of cardboard cut out characters.
Now how did the project fall together in the first place, what got it off the ground?
While I was working on Jurassic Attack (aka Rise of the Dinosaurs) for producer/director Anthony Fankhauser [Anthony Fankhauser interview - click here], I would joke around about doing a sequel. I called it JA2: Electric Boogaloo. It was about dinosaurs and break dancing. Just kidding. I pitched him an idea that was a combination of Attack the Block and The Raid: Redemption. A movie about U.S. teens living in the ghetto that fight dinosaurs who take over their high rise building in the projects. It would have been kick ass! Anyway, a few months after we finished up Jurassic Attack, Fankhauser and executive producer JJ Kim called me up. They said they liked the idea, but wanted to make a few tweaksÖ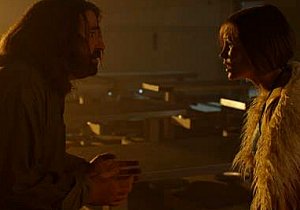 Timothy Muskatell, Vanessa V. Johnston
From what I know, your original script differed from the one that you filmed quite a bit - care to elaborate?
Luckily I hadnít started writing the script yet when Fankhauser and JJ said they wanted to do the project. Dino movies are hot property now. It used to be sharks. Now dinos. Only they didnít want ghetto teens, but rather hot sorority girls, and instead of the projects weíd set it in a prison. I was like you are going to pay me to write, direct and edit a feature film? Fuck yeah letís make it sorority girls!
How would you describe your directorial approach to your story at hand, what can you tell us about the look and feel of your movie?
Thatís quite a few different questions there! Let me try to answer them one at a time. I make my living as an editor and I approach all my films with an editorís eye. I know exactly what I need to make a scene work. I also write the scripts with that approach. I find that quite a number of scripts are somewhat unrealistic when it comes to actual production. You have a set of parameters to work with. This isnít some 200 billion dollar project. I try to walk a balance between character stuff and action set pieces. Kiss kiss, bang bang. As for the look and feel, well, thatís collaboration between the director of photography Stuart Brereton and myself. Itís a beautiful looking film in my opinion. With lots of tension! Which will be layered in with the help of sound maestro, Ben Forman.
No creature feature without creatures - so what can you tell us about Jurassic Block's creature effects?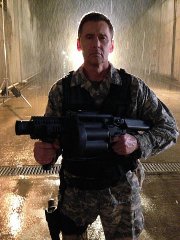 Jack Forcinito
At the moment thereís not a lot to tell. Iím in the process of editing the movie. Iím around 50 minutes. Our FX guy is going to be Joseph Lawson. He recently did another dinosaur film called Age of the Dinosaurs, and I thought the critters looked great. Weíve seen some preliminary pictures of the raptors and T-rexes, but thatís about it. We arenít going to do anything too crazy with the look. Stick to what people know. I have to lock the picture before Mr. Lawson can do this thing.
Also, since creature features tend to be a tad on the gory side, how far is your film going in terms of violence, blood and guts?
Expect to have a lot of dinosaurs ripping people apart! You can count on that! We have going to have more heads bitten off than a lifetime of post-sexual praying mantis hijinx.
What can you tell us about your key cast, and why exactly these people?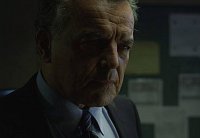 Ray Wise
Well, Iíve been waiting for almost twenty years to work with Ray Wise. I originally met him on the film Powder in 1995. I actually got him that job because I begged the director to work with Ray. I was a huge Twin Peaks fan at the time and the director hated David Lynch. So, I grabbed a bunch of crappy movies Ray had been in and edited them together. He was the only saving grace in this dreck. After showing the director my work he agreed that Ray was the MAN and the rest is history.
Kevin Gage was another actor I had wanted to work with for a while. He was a friend of Shane Ryan [Shane Ryan interview - click here], another director I frequently collaborate with. They recently did a film called An Owl in Echo Park. I appear in a brief scene where Iím the step-father to Kevinís real life son who was also in the film. It was shot over at my place so I finally got to meet Kevin in person. Heís a big teddy bear and when I wrote the script I was thinking of him for the character of Doyle.
Vernon Wells of course is an old pal. I think Iíve now put him in four films so he owes me big time!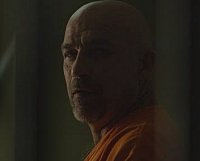 Kevin Gage
I had remembered Robert LaSardo from Nip/Tuck where he played a very memorable character. When we were talking about actors for the parts, Fankhauser brought his name up and I thought that was a great idea.
Jack ForcinitoÖ heís another regular in my films. He played the lead in Silent Night, Zombie Night and also a total asshole pimp in Breath of Hate. Heís my ĎTalbotí. He knows if thereís a character named Talbot in my script then itís been written for him.
Monique Parent, Trista Robinson, Jimmy Williams and Tim Muskatell are also people Iíve worked with in the past who I think are great and I was so fortunate to get them in this.
As for the female leads, Dana, Kayla, Sofia and VanessaÖ I didnít work with any of them previously. We found them through the old casting process. I just want to say that we had a lot of crappy actors come in and read for us, so I was so grateful to get some gals who were amazing.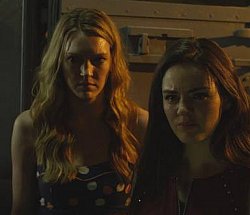 Kayla Carlyle, Dana Melanie
The best part of the process was having a fairly free hand from the producers to hire the actors I wanted to hire. I canít tell you how often I watch these monster movies and say to myself - man, these actors suck ass. If they could just hire better actors and make the story a little more interesting it would make all the difference in the world. Well, I guess itís time to put my money where my mouth is. Because we hired great actors and I was responsible for the story. So, if the movie sucks then itís all on me.
As far as I know, the majority of Jurassic Block was filmed in an abandoned prison - so what can you tell us about your location, and what were the advantages, trials and tribulations of filming there?

Feeling lucky ?
Want to
search
any of my partnershops yourself
for more, better results ?

The links below
will take you
just there!!!

Find Sean Cain
at the amazons ...

amazon.com

amazon.co.uk

amazon.de
Looking for imports ?
Find Sean Cain here ...
Something naughty ?
(Must be over 18 to go there !)

We filmed about half our shooting schedule in the Sybil Brand Institute for Women, which went defunct in the late 90ís. The script I wrote was pretty complicated in terms of having a lot of characters and tons of action. So, to do it right I really had to be organized. I could have used a couple more days in the schedule there, but you work with whatís given to you. Because the story takes place at night our ďdaysĒ began at 6pm and went until 6am. Iím sure that the crew hated that, but I didnít care. I have insomnia and stay up all night anyway.
Any future projects beyond Jurassic Block?
Iíve been talking with a couple of different parties about horror/monster movies, but nothing I can report about yet.
Your/your movie's website, Facebook, whatever else?
We have our official Facebook page, but havenít done much with it yet. You can find it at https://www.facebook.com/JurassicBlock - so come and join the fun!
Thanks for the interview!