Your new movie Liza, Liza, Skies are Grey - in a few words, what is it about, and what can you tell us about your character in it?
Liza, Liza, Skies are Grey is a coming-of-age California motorcycle road trip set in the 1960's, combining elements of Romeo & Juliet and The Odyssey.
What did you draw upon to bring your character to life, and how much Sean H. Scully can we find in Brett?
I definitely brought a lot of myself to Brett! In my opinion, the actor HAS to bring aspects of themselves to their characters since they're going to be experiencing the same emotions and thinking the same thoughts. I would say I defintely indulged in my rebellious side while I was playing Brett (which was fairly easy since I was a rebellious 17 year old at the time, haha) but I also wanted to give him more depth by really connecting with Mikey (the actress who plays Liza) and showing a more sensitive/protective side of him.
How did you get involved with the project in the first place?
Well it all started with my manager getting me the opportunity to actually go into the casting office and audition for the role of Brett. I remember I received a callback to audition in front of Terry Sanders (the director/writer/producer) [Terry Sanders interview - click here] about a week or so later. I was actually really nervous since I was just starting out my career as an actor but I guess could say I did a great job or I wouldn't have gotten the part! But while we were on set I actually asked Terry what made him book me for the part and he said that he really liked my energy and long hair!
Now you're quite a bit too young to have actually lived through the 1960s - but still, has this era any special meaning to you personally?
To be honest I love history! And the 1960's was a huge decade for fashion, music, technology, and major events, so it's a definitely a significant decade that I would love to time travel back to and experience first hand. If I had to pick a specific 1960 event to go back to, it would definitely be seeing Jimi Hendrix play the Star Spangled Banner at Woodstock!
Do talk about Liza, Liza, Skies are Grey's director Terry Sanders [Terry Sanders interview - click here], and what was your collaboration like?
I loved working with Terry! He always had a strong creative vision but was always open to new ideas and making the film stronger.
What can you tell us about the shoot as such, and the on-set atmosphere?
The atmosphere on set was always really laid back and pretty chill! I don't ever remember feeling stressed out, rushed, or out of it. I would give that atmosphere credit to Terry since everything was always carefully thought out and planned ahead of time.
Any future projects you'd like to share?
I actually have another project called The Last Champion that should be coming out soon! It's about a scandal ridden ex-Olympian wrestler who returns home to a town that has not forgiven him yet. I don't want to give too much away but I play one of the leads on the wrestling team in his hometown. I'm actually really excited and very grateful that I have two great films (Liza, Liza, Skies are Grey and The Last Champion) coming out back to back!
What got you into acting in the first place, and did you recieve any formal training on the subject?
Acting was something I just kind of fell into! When I was younger I wanted to be athlete and eventually run my dad's business in my hometown of Erie, Pennsylvania. My sister was actually the artist of my family! Growing up she was always in plays, singing and drawing. But I started to develop this passion for modeling and I eventually met my current manager at a talent search when I was 15. My mom always to wanted to move out to California so I think she saw this as a great opportunity to allow me to pursue my dreams and also live in an area that she preferred. After I moved out to Los Angeles, I got into acting classes at Anthony Meindl's Acting Workshop (which I still continue to go to today) and completely fell in love with acting. I quickly realized that I wouldn't want to do anything else and this was the career path that I would want to be on for the rest of my life!
What can you tell us about your filmwork prior to Liza, Liza, Skies are Grey?
Liza, Liza, Skies are Grey was actually the first film that I had the pleasure to lead on! The only two projects before this was a co-star role on this CBS pilot called Super Clyde (starring Rubert Grint) and a supporting role on an Independent film called Cassidy Way. This film was very important for me because it taught me what it meant to actually lead a film and all the responsibilities that come with it!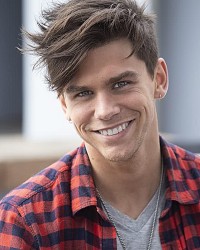 Feeling lucky ?
Want to
search
any of my partnershops yourself
for more, better results ?

The links below
will take you
just there!!!


How would you describe yourself as an actor, and some of your techniques to bring your characters to life?
I've been described by others that I've worked with as very raw actor so I love playing characters who are not so clean cut. For example, drug addicts, skinheads, rebellious individuals (basically the outcasts of society). I would say these characters are very different from who I really am but I see it as a sort of therapy for me. It allows me to get rid of the expectations and boundaries that I have for myself and forces me to indulge in the darker sides of my mind. Some people may see it as scary but I see it as freeing and liberating!
Actors (and indeed actresses) who inspire you?
I would say Heath Ledger, Leonardo DiCaprio, and River Phoenix are my top 3 actors who have inspired me the most! Leonardo's performance as an autistic child in What's Eating Gilbert Grape showed me that sometimes you have to lose your self-consciousness in order to fully live in a role! (I thought he should've won the Oscar for it!) River Phoenix's performance as a gay hustler in My Own Private Idaho showed you have to let go of expectations and boundaries that you have for yourself while you're acting! And lastly, no one beats Heath Ledger's performance as the Joker in The Dark Knight!
Your website, social media, whatever else?
My Instagram is seanscully5, my IMDb https://www.imdb.com/name/nm5597979/
Thanks for the interview!