Your upcoming film Lowlife - in a few words, what is it about?
It's a surrealistic mystery, following a lost musician and her symbiotic relationship with a living drug.
Slugs as living drugs - now how did you come up with that?
Well it was kind of inspired by that Bufo toad licking thing - the use of toad secretions as a hallucinogenic. I wanted to explore that idea of a living drug on a more mutual level, giving the part of the drug a greater role.
I also was really taken by an article on tulips. Their theory being that certain flowers have made themselves attractive to the human species, so that we would become enchanted by them, cultivate them, and spread their seed. So we tried to incorporate a bit of that philosophy.
Your personal take on drugs as such - and also on "drug movies"?
I can be a bit of a delusional escapist. Maybe that's why I'm so drawn to music and film… I think everyone has their own ways of escaping reality and that can be important.
As a filmmaker, the drug movie genre is a great way to tell a story and have flexibility to allow surreal and otherworldly elements. Drugs play a great character too. They can play the role of a friend, lover, and nemesis all at once.
How would you describe your directorial approach to your subject at hand?
Going in I knew we had limitations equipment-wise, a cast of non-actors, no crew. The focus really had to be on what we DID have--some great performers, interesting, abstract concepts, dreamy locations and low budget charm. It was filmed with this in mind. The story was pretty dark and cryptic and was shot mostly in black and white to help complement that tone. Fairly classic, static shots and lots of dramatic film noir lighting. I used a single hand camera throughout the whole production, and I wanted the shots to feel close. I'd be getting right in the thick of it with the actors, for the most part. The film is really less about addiction and more about companionship. It almost focuses more on the drug and its feelings rather than the user's. So a good part of it is seen through the drugs perspective. And it is a drug movie, so there were a couple visual effect ideas I wanted to try out, but I didn't want it to be the only purpose of the movie.
Given the surreal content of Lowlife, this question might sound a tad odd, but was any of the film based on your or your cowriter Darcy Spidle's personal experiences? And other sources of inspiration?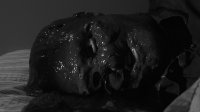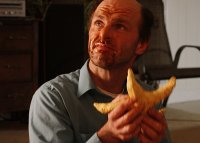 Darcy is an unusual character in real life and has some pretty wild stories for sure, but this film was purely fictional. Really, we were trying to make it as unreal as possible. Maybe a bio pic in the future tho…
I've read somewhere that Lowlife was originally going to be a short called Mantrap. What can you tell us about your initial project, it's evolution into a feature-length script, and also your collaboration with cowriter Darcy Spidle?
I've been a fan of Darcy's writing for years. He has a Burroughs-like, scuzzy, poetic way with words. I had been talking to him about wanting to do a short film with him and the lead actress, Kate Hartigan. I figured we could do a good 10 minute short with no crew and no money. I think the idea of Mantrap may have spawned from some recent controversy over a bad coyote cull in our area. The story was about an addict who left society to quit drugs and live like an animal in the deep woods. He steals from traps to survive and eventually becomes trapped himself. Then the story just seemed to get bigger. Elements and details changed until an entirely different story began to form. With the addition of the slugs the whole thing got a lot stranger, and before we knew it, it was a lot longer. Some elements are definitely still there… and I may end up impaling Darcy in a man sized trap before we're finished, who knows?
Darcy Spidle also plays the role of Asa in Lowlife. What can you tell us about him as an actor, and what made him perfect for the role?
Darcy's an old friend, a great guy and a passionate performer. I first started working with him on sketches and skit ideas when he was the self destructive front man for the punk band The Hold. For this film I was hoping to tap into some of that nihilistic punk persona. The production really had to rely on capturing those magic, performance art moments. He was able to nail a couple scenes in one take.
A few words about Katie Hartigan, who plays Elle in Lowlife, and how did you find her?
One of my early memories of Kate was her teaching me how to eat june bugs. I really loved her fearless attitude toward disgusting acts. I thought she would be great in the same way Darcy would be great--they weren't afraid to get their hands dirty or covered in slime. For this film it had to be all or nothing and she went beyond that. She also had a neat way of getting in character. She would tell us all these sad little stories just before we shot a scene to make herself cry a little... seemed to work.
A few words about the rest of your cast and crew?
For the most part, it was a very small team, mainly my wife Nancy on sound, Paul Hammond on lights and electrical, and myself on a camera. So for each of us, we were doing 10 jobs. It was really great for some of the sticky, tight scenes, but some of the bigger productions we could have used a few more souls. But everyone who was involved did an amazing job and it went surprisingly well.
What can you tell us about the shoot as such, the on-set atmosphere, outdoor shoots in an unforgiving spring, and the trials and tribulations of low-to-no budget filmmaking as such?
A lot of the shooting was done in the early spring due to some deadlines. So a lot of the out door, summer scenes were really quite cold and uncomfortable, especially in the water and mud. Everything we used for the production was borrowed from friends. The booms, dollies, props and costumes were all built with whatever we had or we were able to get. There was a lot of duct tape involved. We kind of had all of this in mind when we were writing the screenplay, so I think we were able to pull everything off okay. We shot the whole thing on the weekends between January to May and the week days were spent solidifying scripts, locations and making props. It was a pretty loose atmosphere on set. We were all friends and all the shoot days would usually end in a party of some sort usually involving homemade pizza.
I think a key element of Lowlife is its locations. So what can you tell us about the Nova Scotian landscapes you use, and how did you find them?
Darcy, Nancy and I each had recently moved to coastal communities outside the city. I grew up on the Ocean and I've always had a connection with it. Between the Ocean rumble, wind and fog, there's a certain dreaminess here. When writing Lowlife, Darcy and I were really inspired by our new surroundings and it wasn't hard to find some really neat looking locations. The area Nancy and I moved to is fairy vacant and close to a provincial park, so we were able to have lots of privacy shooting the exterior stuff without any interruptions. The landscape is just beautiful here. Rugged, weathered, green turf, wind sculpted fir trees. A lot of moss and granite boulders. Lots to work with.
The $64-question of course: When and where will Lowlife be released, tentatively?
We're going to shoot for the fall film festival circuit and then later try doing a Canadian tour to galleries and small theatres. A couple years ago I went to see Crispin Glover's What Is It? - I was really inspired by how he refused to release it on DVD and just toured it around like a show. I've been touring in bands half of my life so it feels natural to do the same with this. So far we've had a lot of people offering to screen it in different areas, and I'd love to hear from more, especially outside of Canada. As for a hard copy, we'll have to wait and see. I think we'll release it in a few ways. We just want as many people to see it as possible.
Let's go all the way back to the beginning of your career: What got you into filmmaking in the first place, and did you receive any formal training on the subject?
I got started by making videos for my bands with cheap digital cameras. I would cut them on whatever editing software I could get my hands on. When our band was finished recording and releasing a record, it was a great way to keep momentum and still be creative. I have no formal training, just read a lot and studied my favourite films. Still use a lot of cheap digital cameras.
Directors who inspire you?
I pretty well love everything by Cronenburg, Lynch, Polanski… Big fan of Kubrick, Hitchcock. Travonofski and Lars Von Trier are doing great things. Am a sucker for 80's horror and scifi films and non-CGI visual effects. Also it's always very inspiring to have such great talent around you, local heros Mike Clattenburg and Jason Eisner are doing some amazing stuff right now.
Your favourite movies?

Feeling lucky ?
Want to
search
any of my partnershops yourself
for more, better results ?

The links below
will take you
just there!!!

Find Seth Smith
at the amazons ...

amazon.com

amazon.co.uk

amazon.de
Looking for imports ?
Find Seth Smith here ...
Something naughty ?
(Must be over 18 to go there !)

A couple off the top of my head... Repulsion, Dawn Of The Dead, Naked Lunch, Buffallo '66, Eraserhead, The Fly, Eyes Without A Face, Enemy Mine, The Thing, Benji the Hunted.
... and of course, films you really deplore?
Ha, I really get sick of some of the Hollywood trends that keep recycling the same humanure. And please no more films that use the teal/orange color scheme.
Your/your film's website, Facebook, whatever else?
Facebook: http://facebook.com/lowlifemovie
Donate: http://www.indiegogo.com/LOWLIFE-1
Website: http://lowlife-movie.com
Anything else you are dying to mention and I have only forgotten to ask?
Just like to say, we're getting closer to completing this film but have tapped out our bank accounts. We just set up an indiegogo page. If anyone feels like helping us finish it, we appreciate every penny! http://www.indiegogo.com/LOWLIFE-1. Also if anyone's interested in screening the film in their area, let us know: lowlifefilm@gmail.com
Thanks a lot.
Thanks for the interview!