Your new movie Somebody's Darling - in a few words, what is it about?
It's an indie supernatural thriller about a mysterious, sinister fraternity and its president obsessing over a coed. It's a love letter to the slow burn horror movies of the 70's that also happens to touch on current issues of rape culture, privilege, and even idealization of the Confederacy.
How did the project fall together in the first place?
The original writer and producer, Sebastian Mathews, wanted to produce his first short film, which I was chosen to direct. I then got the crazy idea of re-writing it and expanding it slowly out of pocket into a first feature
Do talk about Somebody's Darling's producer Sebastian Mathews, who also wrote the story your movie's based on! And what was your collaboration like?
Sebastian graduated with a philosophy degree from the prestigious Rice University in Houston, and then went on to get a graduate degree in the film producer track at USC. We started this project and shot half the footage in the short time he had in between schools. He was very generous and open-minded in letting me rewrite his short film and expand it. During production we would often butt heads on details (mostly what the title should be), but I have to admit, in the long run, he was often right about shortening scenes or getting more focussed. I always sent him samples of music, edits, designs, drafts, etc. He in turn would screen scenes or films he admired to illustrate what he hoped to build towards. Sebastian now lives in Los Angeles and has two cool stores there: Touch Vinyl and Cinefile Video.
What were your sources of inspiration when scripting Somebody's Darling, and is any of it, however loosely, based on your own college experiences?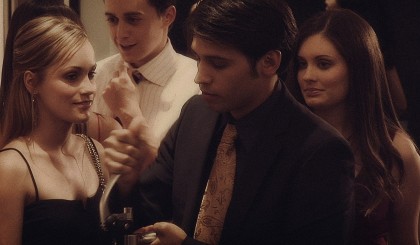 I was really inspired by my own fandom for the movies I had seen as a kid, works from the 70's such as The Exorcist, The Shining (1980), Altered States, but I was also including diluted influence from films from the 2000's like Election and The Rules of Attraction. A lot of the characters and funny details of college culture were actually inspired by friends and situations I witnessed post college in that strange time before finding a career and adult identity. Talk of therapists, finding "the one", drugs at upscale parties… all real with me as a fly on the wall (I was and am a film nerd outsider). I included it with an intent to be satirical. The element of misogyny and rape culture was sadly something I did also see with cliques of "guys just being guys". It was always a bit alien to me personally, I'm not the most macho guy, and I was the furthest thing from a frat guy in college. That's why I felt comfortable making the young men into caricatures and monstrous villains in the movie.
Do talk about your film's approach to horror for a bit!
There's a debate going on recently about what is horror and what isn't. I think The Witch set off a lot of arguments. I'm on the side that the The Witch is obviously and absolutely a horror film, and I also consider films like Seven or Silence of the Lambs to be strong horror films. People argue with me that those are not horror, and I'll simply open most any book about horror films and show them those titles are included. I wanted to make my own slow burn, atmospheric, mythical horror film. One that did not use contemporary horror tropes of gore, special effects, or found footage. I wanted to shoot it with the formal style of something as old school as West Side Story. And I was challenged to do it for less than the cost of a Honda Civic.
But the other thing I wanted to do was to horrify an audience with one strong finale. I wanted to slowly build to that one moment to try see if it could "bug" more, you know get under the skin. I also wanted to not have the intermittent "fun" "creative" graphic murders that are a staple of horror now. How about one death, and making that death feel… strong. I wanted return some weight and respect to death in the genre. At least for the handfuls of people who see this little production!
From what I know, Somebody's Darling was at least partly filmed on actual college campusses - so what were the challenges filming there?
Really, since we filmed in Houston where rules and fees for filming are lax, and we looked like students ourselves, we were never even approached by security or administration to jump through hoops of red tape. It really helped that Sebastian was alumni at Rice where we filmed most of it. Other areas were simply open to the public back then. Sebastian was also incredibly skilled at finding great locations that fleshed out the world, from the frat house to the dorm.
What can you tell us about your overall directorial approach to your story at hand?
One problem with having such a low budget is that we often had to settle for single or double takes at the most. This presented a real challenge to properly directing and shaping the mood of the performances and flow of the action. To save time and keep everything fluid, I would actually storyboard right there on the set while actors were getting hair and makeup done. I would draw on the flip side of script pages! Then, after giving those to my DP and Sebastian, I would tell the actor my impression of the mood, and give them little character cues of thoughts in their mind that were not obvious in the dialog or narrative. But you know, my whole style changed as we slowly expanded into a feature. I started to meet with actors beforehand and rehearse sometimes even shoot rough versions of scenes in my living room, watch it, and then rewrite based on the strengths and weaknesses that surfaced. Towards the end, certain added scenes, like an argument in an alley were afforded more takes until I felt it was convincing. And those work a lot better.
From what I know, for budgetary reasons you wore many hats on Somebody's Darling - so what did you enjoy the most, what could you have done without?
Outside of being on set and getting these imagined moments happening one shot at time on camera (my favorite thing), I really liked working on the music. It was a huge challenge because I wanted a thematic almost orchestral score. I had delusions of John Barry and Jerry Goldsmith, but no musical education or experience… or budget! I had to come up with it myself through sheer will power and instinct; by ear and my ability to use Pro Tools. Luckily I met Collin McRae, the musician/artist who played violin and cello on the score and ended up really helping to flesh it all out. I'm probably most proud of the music on this project.
I could have done without putting on the producer's hat for some of the additional scenes I dreamed up (Sebastian had moved on to California to start his grad school at that point). Wrangling schedules, and getting releases signed is dry work.
Do talk about your key cast, and why exactly these people?
Well everyone was cast through a series of auditions in a theater space at St. Thomas University. Almost everyone who made the cut happened to be from Austin at that time. Paul Galvan, our lead actor, actually sent in a video before his audition in which he acted out the entire final monologue. We believed that if he put that much work into his initial email reply before the audition… he might really be intense… which would be great. Believe it or not, I also appreciated that our decided leads somewhat reminded me of old Hollywood actors. I thought Jessa Faye Settles had a Vivian Leigh thing going on from Gone With the Wind. It all worked in my mind for a story about some strange looped and cursed existences in time.
A few words about the shoot as such, and the on-set atmosphere?
The set was often hilarious behind the scenes. I'm a very mellow on set personality, and even if we were running into problems, I kept it all calm, and creative. That put everyone at ease, and there are tons outtakes of clowning around after the "cut" or before the "action". You'd be surprised with how comedic things were. To tell the truth the entire movie was written to be a bit satirical, but because of the one take rushed schedule, the mood on camera seemed a bit more serious than planned. We just to had to go with it to get it all in the can
Anything you can tell us about the audience and critical reception of Somebody's Darling?
Well, as would be expected by a low budget movie that tries to go against the grain of current horror, we get a lot of divided reaction. But luckily, I have had a few people tell me they really were drawn in and quite surprised by it in a great way. After my screening in Mexico at the Feratum Festival, one guy came up to me at an after party, shook my hand, and through a translator, praised the film and claimed to really understand the character of Christian Roane. He told me I had tapped into something really relatable to him. I responded (through the translator) that I hoped he hadn't murdered his girlfriend!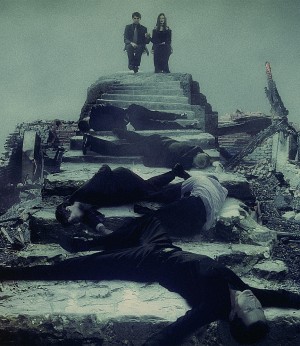 On another note, I have also seen how the film brings about an almost uncomfortable element of misogyny or complicity in some surprising people. I sent it for notes from a film society group and one member wrote back highly critical of the plot and it's implications. She felt that I might be pro-rape culture because of the anti-hero perspective and violent conclusion (I'm not at all!… but I did throw in a 70's style downer ending to imply this was an unsolved haunting problem). But then this critic went on to say that the female character Sarah should have known that her actions would lead to bad things, and that it was somewhat her fault… Wow… that is exactly a symptom of rape culture! I thought I was very careful to also make sure Sarah never foolishly endangered herself or "led him on" in any conscious way. Her nursing Christian as he grew sick was out of humanity and her role as an eternal nurse angel figure. What do you think?
Any future projects you'd like to share?
During the years that went into making this feature, I also made a few shorts, some of which themselves screened at festivals. Right now I have been touring a few great festivals with a new short called Acid Test that I was producer, DP, and editor on. We're trying to develop that into a feature. I'm also a few pages into a draft of a feature horror comedy script. I'm going to try to write a few things in 2018.
Trailer for Acid Test: https://vimeo.com/233048656
What got you into making movies in the first place, and did you receive any formal training on the subject?
I, like many, picked up a super-8 camera and started with stop motion Star Wars themed movies with play dough and action figures as a child. Before that, I had been making audio stories in a cassette recorder, complete with sound effects. I think I have always loved to try to make and exhibit narratives. I did go through the undergrad film program at UT in Austin.
What can you tell us about your filmwork prior to Somebody's Darling?
Prior to Somebody's Darling I had made short films in college, and helped friends make their own indie features both in Austin, and Houston. My 2006 experimental short film called Snail screened and won an award at SXSW.
Link to Snail: https://vimeo.com/7256558
How would you describe yourself as a director?
I'm a director that is trying to guide many elements all at the same time into (hopefully!) a state of cohesion. I'm as concerned with the set design, or blocking, as I am with the script. I'm the type who can imagine an entire scene down to the lenses used, but I am also flexible, and roll with the type of surprising challenges that rise up. I understand that the best version of a scene is what works at the time and place you shoot… as opposed to exactly what you imagined beforehand in your head.
Filmmakers who inspire you?
For fantastic horror and the mythical, first to mind are directors that captured my respect as kid, odd ones like John Boorman, Brian DePalma, William Friedkin, Tobe Hooper, Stanley Kubrick… There are many unconscious and sometimes very conscious homages to them in our little movie.
Your favourite movies?
Horror, well I'm quite predictable with some mega popular titles I named earlier, but I do like some forgotten ones like The Howling or Invasion of the Body Snatchers (1978). My favorite movie of all time is not horror: Close Encounters of the Third Kind. Again a film from my childhood. I've probably seen The Shining more than 50 times. That's comfort food!
... and of course, films you really deplore?
Well, I have become really bored with the big budget superhero movies of the 2010's that have no feeling of danger and all end in some kind of CG particle storm of shapes in some apocalyptic climax. I'm also annoyed by the horror films that rely solely on VFX and jump scares.

Feeling lucky ?
Want to
search
any of my partnershops yourself
for more, better results ?

The links below
will take you
just there!!!


Your/your movie's website, Facebook, whatever else?
www.somebodysdarlingthemovie.com
https://www.facebook.com/somebodysdarlingthemovie/
Watch the movie:
iTunes: https://t.co/UnEEdCDJnj
Amazon: http://www.amazon.com/exec/obidos/ASIN/B0772CYQ4F
Google Play: https://play.google.com/store/movies/details/Somebody_s_Darling?id=ZIVnSnv8uGE
Vudu: https://www.vudu.com/movies/Movies_iPad.html#!content/911411/Somebodys-Darling
Thanks for the interview!