Your new movie All Girls Weekend - in a few words, what is it all about, and what can you tell us about your character in it?
This movie is about a group of women rekindling old friendships and building new ones while enjoying an adventurous weekend and becoming one with nature, literally. My character Annie was invited along by her friend and coworker Nancy to calm her hurting heart from a recent divorce with her high school sweetheart. She was just getting comfortable letting her hair down on this weekend get away, not knowing it would be her last.
What did you draw upon to bring your character to life, and how much Sharron Calvin can we find in Annie, actually?
Being stranded in the woods with no cell phone service was enough to get the feelings and emotions needed. Some of the actions behind Annieís character were relatable besides her eventually dying. Sharron would have fought her way out injured and all haha.
How did you get involved with the project in the first place? And to what extent could you identify with All Girls Weekend's horror theme?
I actually found this casting on Facebook, auditioned and got the role. I can identify a little because I once was in the woods with no cell service and getting lost is easy ... very scary.
What can you tell us about All Girls Weekend's director Lou Simon [Lou Simon interview - click here], and what was your collaboration like?
Sheís fun to work with and the storyline is captivating. Lou had a vision and I was truly thankful to be a part of helping bring her work to life.
With the film being filmed mostly outdoors in wintery conditions, how did that affect your performance, and do you consider yourself at all an outdoorsy kind of woman?
Iím definitely into the outdoors minus the bugs. Truth be told, I'd save your life from a snake but if we encounter a spider you're going to have to save mine haha. Now as far as filming in the wintery weather for me, it was only cold at night, so when the sun set it made me want to nail each scene on the first take. But since that didnít happen (laughing) the crew was so amazing keeping us warm and comfortable as much as possible. They were great!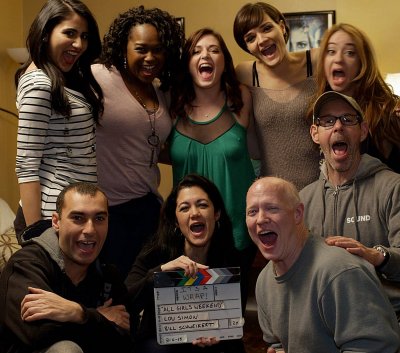 back row: Karishma Lakhani, Sharron, Katie Carpenter, Jamie Bernadette, Gema Calero
middle: Todd Voorhees
front row: Alan Hanna, Lou Simon, Jeff Bourdett
What can you tell us about the shoot as such, and the on-set atmosphere?
Well there was this beautiful couple that allowed us to film on their lovely property which was huge. And filming was fun, exhilarating, exciting and an experience. The crew and cast were down to earth and easy to get along with.
Any future projects you'd like to share?
As of recently, I was just added to a series called AtlantaSea, a mermaid fantasy drama shooting here in Atlanta this summer. So I will be a beautiful majestic mermaid summer 2016. However, it doesn't stop there so be sure to follow me on Facebook, Instagram and Twitter to show support, follow my journey and for updates.
What got you into acting in the first place, and did you receive any formal training on the subject?
Growing up I knew I was different. I watched all the teen TV shows and developed crushes on the actors, heart throbbing boy bands/groups and young solo artists. Seeing their lifestyles, not knowing it wasnít real, I wanted it and wanted to meet them. So in my early teen years my goal was to one day move to California. But as I got older, maybe early 20ís, that's when the understanding of what acting really was hit me. At that point, I took a few classes and realized this could totally be fun taking on different personas and getting paid for it. And so I pursued it.
What can you tell us about your filmwork prior to All Girls Weekend?
Well, I started out doing student films and industrial videos in my hometown of Norfolk, Virginia, which eventually led to the lead role in the documentary for Dwayne Wadeís mom Jolinda Wade called He Can Bring You Through (YouTube). Not too long after, I decided to relocate to Georgia and thatís where I started background and stand-in work for major productions. In addition to that, I completed my first short film Take a Stand as Professor Thomas (YouTube). After that project, l was in two independent films, one called Choices as Neta, a young teen who had to make hard decisions, one leading to an abortion. The other is called A Man in Desperation, I played Beth the sexy girlfriend of a cop.
How would you describe yourself as an actress, and some of your techniques to bring your characters to life?
Versatile. I can go from sultry to a soccer mom, the girl next door to a dominant cop, running scared in a horror film or an emotionally battered woman. My technique when auditioning and accepting a role, I like to make sure I can relate somewhat to the character. One awesome ability I possess is that I can cry on cue, so thatís fun.
Actresses (and indeed actors) who inspire you?
The Virginia native herself, Sandra Bullock, is my favorite actress.
Your favourite movies?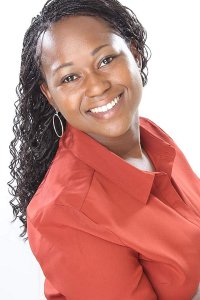 Feeling lucky ?
Want to
search
any of my partnershops yourself
for more, better results ?

The links below
will take you
just there!!!


Just to name a few: The Blindside, Transformers, Labyrinth, Clueless, The Hangover (part 1), Iron Man, Bad Boys, Children of the Corn (part 1), Ray, FaceOff, Norbit, Home Alone 1-3, The Goonies, Despicable Me, Couples Retreat, X-Men and last but not least The Twilight Saga.
... and of course, films you really deplore?
I'm not a big fan of corny comedies, urban movies with realistic violence or clichť films.
Your website, Facebook, whatever else?
www.Instagram.com/Sharron_Calvin
Anything else you're dying to mention and I have merely forgotten to ask?
My husband Terry and I are proud first time parents to a beautiful, intelligent perfect baby girl name Nyliah. Also, while in my 3rd trimester I had an amazing opportunity to be part of a great cause, The Belly Art Project, which features celebrity moms. This book is about women empowerment and moms supporting one another and itís scheduled to release October 11th, 2016. Lastly, I really appreciate you taking the time getting to know Sharron it was a pleasure and thank you.
Thanks for the interview!