Your upcoming series There Goes Da Neighba'hood - in a few words, what's it all going to be about?
The lead characters - Todd and Cyndi White - are a married couple with a real sheltered, white, suburban, middle-class background. Imagine a modern-day Carol and Mike Brady, only slightly more hip. Through a series of very shady and questionable circumstances, they find themselves saddled with Mubia Abul-Jama (the Black Devil Doll) as an unwelcome houseguest. What happens after that is a series of terribly funny, cringe-inducing, and often life-threatening situations that always go horribly wrong for the Whites when Mubia's completely over-the-top criminal ghetto lifestyle clashes with their lilly white world. In a nutshell, it's Webster meets Training Day, with an angry black militant puppet. Just really, really, fucked up and ridiculously funny.
With There Goes Da Neighba'hood being based on your movie Black Devil Doll - what convinced you to spin the concept of the movie off into a series, and how did the project get off the ground to begin with?
We had been wanting to do a sequel since before we were even finished with Black Devil Doll. It just always seemed like it was ripe for a sequel, and the audience clearly seems to love the Mubia character. Problem was, we just never had that "HOLY FUCK!" moment with any of the sequel outlines that we came up with. Plenty of strong and funny ideas, don't get me wrong. But they ultimately just didn't feel like they were different enough from the original to really motivate us to dive in. Even on the budgetary scale we're used to working with, these things are still a massive undertaking. I guess ultimately we wanted to do something more out of left field, something more innovative and challenging. And once Osteen and Mitch finished the scripts, there was just no turning back for any of us. We knew immediately that it was too fucking nuts not to produce it.
I've read somewhere that you plan to base There Goes Da Neighba'hood on 1980's style sitcoms (of course with a naughty twist) - care to elaborate, and what do you think makes your character work in these surroundings especially well?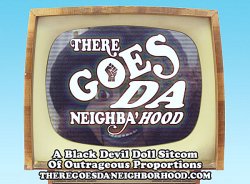 In terms of the general visual aspects of capturing that period of TV, it's going to be mainly accomplished with things like the sets, a laugh-track, the lighting, camera angles, things like that. As far as story wise goes, it's that whole "fish-out-of-water"character scenario that has always been such a plot staple with sitcoms. Once we had the basic outline and primary characters fleshed-out, that shit practically wrote itself. What are the possible kinds of things that happen when you're houseguest is a foul-mouthed, murderous, rapist black puppet that hates white people? What is the landlord's and neighbors' reaction? What happens if you bring the boss and his wife home for dinner? What if you have to leave him to take care of the house for the weekend? Do you make him get a job and contribute? Do you let him bring women home? Do they live by a school? The story possibilities are endless!
Besides Black Devil Doll and sitcoms, any other sources of inspiration for There Goes Da Neighba'hood?
In a way, everything that we watch kinda influences us. Do you remember the sitcom bit with Rodney Dangerfield in Natural Born Killers? That should give you a bit of a hint as to what we're up to.
The humour of Black Devil Doll was (more than) a bit on the politically incorrect and intentionally crude side. To what extent will that translate into the series? Also concerning sex and violence, will you restrain yourself in the new format?
There will be ZERO restraint. That is the shit that makes us all laugh out loud, so that will always be our signature thing. Ultimately, we like to create stuff that we'd like to see ourselves. We're just happy that there are a bunch of other twisted fuckers out there in the audience that like the same weird shit as us. But I do have to admit that the overall tone and humor of the series is going to be a whole lot smarter. We're all proud of how absurd Black Devil Doll was, but the goal with the series is to crank everything up a notch. It's sill going to be completely ridiculous, but I'm guessing people are going to spend a little more time after they watch it, thinking about some of the subtle and not-so subtle subtexts in some of the jokes.
Do talk about your key crew (including yourself) for a bit, and what is each of you going to bring to the table?
It's the same core guys that were involved with getting the Black Devil Doll movie produced, as well as both Brawlin' Broads-titles. John Osteen, Mitchell Boone, Jonathan "Louis" Lewis [Jonathan Lewis interview - click here], and myself. I could yammer on all day about what each one of them brings to the table, but I think the best way to sum it up is by saying that collectively we form a real cohesive and potent creative production team. We've got some pretty effective skills in everything from writing and producing, to shooting, editing, and visual and practical effects, to merchandising and marketing. We've all worked in so many different areas of production. Everyone individually brings a lot of different skills to the table, we've got a lot of Jack-Of-All-Trades on the team.
Anything you can tell us about your key cast yet?
By the time this interview is published, we will have already announced our two lead actors, Heidi Honeycutt (Retardead, Erection) and Trent Haaga (Toxic Avenger IV, Dead Girl), who will be playing Cindy and Todd White. And we are beyond thrilled that we landed Trent and Heidi for those roles! They share a ton of screen time with Mubia, so it was really important that we cast the perfect pair of actors to play "The Whites". Not only are they both hugely talented actors with great comedic abilities and genuine experience, but they're both accomplished writers. The writing part of There Goes Da Neighba'hood is finished, but it's just nice to have that sort of creative juice on the team. They're both just all-around cool, super creative people. We've already had a chance to shoot and produce a few things with them for this project, and the magic we were looking for was clearly there. Everyone is going to love the dynamic between "The Whites" and Mubia - it's fucking hysterical! And I should mention that we have some other cool casting news right around the corner. The plan is to have a special guest star on every episode, and that idea is coming together nicely. We'll probably only announce one or two of them before we start principal photography, but our first guest is locked-down tight, and we can't wait to let everyone know who it is. Very soon!
As far as I know, as we speak There Goes Da Neighba'hood is still in its fundraising stages - so what can you tell us about your fundraising efforts?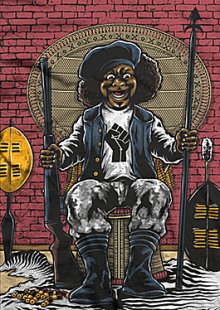 I can tell you that we really need that fucking money in order to get this bastard done, and done in a timely fashion. That's for damn sure! This thing has already been in the writing, development, and pre-production stages for the better part of a year. We were reluctant to go the fan-funding route at first, but we just didn't see any other way to pull it off. We're only trying to raise about half the money - the rest is from our own pockets - but it's still a healthy chunk of change. But when people see what we're able to accomplish with that budget, they're going to shit their collective pants. Plus, we've made sure to offer up some really killer perks for their contributions. Now we love the idea of fan-funding it, and we're having a killer time with it! We just want to produce a killer series and make all the fans happy... it really is that simple. But we do need help getting it done.
Once the funds are raised, how do you plan to proceed, and when and where will the series be released (even if I know it's waaay too early to ask)? And considering the format, are you planning to actually pitch the series to conventional TV stations?
Once we have the funds, we'll wrap pre-production and be shooting within a couple months.
We know we'll get attention from a cable network or two because that has already actually happened - just since we launched the fund-raising campaign. But in all honestly, we don't give a fuck if anyone is interested in picking it up for television broadcast. Making it available on DVD/Blu-Ray and online Video-On-Demand will make us and the fans all plenty happy. We certainly would love to keep increasing our audience, but not at the expense of the final product. We don't need some dick in a suit telling us what's funny and entertaining. Fuck that shit.
And we fully expect to have it finished and released within a year.
Any future projects beyond There Goes Da Neighba'hood (both with and without a black devil doll)?

Feeling lucky ?
Want to
search
any of my partnershops yourself
for more, better results ?

The links below
will take you
just there!!!

Find Shawn Lewis
at the amazons ...

amazon.com

amazon.co.uk

amazon.de
Looking for imports ?
Find Shawn Lewis here ...
Something naughty ?
(Must be over 18 to go there !)

We've always got a bunch of other ideas brewing, but nothing worth mentioning at this point. Once There Goes Da Neighba'hood locked into place with us, that's all we've really been able to focus on.
Your/your series' website, Facebook, IndieGoGo, whatever else?
The main website is pretty much the gateway to all things Black Devil Doll: www.blackdevildoll.com
But we're cool with a direct link to the campaign page: http://igg.me/at/bddtv
Anything else you are dying to mention and I have merely forgotten to ask?
I think I might be suffering from that Irritable Bowel Syndrome. I've been spending a lot of time on the shitter lately.
Thanks for the interview!