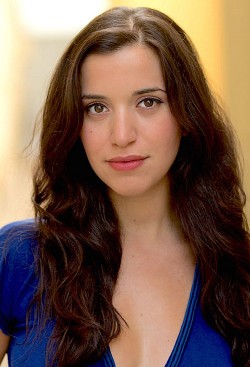 photo by Raffael Dickreuter
First of all, why don't you introduce yourself to those of us who don't already know who you are?
Hi everyone! My name is Shelly Skandrani, Iím a classically trained actress, Iíve worked in theater as well as on films and television for over twenty years. I was born in Tel-Aviv Israel, and I grew up in London, England, and Iíve traveled extensively, so Iím a strange and varied mix of a few cultures, and I have a ton of great stories to tell!
How would you describe yourself as an actress, and some of your techniques to bring your characters to life?
Iíd say Iím quite a versatile actress, I like to play a wide range of roles from all walks of life. Iím very interested in different cultures, life styles and history, so I enjoy exploring many angles of the human condition.
My techniques vary depending on the role. Some roles require more internal work, I break down the script into units to help me figure out its rhythm, I use substitutions when working on relationships with different characters and I analyze what the character says and what the character does, and the space created by the difference between the two. If the character is really extreme or very different from who I am, I also enjoy dressing in their wardrobe, and using the props they would use. Thereís also a great movement technique called Laban Technique, which really helps me with the body language and movement of characters that are more distant from who I am naturally, itís pretty incredible how body language can change a character, both for the actor and for the viewer.
Any current and future projects you'd like to share?
I actually have a really cool line-up of projects, I canít reveal them all yet but Iíll share the ones I can.
I just finished filming a pitch for the Women in Comedy competition for HBO, which was directed by Natalie Marciano, whoís a comedy genius! Itís exciting because there are so many new opportunities for women today. The films will be viewed by Ada Chiaghana, the director of comedy programming, and Natalie has a few comedy TV shows which she wants to introduce to Ada, and wants me to star in. I love HBO, so that would be an incredible opportunity for me, and so much fun!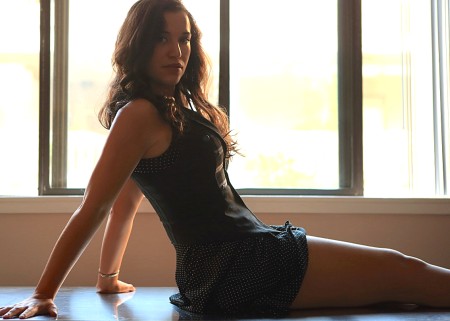 photo by Emad Asfoury
Iíll also be starring in an Independent feature film called Phoning It In about Astrid, a super indecisive woman whose life is in shambles because sheís too scared to make any choices. Itís a really interesting take on modern society, where we have all the possibilities and are overwhelmed with which direction to take, I think it creates a lot of anxiety in people, decision-making is definitely a skill to be learned.
What got you into acting in the first place, and what can you tell us about your education on the subject?
I started acting because it was fun!
I was nine when I started in the theater, I loved the stage, it made me feel alive, I loved the adrenaline. I loved working as a team with interesting, exotic and wonderful people, with adults who spoke with me as if I was their equal, as if my opinion mattered, who allowed me to be who I am without any restrictions or expectations. It felt like a family. I like to say that I ran away and joined the circus. It was glorious! From ages nine to sixteen I took weekly acting classes at the Old Bull Theatre in London, I also performed in two productions every year, so I spent about eight months of the year in rehearsals and performances. When I moved to Israel I did a one year foundation course at Nissan Nativ Acting School and then a three year, incredibly intensive, degree at Beit Zvi Performing Arts Academy, where I graduated Summa Cum Laude. Then of course upon arriving in Los Angeles I took weekly classes, and comedy improv, to get acquainted with the local styles and requirements.
Itís like being an athlete, you have to stay in shape.
According to my information, your first movie was the critically acclaimed The Devil's Arithmetic - so do talk about that one, your character in it, and how did you get the role in the first place?
The Devilís Arithmetic is a Showtime produced film made for Hallmark and based on the book by Jane Yolen. Dustin Hoffman and Mimi Rogers are producers on it. It tells the story of Hannah (Kirsten Dunst) who travels back in time to the Holocaust and lives through the horrors her grandparents survived. She meets her cousin (Brittany Murphy) in 1942 and they go to Leahís wedding (played by myself) where the Nazi soldiers destroy the wedding and gather the bride and groom and all the guests and take them to concentration camps. In the camp, the film follows their despair as everything around them falls apart. Itís an incredibly intense and sad film. My role was truly challenging. I went from being a young and glowing bride, to being physically forced into trucks, and then had my head shaved (for real) and then I lost my husband, I lost my mind and then of courseÖ the gas chambers. It was a lot to handle at a young age, but it was an important film, especially as Iím Jewish and had family friends who were survivors. I knew it was an important and powerful story to tell.
The journey to getting the role is quite interesting. I was told by my acting teacher about a lead role in a film called The Lovers based on a novel by an Israeli author called A. B. Yehoshua. It was a great book and I went through a bunch of auditions and eventually I got the part! It was to be shot in Israel and Italy. So my dad called the top childrenís agency in London at the time, Sylvia Young, and told them ĒMy daughter is the lead in a film, she needs an agentĒÖ it worked! A week later Sylvia calls me in to her office, she welcomes me with a sad face. ďIíve got some good news and some bad newsĒ she says, donít we all know THAT phrase? LOL. The bad news was that they couldnít get me a work visa for Italy and I lost the lead role. The good news was she got me an audition for The Devilís Arithmetic! Any other kid would have been really depressed, and it would have affected their audition, but back then, I took things really lightly - so I said ďOk Iíll just do that film instead thenĒ LOL!! Sylvia chuckled, she thought I was being cute. But hey, I got the part!
Looking back, Sylvia must have thought my dad and I were aliens, we were so clueless, but somehow we made it happen!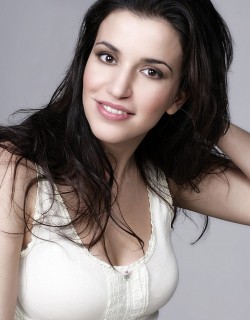 photo by Ilan Basor
Other past films of yours you'd like to talk about, and how do you think you've grown as an actress?
I was in a cute comedic film called The Marriage Agreement back in Israel, which was directed by the legendary filmmaker Menahem Golan (The Delta Force, The Finest Hour, Journey to the Center of the Earth). Itís a comedy about a couple that after 20 years of marriage, rediscover their love for each other while searching for their marriage agreement, which they need for their daughterís wedding ceremony.
I played the supporting role of Haviva, a young woman that the husband to be and the father of the bride, meet at the beach with her friend. We are the ďforbidden fruitĒ who then hang around with them and eventually take them to a party and distract them from their mission by dancing and being fun and vibrant, not knowing that they were both spoken for! It was a really great role! I was doing a lot of theater at the time, and it was all really heavy dramas and tragedies, my friends were convinced I could never be in a comedy, ever, I completely proved them wrong!
I was just in a film called 9 Ways To Hell and itís a horror anthology film based on Danteís Inferno, and his nine levels hell. I am the lead of the segment based around the ďFraudĒ level. Itís funny because I cannot watch horror films! I get nightmares, Iím such a wimp! But acting in one was really fun and liberating. I donít know if Iíll be able to go to the red carpet screening though LOL - i might just have to sneak out or cover my eyes!
I think Iíve changed a lot as a person in my nine years in Los Angeles, Iíve grown, matured and become more confident as a woman and so thatís definitely affected my work and choices as an actress. I think when I was younger I saw my role as an actress differently, I was there to serve the production, I did what I was told, I worked hard on creating a character but I felt that it was someone elseís vision. And Iíd pretty much take any role offered to me as long as it wasnít offensive or against my value system.
Today, well I still do what Iím told on set for sure LOL, but I am more selective about the projects I take and I am more active in searching out specific filmmakers and projects that align with my lifeís purpose. In fact my lifeís purpose in general is much clearer to me, and itís not to be a ďmovie starĒ but rather to use my tools and strengths as an actress to reach out to the viewers, to empower, to uncover lifeís truths, to inspire change. I love female driven stories, or historical pieces that highlight how beautiful mankind can be when we practice kindness and understanding. I feel like today Iím a bigger piece of the puzzle, Iím more involved in the story as a whole. Ironically enough, now that Iím more centered around my own truth, more and bigger opportunities have been coming my way. I feel like Iím walking in my own path rather than chasing somebody elseís, and it feels great!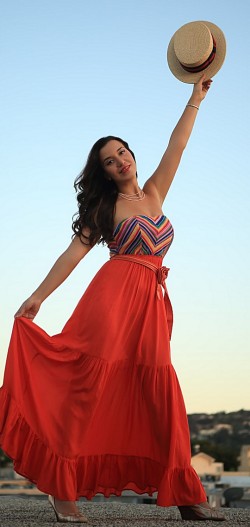 photo by Emad Asfoury
Besides making movies you've also done your fair share of theatre work - so what can you tell us about that aspect of your career? And how does performing on stage compare to acting in front of a camera, and which do you prefer, actually?
I believe that theater is an actor's medium, you do weeks or even months of rehearsals, everybody is involved, the director, costume department, musicians, set designers, we all piece it together. BUT once that audience is in the room, once those curtains go up, itís ALL up to the actors! Thereís no cutting, no retakes, no adjustments, you just throw yourself into the moment and you either capture the audience, or you donít. Itís incredibly scary, but itís also wonderfully invigorating! You get to feel the audiences energy, itís such a powerful feeling, similar to that of a rockstar I imagine.
Film is very different, film is a directorís medium. Firstly thereís hardly any rehearsals usually, and you have to do the same scene over and over from different angles, so you can afford to make a mistake, because thereís no live audience. With film, however, it can feel more real because the sets are bigger and youíre surrounded by this alternate reality. Itís also challenging in itís own right because you have to be able to perform the second the director says action, and sometimes they can film the hardest scenes first thing on the first day, where as usually in theater the harder, more emotional, scenes are at the end of the play so youíre usually in character for over an hour straight before you need to break down and cry.
Theyíre both amazing, I canít say that I prefer one over another, I definitely think that the actor feels more powerful on a stage but in film you get to travel, work with more people, do more roles. Theyíre both amazing experiences. I recommend both aspects to actors and to viewers!
Having lived, studied and worked in Israel, England and the USA, how do these three countries compare, on both a private and a professional level?
In England the art of acting is highly respected, actors study for years, they read and learn the classics and are called thespians. You donít call yourself a thespian without having a degree in it first and we take ourselves very seriously. This has its advantages but also its drawbacks. It made me very dedicated to perfecting my craft and I really learned about self discipline, but on the other hand I was scared to take risks or try characters that were very different from who I am in real life.
In Israel people in general are more open and bold and so I was surrounded by people who tried new things and werenít afraid to fail, my acting coaches would always push me out of my comfort zone, to much resistance might I say, but I learned to loosen up, and become more versatile.
Los Angeles is a totally different kettle of fish. Los Angeles in ginormous! It takes years just to learn how to navigate through the industry, there are literally millions of people here that are in the film industry and it takes time to feel like you have a grasp on it. Here I had to learn how to brand myself, because you have to find a way of standing out in a crowd. I definitely learnt about tenacity and perseverance here as well! I think the American idea that ďeverything is possibleĒ still astounds me, way too often. I hear my American friends say, letís try doing this and Iím like ďwait, how do you know itíll work? What if we fail?Ē
I think British culture is way more stiff and Israel is way to stressful financially, to take the business risks that Americans take. And without risk thereís no reward! Iím constantly trying to push myself and to learn from my friends to take risks more in my stride.
Actresses (and indeed actors) who inspire you?
Judi Dench, Meryl Streep, Frances McDormand, Emily Blunt, Viola Davis, Susan Sarandon, Helen Mirren, Octavia Spencer, wow thereís so manyÖ and Emma Stone, I canít stop looking at her, sheís so quirky and fragile, and yet very powerful - I love it. I love strong women who can show that a womanís sensitivity, and vulnerability is her strength, not her weakness! For too long the feminine characteristics in women have been seen as negative attributes, but women are connected to the Earth and itís our sensitive nature that allows us to plug into our intuition and our power.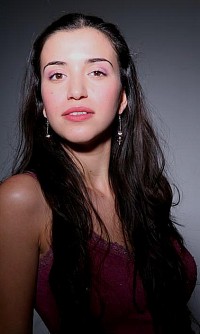 Feeling lucky ?
Want to
search
any of my partnershops yourself
for more, better results ?

The links below
will take you
just there!!!


Actors would be, well the late Robin Williams was a huge comfort and inspiration to millions, myself included, I cried the day he left us. Brad Pitt and Will Smith have really grown into deep and complex character creators. Edward Norton, Gary Oldman, Morgan Freeman, Daniel Day Lewis, Anthony Hopkins and Iím really enjoying Dwayne Johnsonís work in recent years.
Your favourite movies?
Oh Man! Your questions are hard! LOL! Thereís so many great ones! OuchÖ I know Iíll look back at this interview and be like ďhow did I forget that film??Ē OK, letís seeÖ
Suffragette, The Matrix, Three Billboards in Ebbing Missouri, The Post, Hidden Figures, The Little Mermaid (original Disney 1989), The Shawshank Redemption, The Help, Rudderless, Interstellar, Amelie, Cinema Paradiso, Grease, Independence Day, Lord of the Rings: The Two Towers, Hero, Crouching Tiger Hidden Dragon, Kung Fu Panda, Slumdog Millionaire, Happy Gilmore, Life is Beautiful, Lion, Fight Club,Ö
I mean, there are so many good ones!
... and of course, films you really deplore?
In general Iím not too keen on films that portray women solely as sexual objects, not to make an artistic comment, but simply so that they can sell the film. I think itís cheap. Get a better script, rely on the story, not the naked chick.
Your website, Facebook, whatever else?
IMDb: http://www.imdb.com/name/nm0803840/
Website: http://shellyskandrani.com/
Facebook: https://www.facebook.com/shelly.skandrani/
Anything else you're dying to mention and I have merely forgotten to ask?
HmmmÖ I love traveling! So if anyone wants to cast me in a film that travels Iím definitely on board! When I was traveling in India I was cast in a film called Shaitan in Mumbai, it was fantastic to learn about the Indian culture by working with locals and being integrated more fully. The Devilís Arithmetic was shot in Lithuania and most of the crew and smaller acting roles were local and it was great to see Vilnius through their eyes. Africa is on my list! Iíve never been, so if anyone wants to shoot a movie out there, let me know, Iíll get the vaccinations and Iím ready to go! :)
Thanks for the interview!