Your new movie Officer Down - in a few words, what is it about?
Officer Down follows a young British police officer, Alex Trent, who gets cut off from the rest of his squad during a riot and finds himself trapped in a rundown building, alone with the same people he was sent to help arrest. However, he soon finds out they may not be all he thinks and must overcome his own fears and bias in order to escape.
What were your sources of inspiration when writing Officer Down?
The idea started simply with myself and actor Martin Delaney wanting to work together on a project of this genre. Iím a big fan of action/thriller films and was keen to make something that worked as a sort of proof of concept if you like - something that could illustrate the kind of style and tone I have in mind for feature projects going forward. I was also keen to make something that wasnít just a typical, black and white action movie, one that was just good guy vs. bad guy. I wanted there to be some moral complexity in the characters and in that sense it was inspired by where it feels we are as a country right now. All three lead characters are effectively in the same boat, they are desperate people pushed into a corner, doing what they see as the only way out, but now they have to confront someone on the other side of that and come to understand their point of view.
What can you tell us about your co-writer Tommy Draper, and what was your collaboration like?
I wanted to work with another writer when I started the process, and a mutual friend put me in touch with Tommy Draper. Heís a great writer and was a pleasure to work with, though weíve still not actually met in person as yet! We would bounce scripts and ideas back and forth via email and WhatsApp, and slowly honed in on the final draft. It was a very rewarding process and definitely allowed us to find what I think is a much more interesting, layered script, as opposed to what I started with which by my own admission I think was a lot more conventional!
With Officer Down being an action thriller, what can you tell us about your approach to the genre?
As I said, Iím a huge action/thriller fan, and itís a genre I hope to work in for a while. As an audience member and fan, Iím often drawn to those that feel very real and contemporary - such as Paul Greengrassís Bourne films and Peter Bergís films such as Patriots Day and The Kingdom. It was an approach I was keen to take with this film, especially because of the topical nature of the script. Speaking with my producer Emily Haigh [Emily Haigh interview - click here], we made a decision early on not to use any music through the film - so the sound during the action sequences is just punctuated by the sound of fists, gunfire, or frantic breaths, only what you would hear if you were there. The approach to the cinematography was the same - and we had an incredible team with Phil Mťheux BSC as our director of photography (Casino Royale, Goldeneye) and camera operator Roger Pearce, veteran of many of the same films and an absolute pro when it comes to handheld, realistic action sequences.
You of course also have to talk about the action and stunt scenes in Officer Down for a bit, and how were they achieved?
Neil Chapelhow was our action designer, who choreographed the fight scenes. We started working with Neil a few months before production, rehearsing and shooting the central fight with Martin and the stunt people - so that by the time we got to set everyone knew exactly what the moves were, and also where we intended to put the camera for each shot. So it was a very smooth process. Though it may move fast on-screen, action can take a lot of time to shoot - because of the safety and precision involved each take, so this kind of preparation beforehand was essential and I would always want to do it for a project like this.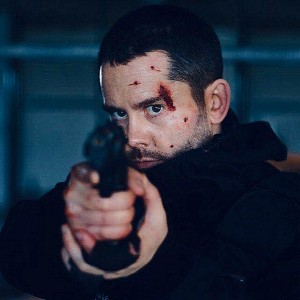 Neil did an absolutely brilliant job - heís constantly inventive, mindful of character and story and how that should inform the action, and also very easily able to adapt to the other necessities of the shoot if needs be. Once again we were keen to keep the style very real and worked to that - so whilst there is some moments of flourish in there so to speak, we wanted to make it very raw and gritty, so no fancy spin kicks or back-flips or anything like that! These are three people just fighting for their lives. Alex, the protagonist, is not specially trained or anything, heís an everyman out of his depth, so the way he fights has to reflect that.
What can you tell us about your overall directorial approach to your story at hand?
So as I mentioned I was keen to have the film feel very real, both because of the subject matter and that being my natural leaning for a project like this. I wanted the pace to feel pretty relentless from the get-go - we are thrown into this situation with the young officer and the only time we really slow for breath is during a central dialogue sequence when he is captured and forced to confront the filmís villain, Elijah. This is a key moment when he comes to realise these people are not all that heís assumed, and that they may actually have more reason to be there than he does - he was simply following orders he may not fully understand, for them this is a matter of survival. Itís the only time the camera and editing really slows, something that was actually really geared around Ben Turnerís performance as Elijah. Heís actually the only one who resolute and confident in this actions, who feels in control. Itís a really nice moment of calm before things erupt again!
Do talk about Officer Down's key cast, and why exactly these people?
The cast all did an incredible job. I mentioned Martin Delaney, who the script was written for from the start, Iíve known him since 2012 when we did our first film together, Judas Ghost, a horror feature and an altogether very different project. He was a pleasure to work and is an extremely versatile actor who can swing effortlessly from comedy to drama, and to action. I knew heíd be good for something like this so shaped the role around him.
Ben Turner was a suggestion of my producer, Emily Haigh [Emily Haigh interview - click here], . She had worked him before and felt he would be good for the part of the antagonist, Elijah. I saw him in 6 Days on Netflix and thought he would be fantastic. Frankly, there was never anyone else! It was just a case of whether he would do it! Thankfully he said yes and not only gave an amazing performance but also worked closely with me on the script whilst we were shooting, and brought even more to the character than what was on the page. He was very keen to make sure it was a well rounded character, and one whose point of view we could understand, even though he and the police officer are on opposite sides.
Rounding off the key cast was Josef Altin as Amir, who yet again was fantastic. We actually only got Josef on-board a few days before shooting - so he had to learn not only all his lines over one weekend, but also the accent! Amir is a complex role because heís someone you need to be suspicious of to begin with, but thereís also a definite vulnerability to him that has led to him being where he is. Josef nailed it and watching him together with Ben and Martin was a real treat, I was genuinely glued to the monitor!
You also have to talk about Officer Down's location, and what were the advantages and challenges filming there?
Well funnily enough that location was actually our third! We had two places that we found prior, but being disused buildings in London, both ended up being snapped up by developers and a halt was put to any filming! It's actually the reason we ended up shooting in December 2019, rather than August/September as we had planned! Each time we lost the location we had to put things back until we could find somewhere else. Instrumental in this was Courtney Mendez from the Location Collective, they were the locations agency we had asked to help us - and in each case they were the ones who sourced these great places for us to look at, the last of which we thankfully were able to use!
So our final location was a disused leisure centre adjacent to Lewisham shopping centre. The big difference to our previous locations was that I had originally pictured somewhere a little more labyrinthine, with tight spaces and narrow corridors - more like a maze, whereas this was a big, open warehouse essentially. However, on the recce we saw that it could actually work just as well from another angle, helping our protagonist to look even more isolated and alone in these big, empty spaces. It had great architecture inside and actually everywhere you pointed the camera there seemed to be a detail that added to the atmosphere, be it a broken window, or a cracked wall. So there was lots to make use of.
In terms of disadvantages - light and temperature! Being December we only really had useable daylight in there between the hours of 9am and approximately 3:30pm, so with lunch your typical 12 hour shooting day was more like 5 or 6! In fact we shot over 5 days but my producer Emily likes to say it was more like 2.5 once you factor in how long we could actually shoot each day haha, so Iím going to go with that! I will say our DOP Phil did an amazing job with the light that was available and with some strategic lighting of his own, but sadly we didnít have the budget for a full lighting package. There were some days we did go over by an hour or so, and Phil managed to make it look like daylight for the completion of those scenes. There was also no power in the building so everything had to run off a small generator that for health and safety (and sound!) reasons lived outside the building down 3 flights of stairs! Gaffer Jack Gould was run off his feet I think keeping everything going, but again did a great job in tough conditions.
It was also very cold in there so I really appreciate all of our cast & crew working through it - and our producer Emily Haigh who did an amazing job keeping everyone and everything going despite the conditions, as well as making sure we had all the hot food/drinks and other necessary equipment available!
What can you tell us about the shoot as such, and the on-set atmosphere?
The shoot was fast-paced but fun. Like I said we had a lot to do quickly, but everyone understood the situation going in and was game for it, so Iím so grateful to all of them for keeping up that energy and enthusiasm.
I remember on our penultimate day, which was the aforementioned big dialogue scene, when we were running out of light and had only just turned the camera around to cover Martinís side of the action. We had intentionally started with Ben as he was against the windows, so we knew weíd be stuck if we ran out of light and were still looking that way. Martin managed to get through all his coverage (around 8 pages!) in about 15 minutes before the light went completely! Like I said, everyone was a real trooper and was quick to adapt to the circumstances.
The $64-question of course, where can Officer Down be seen?
Officer Down can currently be seen online via the BAFTA qualifying Aesthetica Short Film Festival, where it will be streaming with 5 other shorts as part of Thriller Block 4, until November 30th. From now until November 14th itís also playing in Film Block 14 as part of the Urban Action Showcase festival in New York, as well as at the Fort Lauderdale International Film Festival, though that one is in the State of Florida only. From the 11th November we will be streaming as part of the Oscar qualifying Hollyshorts, based in California.
There will be more festivals and screenings to come but if you make sure to follow us on social media you can keep up to date with all the latest! With COVID itís a shame many of these festivals are now going virtual, but the upshot is the film actually becomes so much more accessible to audiences around the world each time - this way anyone, anywhere can stream it, as opposed to only being able to attend if youíre in a particular city or country at the right time.
Anything you can tell us about audience and critical reception of Officer Down?
Weíve only had our first screenings recently, though so far it seems to have been well received! Weíre excited to have more and for more people to view it around the world throughout its festival run, which will continue through 2021.
Any future projects you'd like to share?

Feeling lucky ?
Want to
search
any of my partnershops yourself
for more, better results ?

The links below
will take you
just there!!!


I currently have a number of feature scripts in development, including a feature version of Officer Down and another action/thriller called Blood Valley. My hope is that projects such as this short can help us secure the funding and support to begin shooting on one or more of these in the new year. Watch this space!
Your/your movie's website, social media, whatever else?
For all the latest weíre @OfficerDownFilm on Twitter and @OfficerDownMovie on Facebook. I am @cbaproductions on Twitter.
Anything else you're dying to mention and I have merely forgotten to ask?
We really appreciate the support and your helping us to spread the word! Many thanks!
Thanks for the interview!