You are currently in pre-production of season 2 of your webseries Horizon - so what's the series as such about, and what does season 2 hold in store?
Horizon follows the story of five friends who must rally together and attempt to get to safety when an alien ship arrives over their home city. Its intentions unclear, the group plan to head for a family farm-house in the country, but along the way have to contend with a city in panic, looters and the threat of military attack.
Our whole take on it originally began with "What would you do if this was happening to you?" We didn't want to make it an obvious alien invasion story, there are a lot of tropes of the genre in there for sure, but we intentionally draw out the mystery of why the ship is even there. It's more about the people on the ground and how we all react to this life-changing event. So that was very much the focus of season 1 – this group decide to get their loved ones together and get out of the city. We only really hint at the larger plot beyond that.
Season 2 is written to be the conclusion of the whole story, so it will answer the question of why this ship is really here and, rather than running, our group now have to take a much more pro-active role in stopping an event that could change the world forever.
Now how did the project fall together in the first place, and how did you get on board?
The project started with our director and producer Paul Dudbridge. I've known Paul for years and he is an extremely talented director and camera-man. He first had the idea of making a web series and brought it to myself and Chris Marshfield, who I often write with. He already knew he wanted to do a sci-fi project, as he has a background in VFX and hasn't yet had a chance to utilise it on this scale. He also had a few plot details and visuals already worked out, such as the idea of opening amidst a car crash, and he asked if we wanted to help make the rest.
Frankly we jumped at it. We're all big fans of commercial and genre cinema, but you rarely get to make things like that as an indie film-maker, so this was our chance. Also the idea of making it as a series was exciting, as opposed to a one-off short film or feature, because we'd be able to follow our group over a longer period of time and also leave people with cliffhangers at the end of each episode. Those were really fun to come up with.
With Horizon being an alien invasion story, is that at all a genre you can relate to, and some of your genre favourites?
I'd say so yes, my favourite genres are probably more gritty crime thrillers and action, but I also love films like Independence Day and District 9. Chris and Paul are both big Star Trek fans from childhood so it's certainly something the three of us have always enjoyed watching. It was fun to plan something like that that would take place in our home city of Bristol too. Usually UFO's are always attacking the US!
Other sources of inspiration for cooking up Horizon in the first place?
Those big sci-fi films I've mentioned, but also a lot of the long running US TV dramas like 24, Lost, The Walking Dead – all of us watch those shows regularly, so I'd say they fed into our writing a lot. Not only in terms of the cliffhanger endings, but also the idea of splitting up your core group and visiting different characters in a new place each episode.
Do talk about your co-writers Paul Dudbridge and Chris Marshfield for a bit, and what's your collaboration like?
The collaboration was fantastic. We're all close friends anyway so to write together was a dream come true. Usually writing can be quite isolated, and we would always share each other's scripts for feedback, but this was the first time we worked together throughout the process. We would basically get together one evening and start by tossing ideas around, based simply on what we would like to do or see, then we slowly whittled that down into our story and individual episodes – then we would each go away and write those before coming back together to compare and give notes. It was fun working like this, I would sometimes get a text from Paul say, asking me to set something up in one of my episodes because he had an idea of how to pay it off in one of his later on! We all have our own individual strengths and interests too – we joke that Paul is all about the drama and I'm all about the action, and then Chris is great with dialogue and character moments, so it was a nice combination.
Another thing that was nice about it is that we were writing, for the most part, for specific actors and actresses that we already knew – so it was great to already have their voices and strengths in mind.
Horizon has always been a very special effects-intensive series - so how do you go about that aspect of the series on a rather moderate budget, and will you in any way up the ante in season 2?
The VFX are definitely a crucial part of it – and it was our main motivation for picking this genre as opposed to something like a zombie or horror series, because there's so much you can make now just on your laptop at home. Just look at what Gareth Edwards did with Monsters – and two films later he's directing a Star Wars! We have an FX guy, Al Tabrett, we'd worked with before and he's a big Star Wars fan, so again we wanted to make this as it would give him a chance to do all these things he loves – build spaceships, blow up landmarks etc – but that he hadn't yet had the chance to do. I will say the downside of this is the time it all takes, especially when it essentially comes down to one person doing it in their spare time. Our post-production took around 18 months to complete, and we had 140 VFX shots in total.
Part of this is definitely due to us getting a little carried away at the writing stage! What you forget is yes there are obvious big numbers like spaceship shots and fighter jets flying through the city – but all of the little shots add up to, whether it's muzzle flash on a gun, or replacing a screen on a phone so it displays the right text. There were a few tricks we had to use as well to get us out of trouble when say we lost the light or the sky was too bright/overcast.
In terms of upping the ante, this starts with the story. You have to conclude things in a satisfactory way, but also without it being predictable. Just having more explosions or space-ship shots won't do that. Just like season 1 we have a wish-list of things we'd like to do, but only if there's a place for it in the story. At the moment we actually have a lot less VFX shots planned, but what we do have is crucial. We didn't plan for that, that's just how it turned out as we were writing. It's sci-fi but it's very much about the human drama as well.
Producing a science fiction series like this, besides the special effects, what are the main challenges?
The special effects were definitely the main challenge. It was a lot of work, then of course there's the render times. I think we actually destroyed our FX artist's graphics card through the whole process! Something might take 48 hours to render and then you spot a small mistake and have to do it all over. It takes a lot of patience and I have to credit not only Al and our other FX artist Scott Martin, but also Paul the director who spent a lot of time sat with them both working through it. I was actually separate from a lot of that – I just got the easy bit which was swanning in at the end of the process when a shot was done and saying yes or no!!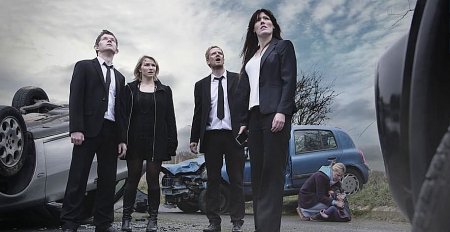 Other than that the other main challenge was simply juggling all of our actors and locations in the time we had! We had a huge ensemble cast and shot in more than ten separate locations around Bristol, plus our aim was to shoot each episode in a day. So that's between 5-10 pages of script a day, in the month of January when you lose the light about 4pm! They were fast moving and often long days. In fact one location, which was very expensive to use, actually necessitated us shooting two episodes there in a day! The crew were on-set for something like 16 hours. By the time Paul got home and backed up all the data he actually had no time to sleep before meeting up the next day for the next episode.
Finally again, because it's an indie project, you're shooting around people's availability, so our 10 day schedule was spread throughout the whole month as and when people were free. Pretty soon we'll be doing it all again for series 2!
You also play one of the leads in Horizon - so what can you tell us about your character, what do you draw upon to bring him to life, and how much of Simon Pearce can we find in Dan, actually?
It was Paul's suggestion that I appear in the show. Though directing is very much my main pursuit, acting has always been a hobby of mine. I studied it through school and college and have done the odd guest spot on some TV dramas and in short films. The month we shot series 1 it was looking unlikely that I'd be able to direct any myself, as my other work meant I wouldn't have sufficient time to prep, so that's when Paul suggested I play Dan. I was initially a bit nervous about it – when you're not known for doing a particular role you're opening yourself up for a lot of critiscism and also I knew the calibre of the other people we were bringing on board, so I didn't want to do it unless I thought I could do a decent job. Equally I knew the episodes and scenes we were planning and how much fun that could be, so it was hard to say no! I'm glad I agreed to do it ultimately as it was a very pleasurable experience working with the rest of the cast and doing some acting again.
As a character, Dan probably wasn't too dissimilar to myself to be honest – I don't know if I'd hold up as well as he does given the circumstances but like with the other characters we kind of wrote for the actors who'd end up playing them. What was nice about it is that because I look younger than my age I'm often cast, when I do act, as the sort of geeky or nervous character, so to crawl out of up-turned cars and jump out of explosions was a nice change of pace!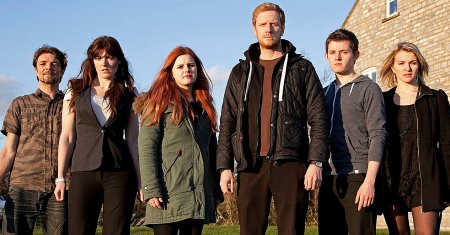 Jason Allen, Kate Marie Davies, Kessie Bartlett, Paul Tonkin, Simon, Alicia Angel
I'd like to think he's quite relatable as a character for the audience watching, like a lot of people he's just trying to keep his head above water and gets to use a bit of humour too which is fun to do amidst the tension. He looks up a lot to his older brother and lead character Steven (Paul Tonkin), so definitely is a little nervous when they're forced to separate but he holds his own for the sake of the people around him. It's going to be interesting to play him in series 2 given where we leave him in the first series, but I won't say too much more in case people haven't seen it!
What can you tell us about the rest of your cast, and to what extent were you involved in the casting process?
Paul and I collaborated closely on the cast from the beginning. We've been lucky to build up a great network of talented cast and crew over the years we've been making films in Bristol, and we talked extensively when we started writing about who we wanted to use for this. Then we wrote those parts specifically for them. It was also a nice chance to use some people we knew of or had had recommended but perhaps hadn't had the chance to work with directly yet. We're really looking forward to doing the same on series 2, and it's very gratifying the amount of CV's and headshots we've been sent since series 1 was released. It's always nice to see when people are enthusiastic about your work.
The rest of the cast were great – not only in their roles but just as people. Like I said we had to work very fast, there wasn't a lot of time to consult on scenes or discuss them on set, people had to be able to roll with the punches and do all their homework beforehand and everyone in it did a great job. We'd work with them all again in a heartbeat.
As far as I know, Horizon season 2 is still raising funds as we speak - so what can you tell us about your campaign?
Crowd-funding is something I have been wary of in the past, simply because there's so many independent film projects out there vying for your attention and offering the same things like DVDs or credits or whatever – but we felt confident to do it with this because series 1 was and is already available for free. We're not asking for contributions based on concept art or a brief teaser – people have an entire show they can watch and hopefully get invested in. We have some great rewards on offer including a chance to visit the set, come to the wrap party, get one of our clapper-boards, and even appear in the show itself. For the low contribution of Ł10 we'll also send you the entire second series in advance before it goes on general release.
I also don't think we're asking too much for what is essentially an hour of content. We haven't upped the budget since series 1 – what we're asking for is about the same amount of money Paul and I spent the first time around! We just can't do it again!
https://www.indiegogo.com/projects/horizon-season-2/x/590411#/
Once the funds are raised, what's the schedule - and any idea when the series might be released onto the general public yet?
We shoot episodes 1-3 in August of this year. The remaining 7 will be shot a little later as they'll need longer to prep – also we lose an actor in September so we have to get all their stuff in the can before then! The plan is to release the show in October 2017. But contributors/investors will likely get an advance screening towards the end of September.
In conjunction with the crowd-fund we're also speaking to local businesses about sponsorship and had a great meeting recently with a company in the US who are keen to shop season 1 as a complete pilot to TV networks and online video platforms, so the fund-raising will continue beyond IndieGoGo.
Any future projects beyond Horizon?

Feeling lucky ?
Want to
search
any of my partnershops yourself
for more, better results ?

The links below
will take you
just there!!!

Find Simon Pearce
at the amazons ...

amazon.com

amazon.co.uk

amazon.de
Looking for imports ?
Find Simon Pearce here ...
Something naughty ?
(Must be over 18 to go there !)

Each of us has other projects that we're developing right now, pre-dominantly features – Paul has a great drama/thriller script called Breathe, and Chris and I are currently working on a couple of action/thriller scripts Burner and Reparation. Unlike Horizon these projects take a little longer as you approach producing partners, investors, sales agents who may be able to pre-sell it and so on… the nice thing about a webseries is you can just make it and immediately put it out to an audience!

Your/your series's website, Facebook, IndieGoGo, whatever else?

Watch all of season 1 now at: www.horizonwebseries.com

IndieGoGo: https://www.indiegogo.com/projects/horizon-season-2/x/590411#/

... and here's my latest short Watch Over Me: https://www.youtube.com/watch?v=YXUGEbxN95I

Thanks for the interview!