Do talk about your new album Resurrection After-Party for a bit, and how would you describe its specific sound and feel?
I broke it up into 3 parts. If you get the EP you wouldn't know it, but the CD back cover gives somewhat of an explanation. There are 9 songs, the first are the most aggressive, then it goes to a happy medium, then the last 3 are more methodical and cerebral tracks at the end. I like music to sound powerful yet beautiful. Whenever I write that's what I go for.
What were your initial inspirations for recording the album?
My husband Shane Wolfe (he is my production mentor) is my biggest influence and inspiration. His music is very different from mine but it has that power and beauty I admire. But other than that colors and my emotions create music inside of me, before I realise it. If I am extremely sad or happy there is music in my head. Sometimes it's piano or violins, but there is almost a constant mental soundtrack in my head. I used to hate it but have learned to embrace it now.
What can you tell us about your production process?
I usually write music first... sometimes it comes to me in a flood all at once. Sometimes it begins with just one sound that builds and builds until it's a complete creation. The process is magical, it's extremely addictive. When you are in the 'zone' you don't want any interuptions it's like a religious experience with God. You don't want to break communion with it because it's a special experience that you can't will... it happens when it happens like lightning.
Do talk about your collaborators for a bit, and what did they bring to the project?
I wrote and produced the entire album. Except for Something Wicked, which was produced by my husband, you can hear the genius that I so admire in that song. He did not intend that song for me... but when I heard it, I was like "That's my song. It speaks to me, I gotta have it." And luckily he allowed me to write lyrics for it and track my vocals.
The $64-question of course, where is the album available from?
It will be available in physical CD form on Valentine's Day. This year. The EP is already available on Amazon, Itunes and over 30 different online stores. Most major ones and a few illegal international sites as well. I won't see a penny of that but I am flattered they want to steal it so it's all good. The physical CD will only be available on reverbnation.com - search for Chipped Polish Records on Reverbnation.com.
Anything you can tell us about audience and critical reception of Resurrection After-Party so far yet?
My main fanbase is in Cali and UK. I have no idea why that is... the cover is amazing and I have had great feedback on the image of a Zombie smoking a cigarette. That is not a drawing btw, that is an actor in full professional costume, and special effects make-up. As far as my music, my supporters keep me going... they keep me writing and sharing. This album is my best work, over 4 years. My first full album and I am really proud of it... I hope others like it but nothing can make me feel bad about something I wrote from my heart. It's me... in music form. So if you like me... you will like the music that was scooped from me. Ya know? It's the same stuff! :P
What got you into making music to begin with, and did you receive any kind of formal education on the subject?
I come from a long line of wonderful musicians and vocalists. I grew up with so many instruments around my house. My formal training began as a vocalist and actress first. Being good musically was something I did to make me a better actress for musicals. I wrote my first song when I was 14, but I can remember as a toddler pointing to music notes and trying to make music... I would sing or hum aloud. That always felt very natural to me. Now I realize music is my calling even though acting was my first love.
Please do talk about your approach to making music for a bit!
I think of a visual aid first... like cotton candy or a feeling like the word 'spooky' that is if I am writing for someone else or for a set goal. That's how I try to begin by capturing the essence of something tangible. If I am writing just to write... it just flows from me like poetry... I let it control me, instead of trying to control 'it'.
What can you tell us about your releases prior to Resurrection After-Party?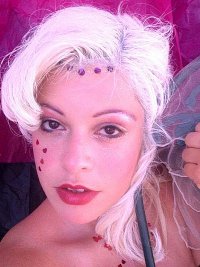 I briefly released an EP a couple of years ago, but then quickly retracted it. I realized I was just releasing it just to release something... this time quality was really important to me. I did not rush anything... I wanted it to be something special and memorable. A real album, a keeper. So this is my best... no song on this album is just crap I layed out for fun. Each one is a masterpiece for me... that's how hard I worked on each song, every single pause... every note. I took absolutely nothing for granted... I wanted to respect my listeners, their time. The time they give me is a gift, and I want to give them a blessing in a way for choosing my music at that moment. Because a musician wants to be heard... validated. I heard it in my head but I put on an album so I could share it with you & the world. So if my work isn't heard then it was all in vain in a way... so any time a person listens they give me a gift. And I never want to take that for granted... ever.
What's a studio session/a live show with Stephanie Wolfe usually like?
A live show varies... for some reason the more people the more energy I have. I feel more electric. I put alot of thought into the order of songs because I want to take the listener away... I want to transport you to my world. A magical musical world where you can let go and feel safe for a while. I love seeing people dance and sing with me. I try to do one or two covers because I love it when people sing along. It's very engaging to see someone singing with me... it makes me feel like they are on stage right beside me.
The studio is a different story... I am nervous... high energy. Focused and intense. That's a darker crazier place. Especially if I am singing an emotional song... sometimes I cry. I don't care if I sound good... I just want to make sure my voice is telling the truth... that I am not acting, that the emotion is raw and real.
You of course also have to talk about your project Paw Cinematic Indie Network, which promises to be a great interface between indie music and indie movies, for a bit!
Thanks for asking about it! Paw Cinematic is a non-profit organization in which Indie filmmakers contact me with their musical needs and I send out the word to indie musicians then I take all submissions and forward them to the filmmakers to let them decide. Right now actually I need a techo song for a trailer and my friend Char Hardin is looking for a theme song for her podcast. So if you are a musician reading this send me what you got pawcinematic@yahoo.com
Musicians who inspire you?
Beethoven and my husband Shane Wolfe. I wake up sometimes and hear Beethoven aloud as if someone is in the next room. I don't know if I am dreaming but it's so loud and clear, also beautiful. I have ear problems, hearing issues and actually wonder if I knew Beethoven in past life or something... but the music he wrote was special. Powerful and beautiful which is my cup-o-tea!
And since this is first and foremost a film website: Your favourite movies?
I like period movies, sci-fi as well. I go for story line vs special effects. I dig The Wizard of Oz, the original one. I love Terminator 1 and 2, don't count the other ones they made... hated them. I also LOVE Les Miserable, the one with Liam Neeson not the musical version (have not seen it). I will pretty much watch anything with Samuel L. Jackson, or Liam Neeson in it just to see/hear them act. I love their voices. Voices are very important to me. If I don't like someone's voice it's hard to finish watching the film... Jennifer Lopez has an annoying voice to me, it's hard to watch her films for me at least. Sean Connery has a wonderful tone, so does Morgan Freeman which are other actors I could just listen to forever. Angelina Jolie also has a soothing voice... I don't really care for her acting but for movies her voice is pleasant.
... and of course, films you really deplore?

Feeling lucky ?
Want to
search
any of my partnershops yourself
for more, better results ?

The links below
will take you
just there!!!

Find Stephanie Wolfe
at the amazons ...

amazon.com

amazon.co.uk

amazon.de
Looking for imports ?
Find Stephanie Wolfe here ...
Something naughty ?
(Must be over 18 to go there !)

Terminator 3 is the worst movie ever made and I absolutely can't stand Mel Gibson movies like Braveheart. Not into bloody macho stuff. I also really disliked The Passion, I wish I could undo seeing it. Waste of film.
Your/your album's website, Facebook, whatever else?
https://www.facebook.com/StephanieWolfeStar
For the physical CD or EP as well.
http://www.reverbnation.com/store/artist_892362
Anything else you are dying to mention and I have merely forgotten to ask?
Sure. I am glad you asked... I am currently producing a film I wrote called Blood & Stone, it is a crime thriller. I am very excited about it and trying to fund it. Here is the fanpage for it.
https://www.facebook.com/bloodandstonemovie
Thanks for the interview!