Your company Midnight Prestige - how did it come into being, and what's the philosophy behind it?
I tell you, Chris [Chris Gierowski interview - click here] nailed it on the head. He gave a literal copy of our conversation and that explains it all. We talk in nerd code and if you can decipher it then you're one of us! Seriously, though we've been friends for years now and after working on so many low budget films/videos together we wanted to make sure and keep that magic alive. With us now living in separate states (and time zones) it is very difficult to maintain contact the way we used to. With forming Midnight Prestige we are making a commitment to ourselves to stay in touch and keep the work flowing... and hopefully entertaining viewers.
What can you tell us about a typical Midnight Prestige-shoot, and what kind of talent does each of you bring to the table?
Each member has their talent. We all try to grow and expand but there is a certain level that we just expect from each other. While there are certainly more "professional" people out there we use Midnight Prestige as a way to expand our horizons in a friendly environment without all the politics and nonsense that can occur with bigger budget productions. Strangely enough, I hope we get there some day.
Any on-set anecdotes you'd like to share?
One of my favorites is while shooting February 4th. Scott Gleine (who is our eyes and ears of the post-apocalyptic experience) [Scott Gleine interview - click here] is in a small room with Nathan Pinsoneault. Nathan is super entertaining as the constant worrier/doom-harbinger and while freaking out and muttering to himself in the shot, Scott uses his free hand and gives him a good smack to calm him down. This caught Nathan by surprise (as the entire shoot was improvised) but he ran with it and didn't break character to punch Scott in the gut as a reaction.
Do talk about the company's films you've worked on as such for a bit?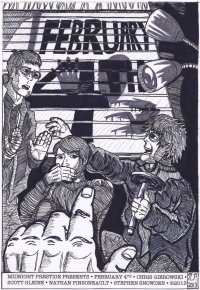 We have had many other projects we have collaborated on that are not officially Midnight Prestige but in my heart they are. There are so many that each member has started on their own and we all came together to its completion. It is kinda like being a member of a band. Each band member has a great idea for a song and the others come together to make it a great show. For Midnight Prestige itself, we did something with February 4th where we became so in sync in such a short time. The original idea for this video was to actually have it be a zombie "choose-your-own-adventure". As a viewer you would start with track 1 and at the end would reach a choice along with the characters. "Do you go to track 2 and let Cooper kill Shaun or go to track 3 and try to get Roger a cool drink of that 100 proof vodka that he needs so bad?" The problem was that I did not have the technical expertise to get that off the ground. Instead when it came time for us to get together and shoot, I thought it would be really fun to mix the creativity of Alfred Hitchcock's Rope, with its one seemingly endless take, and combine that with the premise I was already coming up with for February 4th. Our zombie movie didn't have a name originally and we chose February 4th because the day we shot the short happened to fall on George A. Romero's birthday. We thought it was too much of a coincidence to ignore. We actually even met the big man at a signing and gave him a copy of our movie! To this day I wonder if he ever watched it but I hope at least he saw that here were even more fans inspired by his ghoulish vision. Another great project was Sadie Jane, which while I was not there in person, I was there in spirit.
Any future projects you'd like to share?
So many projects, so little time! We are working on a collaborative script together (a first for us) called Monsters. We love our existential scares and we hope this to be one too. We're even coming together in LA this October and hope to get the treads firmly in the mud on this project. Another continuous production we've worked on is Schlock Shock Radio. We're skipping the visual scares and transmitting the terror directly to your brain via ear canals.
When it comes to making movies, you have done pretty much everything, writing, directing, producing, acting - so which do you enjoy the most, and what could you do without?
I love acting. I've never considered myself a solid director because I let the actor do the part as they see fit and sometimes that is not always the best way to go. But I love acting itself. The idea of taking your life experiences and turning yourself into a parallel universe version is fascinating to me. I also really enjoy editing and writing. Creating those worlds and presenting them for an audience to see. I used to work for a summer camp and one of my favorite things were our weekly campfire skits. Being around that fire and just using talent and minimal props to tell a story is one of our purist forms of entertainment and I think we as a company use that same philosophy in our craft.
You of course also have to talk about Schlock Shock Radio for a bit, and how did that one come into being? And what are your usual inspirations when writing it?
This is a new one for us because instead of coming together in person to record the audio together, I am writing the scripts and each actor is recording their part separately with a phone or other device and emailing it me. Then using some cheap editing software I'm putting it all together to make something coherent. It's an exercise in skill-building but absolutely a means for us all to come together even if not able to in person. A great many of our actors are friends from our past and they are contributing to make this a reality. It's so much more enjoyable than just posting silly quotes on Facebook.
Your output never seems to stray too far from the horror genre - pure coincidence, or is this a genre you're at all fond of, and why (not)?
Horror is in our bones. Some of the most influential movies I've seen are not in that genre but there is something about getting that spine-tingling emotion out of someone that is extremely rewarding. All in good clean fun, of course. I would like to someday move towards a sci-fi comedy or period piece musical but funds are not quite there yet. A sweeping epic on the planet Europa would be awesome.
How would you describe yourself as a writer and a director?
As I mentioned earlier, I am no director but as Hannibal Smith said "I love it when a plan comes together." It is so rewarding to get together as a group and create. In all honesty, I feel that most of our projects are co-directed by everyone. We're very much a community of visionaries. As for writing, I have ideas coming out the gills but getting them on paper is another story. I was very inspired by something Akira Kurosawa said. To paraphrase him he said that he needed to at least write a page a day or else his scripts would never get done. I'm very much the same way and have to get completely in the mid set to get to work or the other things rattling around in my head get in the way and I can't stay in the moment.
Filmmakers who inspire you?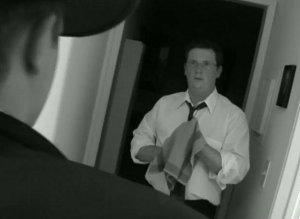 Murder in my Hallway
Haha, I just realized that I've already mentioned a few. I know one that sometimes goes unnoticed, but was hugely influential to me, Buster Keaton [Buster Keaton bio - click here]. Like anyone who is new to studying film, silent movies can at first be a real turn-off but Keaton's dedication is too inspiring to ignore. His films shine with his passion to perform and that amazes me. I tell anyone who is interested in learning more about film history to immediately watch Keaton's The General or The Navigator. His movies are what I put on to get the brain pistons firing.
Your favourite movies?
AKA: The Hardest Question to Answer Ever. Haha. I could go on and on with movies that I would consider my best but I'll go with the biggies. Like anyone my age, Star Wars was a huge influence. I've made more fan films as a pre-teen than I care to admit. In fact when I first borrowed my parent's VHS-C camcorder I was grabbing Star Wars toys and taking them back to that galaxy far, far away. Come to think of it, my parents even had an 8mm print of the original film and we would watch it on their home projector along with Frankenstein Meets The Space Monster and Mighty Mouse shorts. That reminds me, I really need to dust off the Super 8 camera and give that thing a whirl. And while it's not a movie, I'm a huge fan of the Metal Gear Solid video game series because of its theatrical aspects. I accidentally always sneak in a Metal Gear reference or tonal delivery in my videos.
... and of course, films you really deplore?

Feeling lucky ?
Want to
search
any of my partnershops yourself
for more, better results ?

The links below
will take you
just there!!!

Find Stephen Snowden
at the amazons ...

amazon.com

amazon.co.uk

amazon.de
Looking for imports ?
Find Stephen Snowden here ...
Something naughty ?
(Must be over 18 to go there !)

That's also hard because so many films have their merits. I think the films I truly dislike are the ones where it is obvious the filmmakers/studio just didn't care. I'm also a big video game fan and the same problem happens there and as a viewer you feel cheated and disappointed. It is even more tragic when you can tell that the movie could have been good but outside forces didn't allow it. I'm sure Chris mentioned that we are huge Twin Peaks fans. And there is a great example of something as good as apple pie and midnight black coffee, but other entities cut it down before it was truly allowed to blossom.
Your/your company's website, Facebook, whatever else?
Chris is our marketing director, he'll let you know. Haha.
Anything else you are dying to mention and I have merely forgotten to ask?
The only thing I can think of is thanking for allowing us to talk about Midnight Prestige. We are so excited on the direction we are heading and we hope our viewers will enjoy the ride!
Thanks for the interview!