Your new movie Curse - in a few words, what is it about?
Curse is a cautionary tale about who can you really trust and the potential dangers of technology and how in the wrong hands, can completely destroy someone's life.
With Curse being a horror movie, is that a genre you're at all fond of, and what can you tell us about your movie's approach to horror?
I love horror films! I've been obsessed with the genre since a very young age. With Curse, the approach was to create a sense of horror that is associated with the dark web. I think good horror always stems from something tangible in the real world and the dark web is a very real thing.
How did the project fall together in the first place, and to what extent does it reflect your personal views on the "dark web"?
Curse came together the first year I moved out to Los Angeles. The team behind the film is a culmination of people I've worked with in the past and new friends I've made in Los Angeles. We really wanted to make something creepy and unsettling and we saw the dark web as sort of an untapped well for inspiration.
Of all the main characters in Curse, who could you identify the most with, actually, who the least, and why?
I would probably say Rudy. Even though he's involuntarily dragged into Diane's dire situation, he still takes it upon himself to help keep his friends safe during the events of the film.
What can you tell us about Curse's writer Paxton Gilmore, and what was your collaboration like?
Paxton has been a good friend of mine for many years. We met back in my hometown of Houston Texas where we were both working on different film projects at the time. He was working on a feature film in which he wrote and was starring in called Lars the Emo Kid, and I was working on my first feature Midnight Abyss. We wanted to collaborate on a project together for a while so when it came time to do my second feature film, Doll Factory, I gave him a small part in that. Later, we worked on a short dramedy called Remembering Jerry, which he also wrote and starred in. Within a few months after that project, I pitched him Curse, and he cranked out a draft in a few days. No joke. The thing I love about working with Paxton is his writing is so "out of the box." I can pitch him a very brief outline of what I'm attempting to achieve story wise, and he'll take that and run with it. I'm always surprised with what he comes back with.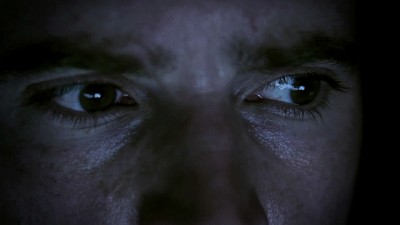 Do talk about your overall directorial approach to your story at hand?
With Curse, I really wanted to approach it as a dark, realistic modern age home invasion flick. From the visual look of it down to the rawness of the cinematography and overall pacing.
What can you tell us about your cast, and why exactly these people?
Being in Los Angeles now, I'm surrounded by talented actors, so most of the cast came from friends of friends. We had a very short casting process, a few callbacks here and there, but most of the cast just sort of fell in place to their respected roles.
A few words about the shoot as such, and the on-set atmosphere?
Filming Curse was an absolute blast! Even though principal photography only lasted for roughly 3 days, the entire cast and crew bonded really fast and worked together extremely well.
The $64-question of course, where can Curse be seen?
Right now, we're submitting to various festivals and such. I'm hoping to release the film online for the public towards the end of summer.
Anything you can tell us about audience and critical reception of Curse?
So far, the word on the film has been pretty positive! I'm looking forward to seeing how Curse fares at festivals and how the public responds to it as it becomes more readily available to watch.
Any future projects you'd like to share?
This is a pretty big year for me because I'm rolling out a few different projects. My first feature Midnight Abyss will be available online for free at some point this year. Wild Eye Releasing is putting out my second feature Doll Factory in the later part of this year or early 2019. I also have a short horror/comedy called Dracula's Coffin that will be coming out this October and my other short Remembering Jerry will be out by the holiday season of this year.
What got you into filmmaking to begin with, and did you receive any formal training on the subject?
I've always been into films and storytelling. At a young age, I would draw little comicbook style stories that I would re-enact with my friends. Eventually I got a hold of a video camera and the rest is history. I've pretty much learned everything I know by just being hands on and doing one project after another. Learning from my mistakes and continuing to grow as a filmmaker and storyteller.
What can you tell us about your filmwork prior to Curse?
As I mentioned earlier, I've done two feature films. My first feature, Midnight Abyss, is a psychological horror film involving vampires. It was really low-budget but a great learning experience. My second feature, Doll Factory, is a horror/comedy about a small Texas town being terrorized by evil baby dolls on Halloween night. I also directed a few episodes on an award-winning comedy web series called 25 and Married. Then there's the dramedy short Remembering Jerry which is still in post-production but I'm hoping to have that out in the later part of this year.
How would you describe yourself as a director?
I would say I'm a pretty laid back director. I know what I want but I'm also very collaborative with my team. Both behind the camera and in front of the camera. As long as the story is being told the way I envision it, I'm always open to hear different suggestions about how to achieve that vision. Filmmaking is a very collaborative process and I feel you need to be open to different perspectives.
Filmmakers who inspire you?
Of course guys like John Carpenter, Alfred Hitchcock, James Whale, Stanley Kubrick, David Fincher, Quentin Tarantino, and Steven Spielberg, but I'm also really in to some newer filmmakers like Denis Villeneuve, Shane Black, and Nicolas Winding Refn.
Your favourite movies?

Feeling lucky ?
Want to
search
any of my partnershops yourself
for more, better results ?

The links below
will take you
just there!!!


I definitely gravitate more towards the horror genre. Especially 1980s horror. Some of my favorites are the original Halloween, Monster Squad, Fright Night, Jaws, but I love other genre films like Terminator, Predator, Drive. I'm kind of all over the place.
... and of course, films you really deplore?
I'm pretty open to all different types of films. It's really about if the storytelling is captivating me or not. I guess I would say I'm not the biggest fan of musicals.
Your/your movie's website, Facebook, whatever else?
You can find me on Facebook, Instagram, and Twitter @stephengwolfe
Thanks for the interview!