Your movie GoatSucker - in a few words, what is it about?
In a few words, it's a monster in the woods movie, with a lot of twists and turns that one might not expect from this kind of movie.
With GoatSucker being a movie touching the Chupacabra-legend, did you do any research into that aspect of your movie?
Oh yeah, I've been intrigued about the El Chupacabra legend from the first time I heard about it many decades ago. So I was already familiar with most aspects of the legend, but did delve a little deeper into the history of it, primarily for the expert scientist scene in the movie.
Basically, GoatSucker is a monster/slasher movie hybrid - so are you a fan of either or both genres, some of your genre favourites, and what do you think makes GoatSucker stick out of the crowd?
Absolutley! I grew up with monster movies. Dracula, The Wolfman, Frankenstein, The Mummy, these types of movies were on all the time when I was kid. I always thought monster movies done right were a blast!
The thing that sets GoatSucker apart from most movies of this type is the fact that there is a movie here without the GoatSucker. These characters weren't created to be fodder for the GoatSucker. These characters create a movie in and of itself. If there was no GoatSucker, we'd still have a movie. Throwing the GoatSucker in on top of that is what brings this to the next level.
Other sources of inspiration when writing GoatSucker?
I always wanted to do a monster movie. The El Chupacabra idea was mysterious enough where it left a lot of leeway for interpretation and I absolutely LOVE the English translation: GoatSucker.
What can you tell us about your movie's approach to horror?
It's a legit horror movie, but horror on its own can't last 90 minutes. There have to be interesting characters and motivations that drive them, and an overall plot. GoatSucker has these things and also has a lot of twists and turns that I don't think everyone will see coming.
You of course also have to talk about the goatsucker costume itself for a bit, and to what extent were you involved in its creation?
The GoatSucker creature make up was created by Chris Cook and he did a fantastic job. Although we don't make a point to show the GoatSucker in full very often, the makeup job for the creature is one of the more extensive ones we've ever done.
Do talk about your overall directorial approach to your story at hand! And with GoatSucker being an early movie of yours, how do you think you have evolved as a director?
I'm there to guide the story and characters in the direction I envision. The cast of GoatSucker really took to their roles quickly which made that much easier. This movie was a lot of fun to shoot. Of course the more you do something the better you get, but most everything with the shooting of GoatSucker was smooth even for one of our earlier movies.
What can you tell us about your key cast, and why exactly these people?
They were fantastic, weren't they?
We held open auditions for the majority of the roles and we were thrilled with our options.
One interesting side note on casting was the role of Eugene. Neil Vowels plays that part perfectly! However, I had originally cast someone else to play that role, but he had to pull out a few weeks prior to shooting. I offered the role to someone else who I know would have done a good job, but he wasn't available, so we were planning on holding another audition to fill the role of Eugene. PJ Woodside [P.J. Woodside interview - click here], the co-producer and other half of Big Biting Pig Productions, happened to be acting in the stage play The Wiz and told me I needed to come and take a look at the guy who was playing the wizard. So I went down and caught the final dress rehearsal for the show and this guy was perfect! I loved him! And this of course was Neil Vowels, and the rest is history. This is just one of those examples of things working out like they were supposed to in the end. Neil is wonderful as Eugene. I'm so glad it worked out the way it did.
A few words about the shoot as such, and the on-set atmosphere?
This was an exterior shoot for the most part. To avoid rain, we opted to shoot most of it through July & August. And let me tell you, July and August in Kentucky can be hellish! However, we really got lucky with the weather. No rain issues on any of our shoots and the weather was very cooperative. The only mega-hot day I can recall was the day we shot the Mr. Walters/Marvin & Scientist scenes. It was over 100 degrees when we shot those scenes, and if you look at them, you'll notice everyone is directly under the sun most of the time. You'll notice Tom Dolan (Mr. Walters) & Marvin (Logan Nance) dripping with sweat if you look close. That's not make up folks!
Anything you can tell us about audience and critical reception of GoatSucker?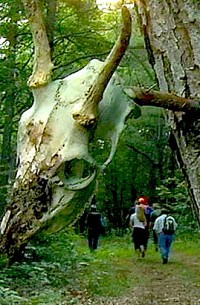 Feeling lucky ?
Want to
search
any of my partnershops yourself
for more, better results ?

The links below
will take you
just there!!!


Most people really get a kick out of it. GoatSucker is a lot of fun. I remember once GoatSucker was showing at midnight at a film festival and the showing was standing room only. I got the impression that people weren't expecting it to be very good, but as the movie went along, I could see them all getting sucked into the story. By the end, this group of folks who weren't expecting much were standing up and cheering.
Any future projects you'd like to share?
After 10 movies in 9 years, PJ Woodside [P.J. Woodside interview - click here] and I have decided to take a little breather. But we'll have some news coming in the not too distant future.
Your/your movie's website, Facebook, whatever else?
Website: http://www.bigbitingpigproductions.com/
Facebook: https://www.facebook.com/bigbitingpigproductions
Twitter: https://twitter.com/BigBitingPig
Instagram: https://www.instagram.com/bigbitingpig/
YouTube: https://www.youtube.com/user/bigbitingpig
Anything else you're dying to mention and I have merely forgotten to ask?
People unfamiliar with Big Biting Pig Productions may be wondering a bit how many movies we've done, since I've referred to GoatSucker as one of our earlier movies: GoatSucker was our 2nd movie. It was originally released on DVD in 2009. We recently remastered it and released it via streaming. Overall we have 10 movies, our last one It Lives in the Attic was released in 2016. Most of our movies are available to watch for FREE on Amazon Prime! Go to our website to find out more about us and all 10 of our movies!
Thanks for the interview!
Thank you!