Your new movie The Caretakers - in a few words, what is it about?
The Caretakers is a vampire movie that focuses on "The Caretakers" who are the humans who help assist the vampires with their day-to-day lives.
Why a vampire movie, is that a genre at all dear to you? And some of your genre favourites?
It's really no more dear to me than any other genre. Honestly, I'm a fan of any horror sub-genre that attaches a good story to it.
(Other) sources of inspiration when writing The Caretakers?
Dracula, both Fright Night movies, Let the Right One in, basically any vampire movie that has "caretaker"-like characters in them. I always wanted to know more about those characters and what their deal was. This is their story. We get to look at the lives of these people and what motivates them to have chosen that path.
Other than most vampire movies, The Caretakers doesn't draw a clear line between good and evil - what's the idea behind that, and to what extent could you identify with each of your main characters?
I think that is a subtle, and sometimes not so subtle trend in the movies that I write. What one may see as right another may see as wrong. It's all perspective really. While many of the characters in The Caretakers live in a different world than what most people are used to, does that make it wrong? Does that make them evil? I think most people who watch The Caretakers will be able to identify with all of the characters from a certain perspective.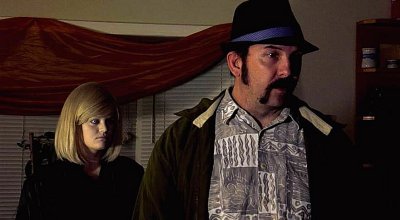 Jessica Dockrey as Albino, Steve Hudgins as Mason
What can you tell us about your directorial approach to your story at hand?
I wrote the story and created the characters, so I knew what I needed out of them and that's what I focused on. Making sure the actors/actresses knew the depth of the characters and their motivations and what's at stake for them, so it would be easier for them to transform into the proper frame of mind.
You also appear in front of the camera in The Caretakers, as vampire hunter Mason - why did you choose this role exactly, and did you write him with yourself in mind? And how much fun was he to play actually?
I didn't write that part with myself in mind. I'm an experienced actor both on stage and film, so there were several parts that I knew I was available to play and during the casting process the way the pieces fell in place, I felt that was the part that would help the casting of the movie as a whole. On screen he's all business, but I came up with a back story in my mind about Mason and his relationship with his Albino partner so knowing what shaped him and having that mentality as an actor was the more interesting part to me playing him rather than the total professional we see on screen. I always tell people who ask me if there would ever be a sequel to The Caretakers that I would more likely do a prequel that focused on the lives of Mason & The Albino. That's not in the works though, just something I think might be kind of cool.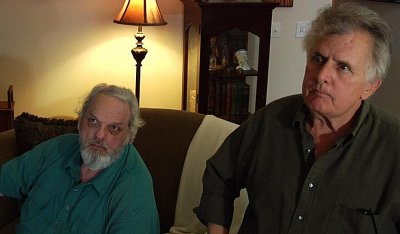 Bill Johnson, Joe Estevez
The Caretakers features veteran actors Joe Estevez and Bill Johnson - so what was it like to work with them, and how did you get them even?
We actually worked with Bill Johnson on one of our previous movies, Lucid, which was written & directed by my filmmaking partner P.J. Woodside [P.J. Woodside interview - click here]. So this was our second go around with Bill, who is a really great guy and quite the character! Fans of Texas Chainsaw Massacre Part 2 will know Bill as Leatherface and will get a kick out of seeing him in a very different role.
And Joe Estevez was one of the nicest people we've ever worked with and the consummate professional. We enjoyed working with both of them and they really took to each other as well. Very good chemistry between the two of them. Nothing too exciting about how we got them. We just reached out to both of them, they were interested in the roles and we were able to work out a deal.
What can you tell us about the rest of your cast, and why exactly these people?
We held open auditions for the majority of these roles. We always get a huge turnout when we have open auditions and people come from far and wide, many different states are represented at our auditions and the competition is fierce. As usual, we just cast who we think will be the best actor/actress for each part.
Do talk about the shoot as such, and the on-set atmosphere!
We shot The Caretakers in several different locations so the atmosphere shifted depending on where we were and what we were shooting, but everything went smoothly. Our set is usually a lot of fun during the down times and all business once we're ready to roll. One of the most interesting locations was "Catherine's House", which is a historic late 1800's house in downtown Princeton, Kentucky. The decor of the house is still done up just like it was back in the 1950's and I felt that gave it a very unique and fitting feel for a powerful vampire's lair!
A few words about audience and critical reception of The Caretakers?
It's always overwhelming to get an outpouring of positivity about one of our movies as is the case with The Caretakers. And not just the critical acclaim, but being a best feature nominee at the HorrorHound Film Festival and of course our national nomination for Best Indie Film of the Year at the Rondo Awards was quite an honor!
Any future projects you'd like to share?
We typically release a new movie every year. Our next movie is written and directed by P.J. Woodside [P.J. Woodside interview - click here]. It's called Frances Stein, so anyone out there clamoring for a good mad scientist flick can start licking their chops! Frances Stein is going to premiere this October. Fans of the show Justified will be excited to hear that T.O.N.E.z, the Grammy-nominated rapper who created and performs the Justified-theme song, plays a role in Frances Stein.
What got you into filmmaking in the first place, and did you receive any formal education on the subject?
It was just something I decided to try. I had more of an acting and writing background and knew someone with a little filmmaking experience and we wound up shooting a feature film. It was there that I got a good feel for filmmaking and then created Big Biting Pig Productions. I was able to get P.J. Woodside on board with me. She has a masters in fiction writing, along with acting experience and editing experience so together we make a good team and have been going strong ever since and seem to be getting better and better as we go.
What can you tell us about your filmwork prior to The Caretakers?
The Caretakers was our 8th feature film release as Big Biting Pig Productions. P.J. and I alternate each year as to who will write & direct. My credits include Maniac on the Loose (2008), GoatSucker (2009), Hell is Full (2010), Spirit Stalkers (2012) and this one, The Caretakers. P.J.'s credits are Widow (2009), The Creepy Doll (2011), Lucid (2013) and the aforementioned Frances Stein due for release later this year.
Your films are mostly of the horror variety - a genre at all dear to you, and why (not)?
I consider our movies to be more of a horror/thriller combo. Sometimes leaning more toward horror, sometimes more toward thrillers. But yes, I love the horror genre. I grew up with it. There's nothing like a great horror flick!
What can you tell us about your production company Big Biting Pig Productions, and your partner in crime P.J. Woodside [P.J. Woodside interview - click here]? And how did the two of you first meet even?
P.J. and I actually met as actors doing the stage play The Nerd. Prior to the creation of Big Biting Pig Productions I shot another feature with some other folks. After shooting we needed someone with editing experience and that's when I approached P.J.. She did a great job on it and we worked well together, so once I decided to continue making movies, I created Big Biting Pig Productions and it was a no brainer to approach P.J. and see if she'd come on board and fortunately she was crazy enough to do so!
When it comes to filmmaking, you've done it all, from writing, directing and producing, to acting, cinematography, even composing the score on occasion and whatnot - so what do you enjoy the most, what could you do without?
There's something about all aspects to it that I enjoy. The creative process, acting, writing, directing are the loves. I enjoy many of the aspects of producing, but there's many tedious things that come with that as well that aren't as enjoyable. And I don't really consider myself a cinematographer. I do alright with it, but it's not a love of mine.
How would you describe yourself as a director?
I was an actor well before I was ever a director, so I usually like to direct actors the way I prefer to be directed. And that's to have a solid amount of freedom to develop and play with the character while at the same having a clear vision as to the direction the portrayal needs to go.
Filmmakers who inspire you?
I'm more of a person who is inspired by individual movies as opposed to one person's body of work. That being said, I like a lot of John Carpenter and William Friedkin's stuff.
Your favourite movies?

Feeling lucky ?
Want to
search
any of my partnershops yourself
for more, better results ?

The links below
will take you
just there!!!

Find Steve Hudgins
at the amazons ...

amazon.com

amazon.co.uk

amazon.de
Looking for imports ?
Find Steve Hudgins here ...
Something naughty ?
(Must be over 18 to go there !)

Jaws, Halloween (Carpenter), The Shining, The Deer Hunter, Scarface, Alien, to name a few.
... and of course, films you really deplore?
Heavy action movies tend to bore me. I get bored with the action pretty quick, so having to watch that for 90 minutes usually doesn't work well with me.
Your/your movie's website, Facebook, whatever else?
http://www.bigbitingpigproductions.com
https://www.facebook.com/bigbitingpigproductions
https://twitter.com/BigBitingPig
Anything else you're dying to mention and I have merely forgotten to ask?
Go to our website, join our mailing list, follow us on Facebook & Twitter! We've always got lots of news rolling out so those are the best ways to keep up on all the latest from Big Biting Pig Productions!
Thanks for the interview!
Thanks a ton!!!