Your new series The 410 - in a few words, what is it about?
The 410 centers on Suri (Surpreet) Deol, an Indo-Canadian wannabe-Instagram-it-girl who's forced to return home to the suburb of Brampton, ON (Canada) after her truck driver father is arrested for smuggling narcotics across the border. The series explores a fractured father-daughter relationship within the structure of a fast paced family crime drama.
What were your sources of inspiration when writing The 410, and is any of the film based on your own experiences?
Around 2014/ 2015 I began to notice a reoccurring narrative in the Indo-Canadian community where South Asian truck drivers were arrested at several borders for attempting to traffic narcotics. I imagined the lives of those truck drivers: what aspirations drove them to commit those crimes: money/power/social rank? While the series is not based on my personal experiences, my father used to be a truck driver, so growing up I had a fair bit of familiarity into this world. When I began to see these stories about men who reminded me of my father, it really struck a chord.
Do talk about your series' approach to the thriller genre for a bit!
I personally love a good thriller, so when I was writing The 410, I knew I wanted it to be fast-paced with twists and turns because those are the kinds of stories I love to watch!
What were the challenges of bringing The 410 to the screen from a producer's point of view?
Weather, cast schedules, all the normal issues that arise with large ambitions paired with limited resources. I would say though that our wins outweighed our losses. We had so many instances where we thought we were stuck on some aspect of production, and then some lucky break would happen to make that thing work. For example, we were shooting this scene in a parking lot behind some residential houses and we got every resident except one to move their cars out of the space. Later that day our production manager went to that residence to ask them to move their car, but no one was home. Our production manager randomly snapped a picture of their mailbox that had their name written on it and texted me. As luck would have it, I knew them! Immediately, I gave them a call and within minutes the car was moved. That sort of thing happened so many times that it truly felt someone, or something, was looking out for us.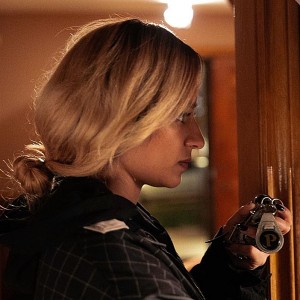 You also play the lead in The 410 - so what can you tell us about your character, what did you draw upon to bring her to life, and have you written Surpreet with yourself in mind from the get-go?
It was very important for me to write not just a female protagonist, but a South Asian female anti-hero. So often as an actor, the characters I'm asked to play are very much written as a 'good girl, educated, follows the rules' sort of archetype. I wanted to play a lead character that was messy, and nuanced and troubled, and often you don't see those roles cast with South Asian women, so I wrote it for myself.
Do talk about the rest of your cast, and why exactly these people? And as writer/creator/producer, how much say did you have when it came to casting?
Our cast is wonderful! We got so lucky with the actors that agreed to be a part of this project and that we were able to make it work with everyone's schedules. I've been acting for the last 10 years in Toronto, so when it came time to cast the series, I just drew from the incredibly fertile well of talented South Asian Artists within our industry and thankfully they all said yes!
What can you tell us about The 410's director Renuka Jeyapalan, and what was your collaboration like?
Renuka and I have known one another since my time at the Canadian Film Center (CFC). We'd worked on a few projects prior and it'd always been a very collaborative, engaging and rewarding experience. I knew her incisiveness in directing was exacting what the series needed. Renuka is extremely sharp and has an acute sense of story-telling that I haven't seen in other directors, the fact that she's also South Asian and that the story resonated for her as well was just icing on the cake.
A few words about the shoot as such, and the on-set atmosphere?
The shoot was quite challenging but always positive!
The $64-question of course, where can The 410 be seen?
The series is currently screening in Canada on CBC Gem, link here for the Canadians! And pretty soon we'll be able to share the series with our US neighbors to the South. (More news coming soon!)
Anything you can tell us about audience and critical reception of The 410 yet?
I think the series touches on some tough issues, which can be polarizing for certain people. Generally the reception has been positive. The thing that touches me most is when people from my community respond to the series and share their pride about having a series centered around a South Asian family on our national broadcaster. Also, we just received three Canadian Screen Award nominations, so that's very exciting!
Any future projects you'd like to share?
We're currently in development on three more episodes of The 410, so I'll keep you posted. I also did a feature last year called Hazy Little Thing directed by one of my best friends, Sam Coyle, that's having its premiere in March 2020!
What got you into acting in the first place, and did you receive any formal training on the subject?
I've always loved to be a part of telling stories. I did plays when I was younger, I went to film school to understand the technical aspects of this industry, and I trained at the Canadian Film Center within their Actor's Conservatory.
Over the years, you have also stepped behind the camera every now and again as writer, producer and at times even director - so what prompted that move?
Control. Lol. As actors, we have very little of it, and I wanted the challenge and reward of seeing a story through from beginning to end.
How would you describe yourself as an actress, and some of your techniques to bring your characters to life?
I think I try to always motivate myself by finding what is true and real. I don't have a singular technique, but I am always researching and asking myself questions to ground me in what is fact and true.
Actresses, writers, filmmakers, whoever else who inspire you?
These always change, right now I love Julia Garner for her tenacity, Khaled Hosseini for his clarity, and Taika Waititi for his wit.
Your favourite movies?
The Lives of Others and Parasite!
... and of course, films you really deplore?
Hmmm, Transformers, and pretty much any movie where it's 80% CG robots fighting one another.
Your/your series' website, Facebook, whatever else?
Supinder Wraich:
Instagram: https://www.instagram.com/Supinder_W/
Twitter: https://twitter.com/Supinder_w
Facebook: https://www.facebook.com/supinder.wraich

Feeling lucky ?
Want to
search
any of my partnershops yourself
for more, better results ?

The links below
will take you
just there!!!


Instagram: https://www.instagram.com/the410_series/?hl=en
Twitter: https://twitter.com/the410_series
Facebook: https://www.facebook.com/the410series/
Anything else you're dying to mention and I have merely forgotten to ask?
Nope, you've really covered your bases. Thank you!!
Thanks for the interview!