Your upcoming series Chronicles of Syntax - in a few words, what is it about?
Chronicles of Syntax is a post-apocalyptic sci-fi series that starts in present day and then sends us onto the barren wasteland of a future Earth. It follows a group of allies and enemies whose destinies are intertwined with Syntax, our reluctant heroine, who cannot remember her past but must battle with the choice: Live to Fight or Fight to Live.
According to my information, you conceived the basic conept of Chronicles of Syntax a few years back while still a student. What can you tell us about, shall we say, the early days of Chronicles of Syntax, what convinced you that you were on the right track, and how did the story evolve over the years?
Chronicles of Syntax was my way of entertaining myself to begin with, which they say is the best way to start. I have so many different interests that donít quite seem to make it to TV and in the void of good television, that summer when the one and only programme which manages to hit all the right spots takes a break, thereís really not much for you to do but wait. So while I was waiting Ė I wrote. Chronicles of Syntax combines a love of anime, Japanese drama, sci fi, gaming, cosplay, steampunk, fantasyÖ I could go on and on, but basically itís a world that acknowledges many different themes. Once I was happy with the
world I had created and the characters within it, I thought it might be fun to get it read by a professional crowd. Bearing in mind that at the time I had absolutely no working knowledge of the film industry and wasnít looking to do much more than see how it sounded coming from actors, I took the pilot to an Equity union meeting, where they graciously humoured me and sat down to read it. It was the response I got from them that told me this might be something really special. It sounds a bit dramatic but from that day on I feel like Iíve been riding a rollercoaster with Chronicles of Syntax. I was thrown in at the deep end of production and I had to learn my craft pretty sharpish. Luckily Iíve had some very inspirational professionals really take an interest in the series and Iíve been fortunate enough to learn from them. The story itself is pretty much as it ever was, with a bit of tweaking and tightening here and there. There have been a few hurdles we have had to overcome in the past which has prevented us from getting the series to the fans as quickly as Iíd have liked, and which has sometimes altered the direction the series is going. Now that itís been fixed as a webseries we will be able to get it to all the other countries who have been asking for it and thatís made us very happy.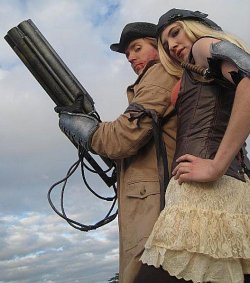 What prompted you to take the next step and put it into production now?
I always knew Chronicles of Syntax would belong to the fans. If it was just about telling a good story (which is predominately high on priority list) I could have written a book. But Chronicles of Syntax needs to be seen. Itís an exciting world with complex characters and an arc built for a series. The Chronicles of Syntax-world needs to breath in HD glory and besides, film was always my first love. As a fan myself I think thereís nothing quite like sitting with your friends and family counting down the minutes until the intro of your favourite TV show, or in this case, web series. I would count myself very lucky if I could create that for other people. Shortly after I moved to London I started working with the British Film Institute : Future Film Division. When I pitched the series to them it really opened up the possibility of not just telling this story, but telling it well and on a professional level. The next step was unavoidable and the fans have made it possible through crowdfunding.
As far as I know, as we speak Chronicles of Syntax is still in its fundraising stages. Would you like to talk about your fundraising campaign for a bit?
Of course, we have a campaign going on indiegogo to raise the money for production. Weíve been very lucky that the fans of the series have followed us there and really got behind us. We are currently the most popular campaign in the world, the top webseries on the site and the best project to come out of London. Itís very exciting, we even got featured recently. We are aiming for a modest budget of just $20,000. You can have a look at the campaign at www.indiegogo.com/chroniclesofsyntax and please get involved if you can.
Even spreading the word about us really helps. Thereís lots of goodies to be gained by donating and when itís ready, season one of Chronicles of Syntax will be put online to be watched by everyone.
Anything you can tell us about your projected cast yet?
Chronicles of Syntax already has its cast. It was important to me to hire actors who not only had a high standard of acting but who were also trained in combat, so that thereís no tricks involved in the fight scenes. But perhaps just as important Ė I wanted a relatively unknown cast. Iím often distracted when Iím watching fiction where theyíve cast really well-known actors. I spend more time thinking ďbut youíre such-and-suchĒ instead of being given a clean slate with which an actor can truly embody a character in my mind, with no preconceptions from anything they may have done before. As it is I have got a few castmembers that cult and online fan bases may recognise but gleefully not to the extent I mentioned above. Besides, these are some fantastic actors and itís nice to be able to give the good stories to people who might not have had the chance simply because ďtheyíre not famous yetĒ. If I were getting famous actors involved at all it would be cameos and nothing more.
What can you tell us about Chronicles of Syntax's directors, and what will they bring to the table?
Having Dan and Adam Hipkin from TEAFilms, Jack Ayers of Early Train Productions, Chris Munns from iDare Productions and James Webber from Fingercuff come in as directors is a dream come true. Not only are they supremely hard workers that have a love for sci-fi and genuine talent in their craft, but they are also really nice people! A lot of series do it nowadays, have different directors for different episodes and it just works so well because it gives a fresh voice to each story. While the series has its own continuous arc the episodes can be seen independently and this means that we will have the chance to see these guys take charge of the different adventures that are coming up. Iím very excited!
Your fight choreographer Ronin Traynor - what can you tell us about him, and what kind of action can we expect from his involvement?
Ronin Traynor is by far the fighting genius that encompasses our Chronicles of Syntax lives! Not only is he our fighting choreographer but he is also one of the bad guys, he plays the character Hemlock - and very well I might add. On top of this he is one of the people who helped me create Tycan, the in-series sport, which you are going to love!! Itís like capture the flag but with weapons! Ronin Traynor has worked on so many wonderful things, including blockbusters and BAFTA winning games. Not only is he capable of dreaming up the most wonderful action but he has experience in fighting within gameplay. I promise you, you wonít have seen anything like it.
Let's return to your writing for a bit: What were your initial inspirations when writing Chronicles of Syntax, and how would you describe your narrative approach?
Iím all about the character! Iím a firm believer that if you donít have interesting characters then the rest of your story, the location, the destination, the special effects are all pointless. Iím a HUGE Joss Whedon fan so I guess his work has influenced me a lot, Buffy the Vampire Slayer, Firefly, DollhouseÖ they are all series that were really well-loved. I want to make people feel how he made me feel. When I was younger, Buffy became my whole world. The fanbase was a tangible experience Ė it still is, I mean Fireflyís been gone for years but Iíd declare myself a Browncoat any day of the week. His writing creates an echo of excitement and a loyalty that never fades. If I can achieve even half that within my lifetime Iíll be very happy.
What can you tell us about your lead character Syntax, and honestly, how much of yourself can we find her?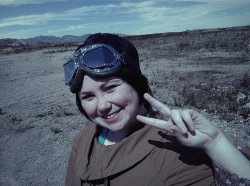 Susan E. Clarke
This is a fantastic question, no one has ever asked me this before so itís not something Iíve had to really think about. I identify a lot with a lack of identity. When I was younger I was diagnosed with a form of epilepsy called Ďpetit malí, and at the time they didnít really know what it was, so I was put on some really high medication which left me a little spaced out on top of my seizures, and at the most critical time of my adolescence. For one reason or another as I grew up and eventually grew out of my epilepsy, I realised I had lost a lot of memories from my childhood. At first that was really tough for me to deal with because I felt like I didnít have any grounding, anything with which to define myself. All the choices I had made growing up seemed lost in time. It made me question a lot of things and I think a lot of those questions are what drives Syntax to find out who she is. Except she is handed a lot more responsibility because everyone views her as a hero. You kind of feel sorry for her but at the same time her reluctance to even try to be who people want her to be can be considered both admirable and aggravating. Syntax is a contradiction of many things, caught within the definition of saviour.
As far as I know, once it's finished, Chronicles of Syntax will consist of six 12-episode series. Would you like to elaborate on that?
Chronicles of Syntax is a 6 season series, but season one is self-contained, so we want to get those 12 episodes out to the fans and allow them to be satisfied with it. If we are lucky enough to have the series picked up after that then we will be more than happy to continue to tell the rest of the story, but for now we just want to focus on what we can do and do it well.
The $64-question of course: When and where will Chronicles of Syntax be released (if that's not too early to ask)?
Right now we are planning to go into production in September, which means if everything goes to plan we should have episode one online to watch for January and then the series should play throughout 2013. If we donít get someone wanting to host the series somewhere specifically online, we will most likely put it on YouTube and on our website. The most important thing to me about posting the series online is that there should be no restrictions with other countries because there are so many other countries outside the UK waiting for Chronicles of Syntax and Iím determined to make sure they have it, with no delays, just as easily as our UK fanbase.
Any future projects beyond Chronicles of Syntax?
Nothing as serious as Chronicles of Syntax but itís always good to do what you love and I love writing. When I need to relax from writing the series, I simply start writing something else and I enjoy it. My next ambition after completing the series would be to write a novel but if someone came along and told me Iíd be making the rest of Chronicles of Syntax for the next six years Iíd still be very happy because thereís still so much of the world to see.
Let's go back to the beginnings of your career: What got you into the filmworld to begin with, and what can you tell us about your early experiences in the field?
I took to theatre at a really young age, and by the time I was 19 I had worked my way up to become an Equity member, and therefore viewed as a professional actress. I had always written stories in my spare time, and when it was required I would write monologues for my acting classes. Eventually there came a time when even my agent was selling me off as an ďexcellent writerĒ and I realised that maybe I had misread the best avenue in which to tell my stories. It was a natural step to look at writing a little bit more seriously I guess, but I never in my wildest dreams imagined the rollercoaster ride that Chronicles of Syntax would bring. This series was the project with which I took my first professional steps as a writer. I was building up a production company at the same time as attending full time university. By the time I left I was on my way to Trailer and holding a 2:1 degree with honours. It sounds really awesome when you say it like that but it was really hard work and being the novice that was, I swiftly learnt the hard way what was required of me Ė sometimes the only thing that kept me going was my passion to see this adventure come to life. That and the friendships I had picked up on the way, I could never let them down. My dad calls it my apprenticeship Ė I donít think that there could be a better word for it and Iím a stronger filmmaker now because of the time I spent working on the series during my degree. I have been a showrunner since Chronicles of Syntax started and multi-tasking and getting stuck in regardless of the job seems to be the way forward in the film industry these days, I love it. Iíve been very lucky to work on some of my own short films with the BFI Future Film department in London and even the smallest of productions can have their challenges, you really have to have a passion for this job, a bloody-mindedness and a strong sense of what you want, to be a part of it. A lot of people ask me ďwhat advice would you give aspiring filmmakersĒ and I always say the same thing. It sounds like a really simple piece of information that seems obvious but no oneís going to come along and shake your hand and say ďright, NOW you are a filmmakerĒ, you become a filmmaker by becoming a filmmaker. Step outside your bedroom and just do it. Film on a camcorder or a mobile phone, grab your friends together, make mistakes and learn from them. These jobs donít land in your lap but if youíre determined and you enjoy yourself, those steps will eventually lead you in the right direction for your dream job.
How would you describe yourself as a writer, and where do you usually find your inspirations?
Iím an old fashioned fan of escapism. I feel like life can be tough enough for people, so when it comes to fiction, no matter what the genre, it should be able to take them away, allow them access to something Ďotherí. Anything can inspire me to write: music, a certain craving for a specific emotion, an idea of a relationshipÖ but most of all I think itís dialogue. If characters drive my stories then dialogue is the catalyst for those characters. Whatever it is that makes me think of these conversations I will probably never know, but I can be in the middle of something mundane and suddenly BAM I just need to see who these words belong to. Itís very exciting for me to meet new characters and watch them grow through a story, sometimes they do things that even shock me, or make me laugh or make me cry. I know once that happens I just need to let other people experience it.
Writers and filmmakers who inspire you? Your favourite movies?

Feeling lucky ?
Want to
search
any of my partnershops yourself
for more, better results ?

The links below
will take you
just there!!!

Find Susan E. Clarke
at the amazons ...

amazon.com

amazon.co.uk

amazon.de
Looking for imports ?
Find Susan E. Clarke here ...
Something naughty ?
(Must be over 18 to go there !)

I have a different relationship to film and talent than I think most people do. There are lots of people I admire and who inspire me in many areas of the story making process. I can see an average film and absolutely fall in love with it because of just one moment where I was moved or I learned something. My DVD collection if full up of really old movies of stars in their youth because I will be so enthralled by someoneís ability, to act or to write, or create music or direct, and from that point I will pretty much follow them back in time to their roots, see where they started, what mistakes they made if any, and watch their growth within the industry. I would say I have some fantastic films in my collection but only a rare few I love in their entirety.
... and of course, films you really deplore?
I dislike any film that doesnít have logical character growth, or films where the special effects are used to try and convince its audience of a Ďgood storyí. You know the ones I mean! I prefer special effects to be an invisible aid to storytelling Ė like the robot in Interview with a Vampire. Thatís right, I said ROBOTÖ see my point?
Your/your series' website, Facebook, indiegogo, whatever else?
www.indiegogo.com/chroniclesofsyntax
www.facebook.com/chroniclesofsyntax
www.youtube.com/primaryfaction
Come find us!
Thanks for the interview!