Your new project Black Flag TV - would you care to describe it in a few phrases?
Black Flag TV is a viral TV station. We're all familiar with viral advertising, where people would contribute to and repost a given commercial to each other and share on their social media and blog pages. That is the pattern used by Black Flag TV. It's a live TV stream that can be posted anywhere, people can adapt the TV screen just as they would a YouTube video. We end up broadcasting on Facebook, MySpace, Blogger, several personal web pages and so on. Some folks watch the station from forums, bulletins, or right off an e-mail they received from friends. The station spreads exactly in a viral pattern. We have no control on where the station is being viewed, how it is being used and displayed, and that is exciting!
There are many sites that offer movies (even for free and legal like your site) out there on the net - what makes Black Flag TV special?
Black Flag TV is definitely in a class of its own. No kidding, I haven't seen any other thing like this anywhere else - yet. We don't really offer movies on demand, we are a TV station, with a schedule, movies timeslots and so on. There is no on-demand content, it's a 24h/7 continuous stream of programming and indie movies. We are not just a site where you go to watch movies. Actually there is very little traffic on our website, most people watch the station from the free desktop application, you don't need to use a web browser. Several users are watching from Facebook too, and from MySpace as well. The audience watching from our web site represent about 5% of the entire station's ratings. So this is one big difference from other sites offering movies. Most of them are making sure the audience are watching from their pages and feed them with banner ads and promotions.
Another big difference is that people can watch our station without registering, or entering any personal information. No username, no password, wherever Black Flag TV is being shown, it's all free of charge, the window opens and you watch the films. The desktop application works the same, you launch it, and the programming kicks in, no question asked, no login, nothing. As simple as it gets.
Why did you choose the very traditional, old school television approach with Black Flag TV, with fixed schedules and everything?
I simply find it's better suited for discovering movies. It's a vintage broadcast method that might seem outdated to some, but having no option to pause, rewind or fastforward gives another viewing experience. And the mission of Black Flag TV is much different than those standard video-on-demand or YouTube channels. You discover films on the station that you wouldn't anywhere else in VOD channels, because, well, you would need to look for it first. If you don't know something exists, you don't look for it. Many of Black Flag TV's audience tune in and 'leave the TV on' during long periods of time, in the corner of their computer screen, while they work on something else or browse the internet, taking a peek every now and then, and end up being hooked to the film playing. Just like the TV in your living room basically. The server's analytics reveal some users are watching for over four hours in a row.
Even on the internet, running a TV-station costs quite a bit of money. How is Black Flag TV financed?
Black Flag TV is funded like a regular TV station: with commercial breaks. There is no banner ad, no pop-up windows, no video pre-roll, the commercial breaks are inserted every 15 minutes or so, just like regular TV stations. We also get some Paypal donations which is much appreciated.
How did you dream up Black Flag TV in the first place, and could you talk about its evolution from first idea to first broadcast for a bit? And what was your first ever broadcast?
Well when I was a kid I was keeping telling myself, while watching some lame cartoons, "If I was running this TV, I would only put good stuff on!" Of course back then it was just a kid's thought. Today's technology brought this dream to reach, and opened possibilities we could only dream of not so long ago.
So the idea of a TV station grew in my mind a few years ago, when I started distributing DVDs. I had a very cool catalog of independent titles that I wanted to be seen, yet DVD sales are running very slow, so more and more the streaming media was appealing. I didn't want to have something like the other sites, video on demand, pay per download or PPV and so on. People hardly buy something they don't know first hand, and most of the stuff I had were little known gems. So the continuous TV feed was a good option, and I started building the structure with the computer resources I had in my office, and my limited knowledge in the matter of broadcast media. There was a lot of trial and error, sleepless nights, web searches and phone calls to make it all work, but eventually I ended up with something I could upstream from my office, and display it on someone else's computer screen. There are commercial services doing that already, but I wanted something much more flexible, with no hidden or unexpected monthly charge. The only option was to build my own server and broadcast from my desktop computer.
My first ever broadcast was… well it was a NHL hockey game. Montreal Canadiens vs. Lightening. Habs were being torn apart by Tampa Bay that night. The game was on the TV sitting next to my computer I was running tests on, so I routed the cable into my computer, and forward the signal to the video encoder and then stream to my testing website. There I was watching hockey live right off my own website. I called a couple of friends to invite them to check my website and tell me if it was working, and it was all fine everywhere. From there, the broadcast pattern was working, the rest consisted in preparing the films I had under contract to be airing on the station, prepare a method of scheduling and so on.
Now the station is all automated, I programmed an Excel spreadsheet to build the schedule from dropdown options, the script outputs the schedule to the broadcast software, and upload in the same task the schedule to a Google Calendar that's displayed on the website. The Google Calendar has notifications turned on for every event listed, and these notifications are sent to my Twitter account, letting know the subscribers what film is currently being presented on Black Flag TV. The station's controls are also accessible remotely, I don't need to sit next to my computer to work on the station, it's fully accessible from my Blackberry tablet, and I can operate the system off my iPhone. I've setup a series of useful commands in case of emergency, for example I can reboot the computer by sending an e-mail with a password to a specific address, that turns off and then on the computer's UPC power unit, all the software suite automatically launch at the computer startup, and resume the broadcast schedule. I made the TV station to be run by a one-man army. The more it is automated, the more time I can spend in making films and acquiring content for the station.
The films you broadcast on Black Flag TV are mostly of the indie horror and indie science fiction variety. Why is that, and what is in your eyes the appeal of indie films in general?
I really, deeply love independent movies, those with bigger budgets and those with no budget. Indie movies explore territories that are too risky for large studios. When these big boys invest over 50 millions in a film, they want to recoup their investment so they're likely to stay in known market, stick to proven recipes. Indies dare to jump in the water and create something bold, and come up with something new. Their financial investment is typically much lower, and most of the time, they make films out of passion rather than for the purpose of filling a business gap in a theatrical release calendar. As for the genre I favor on Black Flag TV, sci-fi, horror, action and martial arts… Well that's stuff I love myself, and that I want to share with the world. See, that's the same pattern here as the independent filmmaking's: Indie films are made on a shoestring budget, by passion-driven filmmakers. Black Flag TV is also tiny budget and passion-driven, and that makes the station a bold TV that does not conform to the typical broadcast standards…
If somebody wanted to submit a movie to be shown on Black Flag TV, where would he have to turn to, and are there some quality guidelines for submissions with Black Flag TV?
Simple enough, just visit www.blackflag.tv and drop by the contact page! We're always looking for new, exciting content, be it short films, full features, series, you name it! As for quality guidelines, it's taken case by case. But if I have a recommendation to make, that would be: "Take care of the sound!!" This is usually where it hurts for independent movies. Too many filmmakers do not take care of the sound when they're filming. It results in a film that's hard to release on DVD or on TV. I see great movies, but if the sound is not well recorded and peaks everywhere, there's nothing we can do…
Also, please make sure the music you use have rights cleared! Same goes if you use images or footage from other films, you need permission to use these excerpts in your films. These are the most common problems I see with some films being submitted.
Many of the films you show on Black Flag TV are actually distributed on DVD by your own company, Black Flag Pictures. Aren't you cutting into your own profits with your TV channel?
Not quite! People who really like the films they see on Black Flag TV tend to buy the DVD anyways, just to watch the film without the station's small watermarked logo, see the film without commercials, and have access to the DVD bonuses. In the other hand, people who like the films but not enough to buy the DVD… they still take time to watch it on Black Flag TV anyways. We're all like that actually, we're often watching films on mainstream TV that we would not buy on DVD. But we still enjoy watching them when they air.
Interestingly, too, I realized a few times that some folks placed an order for a DVD after seeing parts of the film on Black Flag TV. They said they thought the film seemed promising, and wanted to own the DVD instead of catching the next broadcast. How cool is that?!
... and speaking of Black Flag Pictures: What can you tell us about that company of yours?
Black Flag Pictures is the main company that owns Black Flag TV. The films and original productions are created and funded by Black Flag Pictures, and the company also takes care of licensing movies as well as distributing physical goods. That's the mother of all evil.
Back to Black Flag TV: Highlights you've had on your channel so far?
We got some great stuff on the station, it's hard to point one in particular. Still I can name this amazing film called Pandoras's Sphere (La Bille de Pandore in French). An epic action / science-fiction that was shot over a period of seven years, with name actors. The film is a professional production with a tiny five figures budget, and runs for 2h15. Remember that's an independent film, the producers had very little to make this film come to life. It's simply spectacular, and Black Flag TV is the only channel showing it. We also distribute the film on DVD. So that's just one film among the many, many great titles you can see on the station.
Future films/shows/whatever on Black Flag TV you're excited about?
We do have lots of films in negotiation right now, but the most exciting stuff we're working on lately is to bring Black Flag TV to people's television in their living room. We're working on a scheme to bring the station out of the internet, and bring it to additional platforms. Still free all the time, that's the goal. But to keep the station free of charge, people have to watch it. Ratings keep us going. There will be annoucements made this spring regarding the arrival of Black Flag TV to standard television channels.
Over all the talk about Black Flag TV, we mustn't forget that you're quite an accomplished genre filmmaker yourself. So what can you tell us about your upcoming film Silverblood?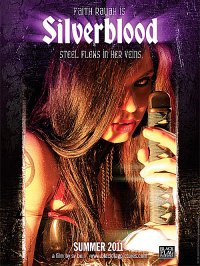 Well I wouldn't say "accomplished", but thanks for the kind word! Silverblood has been in the making for quite some time now, we shot most of the footage during fall 2010, I originally intended to edit and release in 2011 but have put the film aside, just the time needed to launch Black Flag TV. Now the station is pretty stable and eats less of my time, I came back at the editing of Silverblood a few weeks ago. I hope to be able to release it this summer. The film is pretty surrealistic, very strange and bizarre, LSD-driven 70s looking, but with a solid gothic feel to it. The story is about a sexy girl having terrible nightmares, in which she sees herself as a vampire killer. But soon we realize that she may or may not be dreaming, there are clues for both sides, and it's driving her totally insane. It's a very twisted story, one would say I was high on grass when I wrote that. Even I, after two years, I re-read my script while editing and I'm like "Man, what's wrong with me?!"… So yes, it's going to be a rather curious and troubled piece. As soon as it's completed, you'll see it on Black Flag TV.
Any future projects beyond Silverblood?

Feeling lucky ?
Want to
search
any of my partnershops yourself
for more, better results ?

The links below
will take you
just there!!!

Find Sv Bell
at the amazons ...

amazon.com

amazon.co.uk

amazon.de
Looking for imports ?
Find Sv Bell here ...
Something naughty ?
(Must be over 18 to go there !)

I do have a couple of ideas to put forward, but for the past 24 months, launching Black Flag TV and driving Silverblood upfront was pretty demanding. I'll wait Silverblood is released before I browse my folder where I keep my movie ideas.
Your/your TV station's website, facebook, whatever else?
http://www.facebook.com/BlackFlagTV
http://www.facebook.com/svbell
Anything else you are dying to mention and I have merely forgotten to ask?
That's about it I guess, but I can't stress that enough, Black Flag TV is ratings-driven. We need as many people as possible to watch it for us to keep it free of charge. So visit us often, and share the station with your friends and on your social networks! There are plenty of links available, we also have a page on our site with ready-to-use HTML code to add the channel to your site or to your Facebook page. Use at will! The link many people use in their e-mails is the direct video feed:
http://www.blackflag.tv/remote/BlackFlagTV.swf
So the best way to support indie movies and Black Flag TV is to watch the station! It's midnight movies 24h a day...
Thanks for the interview!
Thanks to you Michael!