Your new movie To Your Last Death - in a few words, what is it about?
Tanya Klein: To Your Last Death is an animated horror film with sci-fi elements. Our protagonist is a troubled young woman named Miriam. After emerging as the sole survivor in a deadly revenge game set up by her father to punish his children, Miriam receives an offer from a supernatural entity to go back in time and try again. Now, Miriam must survive both her father's bloodlust and the Gamemaster's ever-changing rules to save her siblings as she relives the worst night of her life. Basically, it's Saw meets Groundhog Day… meets Archer.
What were your sources of inspiration when writing To Your Last Death?
Jim Cirile: Firstly, we love horror and really wanted to bring something new to it. For example, there is a horror trope called "final girl" – the female protagonist and sole survivor of a horrible ordeal crawls out of the wreckage completely banged up but victorious. We figured: let's use that, but we'll start with it. We put it at the beginning of the movie and then send her right back to experience the ordeal again. Secondly, we also wanted to make sure that the character development didn't get the short end of the stick (as too often happens in horror films), and we spent a lot of time in crafting developed characters that an audience can not only root for but also feel for when they die.
To Your Last Death does have several layers of reality and sometimes rewinds it story - so how hard was it to not literally lose the plot telling your movie that way?
TK: Very. Apart from screenwriters, we are also story analysts (the people that tell their fellow screenwriters or producers or directors what's working and what's not working in a script and how they can fix it), and one of our biggest pet peeves are writers who don't develop their material. Way too often in this industry they'll send out something they deem "good enough" – possibly a third or fourth or fifth draft. Writing a decent script usually takes time and notes and rewrites.
JC: And that's doubly important if you have a script that deals with time travel or alternate realities, because you have to establish rock-solid rules and have to make sure the audience gets those rules and that they make sense within the world you've created. Altogether, To Your Last Death went through 27 drafts before production began.
Now how did the project get off the ground, and did you always indend to do it as an animated feature, or did that just come about eventually?
TK: The initial plan was to shoot it live-action. You may have noticed the limited locations in the script – mostly one floor of an office building. In other words, the movie was designed as a low-budget horror movie. However, our amazing producers Cindi Rice and Paige Barnett said that even with the limited locations, we were still looking at a higher budget than we had anticipated (due to the numerous death traps and required special effects makeup) and suggested a motion comic – in the strictest sense (meaning the camera pans over flat drawings). Of course, we are also the masters of mission creep, and one of the very first decisions we've made was to have full lip sync. In other words, we went from making a motion comic to an animated feature film.
What are the specific challenges of making an animated movie from a producer's point of view?
JC: The biggest challenge – for any producer on any movie – is usually lack of funds. With To Your Last Death, we couldn't even afford to hire an animation house (even though a couple of them were willing to cut their rates for us). So we had to build our own animation studio from the ground up. We found people from all over the globe. At one point, we had people on five different continents working on this movie: line artists in Eastern Europe and South America, Colorists in Western Europe and the US, animators in the Middle East and Asia, etc.
What can you tell us about To Your Last Death's approach to horror?
TK: You have to have characters that an audience cares for - otherwise, building tension will be difficult. The audience needs to be on board with these people and feel and fear for them. You also need to have a theme, something to say – otherwise, why would anyone bother watching the movie? In essence, our approach to horror is the exact same as our approach would be to any other movie. In general, we feel that the problem is that "horror" is often treated as a stepchild especially where the writing is concerned. And there was no way we were going to let that happen.
JC: But also, we wanted a lot of twists that feel organic, and we wanted this movie to be bloody. And boy, did we get that in spades. I grew up reading Fangoria, and this movie absolutely had to deliver. Tonally though, Film Threat called To Your Last Death an "action/horror movie", and that's exactly what we were going for. In terms of pacing and tone, To Your Last Death is more Aliens than Alien. We wanted this to be a fast-paced fist to the face, but with rich, believable characters.
As writers and executive producers, how much of a say did you have in regards to character design and the like?
TK: Regarding the character design, luckily, we all were on the same page pretty much from day one. When Carl Frank, our lead line artist and character designer, came up with a new design, director Jason Axinn would feed back on it as well as send it to the producers (Tanya, Jim, Cindi Rice, and Paige Barnett) to give their input. It really was a collaborative effort. We are definitely hands-on executive producers, no doubt about it. We worked on this movie every day for five years.
What can yo tell us about To Your Last Death's director Jason Axinn, and what was your collaboration like?
TK: The great thing about Jason (apart from obviously being a wonderful director and having the incredible stamina and patience to see this through) is that he has encyclopedic knowledge about all things horror. And that is a background he brought to this movie and it really shows. We all worked very well together, which is so important -- especially with a project that takes years to complete. Jason also has a wonderfully snarky sense of humor, which perfectly fit the tone of the movie. He kept coming up with ideas for a gag that just landed and fit perfectly. The elevator muzak, the "Get to the choppa!" ring tone, for example, were all his.
You of course also have to talk about To Your Last Death's rather star-studded voice cast, and why exactly these people?
JC: When we first started the pre-production process, we all sat down and made a list of possible actors to contact. Who would be great in the part? Who do we want to work with? Are they good for this particular genre? Will they be good for the project's marketability? All of these are things to keep in mind when casting. And we really got lucky because all of our first choices actually wanted to do the movie. Morena Baccarin was a natural because she had exactly the right gravitas in her delivery. We went in cold to her agent with the script and an offer, and were stunned when they accepted. Morena later told us that she was attracted to the darkness of the script (you can see the interview with her on the Blu-ray digital special features). An amazing talent, and of course she is beloved by sci-fi fans… as is a certain starship captain.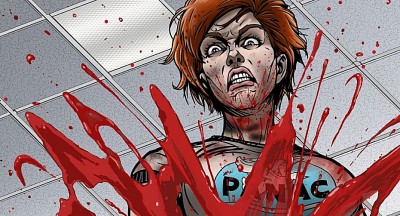 TK: We were lucky in that we discovered a personal connection to Mr. Shatner, makeup effects expert Andrew Clement (who coincidentally also co-designed the Deadpool makeup with his partner Bill Corso). Jim went to college with Clement, and later discovered that he was Mr. Shatner's son-in-law. Clement was willing to connect us to Mr. Shatner's manager, but after that we were on our own. Incredibly, three weeks after sending along the script and hearing nothing, our phone rang… "Jim, Tanya, this is William Shatner. I understand you have a part for me?"
JC: After picking our jaws up off the floor, we had to pitch him the movie on the spot. He said, "Sounds interesting. Let me read the script, but you'll have to do a little better on the offer." Needless to say, we did. For the part of Cyrus, we went out to Ray Wise mainly because of his portrayal of Leland Palmer in Twin Peaks. That role was so eccentric. Just wonderful. But also after rewatching RoboCop, we knew he could play a stone bastard. As soon as he was suggested at the casting meeting, we all went "Oooh."
TK: We have to mention Dani Lennon, who won the part of Miriam over 600-plus auditions, including a few well-known actresses, and it wasn't even close. Only afterwards did we learn she was friends with our producers and director and worked with them all on their Machinima series Bite Me. Producer Cindi Rice did not want to influence our decision and said nothing, so when we told her Dani was hands-down our first choice, she smiled and said, "Okay, guys, there's something I need to tell you…"
During the whole making of To Your Last Death, what was the collaboration between the two of you like? And how did the two of you first meet even?
TK: We met at a writer's conference here in Los Angeles in 2010. Essentially the way we work is that we come up with an idea together (broad strokes, a paragraph, something we want to say), and then we beat out detailed character bios and a basic structure (nothing too elaborate, usually four – six pages). Then we card it all out on index cards and make sure the structure is solid, and then I will go off and write the first, then Jim will put his stamp on it, then it goes back to me for a once-over and then we send it to one of our analysts for coverage (notes). When the coverage comes back, we'll discuss the notes and how to address them. Then either Jim or I will go off to write the next draft, and it all starts over again. Rinse, repeat.
Anything you can tell us about audience and critical reception of To Your Last Death?
JC: Man, we are thrilled. Yeah, creators always seem to say that. But we really, truly are. When you spent several years pouring your blood, sweat, and tears (not to mention money) into something, you really want it to land. And it did.
TK: We've been to many festivals over the last few months and the audience reaction was always – well, basically, what you dream of if you've spent several years of blood, sweat, and tears on something. And the reviews have been incredibly good as well. Even that guy from the parents' advisory council…
JC: Right! He was like, "NOT for kids! Beware!" But he loved the movie and gave it four stars out of five. Hilarious.
Any future projects you'd like to share?
JC: Yes, we are currently shopping a bloody horror comedy which is like Ready or Not meets Ash vs. Evil Dead, and creating a startlingly plausible Orwellian political thriller. Both have similar DNA to To Your Last Death, although they are both very different in execution
Your/your movie's website, social media, whatever else?

Feeling lucky ?
Want to
search
any of my partnershops yourself
for more, better results ?

The links below
will take you
just there!!!


TK: You can find To Your Last Death at www.ToYourLastDeath.com as well as on Instagram, Twitter and Facebook (#ToYourLastDeath). If you are a screenwriter and have questions, you can check out Coverage, Ink at www.CoverageInk.com
Anything else you're dying to mention and I have merely forgotten to ask?
JC: We really appreciate the support! We're trying to create a brand-new category here, animated horror for adults, and it's challenging at times. We got a call last year from the programmer from a prestigious film festival apologizing for not being able to program our movie, even though he loved it. Lovely fellow, and we appreciated his candor. We absolutely understand. But everything commonplace started out unique. Fans of Adult Swim, graphic novels and anime get it pretty quickly. For everyone else, give To Your Last Death a shot. Who knows – you might just freaking love it.
Thanks for the interview!