Your new movie Medicated - in a few words, what is it about?
Medicated tells a story of a mental patient who is sucked into a fight for the world domination after taking part in a weird medical experiment. But is it all really happening or is it just his sick imagination?
What were your sources of inspiration when writing Medicated?
Together with my co-writer and co-director Ville Väisänen, we had an initial idea of the "Lord of the Dimensions", and then began to write the rest of the story around it. I don't really recall if there was any single factor that inspired us to make this particular movie. But the fantasy genre and horror comedies have always been our source of inspiration.
What can you tell us about your co-writer and co-director Ville Väisänen, and what was your collaboration like?
Me and Ville have made numerous short films together. This was our first full-length movie and the collaboration worked seamlessly. I focused more on the story and the characters, while Ville focused on the special effects and the visuals.
Do talk about Medicated's approach to horror!
Medicated is more of a horror comedy than a pure horror film. This comedy aspect was partly due to conscious choice, but of course, whenever we talk about no-budget amateur movies, we will have some unintentional comics through the movie. For example, the acquired props did not look as scary as we had initially imagined, and in some occasions, we could not really get the feeling of fear and horror from the actors – me included.
What can you tell us about the action aspects of your movie?
Action has always been a top priority in our films. We all love doing it because it is lot of fun, and also it gives us a wide range of possibilities to work with our creativity: what kind of fight choreography to use, what special effects the action scene requires, what kind of comedy to add to it, what camera angles to use etc. And it is always fascinating to see the end result from that wide mix of ingredients. Also, many of us do martial arts, so why not do it also in front of the camera.
You of course also have to talk about Medicated's brand of comedy!
Comedy, to me, is the essence of a good movie. It is always worth adding some comedy to the movie regardless whether the genre happens to be drama, horror or fantasy. The comedy of the Medicated is more physical and based on action and characters. Meaning, for example, how to make characters fall and roll over in a funny way, and what humorous expressions and lines they use when they are interacting with each other. Also good editing and phasing can give lot of comic relief to a scene.
A few words about your overall directorial approach to your story at hand?
Well there is the actual shooting part and the part that takes place outside the shooting. During the latter you plan and prepare everything for the shooting, for instance what you need to have on the set and what you want to accomplish during the shoot. Then you go and shoot according to the plan. It's as simple as that. Well not really, but it is not rocket science, you just have to know what you want. If you don't, then you are just depending on a good luck.
You also play the lead in Medicated - so what can you tell us about Korppainen, and what did you draw upon to bring him to life? And have you written him with yourself in mind from the get-go?
Although Korppainen is a mental patient who sometimes has hallucinations of his dead brother, he is still quite the usual type of guy compared to the other characters in the movie. His is guiding the viewers through the events of the film and at the same time he is searching meaning for his miserable life. It was interesting to play that character, but I had even more fun when I played his brother Kartsa, who was a real crazy guy.
Do talk about the rest of your cast, and why exactly these people?
Most of the cast in the movie were the same who have been involved in almost all of the previous Cala Company productions. So we have a long history together and by now we already know what kind of roles fit the different actors best. So in the end, it is mostly finding the roles that best support their natural qualities and traits. This also makes the acting much easier.
A few words about the shoot as such, and the on-set atmosphere?
The on-set shooting of our films happens always in a very fast phase. The reason for this is that we usually have already a very strong vision of what we want to see on screen and therefore we can finish the shots quite fast.
Another reason for the fast pace is that we often try to shoot at least one whole scene during a day. This "one day for one scene"-style shooting helps a lot in practical things and arrangements. In addition, especially when shooting outdoors, you have to be quick, because in Finland the natural light varies a lot during the day.
Filming on the set is often fun, but sometimes due to schedule pressure, many things have to be done at such a fast pace that you don't have as much time for enjoying the shoot as you would like.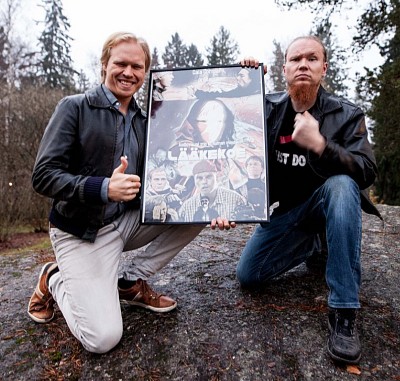 Tapio with Ville Väisänen
The $64-question of course, where can your movie be seen?
Currently only on YouTube. Of course, we always try to take part in various competitions and events as they appear, so whenever possible, we try to be there.
Anything you can tell us about audience and critical reception of Medicated?
The film has received mostly positive feedback and we are of course very pleased about it. In fact, I am particularly proud of the fact that no one has pointed out that the film would have any tedious or boring moments. It is often a big challenge for an amateur movie, especially this long, to be well paced and fascinating throughout the whole movie.
Any future projects you'd like to share?
We are currently working on our new film, The ManKing (working title), which is set to be ready by this summer. The film is shorter and there have been far fewer people making it compared to Medicated, but even though it is not as complex a project, we still believe it to be as good as Medicated! Stay tuned!
What got you into filmmaking in the first place, and did you receive any formal training on the subject?
Everything has been learned by doing, meaning no actual schools have been attended. I became interested in making movies at a young age already and it has slowly grown into a more serious hobby.
What can you tell us about your filmwork prior to Medicated?
We have made numerous short films before Medicated. However, most of them have been significantly shorter and less ambitious than this one, but they are still all great! Unfortunately, they are mainly not viewable by the public, but you can find one, our Christmas special The Jingle Hell, also on YouTube.

Feeling lucky ?
Want to
search
any of my partnershops yourself
for more, better results ?

The links below
will take you
just there!!!


Your/your movie's website, Facebook, whatever else?
Information about Medicated can been found here: https://www.imdb.com/title/tt9025650/
Medicated is available on YouTube: https://www.youtube.com/watch?v=qnHnie1v550
The Jingle Hell is also on YouTube: https://www.youtube.com/watch?v=gEkPufH1h2M
Anything else you're dying to mention and I have just forgotten to ask?
It's great to have people like you who cherish amateur movies and support their makers! Keep up the good work!
Thanks for the interview!
Thank you too! It was fun!