You are currently in Italy shooting Zombie Massacre. In a few words, what is it about, and what can you tell us about your character?
Eden Shizuka, an Irish girl raised by a Japanese monk, trained in ninjitsu and other forms of martial arts is part of an elite SWAT team organized by the US government to contain a biological "threat". Zombies.
My character, being raised with Eastern philosophies is quiet, intense, and deadly. She's also fairly anti-social. It was a fun character to play.
In all honesty: How much fun is it to kill zombies with swords?
10. It was fun to the amount of 10.
A few words about your directors Marco Ristori and Luca Boni [Marco Ristori and Luca Boni interview - click here], and what is your collaboration like?
The great thing about Marco and Luca is they have a specific vision, and stop and nothing to achieve it. Both of them are extremely hard workers. They not only directed the film, but produced it as well. And from time to time, Luca would scale impossibly tall structures and get birds-eye view shots. He's incredible. Luca is also fantastic martial artist, so on the less involved stunt days he and I would work together to choreograph some nice sword fights, or light martial arts sequences. Luca is great with angles of course and he was very passionate about the stunt sequences (a man after my own heart!) - he was great at determining HOW the sequence should end (usually with my sword pointed towards the sky all heroic and epic). Then he and I would work out the choreography to arrive there.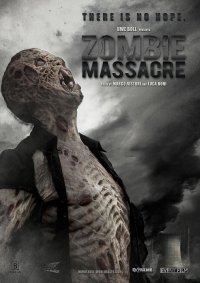 One of the main things that impressed me was Luca's and especially Marco's command of the English language. They could direct, joke and communicate in English perfectly. I, on the other hand, couldn't order an iced coffee without sugar to go, without my assistant. Directing is such a complex job. I couldn't imagine the skill it takes to do it in a foreign language.
During the shoot, you have experienced a few (real life) earthquakes, right? Would you care to talk about that?
Well, having spent the last few years in Hollywood, earthquakes are no big deal to me. However, in Italy, it's a little scarier. The buildings are older, more fragile. And they seemed to come again and again. Most of the earthquakes happened in Ferrara, which is where I shot my last Italian film. I was constantly checking in on my friends via Facebook to make sure they were ok. There were fatalities, but no one I knew. It's very sad, and terrifying for the people living there.
What can you tell us about the on-set atmosphere - and any on-set anecdotes you'd like to share?
I have to say, this was one of the friendliest, most laid back sets I've ever been on. And THOROUGH! Marco and Luca know their game. I had assistants (whom I now call friends), I had my hair colored and styled when I arrived in Italy. I had a trailer. I had people following me around with umbrellas to make sure I didn't tan (or get too hot in the exquisite Tuscan sun). Marco and Luca thought of everything, and left nothing to chance. It was incredibly comforting.
I think my favorite on-set anecdote goes something like this...
To the Italian ear, there is no difference between the "ah" sound and the "ha" sound. They frequently mix up words like "hungry" and "angry". To them they sound exactly the same - so one day during a sword fight sequence, Luca comes to me and says what sounded like "Ok Tara, for this scene I want you to put your aya in the aya."
I tried. I tried SO hard. I never wanted anyone to feel like their English was less than perfect. But for the life of me I had NO clue what that could have meant. I'm usually pretty good at interpreting. I was lost.
Luca tried again. But it sounded exactly the same. What does Aya in the aya mean? What could it mean? I couldn't think of anything I had on me that sounded like "aya". He repeated. I repeated it back to him. Still, I remained clueless. I felt so stupid. How hard it could be to figure out? I only have so many items upon my person and so many places I could put them. I should be able to figure this out on pure logic. But I could not.
Then Marco comes over and tells me to put my hair in the air.
Duh.
That was a running joke for the rest of the shoot. I've asked Eddie the sound guy (so called because of his Edward Scissorhands-haircut - not because his name is actually Eddy) to record Luca asking me to put my "Aya in the aya" so it can be his ring tone.
Not too long ago you have shot another movie in Italy, cult director Ivan Zuccon's Wrath of the Crows. You just have to talk about that movie for a bit?
That's going to be a great movie! Ivan is very well known for delivering quality, unique films of top cinematic value. I've been privileged to see the raw footage - and it looks better than some finished films I've seen. Of course there's a stellar cast and an amazing crew. Ivan - I can't say enough about HOW hard that man works. He writes, produces, directs, DP's (director of photography) - there's seemingly no end to his talents. And again, he's not a native English speaker - but that hasn't stopped him from making film after film in English. Frequently his films are offered theatrical releases due to his unexpected creative genius.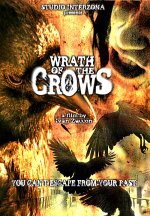 As for the plot - 5 prisoners find themselves locked away, when all of a sudden, a beautiful young lady dressed in crows feathers joins them. While they try to determine what she is, strange things happen to them, and around them. They've each committed heinous crimes. My character murdered all three of her children. The torture they endure fits their crimes. Well, maybe sometimes it plunges overboard. If you like Italian horror, you'll LOVE this one.
How does making a movie in Italy compare to shooting one in North America?
In general - the sets are MUCH friendler, the pace is more laid back. The days are a little longer, but the movies get DONE. They shoot these things in one gulp.
Now that's not to say that American film sets aren't friendly - they are. But there's something about shooting overseas, in a foreign land, that turns us actors into really big 2 year olds. We can't order food, get directions, drive - or do many of the things we take for granted back home. Someone HAS to take care of us. And that forms a very special bond that just doesn't happen back home.
Although, having said that, Josh Eisenstadt (American director) runs a pretty chill set. I've seen that guy deal with some drama that would make a lesser man cry with grace and ease. Much love to Josh Eisenstadt, and his alter-ego Aaron Pope.
How did you get hooked up with Zombie Massacre in the first place?
Legend of the Red Reaper and Uwe Boll.
Uwe (ooovah) saw the first cut of Legend of the Red Reaper (as a distributor) and while he wasn't interested at first in distributing the movie, he did seem impressed with my acting and sword work. Possibly in that order. I guess he did a little research on me, and found out I LOVE to do action/horror movies and sent my info over to Marco and Luca just before I was scheduled to shoot Wrath of the Crows. Marco and Luca came to set on my day off, we had lunch, and it was love at first sight for all of us. I was the first actor attached to the movie. The really funny thing was, my character was originally supposed to be a Japanese man. Fortunately, Marco and Luca have this super-human capacity to re-imagine their own story (that's EXTREMELY rare among directors, and rarer among writer/directors - I once had a director tell me I couldn't play a certain role unless I was a brunette - and here go Marco and Luca completely UN-phased by gender OR my Caucasian-ness). And thus it began.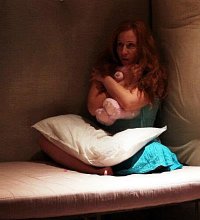 The Profane Exhibit
With Zombie Massacre's producer Uwe Boll, you have only recently shot Basement as part of the anthology movie The Profane Exhibit. So what can you tell us about that movie - and about Uwe Boll and working with him of course?
The Basement is a brutally intense piece about a man (played by Clint Howard) who kidnaps his own daughter, keeps her in the basement, and uses her as a sex slave for years upon years. I play the daughter and Caroline Williams plays the cognizant wife.
The writing and directing of it is completely contrary to what you would imagine a piece like this to be. There's no screaming, crying, begging or beating. Here we are 8 years into the kidnapping - all that has been played out. The daughter has resigned to her fate. She's been beaten and almost broken. She goes "willingly" to bed. She even smiles when daddy compliments her. She's desperate for love, interaction, distraction from the constant solitude.
Clint and Uwe did such a fantastic job, there wasn't anything for me to do but keep up. I got a lot of praise from the producers and crew after the shoot, but I don't feel like I can take any credit. Uwe and Clint created the world, I just took the pill.

Feeling lucky ?
Want to
search
any of my partnershops yourself
for more, better results ?

The links below
will take you
just there!!!

Find Tara Cardinal
at the amazons ...

amazon.com

amazon.co.uk

amazon.de
Looking for imports ?
Find Tara Cardinal here ...
Something naughty ?
(Must be over 18 to go there !)

Any other past, present or future projects of yours you want to talk about?
Well, after a new editor, and shiny new recut Uwe said YES! He will distribute Legend of the Red Reaper. A new new editor was hand picked, and said editor is rocking a new cut as we speak. I'm told it's a super creative new cut, and if it's better than the last cut, which was pretty darn good, it will knock your socks off!
Also, my new super top secret project Terminal Descent/Scarlet Samurai: Incarnation is in post production. I play a rough and tumble urban explorer, obsessed with the Buffalo Central Terminal. I lure 3 girls and a photographer into the Terminal to help me uncover the secret - and everything goes horribly, horribly wrong.
Your/your movie's website, Facebook, whatever else?
www.facebook.com/legendoftheredreaper
Anything else you are dying to mention and I have merely forgotten to ask?
That's all for now folks!!!
Thanks for the interview!
Thanks for chatting with me!