Your upcoming movie The Scarehouse - in a few words, what is it about, and what can you tell us about your character in it?
The Scarehouse--described as a cross between Saw and Mean Girls, is a horror film about two friends who plot and seek revenge on their former sorority sisters. The film itself has lots of twists—you will likely find yourself routing for the killers in this one. The "deaths" are unique and not like anything I've seen done before. Horror lovers will be surprised and the faint of heart will, well… faint and/or vomit.
The character I play is Shelby Hickman. There is a song on The Scarehouse soundtrack called Lovely Little Liar. I'd like to think it's an ode to Shelby on some level because everything that comes out of her mouth is pretty much bullshit. She's the type of friend that will throw her pals under the bus if it means saving herself.
[Listen to Lovely Little Liar here!]
What did you draw upon to bring your character to life, and how much of Teagan Vincze can we find in Shelby?
We are both goofy and like to clown around. However, Shelby's antics never seem to quit, which makes her the comedian to the other girls – or at least she'd like to think. Where we differ most is Shelby's biggest vice… lying. Once she came to life I realized she was much more than just some girl who has issues with the truth. She is strong-willed, much like I am--I never go down without a good fight. Shelby can also be very resourceful when faced with sticky situations—there is a pun in there that can only be understood by watching the film!
How did you get hooked up with the project in the first place, and to what extent can you identify with the film's horror theme?
I had two auditions for the film: I read for the roles of both Shelby and Emily. The day I found out I was being called back in to read for the role of Shelby, I learned that someone back home in Vancouver had passed away. I live in Toronto and was forced to make the very difficult decision to either fly back and miss an opportunity or stay and take a chance on an audition with no guarantees. I had a good feeling about the film and I always really wanted to do a horror movie. It was on my acting bucket list I guess you could say. Growing up I was a HUGE fan of classic 80's horror movies—The Scarehouse is somewhat of a homage to the period. You will notice our poster has a really cool throwback look and some of the songs from the soundtrack have a retro sound to them. It really suits our film and separates us from everyone else.
What can you tell us about your director Gavin Michael Booth [Gavin Michael Booth interview - click here], and what was your collaboration like?
I have some dirt on Gavin for sure… I'm totally kidding but I can tell you that Gavin is an all around fantastic writer and director. He is dedicated and passionate, which made filming and creating our characters so exciting. Being able to work with the ladies of The Scarehouse and him in a collaborative environment felt limitless. It felt as if we were all old friends getting together to make a film. Gavin and I also share a lot of the same vision and ideas, which in turn built a trust between us--I rarely got shot down when I came to him with ideas for Shelby. On the rare occasion I was told to keep the Shelby's swearing to a minimum.
What can you tell us about the shoot as such, and the on-set atmosphere?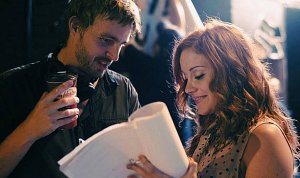 Teagan with Gavin Michael Booth
As I said, it was a dream come true to be a part of a horror film—especially one that was driven by an all female cast. Everything felt like magic until about two days into shooting; I lost my voice from screaming—come to think of it, this happening probably made people on set pretty happy. The atmosphere on set itself was creepy and no, I'm not referring to the crew… ok maybe some of them... No but really, the set had an unsettling feel to it. We shot in the basement of an old, rundown warehouse in Windsor Ontario, which is actually the original "Scarehouse" that kids used to trek through on Halloween. Naturally it smelled like death, floors creaked and the lights went out at any given time. I didn't have to try hard to feel scared.
Any future projects you'd like to share?
2015 is shaping up to be a great year. You will be able to see me on the hit television show Rookie Blue and I am gearing up to shoot a feature called God and Country.
What got you into acting in the first place, and did you receive any formal training on the subject?
I owe it all to a film called Stand By Me. I watched this movie at a very young age and without really understanding any of the content, I was profoundly inspired. I've seen the movie about 100 times and every time I watch it, it makes me strive to be as amazing as the film is to me. Does that make sense even? Maybe that sounded a bit like Matthew McConaughey's Oscar speech but I guess what I'm trying to say is that it made me want to tell stories of that caliber.
Training is crucial for all actors—we can't ever stop learning. Many successful, working actors still train. If I'm not working, I'm training. It's as simple as that.
Can you still remember your first time in front of a camera, and what was that experience like?
Someone had once told me that actors who couldn't hit their marks were a major pain in the ass to the camera crew. I was so scared that if I didn't hit my mark that I'd be hated by everyone on set or look like a total rookie.
What can you tell us about your filmwork prior to The Scarehouse?
My film career began in Vancouver BC on various television shows and MOW's. I am most proud of an experimental feature my friends and I made called Desolate. We shot the film on weekends over the span of three years with absolutely no crew and no script—it was just the 4 of us and some serious improvising. I also did a genre feature called Mon Ami—some of you horror fans may be familiar with it. I now reside in Toronto and you can catch me on television shows such as Motive, Played, Rookie Blue and Spun Out.
How would you describe yourself as an actress, and some of your techniques to bring your characters to life?
I don't have specific techniques that I use because I am constantly changing and learning. What worked for me yesterday doesn't necessarily work for me today. Every character is unique and I take a different approach to them all. It sounds so cliché but I learn a lot by watching other people; how they move, how they sound, how they respond and interact with others. Somewhere in the world all of the characters I've played exist on some level—I like drawing inspiration from real people.
Actresses (and indeed actors) who inspire you?
This is a loaded question! The list could go on and on but for now I am going to say: Kate Winslet and Carey Mulligan. Peter Sarsgaard blows me away and I quite enjoy the type of roles Michael Pitt takes on.
Your favourite movies?
I have hundreds of favorite movies. But doesn't everyone? In no particular order: Stand by Me, Before Night Falls, What's Eating Gilbert Grape, Cry Baby, Mean Creek, The Basketball Diaries, Baz Lurhmann's Romeo and Juliet - and yes there is a DiCaprio/Depp theme going on here. Um, pretty much anything directed by Darren Aronofsky. I also enjoy a good Australian or British indie.
... and of course, films you really deplore?

Feeling lucky ?
Want to
search
any of my partnershops yourself
for more, better results ?

The links below
will take you
just there!!!

Find Teagan Vincze
at the amazons ...

amazon.com

amazon.co.uk

amazon.de
Looking for imports ?
Find Teagan Vincze here ...
Something naughty ?
(Must be over 18 to go there !)

I won't name any names—but there are a few trilogies that just don't do it for me. I don't generally dislike many films but I do pick and choose what I like to see.
Your website, Facebook, whatever else?
You can find me on Twitter @Teashen
and
Anything else you are dying to mention and I have merely forgotten to ask?
YES! Go and see The Scarehouse!!
Thanks for the interview!