Your new movie Bag Boy Lover Boy - in a few words, what is it about, and what can you tell us about your character in it?
Bag Boy Lover Boy, directed by Andres Torres, was made in 2014 but recently has been issued on BluRay/DVD from Severin Films. It is a kind of meditation on the horror genre, perhaps more ontologically a meditation on the horrors of exploitation, specific to a kind of New York, particularly among the creative class, that seems to breed this swath of success on the backs of others; which the film takes to some rather gruesome lengths, as only a good story can. From the perspective of its overall premise, a lowly hotdog vendor is seized by a manipulative photographer who represents the kind of oddity with whom this photographer can make a new series of provocative work; but when the photographer takes an assignment in Italy, the lowly hotdog vendor--fortified by his newfound acclaim and a certain adulation of his mentor--suddenly goes berserk. I play the manipulative photographer, called Ivan, who preys upon the vulnerability of this somewhat deranged young man, called Albert, so expertly rendered by Jon Wächter. Ivan is an archetype of a certain kind of successful artist, for whom the confluence of fame and money are always the propellants of drive, ambition and a strong dollop of hauteur and condescension. Given such an unflattering character assessment, I tried to make him somewhat redeemable.
What did you draw upon to bring your character to life, and how much Theodore Bouloukos can we find in Ivan?
Every actor uses his personality to inject a certain amount of the je ne sais quoi required of the action and dialogue to render the composite of a person, I suppose. In Ivan's instance, I have several successful photographer friends who began their careers, as many artists do, apprenticing the famous, among whom have been a couple of notoriously arrogant, even abusive, types. Ivan needed to be likable enough for the audience to appreciate him before the claws emerged, so I just attempted to strike that balance, as I said. I hope it succeeded. As for his look, Bruce Weber was sort of the inspiration. Minus the bandana.
How did you get involved with the project in the first place, and what were your initial thoughts when you heard about the movie's content and theme?
I had made a short film that fell apart, for which our director Andres Torres had assisted as DP, and he remembered me when he had an idea for another short. We developed a good working rapport after that, and have since become very great friends. When he mentioned the feature he was writing, we discussed my participation. I had no hand in the actual script itself. I love a good social critique as much as the next fellow, so the script, which he co-wrote with Toni Comas, was conceptually intriguing from the first; and I liked the idea of it being more so a genre rumination than simply outright horror and gore for the sake of it. I also appreciated his intent to film it in a kind of grittier way that would expose the audience to the interiority of the work, to its soul. In that vein, the sort of "grindhouse" aesthetic played out well, recalling for some another era in New York filmmaking, especially the early indies; as well as the aesthetic of a New York before 9/11 and an enveloping gentrification that has sanitized what used to be a tough town, as best depicted in many films of the early 1970s.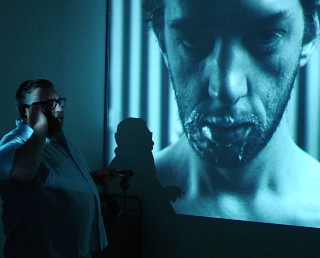 What can you tell us about your director Andres Torres, and what was your collaboration like?
He's a wonderful soul and a very dear friend, so I'm biased. But even before we got to know one another, he exemplified a professionalism that I think is often too rare among younger indie filmmakers, who tend to be unseasoned as business people. And, make no mistake, this is, above all, a business. Andres is respectful yet forthright: he makes clear what he wants and expects, and in that sense pulls no punches; but he's an absolute dream to work for, and I feel very fortunate to have such a fecund personal and professional relationship with a director I trust completely and whose sensibilities are consonant with mine.
Do talk about the shoot as such, and the on-set atmosphere!
This was one of my favourite sets ever. We shot much of it in a large Soho loft, as befits a famous photographer who has everything from wardrobe to makeup on premises; in our case, almost a set within a set. But the joy of rising each day for the better part of a fortnight was unbridled: I could hardly wait to get to set. Everyone got on beautifully, the crafty was abundant and superb, every element was given its due and consideration, and while it wasn't always easy, given some of the subject matter, one knew he was in a safe space to explore the more lurid moments in a way that insured against camp and derision. Especially since Andres allowed me to improvise a good deal of my dialogue. The atmosphere was extremely professional and extremely fun. There was so much harmony because we were all having such a good time.
Any future projects you'd like to share?
I just wrapped a film in which I served as the narrator (and ringmaster, of sorts, to an ensemble of about 25 actors) for a very prominent international artist that will go up shortly as a four-screen installation at the Biennale de Lyon in France. What else? Charlie Williams, a young British filmmaker who edited Bag Boy Lover Boy, has been at work these last months making a documentary about me as a working actor in New York; the highs, lows and vicissitudes of this profession. I was a little hesitant at first, but Charlie has been just the greatest partner in crime. We have so much fun together. It's been exhaustive and we are still at work on it, seizing footage and telling a story, but he makes what could be a fearsome enterprise feel very natural. And of course, Andres and I are developing his follow-up feature, in which I'll star, the details of which I'll reserve from expanding here, but I can promise you an even wilder ride than Bag Boy Lover Boy. I have some other projects in the offing too.
What got you into acting in the first place, and did you receive any formal training on the subject?
I was a journalist who wrote about art and culture, society and its array of personages. I knew and continue to know many artists, and as the digital medium emerged I found myself asked to perform in various video art pieces and in live-performance works; much of it dovetailing with a then-concurrent emergence of indie film in New York, specifically shot on digital cameras. The tools and technology enabled a proliferation of filmmaking to become a legitimate force, burgeoning with my own interest in a full-time pursuit of this profession. I happened to be there at the right moment, I suppose. I have since studied with some wonderful teachers, but I have found I'm often too busy working to go to school, so I pick up a master class when I can, I read a good deal, and of course I watch a lot of movies. And there's no better practice of the craft than working.
Can you still remember your first time in front of a camera, and what was that experience like?
I can, and I felt right at home. I ignore the camera just as I do everybody and everything else except for my scene partner(s). Unless, of course, someone is blatantly in my eyeline, at which point I will request s/he be moved.
What can you tell us about your filmwork prior to Bag Boy Lover Boy?
I've done too many films to mention, to say nothing of the art world projects, commercial work, from print to voiceover. It's rather gluttonous, but I'm happiest working.
Besides on-screen acting, you've also done your fair share of voice-overs, right? So what can you tell us about that aspect of your career, and how does it compare to being in front of a camera?
Yes, I'd like to do more of them. It's very tense, very immersive, exhaustive work. One is in a sound booth for hours at a time, listening to himself record dialogue at a specific moment, keeping track of inflection and cadence, while taking direction and repeating the text until it no longer makes sense sometimes. All while the booth itself becomes a sauna. Very hard work. Very physically demanding. It doesn't compare with onscreen performance because the aims of the latter require a physical action as well as the dialogue, and because outside of a monologue, most cinematic roles require interaction with another actor. Being alone in a recording booth is a singular experience for which the monotony of concentration is intense.
Going through your filmography, one can't help but noticing that there's an indie, avantgarde vibe to it - any explanation for that?
Yes, those are the kinds of films I enjoy making most because those are also the films I elect to see as a consumer of film. I rarely find satisfaction in contemporary studio pictures. I'm not interested in the entertainment side of cinema.
You've also been involved in numerous off-screen art projects of all kinds - so do talk about these for a bit!
I've done so many, and they aren't offscreen, per se; they are simply not traditional cinema projects. Most of the time the venues are galleries and museums. They are probably best described as project collaborations with established visual artists who work in video, voice, painting, sculpture, photography, live performance and tableaux vivants; who have been internationally exhibited at events like the Venice Biennale, Art Basel, Documenta, Art Basel Miami, Performa, or a festival category like Sundance New Frontier, among many others; too many to count.
How would you describe yourself as an actor, and some of your techniques to bring your characters to life?
I would say that I am an actor who leans on subtlety, for the most part. Drawn to the depraved, the damaged, an undercurrent of mischievousness and humour. Patricians and perverts seem to come handily. I don't know that I can articulate a technique because it varies from role to role. I can say that I'm rather intellectual by nature, a serious reader, interested in a life of the mind, so dialogue is something I scrutinize carefully; and within the given syntax of a character's dialogue, I find the character, which then enables me to divine his history and adorn him with other attributes, both visible and invisible. I don't mean to sound opaque, I just don't characterize my immersion into a role as "a technique", or worse, "a process". It's truly a very visceral, very instinctual exercise for me.
Actors (and indeed actresses) who inspire you?
Charlotte Rampling, Isabel Huppert, Melissa Leo, Viggo Mortensen, Kevin Kline, Anjelica Huston, Jeremy Irons, among the living. Numerous actors among the deceased, probably too many to mention, but among those foremost, Peter Sellers.
Your favourite movies?
I'm far too ravenous to have a favourite of anything.
... and of course, films you really deplore?

Feeling lucky ?
Want to
search
any of my partnershops yourself
for more, better results ?

The links below
will take you
just there!!!


I don't have any particular interest in superhero films, for example. I'm not wild about animation as a consumer, but I certainly wouldn't say no to a voice job on an animated feature; nor would I say no to some Marvel Comics sequel, despite the aforesaid lack of interest; though I think it's safe to say I'm safe from that opportunity in casting.
Your website, Facebook, whatever else?
itheodore.com (under construction)
Facebook: https://www.facebook.com/theodore.bouloukos.actor
Twitter: @itheodore
Anything else you're dying to mention and I have merely forgotten to ask?
No, I think we've covered the waterfront. Thanks very much.
Thanks for the interview!