Your new movie Vidar the Vampire - in a few words, what is it about?
Vidar the Vampire is basically our take on The Holy Bible; the new New Testament. We follow Vidar Haarr who has led a monotonous and strenuous Christian life on his mother's farm in the outskirts of Western Norway. In a desperate attempt to break free of his shackles, Vidar prays to Lord Jesus Christ to grant him a life without boundaries, filled with debauchery. Unfortunately, his prayers are heard and Vidar wakes up one day as the Prince of Darkness, guided by the "Light of the World".
With Vidar the Vampire being a vampire movie, is that a favourite genre of yours, and some of your genre favourites that might have inpired your movie in one way or another?
I can't say that vampire movies are my favourite genre. I like all different kinds of movie genres, as long as the filmmakers have a good story to tell. However, I was definitely obsessed with the vampire genre when the concept first started, which was back in 2010. I consumed vampire films back then, and these movies have obviously inspired Vidar the Vampire, which is very much an homage to the genre. Some of these movies are Interview with the Vampire, Bram Stoker's Dracula, Near Dark, 30 Days of Night, Vampire's Kiss, The Addiction and Nosferatu, to name a few.
What do you think sets Vidar the Vampire apart from the neverending stream of vampire flicks?
Our mission from the very beginning was to try to create a fresh approach to the vast array of vampire films out there. We have a unique mix of genres, styles and music combined with one of the most pathetic vampires of all time. It is a film that slaps you back and forth between the real world and the supernatural, and it is up to the audience to determine whether Vidar's story is true or not. And, Vidar the Vampire is (as far as I know) the only vampire film which stars Jesus Christ as the original vampire.
(Other) sources of inspiration when writing Vidar the Vampire?
The Norwegian singer/songwriter General Forsamling was a huge inspiration while writing Vidar the Vampire, and he has become the main soundtrack artist in our film as a result of this. His music, and especially his lyrics, fit like a glove to the story we were trying to tell. We even wrote a couple of scenes in the film specifically to his music.
Do talk about your co-writer and co-director Fredrik Waldeland for a bit, and what was your collaboration with him like?
Fredrik and I met in 2010 when he cast me in a film school short he was directing called Pimp Master Flex, and we have been the best of friends ever since. I have starred in several of Fredrik's projects, but it wasn't until Vidar the Vampire that we started writing and working together behind the camera. Fredrik and I have the same sense of humour and we both complement and challenge one another as filmmakers. I find working with Fredrik a most valuable process because we both try as hard as we possibly can to not settle for "good enough", and we are both open for change if the right idea or an unpredicted "turn of events" presents itself. Being the lead actor in Vidar the Vampire (on top of being the main producer), spending almost as much time in front of the camera as behind it, it would be a straight up "suicide" not to have a co-director. There's no one I'd rather have by my side than Fredrik Waldeland.
One basic question: Why Jesus?
"Whoever feeds on my flesh and drinks my blood has eternal life, and I will raise them up on the last day." Need I say more?
Do talk about Vidar the Vampire's approach to both the horror genre and comedy for a bit!
Personally, I love playing around with different genres; throwing them into a blender to see what the mix turns into. Hopefully, it creates something new and exciting. Vidar the Vampire is first and foremost a comedy (which I believe is my forte), mixed with horror, drama, arthouse and music video elements (referring to the scenes we wrote to General Forsamling's music). Our previous film, a short film called BELIEVEtheDANCE was labelled a fantasy-horror-dance-comedy. I believe it's the only film out there in this genre-category. By combining genres we create an unpredictable film which leaves the audience at the edge of their seats, not knowing what will happen next.
What can you tell us about your overall directorial approach to your story at hand?
80% of the actors in Vidar the Vampire are amateurs or first timers, so a lot of the directing was all about making these actors feel relaxed, secure and not being afraid of making mistakes, all in order to bring out the most natural performances. This was also the overall directorial approach to the story. It was very important for us that the characters took themselves seriously even though the situations they found themselves in were quite absurd.
You also play the title character in Vidar the Vampire - so what did you draw upon to bring him to life, and did you write him with yourself in mind from the get-go?
I wrote the script with myself in mind for two reasons: As an actor (in 2010) I thought it would be super-cool to star in a vampire film, and as a douchebag producer I found casting myself in the lead role to be the cheapest alternative (as I felt certain that I could get myself to work for free). Playing the role of Vidar was actually quite easy since I also wrote the script and knew the character better than anyone else. The character and a lot of the subtext in the script are based on personal experiences and my struggle with manic depression.
Do talk about the rest of your key cast, and why exactly these people?
Brigt Skrettingland who plays Jesus was initially cast as an extra in the pilot for the film (footage that we kept for the full feature), and if you pay close attention you can actually see him as a background actor in two scenes on top of playing Mr. Christ. The character was meant to resemble both the Western version of Jesus and a maniacal demon in order to play with the idea the Jesus and Lucifer might be one and the same, and Brigt had facial features that suggested both. Kim Sønderholm (who plays the psychologist) [Kim Sønderholm interview - click here] is more or less a leap of faith presented by sheer luck. We had initially cast another actor for this part, but the actor dropped out of the project in the very last second due to also being cast in a stage play, which took up all of his time. We scrambled for alternatives until Brigt recommended a Danish actor he had worked with previously. We called Kim, sent him the script, and then flew him in to Norway a week later not really knowing what to expect. He blew our minds! His performance was far beyond any actor we had previously considered for the part. He was simply brilliant.

A few words about the shoot as such, and the on-set atmosphere?
Vidar the Vampire was shot over the course of several years due to its ultra low budget. The key filmmakers, who are all members of UFOh! (our production company), worked for free throughout the entire production and were reliant on side jobs to stay afloat in "real life". Thus, we could only shoot scenes when everyone was available. Sometimes we would shoot for a week, take a break (which we used for editing and composing music after "real", paid work), shoot for a day, take another break and so on. We also shot a lot of scenes at night when everyone was off work, and sometimes we had to take longer breaks because a lot of the scenes in Vidar the Vampire are seasonal scenes. The atmosphere on set was generally amazing because we are all long-standing friends, and since we were shooting a comedy with a lot of really absurd scenes there was always a lot of laughter on set. This is why I love making comedies.
The $64-question of course, where can Vidar the Vampire be seen?
Vidar the Vampire is available on VOD in the U.S. through Vimeo on Demand, iTunes, Vudu, Google Play, Microsoft Xbox, Comcast, Dish Network, Charter and Spectrum. The film will see its theatrical release in Norway on the 7th of September followed by VOD and physical release in the rest of Scandinavia. It will also, as far as I know, see its theatrical release in Brazil sometime soon.
More details here: https://epic-pictures.com/film/vidar-the-vampire#where_to_watch
Anything you can tell us about audience and critical reception of Vidar the Vampire yet?
We have been touring the international film festival circuit for almost a year now, winning several awards on the way, and the reception by the festival audience has been overwhelmingly positive. We have also garnered several great reviews by film critics… and some bad ones. This was to be expected as we believe we have created a film which you either love or hate, and either is ok with us.
Any future projects you'd like to share?
We have a couple of concepts that we want to further explore, but it is too soon to share as we really don't know what we will end up doing next.
What got you into acting in the first place, and did you receive any formal training on the subject?
I actually got into acting on a dare. A friend of mine wanted to go to an audition for a comedy revue, but didn't have the "balls" to do it unless I joined her. Back then (2002), I wasn't known for saying no to a dare, so I attended the audition and landed a part in the show. It was one of the best experiences in my life, and immediately after the show finished I started applying for acting schools, hoping I could end up making a living as professional actor (naive, I know). But as it turned out, I got accepted to several acting schools and ended up studying at Circle in the Square Theatre School in New York. I have no formal training as a filmmaker.
In recent years you have also stepped behind the camera repeatedly - so what triggered that move?
I simply got sick and tired of bad projects, bad parts, headshots, networking and having my career in the hands of agents, casting directors and lady luck. There are sooo many talented actors out there, and more often than not, it's all about "being at the right place at the right time" or having the right eye- or hair colour. In Los Angeles (where I worked for a couple of years) beauty is also huge factor, even more so than talent a lot of the time. So, I took matters into my own hands and started writing scripts and parts for myself, and eventually took the plunge behind the camera as well.
What can you tell us about your filmwork prior to Vidar the Vampire, in whatever position?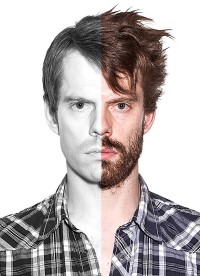 Feeling lucky ?
Want to
search
any of my partnershops yourself
for more, better results ?

The links below
will take you
just there!!!


So far I have directed one music video, one short film and one feature (all of which I also wrote and produced).
Actors, filmmakers, whoever else who inspire you?
Daniel Day-Lewis, Jim Carrey, Bill Murray, The Dude (Jeff Bridges), Wes Anderson, David Lynch, Paul Thomas Anderson, the Coen brothers, and my parents.
Your favourite movies?
The list is long, but some of my favourites are Blade Runner, Blade Runner 2049, The Witch, Fear and Loathing in Las Vegas, Monty Python and the Holy Grail, Monty Python's The Meaning of Life, Drive, Scott Pilgrim vs. the World, The Babadook, Let The Right One In (the original Swedish one), Event Horizon, Arrival, It Follows, Star Wars IV, V & VI, The Lord of the Rings triology and more or less any film by Wes Anderson, David Lynch, Paul Thomas Anderson and the Coen brothers. Phew! I could go on for days.
... and of course, films you really deplore?
I don't even know where to start. I usually turn off a bad movie before I get the chance to really deplore it. Star Wars I, II and III. That's it. I must have blocked that shit from my mind.
Your/your movie's website, Facebook, whatever else?
https://www.facebook.com/VampyrVidar/
https://epic-pictures.com/film/vidar-the-vampire#where_to_watch
Anything else you're dying to mention and I have merely forgotten to ask?
No, this was a great interview! J
Thanks for the interview!