Your upcoming Stranger - in a few words, what is it going to be about?
It's about a stubborn hired gun whose grasp of life is thrown into crisis after a run-in with a ''mysterious stranger''.
You describe Stranger as an "acid western" - care to elaborate, and some of your key influences on your movie?
The ''acid western'' was coined by a critic named John Rosenbaum whilst reviewing Jim Jarmusch's Dead Man, which I'm not actually fond of at all. He said the film possessed an hallucinogenic quality and an anarchic political tone such as those of the original weird westerns produced during an uprising of the 1960's counter-culture. El Topo is a prime example, and a big influence on me, as is all of Jodorowsky's films. El Topo was the first ''midnight movie'' and it's a mind-blowing head trip of a film. Then came Robert Downey's Greaser's Palace, which came out a couple of years after. Both films are brimming with religious imagery, surrealism, comedy, character transformations, graphic violence... I'd like to think our film shares similar traits and would make a respectable tribute.
It was because of the 'weird westerns' and spaghetti westerns that I took any interest in westerns at all. My old man would watch many a John Wayne through-out my childhood [John Wayne in the 1930s - click here] which were just so dull and boring for me. It's funny now that I'm making one myself, so I guess it's a little homage to him but with my added love for bizarre films we are meeting half way!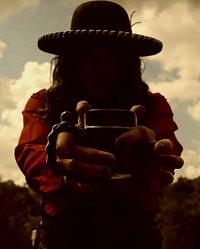 Stranger is actually based on a novella by Mark Twain, The Mysterious Stranger - so what made you choose exactly this source material, and how close do you remain to the story?
Mark Twain is an incredible writer and I didn't really get the chance to realise his genius when reading him at school. The Mysterious Stranger is such a deep and existentially nihilistic novella about an angel's influence over those who live more sheltered, one-sided lives. I saw a brief adaptation in Will Vinton's The Adventures of Mark Twain and was done to actually very disturbing effect and tracked down the novella to read. All the time I was envisioning it to be a western, where characters are perfectly set for a doomed fate – and because of the inclusion of Satan, there was even room for the magical, hallucinogenic qualities. In terms of remaining faithful, I have built an entirely new story around the core of Twain's story. There is a build up to the meeting of the character's minds but a lot of Satan's amazing monologues remain. I'm exorcising a few demons of my own in the context of Twain's story, but hopefully haven't detracted from the power of his writing.
What can you tell us about your directorial approach to your story at hand?
Well being completely independent and free from any studios and even budget I have taken to shooting in a much guerilla fashion. I am a pick-up and shoot kind of guy who wouldn't wait for anybody to give me the means to shoot a film. I would just do so anyway. This film is serving as a transitional project for me as it is out with the old, raw, lo-fi films I used to make on a camcorder and in with the new; something more polished. This doesn't mean my shooting methods have changed much. Whilst having a good idea of what I want, the lack of money means this is a meeting of minds that are all in it together in making a film. We all have fun but we know we're still there to get a result. I have a great team. I want the film to convey all emotions and tones from downright silly to downright moving and to ensure we get the right results everybody needs to be trusting and relaxed. I'd even allow beer and marijuana on set to stress that relaxed environment.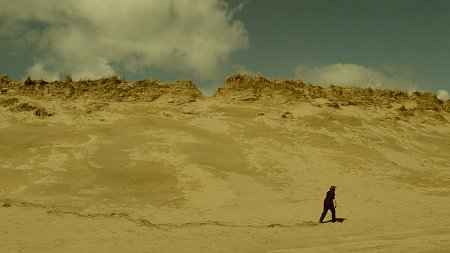 With Stranger being a western shot in Worcestershire, UK - what are some of the main challenges to bring that "wild west" feel to life at your British locations at hand? And while we're at it, what can you tell us about your locations as such?
Well I'm resigned to the fact that where we're shooting isn't always going to look like the USA, but we give it a damn good try. I live in a town called Kidderminster, which is situated in Worcestershire. There is a lot of beautiful country-side and sandstone surrounding our area and therefore a lot of towering climbable rocks that look stunning. The one location is a public common that sort of kick-started the whole ''let's do it'' affair, as there is a LOT of sand, and a brilliant skyline horizon that isn't flawed by electrical wires for once. So we shot a day there in April and the sun was scorching! We were very lucky and thought ''you know, this is actually possible!'' We have also been shooting on Shell Island, which is in the North of Wales and it is nothing but colossal sand dunes which made a perfect desert for us!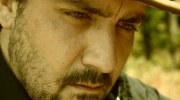 Dale Sheppard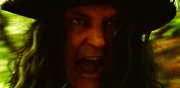 Gypsy Lee Pistolero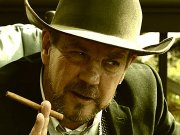 Gary Shail
Do talk about your key cast, and why exactly these people?
The protagonist is played by one of my best friends, Dale Sheppard, who is new to film-making and acting in general, but I trust he'll make a good gunslinger with a tough exterior who'll gradually convey an out-pouring of his rawest emotions. "The Stranger" of the title is played by Gypsy Lee Pistolero who's had a life career in several successful bands, and acting is his new rock and roll! I had made a music video for him so will continue to bear him in mind for future acting roles. He has been great, and very helpful on the project. It was he who got us Gary Shail on board, who hasn't acted for quite some time now. I'd obviously seen him in Quadrophenia, Shock Treatment and a great role he played alongside Michael Caine in Jack the Ripper, so we were very psyched to have him on board. He has put in a great performance too! Also in the cast is Richard Rowbotham, who used to be a television actor who would go on to appear in some of my earlier films, and Maryam Forouhandeh is the pious wife of the protagonist. She has put in a fine, and very striking performance. The casting of friends has usually been the case for me for obvious budgetary reasons, but this time around the friends I have cast seem to be able to act, which is great!
As far as I know, Stranger is as we speak still very much in production - so what's the schedule, and what can you tell us about the shoot so far? And even if it might be waaayyy too early to ask, any idea yet when and where the film might be released onto the general public?
We're looking at mid 2015 for a release. We're way over halfway through shooting, but an adventure in ADR and foley work awaits us upon finishing filming.
Any future projects beyond Stranger you'd like to share?
Far too many but won't jinx any by mentioning them prematurely! A side project is preparing my horrible early films for VHS releases. Their ultra lo-fi qualities would perform much better to a VHS audience.
What got you into filmmaking to begin with, and did you receive any formal training on the subject?
I've been completely self-taught and have been making my own films since the age of 10 or 11 when my brother and I would make films with our cuddly toys! Naturally the projects and our ambitions grew with time and experience. I enrolled on a University course but didn't graduate. I made the mistake of taking a film production course along with film studies. While the film studies I found motivating, the film production was a colossal waste of time for somebody already set in their own ways of making films. Not finishing did get me down a little but I quickly overcame it with the beginning of Stranger; a new feature film and a big step towards fulfilment of my sole purpose in life. I'm not sure how many students who did graduate could say the same thing...
What can you tell us about your filmwork prior to Stranger, and your evolution as a filmmaker?
Stranger is actually my fifth feature film, but the first I want to actually get out there on the market. My previous features have either been exercises in gore and camera angles with not much thought put into story or structure. A film I did called Feast for the Beast in 2008 was the last of these, but that didn't turn out too bad. After that came a string of experimental shorts which were all much more fun to make as I was exploring my own visionary path in terms of what I wanted to show on screen, and of course different ways of telling stories. A lot of psychedelic montages, dramas without dialogue, even animation. I had to explore the complete spectrum of film-making and decide where I would sit. Some of the shorts I was most proud of ended up in a bizarro anthology which I shot a framing story for and called it The Forbidden Four. Whilst attaining the lo-fi qualities of my early horror films, it presented a ton of new and exciting ideas within my body of work.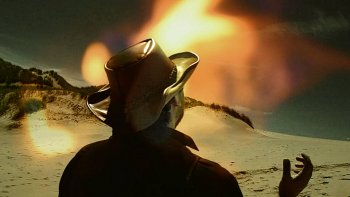 How would you describe yourself as a director?
Very schizophrenic! Being a film buff I love the works of high art to the exercises in pure trash, so I'd like to think I'm gelling together works of art AND trash that feature traits from both gene pools.
I can also be very frantic in a way that I work much better without too much pre-meditated planning. Spontaneity brings so much magic!
Filmmakers who inspire you?
I've already mentioned Jodorowsky. Also Jan Svankmajer, Herzog, Lynch, Lloyd Kaufman, John Waters, Ken Russell, Kenneth Anger, Greenaway, Larry Cohen [Larry Cohen interview - click here], the list goes on!
Your favourite movies?

Feeling lucky ?
Want to
search
any of my partnershops yourself
for more, better results ?

The links below
will take you
just there!!!

Find Thomas Lee Rutter
at the amazons ...

amazon.com

amazon.co.uk

amazon.de
Looking for imports ?
Find Thomas Lee Rutter here ...
Something naughty ?
(Must be over 18 to go there !)

Far too many! Santa Sangre, Possession (1981), Svankmajer's Faust, The Hourglass Sanitorium, Harold and Maude, Eraserhead, Stroszek, The Devils, Performance, Bad Boy Bubby, Daughters of Darkness, Inauguration of the Pleasuredome, I could go on and on...
... and of course, films you really deplore?
People who insist on delivering the same old shit with no spark of inspiration to be found anywhere. Also those Hollywood blockbusters that pretend to be really smart and clever and just end up being dumber and more pretentious than most cheese-ball flicks (The Dark Knight, Godzilla, etc)
Your/your movie's website, Facebook, whatever else?
You can find out more about Stranger on the Facebook www.facebook.com/Strangerthefilm or on the official blogsite www.strangermovie.blogspot.com
Anything else you are dying to mention and I have just forgotten to ask?
Nope, just keep a look out for the release of Stranger and please let me know what you think!
Thanks for the interview!
It's an absolute pleasure, thank YOU!