Your upcoming Day of the Stranger - in a few words, what is it about?
If I was to round it up in a nutshell; Day of the Stranger is about a man's perception of the sense of self and everything that is significant to him get peeled away and blown into oblivion.
Day of the Stranger is based on a story by Mark Twain, The Mysterious Stranger - so how close did you remain to Twain's writings, how much artistic license did you afford yourself?
It was basically all artistic license, I kept the Mysterious Stranger's gob-smackingly nihilistic monologue pretty much intact as that was the clincher for adapting it. I adapted but almost recycled word-for-word significant chunks of the original story for McGonagal's monologue on the meeting of the Stranger. I also used names from the story such as 'Felix Brandt' and applied them to off-screen characters mentioned in the film. Other than that it is an original story wrapped around it all.
At its core, Day of the Stranger is of course a western - so is this a genre at all dear to you, and some of your genre favourites?
Not actually a genre dear to me but one that blows my mind every time I see one that is done right. The western encapsulates pure cinema – it is all about feeling, atmosphere, suspense, sprawling yet sparse landscapes – doesn't even have to make sense or be bogged down by exposition. I grew up watching a lot of John Wayne westerns [John Wayne in the 1930s - click here] as my dad loved a Sunday afternoon cowboy flick. I HATED THEM! They bored me to tears. Once I started being exposed to subversive, revisionist westerns and spaghetti westerns – that's when it all clicked for me. Genre favourites include The Shooting, Faccia a Faccia, Any Gun Can Play, Keoma, Once Upon a Time in the West, Companeros, The Wild Bunch. To be honest even a LOT of westerns I don't rate as favourites served as influences. Al Adamson's [Al Adamson bio - click here] offerings such as Five Bloody Graves helped encourage my 'economic western'.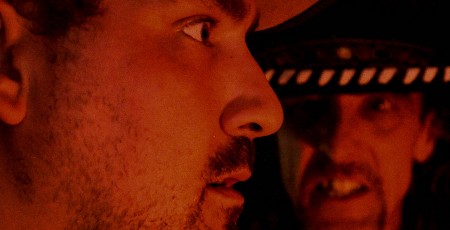 Of course you also have to talk about Day of the Stranger's trippy and hallucinogenic elements for a bit - so what were your influences there, and how were they achieved?
Influences were psychedelic cinema of the late 60's/early 70's and all the tricks they used such as fish-eye lenses, giddy handheld shots, sun-bleached lens-flare, vibrant colours and non-linear editing. El Topo was of course the primary influence but then Robert Downey's amazing Greaser's Palace was too. The films of Kenneth Anger informed most of the trippy sequences due to his simple but effective use of image layering. Cammell and Roeg's Performance was a huge influence in terms of how a linear film can suddenly turn on its head and go psychological, cosmic and surreal.
Other sources of inspiration when dreaming up Day of the Stranger?
Other sources of inspiration would be that I am constantly keeping a close eye on the indie market and the kind of stuff getting released. I actively set out to make something that was not being brought to the table. As a film fan first and foremost I really wanted to add something unique to the filmic landscape that nobody else was doing and offer something can get underground film fans excited. I feel the film has a unique selling point because of the fact of what it is; a British no budget acid-western. The films of Michael J. Murphy were also an influence purely because he was the British DIY film-making pioneer who made sword and sorcery films in his garage and the surrounding areas. He didn't let having no money and limited resources stop him from creating different worlds – and that determination and ambition on pocket change really inspired me to do the same.
What were the key challenges shooting of all things a western?
Practically everything was a challenge on this one. From trying to block out power-lines, keeping the accents consistent enough to trying to pull off a period piece with no money in general. I was resigned to the fact that certain locations we had simply would not have fooled anybody so I had to be careful to include western imagery into all the scenes to reinforce the idea of what it was. This meant playing with iconic western tropes and visual cues to strengthen other areas that may be weaker. An example would be when the Stranger turns to shoot Caine's gun from his hand – I shot him stood atop of a sandstone rock and had him adopt a classic gun-slinging pose that served as a nod to the classic western cliches. It detracted from the fact that his backdrop looked a little too much like the English countryside.
You shot Day of the Stranger mainly in Wales, right? So how did you find the right locations, and what was it like shooting there?
We shot it mainly in Worcestershire, West Midlands in the towns of Kidderminster and Stourport-on-Severn. We had excursions into North Wales to elevate the film to a more epic scale. This meant shooting on vast sand dunes and next to huge waterfalls. Wales is an incredible place to film. The sand dunes was a campsite known as Shell Island which is near Barmouth in Gwynedd where we had gone on camping trips. The waterfall, Aber Falls, was also in the county of Gwynedd near Conwy, recommended to us by the chief Satanic nymph in the film Shelley Krasnowski who had previously had photo-shoots there. We went through so many models who would get involved with the film then back out when they realised the reality of what the scene entailed, and where. In the end two brave, amazing girls who had never done anything of the sort before volunteered to play the other two nymphs along with Shelley. I assumed Aber Falls was a pretty isolated location and it was a good 40minute plus trek up to the thing after parking up. Turned out to be a hotspot for picnicking families! They couldn't quite believe what they were seeing once the girls sprung into action. That was one insane day of filming!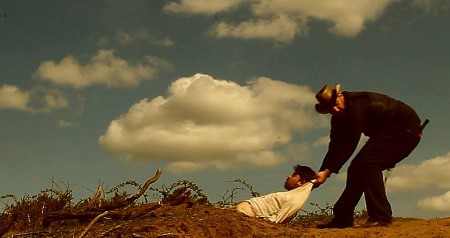 What can you tell us about your directorial approach to your story at hand?
It was such a long, transformative process for me as I was a very much different filmmaker when I started the thing to when I finished it. It's actually a good thing the film took as long as it did because had it got finished before the actor playing the Stranger was replaced and had I not walked away from it some time the film would have been terrible. I was in such a dire situation with it that I just couldn't get it right or fashion a satisfying film out of it. I really questioned my abilities as a competent film-maker and the point of the film at one point was totally lost. I wasn't able to tell anybody what it was actually about! The inherent problem was that I ran into it like a bull-at-a-gate and didn't stop to assess the script or the sense of direction. That all came later!
Do talk about Day of the Stranger's key cast, and why exactly these people?
Day 1 of the shoot consisted of my friends Dale Sheppard, who was up for having a go at acting, and James Taylor, who responded to a shout out for cowboy hats. He had several, and I just offered him a part in the film itself on the back of that I guess (it was some years ago now). James and Dale were with the shoot for the long haul and made it to the end. We were the 3 amigos of the thing.
The part of the Stranger is a long winded story but in short we were filming the role with an actor who gradually became unstable and had personal demons which were quite destructive of everything around him. He was a valued contributor to the film at one point and threw in some great suggestions as well as being very prompt and giving it his best. He didn't quite have the chops for the role and didn't bring any of the menace it required, but at the same time his enthusiasm helped see the production move along – so it was rather a double-edged sword. His involvement eventually saw an end when our relationship fractured due to him not being able to accept the fact the film hadn't been finished. I understand that but his erratic behaviour became unmanageable so off he went. We were filming with him on and off for 3+ years. I was ready to bin the whole thing and throw in the towel when James suggested we work with Gary Baxter, who had just appeared in my latest feature. I gathered my energies, brought him aboard and we three amigos plus Gary Baxter polished off the role with re-shoots in 2019 – completing his role in a whopping 2 days and, in short, he was incredible.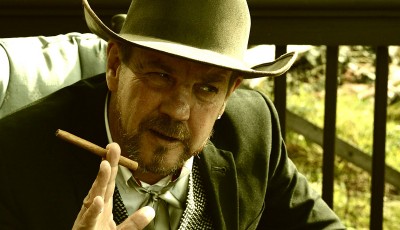 We brought Gary Shail (Quadrophenia, Shock Treatment) in for a weekend's filming after the previous 'Stranger' suggested him. It took some logistical nightmares to iron out but we had him come to Worcestershire and he was amazing. It was an honour to have an old pro come and show us how it's done! I don't think he thought the film was going to see the light of day at some point too, but was very understanding when I explained the situation to him a few times over. I thank him for that and have maximum respect to him for giving us a chance.
A few words about the shoot as such, and the on-set atmosphere?
Quite frankly I hope I never experience a production like Day of the Stranger ever again! It's easy enough now to forget all the stress, tears, anger, frustration and feelings of incompetence now we're over with it and the film is screening around and what not. Whilst the shoots themselves were never an ordeal, it was a very troubled production in the way that scenes were being reshot as I rewrote them, sometimes several times over. I then had endless technical problems such as on location mics cutting out (when we had them), hard-drives full of raw footage dying on me, scenes shot in wrong FPM, you name it we had it - but it was a shoot full of valuable lessons, and as they say: 'A smooth sea never made a skillful sailor.''
The $64-question of course, where can Day of the Stranger be seen?
Day of the Stranger is currently doing the festival rounds and select screenings at the moment. Worldwide distribution is being handled by Darkside Releasing and it will be out on Blu-ray, streaming, etc later in the year.
Anything you can tell us about audience and critical reception of Day of the Stranger?
It has been positive which has been satisfying. I had so many demons surrounding the film I could no longer see it for what it was worth but when we premiered it at Horror-on-Sea 2020 it was like the demons began to dissipate and I was almost able to finally separate myself from the thing and let it enjoy being what it is.
Any future projects you'd like to share?
My current feature The Pocket Film of Superstitions is something completely different entirely – more of a spiritual follow-up to my film Bella In The Wych Elm, but broader and more ambitious. We are half-way through filming at the moment and it's the most expensive film I've made yet. It's going to be something special!
Your/your movie's website, Facebook, whatever else?

Feeling lucky ?
Want to
search
any of my partnershops yourself
for more, better results ?

The links below
will take you
just there!!!


Follow progress on The Pocket Film of Superstitions at www.facebook.com/pocketofsuperstitions
Follow updates for screenings and domestic releases of Day of the Stranger at www.facebook.com/Strangerthefilm
And follow me on Twitter where I share info on all of my films, and works from filmmakers and other creative friends at twitter.com/carniefilms
Day of the Stranger distributors Darkside Releasing official site can be seen at darksidereleasing.com/
Anything else you're dying to mention and I have merely forgotten to ask?
Please give me a follow to keep track on all things Carnie, and that I must say thanks to you Michael once again for championing indie voices such as myself and the many others you get to cover! Really means a lot.
Thanks for the interview!
You're very welcome!