Your new movie Bella in the Wych Elm - in a few words, what is it about?
It's a spooky account of a folkloric legend that is local to me in the West Midlands. 74 years ago during WW2 a group of lads looking for thrush eggs in the woods of Hagley and Hagley Hall discovered the skeleton of a woman. The verdict was murder but to this day her identity is unknown. There were many interesting theories as to who she may be or who killed her so the film is an exploration of these theories.
What fascinated you about the legend Bella in the Wych Elm is based on to such an extent that you wanted to make a documentary about it?
What fascinated me most was the fact that this was a piece of grim local heritage and I naturally have a morbid curiosity – so something mysterious that offered a window into the unknown so close to home was very appealing. The nature of the theories delved into the occult, the supernatural, and espionage so the source materials offered up great opportunities for strong visuals and spooky scenes for me to have fun with.
What can you tell us about your research concerning the actual legend?
It started out naturally by scouring the internet to see what I could find. Various accounts of the same theories were reported and I found that most of them differed slightly. I then put a call out in a local newspaper for experts and people interested in the case to come forward to provide their side of the story and had a big response. Some were people who were around at the time and one lady was even a young girl playing in the wood at the time of the discovery. Each response had something different to offer and I was originally going to have the scenes play out with audio snippets of their personal accounts played on top. I also visited libraries and archive centres to retrieve original newspaper reports and such. It was probably a year of investigating on and off before I even started shooting.
Your personal thoughts about the whole story, no matter how footed in facts?
I think it's a great tale of intrigue that enriches the heritage of the Black Country (the area of the West Midlands it took place) and people still show a great deal of interest in it and the story is always discovered by new generations. I believe folklore such as this is important to a region, and, like this it transcends that region and becomes of interest to the world. I'm not interested in solving any of the mystery, because it's in the mystery where the magic lies.
Especially since it's a documentary at heart, you have chosen a rather unorthodox look and feel for Bella in the Wych Elm - care to elaborate?
The idea was always to create something that was pseudo-documentary but mostly a mood piece. The desire was never to film an investigation with talking heads interviews with experts or anything like that. It was always to make a horror fantasy but one that was grounded in folk heritage. Apart from the discovery and initial investigation all the theories are mere speculation. That gave me the freedom to have fun with source materials that weren't grounded in fact. I wanted to tell a quaint story that would put the frights up some people.
What can you tell us about your visual inspirations for the movie?
Direct cinematic influences would be Haxan (1922), Wisconsin Death Trip (1999) and Legend of the Witches (1970) – all were 'documentaries' of sorts – but at the same time not. Haxan's rich silent images of the occult are so seductive, dream-like and the creation and existence of that film is so enigmatic. I really can't get enough of that film. Wisconsin Death Trip beautifully visualises the amazing book's source texts with grim reconstructions but is a gentle and melancholy tour through death and madness. Legend of the Witches is a hokey ''documentary'' showing modern day occult practices amidst shots of the British landscape. Not a particularly good film but a notable influence all the same. The films of Guy Maddin are also a big influence. His frantic montage techniques with aesthetics of silent cinema to create his own style really rubs off on me and suits a very little budget.
Do talk about your key cast, and why exactly these people?
I can honestly say each individual in the film gave 110% and brought a great deal to the making of it. Without their enthusiasm it simply wouldn't be possible. First of all a big shout out to the lads of varying young ages who played the group of boys in the film. They were so naturally talented and gave their all for their scene. They worked so well together I was very lucky. My better half Sarah Page became the embodiment of Bella for me (with very little choice, ha!) and plays the female spy and did it beautifully. Lee Mark Jones I've worked with before. He makes a brilliantly sinister Nazi spy. He's a former cult rock musician he's now full swing into film and theatre acting. James Underwood and Jim Heal were in segments to an earlier film of mine called The Forbidden Four. They have great faces for film and bring a great deal to the proceedings. James Taylor is a friend devoting himself to acting and is a joy to work with. Other faces such as Peter Grail I found on a Midlands actor page on Facebook. He was a pleasure to bring aboard. Artist, musician and general all-round talented friend Ria Parfitt provided some beautiful voice work for the film that really brings a much needed ethereal ingredient.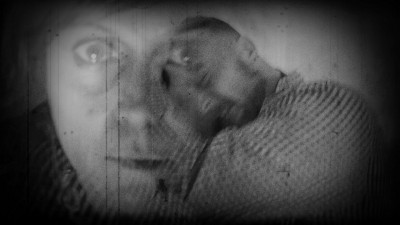 What can you tell us about the shoot as such, and the on-set atmosphere?
We weren't shooting with sound and there wasn't a fluid narrative flow to the scenes that had to be shot – they were to be tied together with the narration so the scenes themselves were fragmented.
This made it incredibly easy to shoot with the almost non-existent budget we had. We were able to shoot very fast and guerilla-like. Barry Anscomb-Moon and his lovely wife Jackie who call themselves The Law at War specialise in 1940s re-enactment weekends and they kindly let us film in their own 1940's police station set that was actually made up in a trailer that they can tow around to events and set up. Barry played the policeman and it was on the hottest day of the year so kudos to him for his participation. Luckily due to our shooting style we were finished within an hour! The black and white is also a saving grace as it hides a lot of the flaws to our sets and/or special effects etc. We tried to make our shoots as fun as possible and there were a lot of laughs on practically all of the shoots.
The $64-question of course, where can Bella in the Wych Elm be seen?
As I type right now we are gearing up for the cast and crew premiere and I'm releasing a self-distributed Carnie DVD of the film with 2 versions; the original and a silent movie edition with alternate scores. That will hopefully be out very soon. I've also submitted to several festivals and hope it finds audiences further afield.
Anything you can tell us about audience and critical reception of Bella in the Wych Elm yet?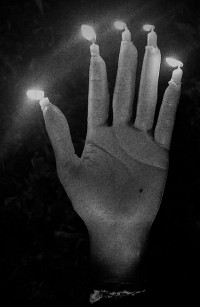 Feeling lucky ?
Want to
search
any of my partnershops yourself
for more, better results ?

The links below
will take you
just there!!!


So far the reviews have been extremely kind and appreciate what I set out to do with making the film. It's a very positive feeling knowing it's paying off.
As far as I know, Bella in the Wych Elm was your first documentary - so based on that experience, are you up for doing any more?
I definitely want to explore the pseudo-documentary style a little further in different ways. Marry the styles of old info-films and old special interest documentaries with fantasy, psychedelic and horror elements. As for outright documentaries I'm not so interested.
Other future projects you'd like to share?
I'm also in the process of chipping away at trying to finish my acid-western which has come to a bit of a halt. Started a bit of a beast that has grown in ambition and can no longer do it on my own if we want the finished film to be the one we want to make. Anyone who fancies investing in such a thing get in touch!!
Your/your movie's website, Facebook, whatever else?
https://facebook.com/BellaInTheWychElm
https://twitter.com/Bella_Wych_Elm
http://www.imdb.com/title/tt6725266
I must also link you guys to the Worrisome Ankletrout whose incredible music really brought the film to life. Such a great album available here: https://ankletrout.bandcamp.com/album/deep-streams-steep-dreams
Anything else you're dying to mention and I have merely forgotten to ask?
Keep an eye out for the film, I hope whoever reads this gets to see it. If anyone would like to get in touch then they can email me at carniefilms@gmail.com. Also look out for further strange little films coming from Carnie Features!

Thanks for the interview!
It's a pleasure!