Your upcoming movie Night of the Krampus - in a few words, what's it going to be about?
It's a Christmas-themed horror film that explores the legend of Krampus, Santa's demonic sidekick. The myth is popular in Europe and tells of a beast-like creature that accompanies Santa Claus on Christmas. While Santa rewards good boys and girls, Krampus punishes the naughty, usually by beating them or stealing them away in his sack to take back to its lair to devour for Christmas dinner.
Basic question: Why the Krampus? What fascinates you about the character, did you any in-depth research on him, and how will you bring him to the screen? Plus: Where I come from (Eastern Austria = Krampus-country), the Krampus is above all associated with spanking naughty kids - will that at all be part of your film?
I honestly can't remember where or when I first heard the Krampus folklore, but I've been fascinated by it ever since because it represents such a dark flipside to what is generally observed as a happy and joyous time of the year. For many people, the holidays are a dark time and I think Krampus sort of embodies that aspect of it. What brings happiness and light for many also brings darkness and sadness for others.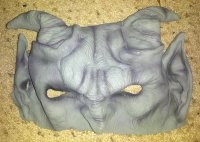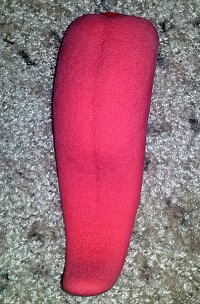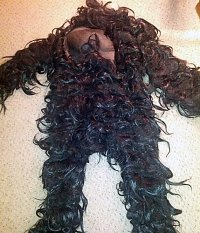 I did my fair share of research on the creature; reading any material I could get my hands on. The only representation of Krampus I've seen on film was a Venture Brothers holiday special several years ago on Cartoon Network. I'm legitimately surprised the character hasn't been exploited as much as one would expect. The character will be brought to life by an actor in a full-body suit and prosthetics. The suit is covered in long fur, he'll have extended Nosferatu-like fingers for added creepiness, razor-sharp teeth, a long prosthetic tongue, a facial prosthetic with horns, a tattered piece of cloth it wraps around itself for clothing, broken chains around its wrists and ankles, and an old sack large enough to stuff a few wicked children in.
One thing I love about Krampus is how he punishes the naughty. It's not pretty. Kids are always told to be good for Santa, but they're not told why, exactly, aside from receiving toys. Krampus is a great reason to behave and I hope the character instills a little fear into kids who watch the film. Krampus will definitely be stealing kids away in the night, but instead of eating them, he may be storing them away for another purpose...
Other sources of inspiration when writing Night of the Krampus?
Night of the Krampus acts as a pseudo-sequel to our first feature film The Night Shift. I wanted to tell this story about Krampus and how these neighborhood's kids are terrorized by the creature, but couldn't find a great "in" to break the story. It seemed like a natural fit for it to involve the lead characters from The Night Shift, investigating reports of missing children and their own theories about how the supernatural may be involved. Gremlins is a big influence on this, too. Christmas creature horror!
As we're talking, the film is pretty much in its fundraising stages - so what can you tell us about your fundraising efforts ?
We've started an IndieGoGo campaign to raise funds for the project. Artist Jeff Bell created a fantastic promo poster for the project. We have until the beginning of October to raise the funds. Right now, we're trying to spread the word about the project as far as we can. We're hoping people who can contribute, do; and those who can't, help by spreading the word about the project using email, social media, word of mouth. We're bombarding Facebook, Twitter, email and the local art community as we seek assistance with this project.
www.indiegogo.com/krampusnight
How do you plan to approach the horror aspects of your movie (as in mood vs all-out gore, atmosphere vs shocks, and the like)?
There's not any gore in the film. The horror will be much more atmospheric and creepy in tone and mood. Some of the images, paired with the holiday backdrop and subverting some established Christmas ideas/images, should be quite striking and a bit unsettling. The opening scene has me very excited because it has the potential to make the audience squirm in their seats.
Anything you can tell us about your projected cast yet - and why exactly these people?
We haven't done much supporting casting, but we've got our leads attached. We'll be working with actors we've previously worked with on The Night Shift feature, as some of those characters reappear. Khristian Fulmer and Erin Lilley are the lead supernatural investigators. We'll have more casting soon!
Once your film has found its funding, how do you plan to proceed - and any idea when it will be released onto the general public (though I realize this is probably waaay too early to ask)?
I'm planning to begin filming in December to utilize existing Christmas decorations for all the shots/scenes that require them. That'll cut down on budgetary expenses. Then, after the holidays, we'll pick back up in January to shoot the bulk of the film. I'm hoping to have the film available by July 2013 (Christmas in July and all that), but we may hold it for a Thanksgiving/early December release due to the film's holiday themes.
Any future projects beyond Night of the Krampus you'd like to talk about?
We just finished an 8-minute short film called C.U.P.I.D. It's a silent, slapstick romantic comedy about a team of tech-savy, spy-like Cupids as they try to unite a couple. It's a lot of fun. Right now, it's going out to festivals. Once it's had a festival run, we'll look into distribution. It's different from anything we've done before and it's one of our best works.
We're also working with a producer in L.A. to find funding for our next feature, Jersey Devil Expeditions, a horror/adventure about the famed Jersey Devil.
How would you describe yourself as a filmmaker?
I have a lot of ambition and big ideas and it can be frustrating at times to not be able to do everything I set out to due to budgetary limitations and resources. I like to think I'm fairly laid back and accommodating. I also try not to edit a film to death. I like to let a scene breathe, especially an action scene, so it's easy to see what's transpiring and build a connection. I can't stand choppy quick cuts. It makes it impossible to decipher what's happening on screen and immediately distances the audience from what's happening on screen.
Filmmakers who inspire you?
I'm a big fan of early Spielberg, Sam Raimi and Joe Dante.

Feeling lucky ?
Want to
search
any of my partnershops yourself
for more, better results ?

The links below
will take you
just there!!!

Find Thomas Smith
at the amazons ...

amazon.com

amazon.co.uk

amazon.de
Looking for imports ?
Find Thomas Smith here ...
Something naughty ?
(Must be over 18 to go there !)

Your favourite movies?
Some of my favorites include Raiders of the Lost Ark, The Rocketeer, Army of Darkness, The Wolf Man (original), Shaun of the Dead, Jaws... there are too many to mention!
... and of course, films you really deplore?
Deplore is a strong word. I tend to feel pretty "blah" when leaving the theaters nowadays. Films don't really seem to connect on an emotional or human level anymore. Some do, don't get me wrong, but most are there to sell a product or feel like video games. I try not to dwell on them too much, so none are really coming to mind. Mostly, I despise anything that feels empty-headed, calculated, "safe," neutered or appeals to the lowest common denominator. Unfortunately, that sounds like most mainstream releases...
Your/your film's website, Facebook, indiegogo, whatever else?
People can learn more about Fighting Owl Films at our website: www.fightingowlfilms.com. They can also "like" us on Facebook at www.facebook.com/fightingowlfilms and follow us on Twitter at www.twitter.com/fightingowlfilm. Our IndieGoGo for Night of the Krampus is viewable at www.indiegogo.com/krampusnight. Please check it out and share!
Thanks for the interview!
Thank you! I really appreciate the interest and support. Best!