We've talked about this before, but bring us up to speed: Your new movie Abi - in a few words, what is it about?
Abi is the story of a team of scientists working to save Vincent Foresterís prototype biological computer from a virus taking over the system. When the computer virus jumps into lab assistant Abi, she is driven violently insane, attacking both Vincent and his other assistant Julie.
What inspired you to make a movie about the horrors of artificial intelligence, and your personal thoughts on the subject?
Iíve always been fascinated with the dangers of artificial intelligence, both in fiction and in real life. Weíre currently seeing the ways that A.I. can affect the real world in the form of social media. Those effects will become both stronger and subtler as time progresses.
A.I. makes for a great source of danger in fiction precisely because itís so alien to us. Humans simply arenít equipped to think in a purely logical fashion. So itís partially fear of the unknown - but itís also the Frankenstein idea of being overtaken and destroyed by your own creation. There are a lot of deep-seated psychological fears to explore in stories about A.I., and I donít think Abi has even scratched the surface there.
Abi isn't the first time you've worked with screenwriter Dan McGuire - so what can you tell us about the man, your previous movies together, and your collaboration on the movie at hand?
Dan McGuire and I have been friends since college. We met while loading out gear for a thesis project we were both volunteering on (a legendarily tough shoot among our crop of Columbia College alumni), but the funny part was that a mutual friend had actually just brought me a script of Danís a couple of days prior, to use for my directing class. So weíd been planning to meet anyways, and fate brought us together before weíd even had a chance to schedule the meeting.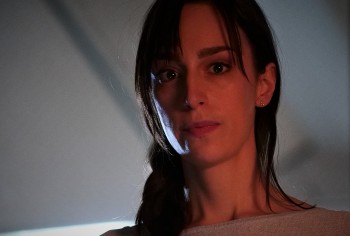 Since then, Dan has been a part of virtually every movie Iíve directed in one way or another, and heís become my trusted storytelling partner. Heís edited six short films for me in the last five years, and I always value his input on all aspects of my productions. We have a great collaborative relationship based in blunt truths. Neither of us have much ego about our work, but we both care a lot about the projects we take on. Our discussions often can get passionate, but they never get personal. It really does become the best idea wins.
And it was definitely a good thing on the development process for Abi. Dan did all the screenwriting, but we batted around different concepts and ideas for the script for about a year. Somewhere he has a file on his desktop with dozens of drafts of the script. Working together to tighten the story for Abi was a great experience both because it taught us a lot about storytelling but it also helped to deepen our friendship.
Abi was done on a modest budget - so what are the challenges of bringing a sci-fi horror movie to the screen with the funds you've had?
Doing sci-fi on a small budget, especially for a short film, is largely about trying to imply rather than outright show the sci-fi. We had to figure out how to make a biological computer and entire tech lab that looked convincingóon a short film budget. The best way I know is to embrace the limitations and make them work for the story.
One of the first things production designer Colin Bach and I discussed was the idea that this computer system is a prototype, and that itís been cobbled together over the course of years and years. We tried to use real-world tech as often as possible, modified only enough to make it seem hard to place. The lab was similarly not a sleek and perfect environment. It's meant to look like a college lab, possibly even a shared one, where these characters are working. Since we were shooting in a practical location - and borrowing most of the set dressing from the location - that again was a choice that was practical as much as thematic.
What can you tell us about your approach to both science fiction and horror?
I look at science fiction and horror as a way to examine basic questions of human nature: hubris, fear, and ambition, even what it means to be human. The great thing about genre filmmaking is that it allows us to really focus in on these concepts, but in more of an allegorical way. You can take one element of real life and exaggerate it far beyond what we experience on a daily basis and watch its effects on the characters.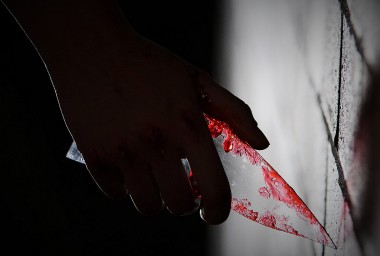 Genre stories often find their characters in extremely heightened emotion states, and those are often where the most interesting - and true - insights are found. When people arenít given time to plan and carefully consider their actions, and must simply react to stressful situations, it's where we learn the most about them. Sci-fi (and especially horror) gives filmmakers the opportunity to really make those situations as difficult as possible. Thereís nothing more stressful to a human than being in a totally alien environment or trying to protect your own life or that of a loved one. The stakes in these kinds of films are automatically higher.
Do talk about your overall directorial approach to your story at hand!
In directing Abi, I wanted to make sure that the actors all seemed like real people who were going through this situation. Even though you want the events of the story to be heightened far beyond what we would usually encounter during our lives, itís important for the characters not to be equally heightened. You never want the audience to stop empathizing with your characters.
We also had to be very careful about what was said when and how, because the story has some twists and turns that we needed to be very careful to protect. I donít believe in giving actors only partial information or trying to manipulate performances in that kind of way. So we had a number of very open discussions about just how some beats of the story should play in order to both be true to the reality of the characters but also to preserve the experience for the audience.
On the technical side, Iím generally pretty hands-on in all aspects of production. Coming from a background of working in film and television, Iím very comfortable with the technical side of filmmaking, so I was pretty involved with the way the camera moved and the look of the film in general. I do a lot of prep for my films, so we had a very firm idea of how we would cover each scene.
But Iíd be remiss if I didnít mention my frequent cinematographer, Jamison Acker. He and I spent a lot of time revising the initial shot list and improving it. My single favorite shot in the whole film is very different from how I originally conceived the moment, and it was Jamisonís alternate suggestion that really made the moment sing.
What can you tell us about Abi's cast, and why exactly these people?
Abi was cast through the connections of producer Corey Gilbert and his company P3Mediaworks. We had a few rounds of auditions drawn largely from Coreyís experience working with Chicago talent.
Abi was the easiest role to cast, because Clare Cooney came in and absolutely nailed the part from the very beginning. Sheís a gifted actor, and a brilliant filmmaker in her own right, as her short film Runner shows (https://www.youtube.com/watch?v=0PKtGVJEpdg).
Emily Berman played Julie. She was the one who found the right mix of independent spirit and vulnerability that would offset Abiís intensity.
Rom Barkhordar played Vincent, and his role was the toughest to cast. We saw a lot of actors come in for Vincent, but it wasnít until Rom came in that everything clicked. Vincent needed to be authoritative and driven, but also sympathetic. Heís the catalyst and the emotional core of the film, and arguably had to show the most range. Iíd gladly work with Rom again in a heartbeat, as would the entire cast.
All of the castmembers are incredibly dedicated people and theyíre kind, thoughtful human beings. Character and temperament are at least as important to me as an actorís talent. I want my sets to be fun and light-hearted, because the drama belongs on the screen, not the set.
A few words about the shoot as such, and the on-set atmosphere?
The shoot itself was a ton of fun. It was very exciting to direct a film with so many different elements going on, from stunts to practical effects to relatively complicated acting. Those things made for a lot of challenges, but it was generally a very positive experience for me, and I hope for everyone. There was a light and positive atmosphere as far as I could tell.
The hardest part of the shoot was working in a functional server room. We were very lucky to be given access to the location (thank you, Brian Armstrong and AccessBB!), because weíd never have been able to afford to build the set. However, it was small, loud, and hot, and it compromises half the run time of the film, including the complexly plotted climax. We started the shoot with two days in that location, and the challenges of those two days had me a bit worried about how it was all going to turn out.
But the next two days of the production we had a lot more space and it made a lot of difference in my morale. I do have to shout out again how phenomenal this crew was, because the solved a lot of tricky FX, camera, lighting and sound problems, all without a hitch. Thereís an infectious energy to a set when things go right. People get more invested in the film and more excited about the end product. I learned a lot about directing on this film, and not just in terms of the actors, but also in terms of how to manage morale.
The $64-question of course, where can Abi be seen?
Abi was recently picked up by DUST, and premiered online to October 1 - https://www.youtube.com/watch?v=Yaua0KWVo1w
It will also be available on some other platforms soon, including out own YouTube channel, https://www.youtube.com/channel/UCClEbJ5Bk7x_1YgX6w_Uywg
Anything you can tell us about audience and critical reception of Abi?
Audience reception has been very positive. We had a very successful festival run including awards for directing, editing, FX, and an audience choice award. It all culminated with acquisition by Gunpowder & Skyís DUST platform, where the film can be seen right now. We also got a number of very positive reviews for the film, including from this very site, if Iím not mistaken. Iím both humbled and grateful for the response that the film has gotten, and it really did make all the hard work worth it.
Any future projects you'd like to share?

Feeling lucky ?
Want to
search
any of my partnershops yourself
for more, better results ?

The links below
will take you
just there!!!


Weíve got a sci-fi drama thatís play a few festivals so far, but Covid has thrown a wrench in all those plans for a while. Weíve also got a short film shot during the lockdown which weíre going release on Halloween. If you want to check that out, drop us a line here: https://mailchi.mp/d037821ecf39/clm-contact-sign-up
Your/your movie's website, social media, whatever else?
Our website is http://www.crazylittlemonsterproductions.com. We can be found on Facebook under crazy little monster. You can also find me on Facebook https://www.facebook.com/timothy.troy.5
Anything else you're dying to mention and I have merely forgotten to ask?
I just want to thank you for you for this interview and for spreading the word. Iíd also like to thank your readers for taking the time to read this. I hope you all enjoyed it, and enjoy Abi.
Thanks for the interview!