Your movie The Nest - in a few words, what is it about?
The Nest is about a horrible and terrifying force of nature, how three people deal with it, and how one woman tries to control and exploit it.
How did the project come into being in the first place, and what got it off the ground?
I just decided to stop thinking about making movies and start doing it. The first step was to write it. Then I did the storyboards and found Kendal Miller online. He saw the boards and was very interested in shooting it. My friend Davidson Cole, who was already an accomplished director, helped me plan the first stages of pre-production, casting, etc.
To put it bluntly, why bees, and is any of the film based on personal experiences with bees (might be a stupid question I admit)?
Not at all. When I was a kid I was sitting in a friend's driveway and I was suddenly dive bombed by a huge and very loud bumblebee. I dashed into the street with a pounding heart. I've been terrified of bees ever since. I read somewhere that to write effective horror, you have to tap into your own fears.
In story at least, The Nest is rather reminiscent of 1970's grindhouse animal horror - a genre at all dear to you? And what were some (other) sources of inspiration when writing The Nest?
I have always enjoyed those old creature shows. I remember a lot of them playing on television. There was one called Grizzly, and another one about a scientist who turns himself into a cobra, with transformation scenes that I remember to this day. And of course there were all the killer bee movies that came along when the real killer bees were getting a lot of press. But there was also a comic book story complete with over-sized bees I cannot find anymore.
Do talk about your film's look and atmospheric camerawork for a bit if you can!
I wanted to combine the sepia tones of the Kansas scenes in Wizard of Oz with the tonal qualities of Sleepy Hollow. We were fortunate to have overcast skies for most of the exterior shooting and that really helped soften the light. Kendal Miller and his crew were essential to achieving the look. He went to great lengths to control the light, and he had some brilliant ideas for moving the camera and economizing the angles I had in mind.
Your little movie boasts some pretty impressive special effects (including a horse being devoured in full gallop) - so obviously you have to talk about your effects work on The Nest for a bit?
Part of the motivation for this project was to give me an excuse to create some memorable visual effects. I was captivated by the craft of special effects the moment I learned about the making of Star Wars. Of course nowadays it's all digital, but the tech allows me to do this kind of thing at home. My career in the game industry prepared me for all the CGI work this project required. I'll say this though: It took a long long time to do all those effects. Every shot in the well and most of the vehicle interiors were green screen. Next time I'll build more sets and get a process trailer.
What can you tell us about your cast, and why exactly these people?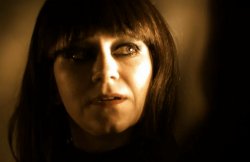 Jennifer Scott
These folks all looked and acted the part in auditions. They are very skilled actors, quick studies, and true professionals. I was lucky to find them and they all remain good friends.
Jennifer Scott [Jennifer Scott interview - click here], who played Raven is also a producer and is helping me with the final stages of post production and is formulating our plan to take the movie to the public.
Your wonderful main location - how did you find it, and what were the advantages and disadvantages of shooting there?
Ah, that was the Riviera Roadhouse in Gardner, Illinois. I did a little internet research and just drove out there one Sunday. The folks were happy help and a pleasure to meet. Unfortunately a year later after the owners sold the property it burned down. There was really no disadvantage to shooting there. We had to do very little set dress. It was almost perfect as it was. One great advantage was we had built-in catering for the crew.
What can you tell us about the shoot as such, and the on-set atmosphere?
It could scarcely have gone better. Kendal Miller already had a group of trusted crew members who were very capable. He recommended Fred Glander for AD and between the three of us, we were able to stay on schedule. Members of the cast and crew said the atmosphere on set was more relaxed and pleasant than any film they had worked on previously. I think we were lucky to have a group of very decent yet professional people gathered together at one time. Everyone made valuable contributions and we had fun. It also helps to provide good food!
The $64-question of course, when and where will the film be released onto the general public?
We are about to do a major overhaul on the sound. Once that is done, we'll make some choices on how best to make it public. I anticipate a limited number of festival submissions to begin with.
Any future projects you'd like to share?
I have three or four scripts in the early stages of development. Two of them are very ambitious visually. One is definitely a creature project. The other is sci-fi. But I would prefer to make my next project more of a serious character-driven story. I also have a few documentaries in mind.
What got you into filmmaking in the first place, and did you receive any formal training on the subject?
Growing up in the 70's and 80's did it for me. It seemed like every month there was at least one movie that would fill me with wonder and ambition for days. Maybe it's just part of being older and more critical, but I rarely get that feeling anymore when I leave the theater. All of my training in proper filmmaking has come from reading and experience. I studied art in college, so that exposure to the painting masters has influenced my visual style.
What can you tell us about your filmwork prior to The Nest?
Besides some experiments with a super 8 camera in my youth, there is little to mention. I did a commercial as part of a contest for Heinz ketchup just before doing The Nest. Before that, I did a lot of storyboarding, animation and production for game cinematics. In my first job out of college I did a good deal of animation and FX on some television shows for Discovery Channel, National Geographic etc.
As far as I know, you're currently working as a VFX artist for a video game company. Now what can you tell us about this career of yours, and how does creating effects for video games compare to creating effects for movies?
As I mentioned above, there are certain parts of the game experience that call for cinematic presentation. I have been in that industry for well over a decade, sometimes as a cinematic artist, sometimes as a VFX artist. VFX in games is generally anything that is not either a character, a set or a prop. So you make the fire, water, lightning, smoke, weather etc. And of course you can't just load the scene with millions of particles like you can in film. It all has to perform in real time. But you learn to do a lot with a little and that lesson actually helps make film effects more practical.
How would you describe yourself as a director?
I think it's critical for a director to be a good listener. A movie set is the ultimate collaborative environment, so I try to make the objective of a scene clear to everyone involved and let them bring their talents to the fore. It doesn't matter who has the best idea. Whichever idea will get the best performance and picture on screen is the one to adopt. I also try to give actors something they can actually play rather than telling them how to feel. I want to avoid over-directing an actor so I plan ahead of time what I will say if I see the scene going in the wrong direction.
Filmmakers, effects artists, whatever else who inspire you?
Spielberg and Burton for pure direction. Brad Bird for animation. Larry Kasdan, David Milch and David Mamet for writing. The old school effects guys like Muren, Tippet, Edlund, Harryhausen, and Dykstra are the ones that inspire me to this day. It was so much more interesting when you actually had to shoot a model or a puppet, use mirrors, smoke or whatever to get the image on screen. That was real problem solving.
Your favourite movies?

Feeling lucky ?
Want to
search
any of my partnershops yourself
for more, better results ?

The links below
will take you
just there!!!

Find Tim Zwica
at the amazons ...

amazon.com

amazon.co.uk

amazon.de
Looking for imports ?
Find Tim Zwica here ...
Something naughty ?
(Must be over 18 to go there !)

No Country for Old Men, Jaws, Paris Texas, The Empire Strikes Back, Halloween, Back to the Future, The Remains of the Day, Deadwood (TV), Blade Runner, Death Proof, Ed Wood.
... and of course, films you really deplore?
Too many to remember so I have forgotten them all.
Your/your movie's website, Facebook, whatever else?
http://www.openeyesprod.com/openeyesprod.com/The_Nest.html
Anything else you are dying to mention and I have merely forgotten to ask?
No sir. Thank you very much for the interest in the movie and the opportunity to answer these questions.
Thanks for the interview!