Your upcoming movie Moderngrumble - in a word, what is it going to be about?
Moderngrumble can best be described as The Bride of Frankenstein meets Jack Kerouac's On the Road or Mark Twain's Huck Finn. It's a road movie about the coming of age of a young monster and possible messiah, and it's told from the monster's point of view. Moderngrumble is my attempt to do something new with the zombie horror film. A genre that is at this point basically ubiquitous, and borderline pointless though the same can be said for most genre films. It appears to me that any time someone takes an old idea, and puts a clever twist on it, the picture is lauded for its originality or audacious re-invention. This kind of filmmaking and by extension film review disturbs me a great deal. While of course there is nothing new under the sun, there are after all only so many stories to tell, I do not believe the answer to creating interesting, engaging cinema lays in clever dialogue and third act reversals. It's all about context, or how you present your story, through what filter or viewpoint and how that particular filter or viewpoint changes the story.
What got the movie off the ground in the first place?
Well we are currently still raising finishing funds to complete the film. What we have currently completed is a series of scenes, short films, and trailers done as examples of where we would like to take the feature film and how we plan on presenting the story.
With Moderngrumble being a zombie movie, is that a genre at all dear to you, and what do you think sets your film apart from other genre entries?
I'm a life-long lover of all film from the cinema of Robert Bresson and Andrei Tarkovsky to the horror film in all its permutations. I am particularly fond of zombie and slasher films, having seen, I would wager the majority of both currently available examples of the genre. I love the Italians' take on the zombie and slasher (giallo) films as much as I do the American classics. That said, Moderngrumble stands apart from the zombie genre as it is only a zombie film in as much as Jaws is a beach movie, and visually it takes its cues from the European art films of the sixties and seventies.
My favorite zombie films are Death Dream aka Dead of Night, Night of the Living Dead, Return of the Living Dead and probably a toss up between The Beyond and The Gates of Hell.
What were your main inspirations when writing Moderngrumble?
My film work rarely takes any cues from other cinema, at least consciously. For Moderngrumble much of my inspiration came from the poems and writings of Arthur Rimbaud, Antonin Artaud, Theodore Roethke, William Blake, Jack Kerouac, JG Ballard, WS Merwin, Robert Frost, and the Marquis De Sade, while musically I found a great deal of motivation in Miles Davis, circa Live Evil and Bitches Brew, the early albums of Wire, and Patti Smith's Summer Cannibals, to name a few. I also spent a lot of time with the images of photographer's William Eggleston, Nan Goldin, Robert Frank and particularly Ellen Rogers.
Moderngrumble is also a graphic novel, right? What can you tell us about the graphic novel, its look, and to what extent does it influence the movie, stylistically?
Funny enough, Moderngrumble was never intended to be a graphic novel at all. I originally partnered with my friend Michael Duggan in an effort to create a detailed storyboard for the film - however what resulted was so fantastic that it made sense to pursue as a stand alone graphic novel. From my side, my interests are definitely in the black and white graphic novels and comics of artists like the Hernandez Brothers' work with Love and Rockets. I would have to let Michael speak to his own influences, but Moderngrumble is now intended to be a graphic novel to be released in tandem with the film. Pages from the graphic novel can be found on the website and we are currently taking pre-orders, proceeds of which will go to funding the film.
What can you tell us about your directorial approach to your subject at hand?
I definitely subscribe to a less-is-more aesthetic when it comes to camera movement, and while this style does not dominate the trailers thus far, my intention is to keep in step with my cinematic heroes such as Ozu, Tarkovsky and Bresson in creating a sense of time, place and atmosphere through long shots, minimal camera movement and unecessary close ups, or the manic cutting that plagues so many films today. As for the most recent trailer we went for a more tone poem styled approach - putting emphasis on mood, emotion, and style over story, which hopefully will appeal on a more primal level than just presenting it as an art film or a horror film.
No zombie film without special makeup, blood and gore. So what can you tell us about the effects on your film?
I can tell you that there is very little traditional zombie action in the film, those fans expecting brain and gut munching may be let down. We're after a more existential horror - however that is not to say there will not be flesh eating, floating zombies, throat slashing, tongue eating and birds flying out of our hero's head. All courtesy of Marcus Koch of Oddtopsy FX [Marcus Koch interview - click here], a magician known for his work on numerous underground horror epics.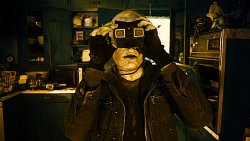 Jeff Dylan Graham in Moderngrumble
A few words about Moderngrumble's main cast?
As Moderngrumble is for the most part a one man show, our star is Jeff Dylan Graham, a terrific Los Angeles based actor who has appeared in numerous films, most recently Bloody Bloody Bible Camp, The Theater Bizarre, Fell and the upcoming El Matador. We have yet to cast our lead lady antagonist but have our eyes set on a very well known actress who has worked with everyone from Tarantino to Gilliam.
As far as I know, Moderngrumble is not quite in the can yet. At what stage of production is your film presently?
As I mentioned, we are still raising the money to complete the film. We are for all intents and purposes in pre-production, however a very slow one. We're hoping with the unique style of the various trailers we are releasing that we can generate interest to start production by the end of the summer.
It might be waaaay too early to ask, but any idea when and where Moderngrumble will be released, tentatively?
Unfortunately we're still too far off from wrapping the film to know a release date as of yet.
Let's go back to the beginnings of your career: What got you into filmmaking in the first place, and did you receive any formal training on the subject?
I attended the Academy of Art for filmmaking and broadcast media in San Francisco but dropped out once I realized I really didn't need to go to school to shoot a film. That's right, I'm another film school dropout. My experience has thus far been garnerd from the cinema, library, and shooting my own short films here in Arkansas.
What can you tell us about your filmwork prior to Moderngrumble?
My cinematic output has for several years been in the art world where several of my shorts have played both festivals and art galleries as parts of installations Moderngrumble will be my first feature narrative film.
Again, this might be too early to ask, but any future projects beyond Moderngrumble?
Several, We're working on a short called Parasites that will probably be available well before Moderngrumble hits the screen. Adapted from the Theodore Sturgeon short story Bianca's Hands, Parasites is a very exciting story about unusual beauty and a potentially sentinent pair of hands. Beyond that I have several screenplays in development, one in particular that can only be described as The Breakfast Club meets The Shining with Acid Rain thrown in for good measure. It's pure B-movie goodness but I'm having a blast writing it.
Filmmakers who inspire you?
Seijun Suzuki [Seijun Suzuki bio - click here], Robert Aldrich, Andrei Tarkovsky, Mario Bava [Mario Bava bio - click here], Elem Klimov, Robert Bresson, David Cronenberg, Jean Vigo, Roman Polanski, Kenneth Anger, Andrezj Zulawski, David Lynch, Jean Cocteau, Robert Altman, to name just a few.
Your favourite movies?

Feeling lucky ?
Want to
search
any of my partnershops yourself
for more, better results ?

The links below
will take you
just there!!!

Find Toby Venable
at the amazons ...

amazon.com

amazon.co.uk

amazon.de
Looking for imports ?
Find Toby Venable here ...
Something naughty ?
(Must be over 18 to go there !)

Possesion, Apocalypse Now, The Conformist, Some Came Running, Blue Velvet, A Snake in June, The Tenant, Weekend, Mirror, Taxi Driver, Bug, The Long Goodbye, Return of the Living Dead, The Texas Chainsaw Massacre, and Cemetary Man.
... and of course, films you really deplore?
Ya know, I've always found that I learn more from bad movies than I do from good ones, but I really can't stand romantic comedies or anything with Robert Redford in it.
Your/your movie's website, Facebook, whatever else?
http://www.facebook.com/#!/pages/MODERNGRUMBLE/
180067040916
Anything else you are dying to mention and I have merely forgotten to ask?
You can see our latest tone poem for Moderngrumble at www.moderngrumble.com or at https://vimeo.com/44670443. Also special thanks to White Ring and Thomas Spieker for providing an excellent soundtrack to the latest trailer.
Thanks for the interview!