Your new movie Dollface - in a few words, what is it about?
Dollface is about a group of college students who discover their History professor had almost been killed by a serial killer ďCrinoline HeadĒ in the mid 90s, and decide to research it as part of a mid term assignment, and return to the scene of the crime. Once they arrive they discover Crinoline Head is more than a legend.
With Dollface being a slasher movie, is that a genre at all dear to you, and some of your favourite slashers?
Yes, I love slasher films. Itís what I grew up watching and so thatís naturally what I tend to write. Sleepaway Camp was one of my all time favorites. I also was a big fan of the Friday the 13th films. Besides slashers I am also a huge John Waters fan, so I tend to have a mix of comedy and horror in my movies.
Dollface is a sequel to your 1995 film Crinoline Head - so how true does it remain to the earlier movie, what inspired you to make a sequel almost 20 years after the original, and was Crinoline Head ever intended to spawn a sequel from the get-go?
Fans of the original Crinoline Head have told me they loved Dollface. I made sure I kept the crazy kills like they were in the first film, and there are a lot of throwbacks to the first film. Those who have never seen the first film would not catch them, but those who are fans of the first film would. The drag queens, the celery, the charactersÖ You donít have to see Crinoline Head to enjoy Dollface but I hope people will go seek it out after they do. I did not plan on making a sequel to the film, although the ending left open the possibility. After I completed my film The Cabin that did so well for us, I thought it was time to do my next feature. I saw that VHS collectors were paying a lot of money for original VHS copies of Crinoline Head and I just decided to write a sequel. I had always wanted to show a young Crinoline Head and explain what happened to him as a child and I originally planned to shoot that with the first film, so really Dollface is a prequel and sequel in that aspect. When I was writing it, I wanted to make it a film you could watch on its own, without seeing the first film, but at the same time it is a sequel so I wanted it to be true to the time difference, and made it take place almost 20 years after the first. I wrote in the surviving character Paul, who was the history buff college student in the first film, is now a history professor at the college he once attended. His students would be the new victims and I went from there. When I originally did Crinoline Head, I just wanted to do my version of an 80s slasher and not make it self aware. I wanted it to be a stereotypical horror film, but not make fun of itself. I wanted to leave that to the audience. I think thatís why so many of the hardcore fans really like it.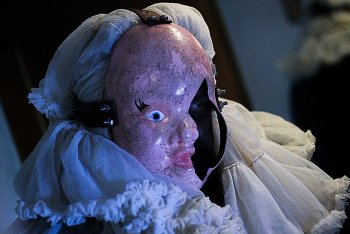 Other sources of inspiration when dreaming up Dollface?
For Dollface, I knew I had to step up the scare factor of our killer Crinoline Head. So besides the crinoline skirt he wears on his head, I wanted to create a doll type mask to hid part of his face. I wanted it to be like a cracked porcelain doll. Michael Smith to made the mask for me came up with some drawings and we went from there. Besides the look, he also grew a lot over the past 20 years. So John Kap was cast as the killer. Standing 6í8Ē, he brought Crinoline Head to new heights.
Your movie features some highly creative kills - so do talk about those for a bit, and how were they achieved?
As in the first film, the victims are killed in very different, creative ways. I made sure I was able to do this with many of the kills in Dollface also. I donít want to give away spoilers, but I tried to make the kills fit the characters. In the first film I used celery as a weapon, a toilet full of shit, a New Kids on the Block sleeping bag, etc... so in Dollface, I had to make sure they were the same type of creative kills. The human piŮata was a fun one, and the pop a squat one, crab trapsÖ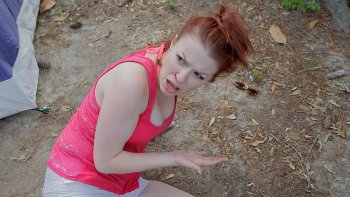 Elizabeth Maers
How would you describe your overall directorial approach to your story at hand?
Again, I know there are comedic elements in the film, but itís not self aware. So we are very serious when shooting the film. I donít want the cast to know they are in a funny situation and I donít want them to poke fun at themselves, I want them to take it serious. So with that said, I give the cast a lot of freedom to interpret the scene as their character was. I donít do a ton of rehearsals cause I like the natural instinct of the first take, so I donít want it to seem too rehearsed or memorized. We did end up doing a lot of takes, but mainly that was from me ruining shots. I was also the director of photography and camera operator and I would laugh at takes and have to reshoot. Especially with Debbie. She cracked everyone up. It was hard to keep a straight face.
Dollface features a scene-stealing guest appearance by genre fave Debbie Rochon [Debbie Rochon interview - click here] - so what was it like working with her, and how did you get her even?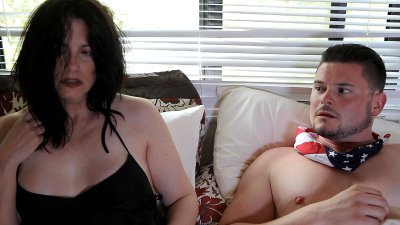 Debbie Rochon, Nicholas A. Sweezer
Debbie was so fun. I had worked on two pervious horror films with her in the past (Hellblock 13 and Head Cheerleader Dead Cheerleader) so I reached out to her and told her about this character I had in Dollface. After she read it, she said she would LOVE to do a part like that. She is normally the sexy vixen in the films she stars in so I think she welcomed something she had really never done before.
What can you tell us about the rest of your cast, and why exactly these people?
Most of the main cast had really not had a ton of experience, at least in feature films. I tend to cast based on my perception of the character in the people I meet. I have actors read many parts of different characters when I audition them and I usually cast them on how much I think they are like a particular character. I think everyone nailed their characters. Gunner Willis turned out to be so funny in his role, and he brought a lot to the character that was not originally written. Leah Wiseman also provided some great resting bitch face that I did not plan on her having, but once we are there shooting, and I allow them the freedom, they really start to develop their characters. Jason Vail, who I also used in The Cabin, is just an amazing actor. I think everyone was really impressed with him when we started shooting the classroom scenes. The actors and extras really got into his storytelling. Kirsten Ray was great too. She had a Drew Berrymore-esque feel to her that I loved when I met her. She also has a great scream! Lizzie Maers made the ultimate bitch as well. Everyone was perfect in my eyes.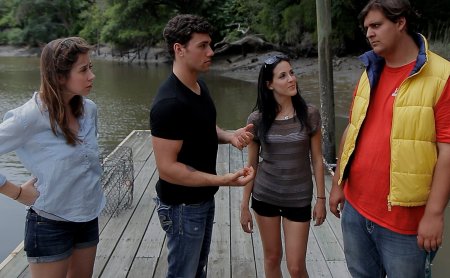 Leah Wiseman, Christian James, Kirsten Ray, Gunner Willis
You also have to talk about your middle-of-nowhere-locations for a bit, and what were the advantages and challenges shooting there?
We shot the majority of the movie in Charleston on a piece of waterfront land. It was perfect cause there was once a house there that burned down so I made that work with the story. Luckily we had a trailer there that was also in the film, where Debbie lived, that doubled as a production trailer. It was super hot during the summer so having that was a plus. One thing is that it was really not on a lake, but an inlet to the ocean. So while we were shooting we would see dolphins in the water. One time we were shooting the kids first arrive and I wanted Christian, who plays David, to take off his shirt and dive in the water. We were about to shoot and suddenly where was a 5 ft shark between the dock and the shore, there just swimming around. So we nixed that idea. It was crazy. We also shot in Columbia, SC at the University of SC where I went to school. So shooting a movie in the film school that I went to was pretty cool. But their air conditioning was not working so it was kinda miserable that day.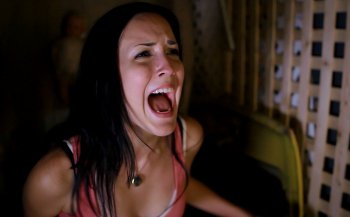 What can you tell us about the shoot as such, and the on-set atmosphere?
It was like summer camp for the cast. I am always running around super busy and stressed but the cast had a great time. My sets are very laid back and very productive. I spend a lot of time planning out every shot way before we ever begin production, so I have everything under control there. I have worked on so many miserable sets in the past and it just brings everyone down, so I make sure there is no drama and egos when casting my films. Seriously, one person I cast I recast before I even saw her again, but from her diva attitude when I spoke to her on the phone, I could see what she may be like to work with and was all ďbye FeliciaĒ.
With your movie only about to be released, anything you can tell us about audience and critical reception of Dollface yet?
So far the reviews and audience reaction has been positive. We have done really well at film festivals and I think a lot of that is from what the audience thinks they are going to see vs what they actually experience. They donít except the comedy elements, and crazy kills, and just some of the things the characters do and say. They see itís just more than a typical slasher and leave laughing and happy. I love that.
Any future projects you'd like to share?
I am finishing the screenplay now for a film called Family Possessions. I describe it as a paranormal/slasher/ whodunit. Itís a more serious type of horror film than Dollface, but Iím the writer so there is bound to be some comedy in the characters. I plan to have an IndieGoGo campaign to help raise some of the funds for the film, so follow the FB page to keep updated. I like to have really unique perks to get the horror fans involved.
What got you into filmmaking in the first place, and did you receive any education on the subject?
I want to film school at University of South Carolina and worked on tons of movie sets while in school and after as well. I also used to act before I went to school so I had experience on sets. I actually shot Crinoline Head while I was still a student at USC. I worked on Die Hard 3 one semester that I took off, and after that, I took a summer independent study course and shot Crinoline Head as the subject. I got an A. Back then I shot on 16mm. This was when digital filmmaking and digital editing really had not taken off yet. So Crinoline Head and my second feature Generation Ax were both shot on film. In 2013 when I did The Cabin, that was my first time shooting digital. So that was really an experiment in shooting and color grading for myself, which I just learned myself.
What can you tell us about your filmwork prior to Dollface?
Crinoline Head, Generation Ax Ö both shot-on-film feature films, and then I did a series of roller coaster and theme park documentaries in between 2001 and 2013 when I came back to horror with The Cabin. I also worked on movie sets like Renaissance Man with Penny Marshall and The Program with James Caan, lots of TV movie sets (especially Lifetime movies) so I had the experience. I just preferred doing my own projects instead.
You have been making indie movies for about 20 years now - so how did you experience the indie scene changing over time?
Back when I did Crinoline Head and Generation Ax, there was no social media. There was barely internet, so you really did not have a way to market your films. There were no horror film festivals like there are now, so you were forced to send VHS screeners of your films to magazines and distributors in hopes of getting it seen. Lucky for me Fangoria saw Crinoline Head and gave me a 4 page spread in the magazine. Back then, if you were in Fangoria, you had made it. That helped with distribution and my next film too. Now you have everything at your fingertips. You can shoot a movie and have it online for the world to see in the same day. Itís a different day now. And the technology of digital filmmaking now makes it so much easier to get amazing shots that you could never get with a 50 lb ArriFlex 16mm camera. Itís really mind boggling to think of what I could have done if I had what I do now, with my early films.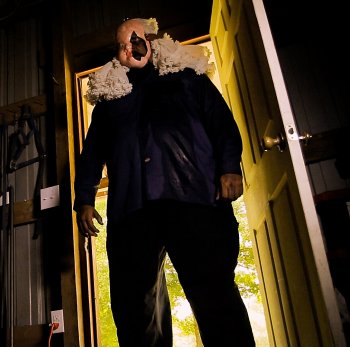 Your films seem to be invariably of the horror variety - a genre you're at all fond of, and why (not)?
Yeah, horror is just something that #1 I enjoy and #2 it just comes naturally that my stories are horror related. And in the indie scene, horror is about the only genre that can compete with other films with big names because horror IS the star. You can have a major release in theaters with no stars at all, but because itís a horror film, people will go. Try that with a comedy or a drama. If there is no A list actors, people wonít go. Thatís great for low budget horror directors however.
How would you describe yourself as a director?
I am really easy to work with. I have a direction I am going with a scene or character but I give my actors the freedom to improvise as well. Now if it sucks, I will totally tell you but I allow you to explore your character and scene to see where we can take itÖ as long as it gets us to where I wantÖ haha I think my casts from all my films agree that I am pretty easy to work with. I like to joke with the actors and make everyone feel relaxed. I mean, we all end up friends after the shoots so thatís good right? Plus most of my cast feels really comfortable walking around naked in front of me, so they obviously donít feel threatenedÖ :)
Filmmaker who inspire you?
John Waters, John Carpenter, and pretty much anyone that can get a film done my themselves.
Your favourite movies?
Older: Heathers, Halloween, Friday the 13th, A Nightmare on Elm Street, Jaws.
Newer: The Strangers, The Conjuring.
... and of course, films you really deplore?
Not into zombies so much. Or vampires.
Your/your movie's website, Facebook, whatever else?

Feeling lucky ?
Want to
search
any of my partnershops yourself
for more, better results ?

The links below
will take you
just there!!!

Find Tommy Faircloth
at the amazons ...

amazon.com

amazon.co.uk

amazon.de
Looking for imports ?
Find Tommy Faircloth here ...
Something naughty ?
(Must be over 18 to go there !)

www.facebook.com/crinolinehead2 is Dollface.
www.facebook.com/horsecreekproductions is my production company.
www.facebook.com/familypossessions is my new film.
www.horsecreekproductions.net is my web site.
Anything else you're dying to mention and I have merely forgotten to ask?
I am also one of the founders of the Crimson Screen Horror Film Fest and in 2016, we will be having our 3rd festival starting on Friday, May 13th. Subs open now on FilmFreeway and we have the most badass trophies out there. Also we will have a Dollface reunion with pretty much the whole cast at Fear Fete in October. Be sure to check it out!
Thanks for the interview!