Your upcoming movie Wasteland - in a few words, what is it about?
Wasteland is about the lead character of Scott, his challenge to finding normality in a world that's been torn apart whilst he waits for Beth (the love of his life) to return from London. Does he stay and wait for her still living in the shadow of the old world or does he leave and find his place in this new world.
How did the project come together in the first place?
The project came together as part of a discussion with the writer, Tommy Draper, during a script meeting for the previous film we worked on together, a film called Shelf Stackers. Although it's very different to Wasteland, there is a 'zombie' character and that sparked the conversation that it might be a good idea to look into doing a feature length zombie movie.
What can you tell us about your screenwriter Tommy Draper, and what was your collaboration like? And how did you two first hook up to begin with?
Tommy got in touch with me back in 2010, and came to the premiere of one of my previous film Coming Home. We then met up to discuss if there was a possibility of working together on a short film. We ended up creating Shelf Stackers and then as that came to an end we moved straight into Wasteland.
With Wasteland being a postapocalyptic movie - is that a genre you can at all relate to, and some of your genre favourites?
I find human nature interesting, when you take away all societies rules and expectations, how do people cope, what do they want in life, is it still to have a family, and life, what kind of life would that be? It's the human nature side that I find the biggest pull; if you are interested in the character it shouldn't matter which genre the film is. With this genre though you are allowed to get creative and to have a bit of fun with all manner of visual tricks.
Of course, we also have to talk Wasteland's zombies for a bit - so what can you tell us about your movie's approach to the undead?
We spoke about them being like animals, slow moving when there's nothing around fast and very dangerous when they are in attack mode. They were always meant to be part of the background of the world that Scott lives in.
Zombie movies usually suggest quite a bit of gore by definition - so how far are you going in the blood-and-guts department, and was there a line you refused to cross (for other than budgetary reasons that is)?
We've got some blood and gore, but it was again always meant to be part of the world that Scott lives in, not the main driving force behind the movie, although it is a prerequisite for this type of film. It terms of a line to cross, if it fit into the world that we created then I don't see a problem. It would only be a 'no no' if it felt or looked like it walked in from another film. In terms of the budget, it's always fun to find a way to push the limits of what you can afford and find ways around it. There are ways to cheat the budget, some ways of doing this are cutting away from a shot to make the viewer create their own image of what's going on or using compositing techniques - which we're big fans of.
How would you describe your overall directorial approach to begin with?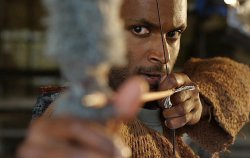 Shameer Seepersand
It was all about getting to know the actors and crew before the shoot took place. Thankfully, I'd already worked with Shameer and most of the crew before Wasteland commenced and so I knew how they all worked; this made things a lot easier. Whilst we always work to tight deadlines, I always aim to be relaxed on set to get the best out of everyone involved.
What can you tell us about your movie's key cast, and why exactly these people?
The lead character, Scott, is played by Shameer Seepersand. I've worked with Sham on several short films, so we've got a good working relationship. So when this came up it just seemed like the right fit. I trust Sham to get the right performance. Some of the scenes the we've done in Wasteland have been heart-breaking because of his performance.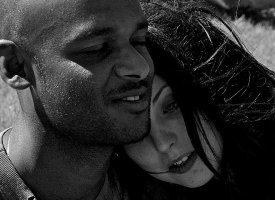 Shameer Seepersand, Jessica Messenger
Beth is played by Jessica Messenger [Jessica Messenger interview - click here]. Originally Beth was played by another actress who ended up pulling out and so we had to recast. This presented a challenge because we had already started film and in actual fact we had had to do some re-writes of the script because we were due to film a big action sequence and had got all our extras booked in and then we were faced with re-casting. We found Jessica through the fact that she had auditioned for another film one of our crew had worked on. We liked her and she liked the script and wanted to get involved. She fitted in straight away and it was great to see the relationship between Scott and Beth form.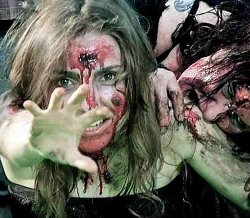 Rachel Benson
Then there's Rachel Benson who we found in an audition, she was so full of energy and really brought a spark to the character of Lolli.
Lastly there's Mark Drake, another person out stepped in last minute but who fitted in perfectly. He was perfect playing someone who enjoyed the idea of reinventing himselves in the new world order - he was ordinary in the old world, but in the new world he could be whatever he said he was.
What can you tell us about the shoot as such, and the on-set atmosphere?
To start with, because we were filming all the Scott-alone scenes it became very claustrophobic and we all went a little stir crazy. It was wonderful when Jess dropped in. That said, we did become a bit of a family and at time because there tended to be a week or so in between shoots it felt like a family get-together! There were times when it became stressful, too. The sheer amount of filming to get through and the long scenes; we had a small crew and sometimes we just didn't have enough people to do what we needed to do. And of course, off the set we all had lives, the problems of which were often a contribution to the obstacles of the film being produced. I can only really remember one disagreement on set and that was me and Sham; but it wasn't a serious issue and it was resolved very quickly and it derived from both of us wanting to get the best out of the film and his performance and. Of course, we were feeling the pressure of time, but overall it was such a great set and everyone who worked on the film did such a great job whether they were there for 1 day or the whole film.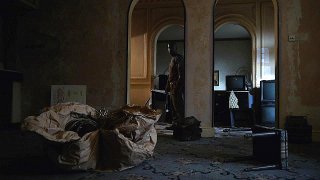 As far as I know, you are currently running a fundraiser to ensure the film gets the polish it deserves in post-production. So what can you tell us about your fundraising campaign?
The fundraising campaign is to help with everything post production. The FX are always a complicated a difficult area and of course time-consuming. Then there sound and music, plus the marketing to get the film out there. We want people to see this movie. I think its going to be a little bit different from what they expect. The fundraising campaign is currently doing 2 things, 1) helping us get the film out there and raise awareness of it, and 2) helping us finish the film.
http://igg.me/at/WastelandFeatureFilm/x/2276057
Any idea when and where the film will be released onto the general public yet?
That's going to depend on what happens next and what deal we can negotiate. Currently we have 15 offers of interest from some very big names in the world of film distribution. So, our aim is to get the film finished so we can get some serious negotiations underway for it's sale and release.
Any future projects beyond Wasteland you'd like to share?
We've just been awarded full funding for another feature film from a private investor. We're delighted! And so, we will soon be recruiting for a producer and then subsequent crew and cast.
(For anyone who's interested, we're currently taking applications at talent@lightfilms.co.uk.)
Let's go back to the beginnings of your career: What got you into filmmaking in the first place?
Very simple: stories. I always loved them. I wrote them from a young age, and wrote so many scripts - in fact I still have them all. I also made films from a young age - simple animated films, all edited in-camera. My father, who's an incredible artist, bought me Vertigo, Once Upon a Time in the West and East of Eden when I was young and it started the bug. I now have over 1,000 DVDs and a home cinema, and I can honestly say I have been a film-addict for over 25 years. There is no point in my day that I switch off from being at work, because film is my life; whether I'm in my studio or at the dinner table with my family. Film is forever!
What can you tell us about your filmwork prior to Wasteland?
Being shorts, they were shot over a 2-3 day period. There are a range of themes and genres. Again, I'm interested in people and why they do things and the impact their actions have. Emotional conflicts are the most interesting. In Coming Home the lead character has the emotional conflict of the commitment to his soldiers and the emotional commitment to his wife. These ideas interest me because of the questions that are posed? Everyone will have a different view in terms of the right answers. In The Musician the lead character is someone who is frustrated by wanting to be better than they are. Should he give up and accept that he's not ever going to make it or does he keep pushing and trying? All of my film trailers can be viewed on our YouTube channel (lightfilmsuk) or on our website www.lightfilms.co.uk.
How would you describe yourself as a director?
That's a difficult one. I'm not sure I'm the right person to ask on that one, I guess I'm ambitious and always looking to better myself. I like working with actors to find out a way to play the scene that feel truthful and organic. I'd like to think I'm quite relaxed, sincere and trustworthy - which I believe are great characteristics to have in order for a number of key things to happen on set. Firstly these personality traits are important in order to connect with the actors and the crew; they need to be able to respect you and trust me. After all, in the low/zero budget world payment comes in the form of experience and exposure and the team I work with understands that I'll do my upmost to make sure they get both of a high quality. Also, actors enter incredibly vulnerable states as they explore their character. They need to know they can trust their director as a professional and an on-set friend. This is the best way to get the best performances out of actors, in my experience.
Filmmakers who inspire you?

Feeling lucky ?
Want to
search
any of my partnershops yourself
for more, better results ?

The links below
will take you
just there!!!

Find Tom Wadlow
at the amazons ...

amazon.com

amazon.co.uk

amazon.de
Looking for imports ?
Find Tom Wadlow here ...
Something naughty ?
(Must be over 18 to go there !)

Christopher Nolan I think is brilliant, Peter Jackson, the behind the scenes of Lord of the Rings really inspired me to have my sets the way they are. Hitchcock, just sheer technique and invention. Spielberg, Scorsese, Scott... The list could go on and on!
Your favourite movies?
Too many to name, I'm afraid!
... and of course, films you really deplore?
I don't think I really hate any movie. Movies that disappoint I find worse than bad films.
Your/your movie's website, Facebook, IndieGoGo, whatever else?
YouTube Playlist - http://www.youtube.com/playlist?list=PL8603DBBA8DDC41D3
Light Films website - www.lightfilms.co.uk
Facebook - http://www.facebook.com/WastelandFeatureFilm
Twitter - @wastelandUK
IndieGogo - http://igg.me/at/WastelandFeatureFilm/x/2276057
Anything else you are dying to mention and I have merely forgotten to ask?
I think that about covers it.
Thanks for the interview!