Your new movie The Unearthing - in a few words, what is it about?
The Unearthing follows a trio of friends as they spend their summer unearthing a secret. Thereís the surface plot going on involving learning about a ghost they encountered, but the true soul of the story is the relationship between the kids and the secret one of them holds in.
What were your inspirations when writing The Unearthing, and was any of the movie based on personal experience (apart from the ghost/demon thing I hope)?
I lived in Stillwater and developed the story surrounded by the town. I used to have a lot of adventures with my friends there but not quite like whatís in the film. I think the most personal experiences that are in the story would be an essence of Parkerís struggles and qualities.
You were only 16 years old when you directed The Unearthing - so how did the project fall together in the first place?
I had a series of ideas that ended up leading to what the film ended up being. Once I came up with Parkerís plot point and his confession to Autumn, the story seemed to come together a lot easier. I talked Sean Pallas, who manages the Wardenís House Museum among other important things, early on about the story taking place in conjunction to Stillwater history. You can catch him in the film as the curator, who unknowingly gives the kids some trouble when they sneak into somewhere they maybe shouldnít be.
What can you tell us about your overall directorial approach to your story at hand?
Iíve been developing more and more and canít recall exactly how The Unearthing was made. I had some, what I think to be now, stupid ideas about my shot selection. I tried to keep things more basic and that when moments needed to stand out they would. I try to let the story feel and flow naturally in my mind, experiencing it myself, and then translate that into the production.
With The Unearthing being (among other things) a horror movie, is that a genre at all dear to you, and why (not)?
I donít watch a lot of horror movies these days but I did when I was younger. I think The Unearthing has some horror elements to it but is mostly a coming of age drama film. Letís be honest, I donít think the horror moments in my film were very scary. I really like films of any genre if the story is dramatic and gripping.
What can you tell us about your cast, and why exactly these people?
I am very satisfied and proud of the cast members. The youth cast did fantastic jobs especially for their experience levels and same with the adult actors as well. Everyone really pitched in by volunteering and gave fantastic performances and I hope to compensate them for that someday.
You also have to talk about your locations for a bit, and what was it like filming there?
We shot everything on location in Stillwater, Minnesota. Other movies Iíve seen filmed in Stilly just cut together scenes with random areas, you can see someone walking down a street then they cut to the character on the other side of town. I didnít want to do that with my film, the places the kids go are all real and are geographically correct in real life.
The house that Autumn moves to in the film is owned by a couple named Tom and Tina, and they really opened up their lives to us and let us film for many days at their house. Iím very appreciative of that. Chicago Dogs is one of my favorite places to eat at in town and the owner was cool with us shooting there, as was the owner of Victorianoís Pizza. We were very lucky to shoot at the Stillwater Public Library and Washington County Historical Society locations such as the Wardenís House and the Carriage House. I wouldnít have been able to make this without their special permissions.
What can you tell us about the shoot as such, and the on-set atmosphere?
It was very casual, on an average day the trio actors (Riley Yeary, Angelina Masciopinto, Kaleb Miller) would show up at my place along with my two friends on crew (Max Friedrich, Tanner Call) and the makeup artist (Lauren Friedrich) who I was close to at the time. We sometimes would start shooting at 7am and end later in the evening at 12pm or later. I would rush like crazy to get the shots done and keep everything together including myself. Iím sure if you ask everyone else theyíd have a different and interesting perspective on the shoots.
Anything you can tell us about audience and critical reception of The Unearthing yet?
The critic reviews are almost all positive with consideration to my amateurism. I have a lot to learn and canít wait to move forward until Iíve mastered my craft. Some people fell in love with the characters and really reacted to the movie. I love it when that happens!
Any future projects you'd like to share?
Yes! Iím nearing completing the 43 minute final cut of a new film called Freedom and Isolation. Iím looking at it right now and I feel like itís too boring and needs more work. It was selected to screen at the Minneapolis Saint Paul International Film Festival but I didnít bring in the cut when they wanted so it was pulled. Thereís a whole ordeal around that situation with the fest I donít want to go into here and now. I recently acted as a featured German soldier extra in Steven Lukeís Wunderland WW2 film and got to die 8 times. According to the cinematographer Iíve got the best German death in the movie (look for me shooting an MP40 and screaming sterben before getting nailed)! Also, thereís a film by my friend, Colton Fosson, finishing later this summer called The 4th that follows a group of recently graduated high school students that become independent from their dependencies. Itís a fantastic film and I play a minor character named Kyle. I am in the early stages of a follow up to The Unearthing starring Parker, and a couple bigger, exciting films Iím excited to tell right.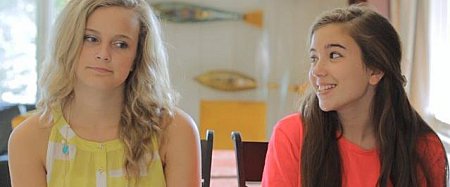 What got you into filmmaking in the first place, and did you receive any formal training on the subject?
Iíve always loved movies. I remember I used to film random action movies and stop motion Lego videos. I decided to make a short when I was 14 called 4:02, also filmed in Stillwater. The local cable station Valley Access Channels were the biggest part of my start, they provided all the equipment, editing suite, and everyone there helped me grow through the creative process. I didnít receive any formal filmmaking training and learned most of everything through the internet and firsthand experience.
What can you tell us about your filmwork prior to The Unearthing?
The only other work Iíve got under my belt besides The Unearthing would be my first short 4:02, the unreleased Incite film, and over a dozen acting credits.
How would you describe yourself as a director?
A complete asshole dictator. Iím kidding but itís probably true sometimes.
Filmmakers who inspire you?
Thereís a lot of filmmakers whose work has inspired and entertained me. I really canít get a list together of all of them.
Your favourite movies?
Movies that I have enjoyed most are Mr Nobody (that was an experience of a movie), The Raid, Lord of the Rings, Braveheart, Kick-Ass. My favorite live action shows will have to be Breaking Bad/Better Call Saul, Vikings, and Lost (old but gold). Iím really into animated shows though too and I love Attack on Titan, South Park, Dragonball and Family Guy.
... and of course, films you really deplore?
I donít really deplore any movies, although I feel like the trend productions of mainstream film/TV are often pretty shitty.
Your/your movie's website, Facebook, whatever else?

Feeling lucky ?
Want to
search
any of my partnershops yourself
for more, better results ?

The links below
will take you
just there!!!


Our Facebook page is www.facebook.com/TheUnearthingMovie
Our IMDb is here: http://www.imdb.com/title/tt4096810/
And our trailer is here: https://www.youtube.com/watch?v=1cJCdZrfBOY
Anything else you're dying to mention and I have merely forgotten to ask?
Thereís one thing Iíd like to say. Thereís a huge opportunity and world of possibilities for independent artists now. Thatís filmmakers, musicians, authors, ASMR video makers, etc. The connections are being made for anyone to be able to reach and build their audience while generating income from it. Iím really excited to see what the coming years have in store for myself and the rest for the indie art community as a whole.
Thanks for the interview!
Youíre welcome and thank you for the interview! I love getting a chance to talk about my work.