Your new movie Echoes of Fear - in a few words, what is it about?
It is about a girl who inherits her grandfather's house after he dies... and it's haunted! But things get even more horrifying as she investigates her grandfather's sudden death. Can't say much more without spoiling the story!
What did you draw upon to bring your character to life, and how much Trista Robinson can we find in Alisa?
I think the real-life complications of a very physical shoot lent themselves to Alisa's struggle. Alisa has a pretty drastic arc in the film and I can relate to being underestimated and having more resolve than expected.
You are pretty much in every shot of Echoes of Fear, and are often the only persoin in a scene - so does this put any extra strain on you as an actress, or is it just an acting job like any other at the end of the day?
I don't know if it was more challenging to do those scenes alone. Brian and Lo were always there and I was always collaborating and focusing on my objective.
How did you get involved with the project in the first place?
I had a day player role opposite Brad Dourif on Brian and Lo Avenet-Bradley's previous film, Malignant. From there they invited me to audition for Alisa in Echoes of Fear, and revealed to me later that they had me in mind for the project all along!

To what extent could you identify Echoes of Fear's horror theme?
Well, I can definetly relate to being decieved in real life, similarly to Alisa. A big theme in this film is the way people sometimes mask who they really are and hide behind a fake persona. I live in Los Angeles! Gaslighting is insidious and confusing! Luckily, Alisa and I are both pretty plucky.
Do talk about Echoes of Fear's directors Brian and Laurence Avenet-Bradley, and what was your collaboration like?
It was so great. They have become my closest friends! I learn more from them and their artistry than probably anyone! We are all perfectionists and I truly felt like an equal collaborator, not a prop or model. I have learned a lot about storytelling from them both and a lot about lighting and camerawork from Lo. We are gearing up to collaborate again and I can't wait to learn more!
What can you tell us about the shoot as such, and the on-set atmosphere?
We shot in their real-life haunted house! Some of the stuff in the movie really happened! A lot of people ask me if I was afraid while shooting but I was not because shoots are pretty arduous and we were all very focused. However, I stay at their home sometimes, in Alisa's room, and I am definitely afraid at night. They have a night light for me.
Thanks so much for asking so many questions about this film. We are so proud of it. Festival audiences loved how scary it is, and it won seven best feature awards. It's coming out in countries around the world, some in theaters late last year, and that's all very thrilling! But not many people in the U.S. have seen it outside of the festival circuit. Word of mouth really helps! Positive Amazon/IMDb ratings and reviews can really assist independent films... we encourage people to spread the fear!
Another recent movie of yours is Purgatory Road, in which you play a villainous character - so how much fun was it to play a bad girl role? And do you prepare differently for characters like that one?
So. Much. Fun. I shot this while I was shooting Echoes of Fear so it was quite the departure from Alisa! I loved Mary Francis and would play her again in a heartbeat. But my approach to the characters is the same whether or not they are 'villains' - where is the love? Humanity? Arc?
You also have to talk about Human Zoo for a bit, and what was it like to film all of your scenes with no acting partner in a very spartan set?
John Seymore is a friend and this was our first horror film but third collaboration. I shot something else the night before so I was sleep deprived in that cell! The film is all improv, so I enjoyed the creative process of developing my own story and arc within the parameters. I am proud to be part of such an experimental film. It makes people uncomfortable.
Other current and future projects you'd like to talk about?
I have a few top-secret projects that I can carefully mention. I wrapped principal photography on a feature with Michael Epstein and Sophia Cacciola [Michael J. Epstein and Sophia Cacciola interview - click here] and I have a few additional upcoming days to shoot with them. I am also gearing up to work with Linnea Quigley on a very fun project, and then I will be heading to Virginia next month to work with her again when we shoot out Killer Babes and the Frightening Film Fiasco. I shot a western called Promise in which I play the title character that should be available later this year or early next. As I previously mentioned, I am also gearing up to shoot with Brian and Lo Avenet-Bradley again on an exciting new film.
What got you into acting in the first place, and did you receive any formal training on the subject?
My aunt was a stage actor in Pittsburgh and I lived with her for a year, doing plays and working on monologues under her tutelage. Then I received a scholarship to attend a conservatory in NYC, and after that I just started auditioning...
What can you tell us about your filmwork past filmwork, and your evolution as an actress?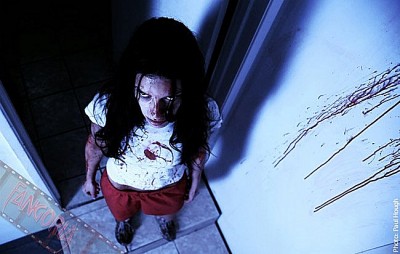 The Human Race
When I was in conservatory, horror was not taken seriously. I had grown up as the only child of a single father, until he later remarried, and horror was our favorite pastime! But I felt I had to suppress that. Most of the girls at my school wanted to be ballerinas or do musical theatre, and those things didn't interest me as much. When I got out to L.A., I was cast in The Human Race. It was my first real lead and it hit all the big horror festivals, so I was introduced to this huge horror community! I am now super proud to be a horror actress. I think embracing who I am has made me somehow more capable of playing other people.
How would you describe yourself as an actress, and some of your techniques to bring your characters to life?
Wow! I dunno how to describe myself as an actor. I am a pretty sensitive and intuitive person; I think that lends itself to my work. I definitely concentrate on determining the story arc and the character's arc within that. I do a lot of work, make a lot of decisions and plug in appropriate substitutions, and then I throw it all away in order to be fully present day of, to react organically to the location, other actors, etc.
Actresses (and indeed actors) who inspire you?
Too many to list! I was over the moon to work with Brad Dourif on Malignant because I am a huge fan of his work! His eyes! I am also Christian Bale fan. What a chameleon! Juliette Lewis, Amanda Plummer, Charlotte Gainsbourg... these women do such bold, nuanced, inspirational work.
Your favourite movies?
Well, it might be different if you asked me tomorrow but here goes - One Flew over the Cuckoo's Nest, Rosemary's Baby (Polanski notwithstanding), The Wizard of Oz, ....
... and of course, films you really deplore?
Deplore feels a little strong, but I am not a huge superhero movie fan. There are exceptions, of course. I love Tim Burton's Batman, for instance. You also won't catch me watching daytime TV; not really a soap opera or reality show kinda gal. Indie horror has my heart.
Your website, social media, whatever else?
I post updates about my work on Facebook and Twitter. I also co-host a live weekly video podcast called Without Your Head, as Treacherous Trista alongside Nasty Neal and Terrible Troy. Free archives are available on video and audio podcast at withoutyourhead.com

Feeling lucky ?
Want to
search
any of my partnershops yourself
for more, better results ?

The links below
will take you
just there!!!


Anything else you're dying to mention and I have merely forgotten to ask?
First of all, thank you for your thoughtful questions and for taking the time to delve into my work and psyche a bit. I'd love to mention that Echoes of Fear is available on Blu-ray and is packed with special features. It is also available included with an Amazon Prime subscription. It is still coming out in many countries all over the world and will be available in the UK later this month. Purgatory Road will also be available in many more countries soon, and is available in the US and included with an Amazon Prime membership as well. Human Zoo is also available on Amazon.
Thanks for the interview!