Your new movie Ghost Note - in a few words, what is it about?
Itís about a mixed up teen girl who digs up some dark family secrets and gets in over her head as a demon seeks revenge for the sins of her grandfather.
Basic question, why a blues musician? And is (delta) blues a musical style at all dear to you?
I am a guitar player and Iíve been a huge fan of the blues/rock players like Eric Clapton, Jimmy Page and Stevie Ray Vaughan. Iím not really ďintoĒ the delta blues style, but I do love Robert Johnson and Skip James. But I really loved the idea of a blues musician being the bad guy and being possessed since they have been associated with selling the souls for so long.
Ghost Note's Mallory is pretty much the typical misunderstood teen - so to what extent could you identify with her, and is any of the movie based on your own experiences?
Personally I donít identify with her at all. But I am a father and have witnessed some mixed up teen girls. I kind of feel like all girls go through a time of trying to discover who they really are, so they try different things to see what sticks. Like Mallory and witchcraft. Sheís not just completely devoted witch. Sheís just trying it out.
(Other) sources of inspiration when writing Ghost Note?
As an indie filmmaker, you are always trying to figure out how to make a movie cheap. So when I first decided to make this project I just wanted to have a cool house for most of the film to be shot. Originally the script was just a haunted house story. So researching old mansions and attics was a huge inspiration when writing the movie. Also, while I was writing I had the complete collection of Robert Johnson playing on a continuous loop. But the main song that really inspired the character of Eugene Burns is Hard Time Killing Floor Blues by Skip James. It has a haunting melody that I felt just embodied Eugene.
Ghost Note has its fair share of rather gruesome scenes - so for the sake of the gorehounds among our readers, could you at all talk about the bloody bits of your movie for a bit, and how were they achieved?
Unfortunately there was supposed to be much more gore in the film and due to money restraints we ended up having to skip some of them. There is no CG at all. Everything was a practical effect. We really had a great makeup team lead by Josh Fread. We would ask him how long it would take to do a gag and he would say 3 hours and we would tell him you have 20 minutes and he busted his ass and got it done.
What can you tell us about your movie's approach to horror? And is that a genre at all dear to you?
I am a huge horror fan ever since I was traumatized at 15 years old when I saw Suspiria in the theater. Before that I thought of horror as Frankenstein and the Wolf Man. Donít get me wrong though, I love those old Universal horror films too, but Suspiria showed me that you could actually scare the shit out of somebody. But I think there is a problem with horror today. Itís really hard to find a real scary movie. There are some out there but it seems like you really have to dig deep to find one. Most horror today seems to utilize the jump scare too much. Which is good for a moment but doesnít make it scary. So my approach on this was I really wanted to flesh out the story and characters so people can put themselves in the situation.
Do talk about Ghost Note's overall look and feel for a bit?
The entire film takes place over 3 days during Thanksgiving. Since Thanksgiving is generally a very happy holiday where family gets together and has a good time, I really wanted to make it look dreary. It wasnít nice and happy for this family. All of the colors were dark and subdued and the weather was cloudy and stormy. I wanted to use the look of the film as a metaphor for a dysfunctional family.
What can you tell us about Ghost Note's cast, and why exactly these people?
The film was shot in Dallas, TX and there is a very close group of amazing actors. So some of the cast are friends, but I like casting actors that just naturally seem to be that character, so I really look for actors that I see as the character when they are not acting. If that makes sense. We didnít have a lot of time for casting so I think we got a little lucky. The Grandma role was easy because I knew Allyn Carrell and she was my first choice. Mallory and Rodney were more difficult to cast because I really needed them to be attractive but still a little awkward and I think Alicia Underwood and Justin Duncan nailed exactly what I was looking for and I think they will go on to do great things.
A few words about the shoot as such, and the on-set atmosphere?
We had a very small crew so everyone got along very well. We shot a totally of 22 days and 12 of those days were at the house and even though the house was 6000 sq ft it seems very small with a movie crew there. We had to take over the kitchen for makeup and the garage was filled with gear. There wasnít a lot of room for people to spread out. We didnít have any trailers so everyone became close. I think we all made a lot of new friends during the filming.
Anything you can tell us about audience and critical reception of Ghost Note so far?
Since the film hasnít been released yet, there have only been a couple of festival screenings and a few advance screeners for the blogosphere, but so far, the response has been very positive from both audience and critics. Weíll have to wait and see when the film is released on August 1st.
Any future projects you'd like to share?
Nothing definite at this point. Iíve got three possibilities, one psychological thriller, one post-apocalyptic action and one horror. Iím just now starting to get prepared for the fundraising part of filmmaking. I probably wonít make my decision for the next project for several months.
What got you into filmmaking in the first place, and did you receive any formal training on the subject?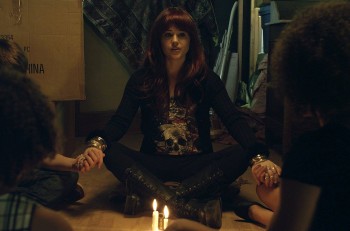 When I was a kid I had friends that had 8mm cameras and we would run around and shoot things, but I never saw them develop any film or edit. I didnít know anything about it but it was fun. When I was around 17 or 18 I saw Kubrickís A Clockwork Orange on VHS and thatís when I decided I wanted to be a filmmaker, but I still had no idea how to go about it. So instead of going to film school, I joined the Air Force and was stationed in Germany. While I was there me and 3 other guys got a detail of cleaning out an old warehouse. In that warehouse we found several cases that were filled with ĺĒ video equipment including a camera and editing equipment. Playing around and shooting and editing short films, more like skits, on that ĺĒ video equipment is where I really started to learn the craft of shooting. But the hard part was learning how to write. I spent the next 10 years studying the craft and writing screenplays before I really started to try to make a film. Then it takes several more years of trying to get people to buy a script or have enough faith in you to give you money to make one yourself.
Do talk about your filmwork prior to Ghost Note?
Ghost Note is my first feature. I wrote, shot and edited many short films leading up to this. Basically, around 12 years ago I had a feature script I was running all over town trying to sell. Then I found a producer who was willing to make it but needed to raise the money. We spent the next year trying to raise money and couldnít do it, so I wrote and directed a short called Unglued that did very well on the festival circuit. From there I tried to do another feature and repeated that same process of ďtry a feature, canít raise money, make a shortĒ for the next 10 years. But I am very proud of my short work and have been lucky enough to always get better and better cameras. Started out using SD Video, then moved to HD Video, to 1080p to 4k to 35mm film. Ghost Note was shot at 4.5k on a Red One.
How would you describe yourself as a director?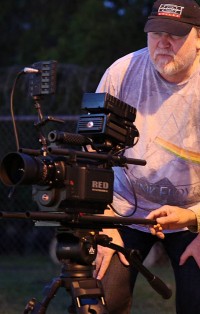 Feeling lucky ?
Want to
search
any of my partnershops yourself
for more, better results ?

The links below
will take you
just there!!!


I would say Iím pretty easy going as a director for the most part. I have been known to get angry on set but usually itís because I am very focused on my job and donít like when people are screwing around. The hardest part of being an indie film director is knowing where to compromise when something doesnít go right. We donít have the luxury of, as Robert Rodriguez says, opening the money hose to wash problems away. So, thatís me as a director just moving from one compromise to the next.
Filmmakers who inspire you?
There are so many itís hard to say. Of course the main ones are Kubrick, Hitchcock, Dario Argento, David Lynch and David Fincher. But I also love some of the big blockbuster guys like James Cameron. Steven Spielberg has been a huge influence on me. Currently Iím thrilled with the indie filmmakers that have gone on to make blockbusters like James Gunn, James Wan, Colin Trevorrow, Gareth Edwards, Fede Alvarez and other Dallasite David Lowery.
Your favourite movies?
Clockwork Orange, Suspiria, The Shining, Mulholland Drive, Halloween, Alien, Fight Club and the Wizard of Oz.
... and of course, films you really deplore?
The only one I can think of off the top of my head is I Heart Huckabees. I know a lot of people loved that movie but I just didnít get it.
Your/your movie's website, Facebook, whatever else?
http://www.ghostnotemovie.com/
https://www.facebook.com/ghostnotemovie/
Anything else you're dying to mention and I have merely forgotten to ask?
Canít think of anything. J
Thanks for the interview!
Thank you!