Your new movie M.O.M. Mothers of Monsters - in a few words, what is it about?
M.O.M. Mothers of Monsters is a psychological thriller about a mother who suspects her son is a psychopath who may be plotting a school shooting. When he outsmarts the system, she sets up an elaborate spy cam system in their home to figure out if heís just a typical hormonal teenager or if he is actually capable of murder.
What were your sources of inspiration when writing M.O.M. Mothers of Monsters?
Iíve always been a big fan of the horror/thriller genre, especially when the premise is seeded in truth. Well one of the tragic truths we, as a society, are facing right now is an epidemic of youth violence in this country. The 2012 shooting at Sandy Hook Elementary in Connecticut was a real wake-up call for me because that was the same school my niece almost attended, which would have put her in the same classroom, at the same time, when a former student went on a shooting spree and killed twenty-six people. Despite the overwhelming sense of horror we all feel in the aftermath of a mass shooting, the divisive state of this country has rendered us completely incapable of enacting change. Weíve allowed it to become a political argument over gun reform and healthcare and I believe our inaction ultimately condones these acts of violence. Iím not a politician, but as a filmmaker I felt the need to keep this crisis seared into our collective consciousness as much as possible. I mean, this movie is not about a school shooter. It is about the fundamental breakdown of communication within a uniquely American family. It is about the deterioration of the human psyche that has the propensity to produce a school shooter. First and foremost, M.O.M. Mothers of Monsters is a very disturbing work of narrative fiction, but a lot of the character traits, events and dialogue was borrowed from the journals, manifestos and memoirs of real-life school shooters and their parents. Itís my favorite kind of film: a real-life horror.
To what extent can you actually personally identify with Abbey? And while we're at it, to what extent with her son Jacob?
Iím not a mother myself but I think a lot of us can identify with what itís like to have a family member who we both love and fear at the same time. Whether thatís a disciplinarian parent or a kid with a real mean streak, most of us have had some kind of exposure to someone who canít manage their emotions to the point of being harmful to others. Our culture is changing, weíre becoming more and more isolated - and our kids arenít learning basic coping skills or how to deal with real-life conflicts anymore. When I was a teen, we used to talk at the dinner table or after watching a movie together, but with everyoneís face buried in their smart phones now, we forget how important talking to each other really is. We forget how important listening is. We are replacing real human interaction with simulated pleasure, that millisecond rush of endorphins we get when someone likes us on Facebook or Twitter or Instagram or Snapchat. As youíll see in the film, not only is Jacob addicted to technology but Abbey herself ends up having a much more intimate relationship with her devices than she does with her own son. I think all of us can relate to that on some level Ė this film just takes it to the most horrifying conclusion of all.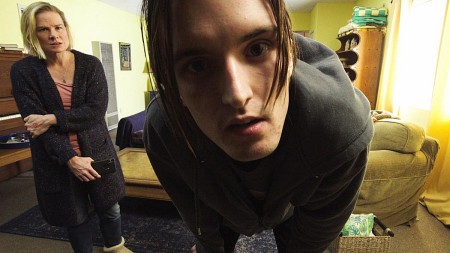 What can you tell us about M.O.M. Mothers of Monsters' approach to horror?
Horror is about fear, right? We get scared, we get a jolt of adrenaline, we feel alive, we come back for more. Why not give people something to think about in the process? There are plenty of real horrors going on around us every single day. I mean donít get me wrong, I enjoy a good slasher film now and again, but the chance of a killer doll springing to life and gnawing my head off my neck is a lot less likely than the chance of a disgruntled employee mowing me down with an AR 15 on Friday afternoon. Real life scares me more than anything else so that is whatís naturally reflected in my work as a filmmaker.
You shot M.O.M. Mothers of Monsters found footage-style - so what made you choose that approach, and what are the advantages and challenges shooting that way?
Found footage is a brilliant mechanism of filmmaking if you use it right. And using it right has everything to do with giving the characters a believable reason to be filming in the first place. Documentarians disappearing in the woods while hunting down a legendary witch was a ground-breaking concept at the time of The Blair Witch Project. Capturing photographic evidence of a supernatural presence worked quite well for Paranormal Activity. I wanted to evoke that same kind of fear without relying on anything paranormal, so the premise of the film had to be anchored in absolute authenticity. What better hook than a mother whoís forced to outfit her entire house with spy cameras to figure out if her son is really a psychopath or not? The monster in this movie is human, and itís the kind of monster weíre seeing on the news every week in this country.
The challenges of making this particular film had a lot to do with the fact that I am a found footage junkie. I respect the format immensely, which meant I was unwilling to make exceptions when it came to upholding the integrity of this subgenre. For example, true found footage films are not musically scored and of course music is what filmmakers use to drive the emotional pacing of a movie. Well, all the music in M.O.M. Mothers of Monsters is organically sourced, meaning itís something playing in the background on the radio, or television, or what Jacob is listening to during the actual scene itself. So we had to find all this music prior to shooting and play it live in-scene when the cameras were rolling. We were lucky enough to work with an incredible alternative hip-hop artist named Salvatore Siciliano before principal photography started, who not only worked with us to identify the type of music Jacob would listen to, but even wrote several songs catering the lyrics to Jacobís individual psychosis. We used his most masterful song of all, titled Wonít Stop as the theme music for the film, which plays out in its entirety under the credits.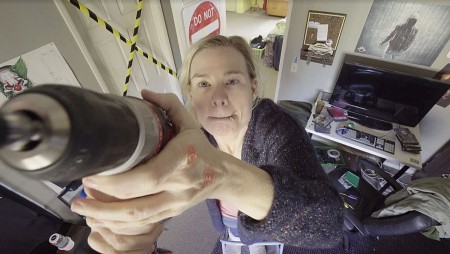 The advantages of shooting a found footage film typically has to do with budget, because in most cases you donít need expensive cameras or a full crew - but that was not the case for us. We used so many surveillance cameras (sometimes up to 6 in a single scene), that to maintain the vision I had for each one required bringing on a director of photography with a truly exceptional eye for detail. I mean, all these cameras were pre-mounted into ceilings and bookshelves and doorways - so if a single one was repositioned even a fraction of a millimeter differently than it was the day before, weíd have a giant continuity issue on our hands. Our director of photography, Matt Paulsen, ended up camping out in our picture house for months on end because the time it took to break down and then reset each camera became unmanageable. Heís really the unsung hero of this entire film actually.
M.O.M. Mothers of Monsters was mostly shot in just one location - so where was it shot, what was it like shooting there, and what were some of your techniques to keep things visually interesting within this limitation?
Yeah, other than a few scenes shot on a high school campus or a local electronics store, the majority of the film takes place inside this familyís home. We chose a house in Long Beach, California that had a similar layout to the hero house depicted in the original screenplay. Of course, the film takes place in suburban Ohio, so a lot of time and effort went into re-envisioning the entire layout and furnishing it to match the dťcor of a modest home that could be found somewhere in Northeast America. This required us to work very closely with our genius art director, Deboriah Dupree, who redesigned every single room on a 3D software program so we could simply move graphic elements around before spending our limited budget on actual renovations.
To keep the space visually interesting we painted each of the rooms with a bold & distinct color, which helped the scenes resonate emotionally and also oriented the audience as to where each of the spy cameras were hidden. The color palette of the film very purposefully reflects the subject matter itself. For example, we painted the kitchen a striking lime green, which is the national color of Mental Health Awareness. This eventually becomes the dominant color of the whole film and is incorporated into every scene in both set design and wardrobe. The more the characters begin to unravel the more lime green appears - in dishware, pillows, fruit bowls, wardrobe and overall set design. We chose to paint the walls of the living room a bright yellow, because in film this color often represents dishonesty, deceit, danger (specifically ďhazardĒ), and becomes the room where Jacob throws his first tantrum. The entryway is painted fire orange, the color that has come to symbolize National Gun Violence Awareness and is worn across the country in rallies and marches. We labored over every single detail of the set design, and although we donít expect most audiences to pick up on all that, it anchors the film in the kind of authenticity we wanted to maintain on every level.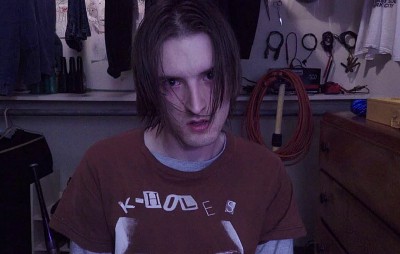 What can you tell us about your overall directorial approach to your story at hand?
I have a background in documentary television, so this informed my approach to the storytelling because I wanted this film to feel real and unpolished like a documentary. I needed it to be gritty and uncomfortably voyeuristic so the audience had that sense of peeking through a keyhole into the intimate life of someone elseís dysfunctional family.
Of course, M.O.M. Mothers of Monsters is a work of narrative fiction and I was working with actors, so I had to inspire them to completely reinvent their relationship to the material. I incorporated what was eventually dubbed on set as the ďdocumentary takeĒ, which meant after the actors finished their interpretation of a scene, I would ask them to forget all their training and deliver their lines again as simply as possible. Thatís actually a very difficult thing for talented actors to do because it seems very counterintuitive to all the work theyíve done to prepare for the role. I mean, theyíve spent a lot of time and energy finding the motivation behind every line and here I am barking things like ďthrow it away!Ē or ďdonít make that line mean anything at all!Ē Eventually, this technique paid off and the film has that documentary-style, slice-of-life feel that I had originally envisioned.
Do talk about your cast, and why exactly these people?
About two months into auditioning actresses to play Abbey, we realized that the caliber of talent this role required was going to be a lot harder to find than we ever realized. Our producers eventually managed to get the screenplay into the hands of Melinda Page Hamilton (Messiah, Mad Men, Damnation, How To Get Away With Murder), and she showed up to our first meeting with a stack of folders including some of the same newspaper clippings and articles I had used to write the script. I instantly knew she was connecting with the material in both a profoundly personal and intellectual way. When we saw her first reading, we were blown away by Melindaís interpretation of who this mother was at her very core - and some of the bold choices she made expanded my own understanding of film.
We had originally wanted to cast a recognizable name to play the role of Jacob, but no one quite fit the bill. We ended up watching hundreds of digital auditions and Bailey Edwards [Bailey Edwards interview - click here] became a favorite early on. He had that striking ability to embody a complicated teenager who emotes both a chilling sense of terror and irresistible charm at the same time. The callbacks and chemistry reads took several more months but Bailey managed to keep the same material feeling fresh and unpredictable every single time, which is something I always look for in an actor. It wasnít until after we officially offered Bailey the part that he told us his father is Anthony Edwards, which I thought was a really standup way to land a starring role based solely on his own merit.
A few words about the shoot as such, and the on-set atmosphere?
Most of the film crew, including all the dept. heads, were female, which created a very collaborative working environment on set. Plus, the two lead actors (Melinda and Bailey), happen to know every lyric to every musical in the history of Broadway, so every time we cut cameras to reset a scene, the two of them would simultaneously burst into a very lively song and dance number. Given the deeply disturbing subject matter of this film, and the fact that they were wearing make-up so as to appear utterly exhausted and malnourished, the set would instantly transform into some kind of harmonious zombie apocalypse duet, which often gave me pause as to whether I should switch gears and make an entirely different kind of film.
The $64 question of course, where can your movie be seen?
Itís playing at the Arena Cinelounge Theater in Hollywood from March 13th to March 22nd, but with the outbreak of the Coronavirus weíre now encouraging people to stay home and watch it on Amazon instead: https://www.amazon.com/exec/obidos/ASIN/B08439ZWH2/
Anything you can tell us about audience and critical reception of M.O.M. Mothers of Monsters?
Well my biggest fear was that some people might misinterpret the intentions of this film and assume I was somehow sensationalizing the sensitive subject matter it deals with. I mean, how would they know that such a painstaking amount of research went into this project or that the script was vetted by mental health organizations? But I have to say, weíve been very impressed with the critical reception thus far because people are truly getting what the essence of this movie is about. I mean, this is a very confronting film, and itís a psychological thriller with a horrific twist at the end so people arenít exactly walking out of the theater with smiles on their faces. But theyíre posting about it on their social media accounts and theyíre recommending it to their friends - and talking about this epidemic of violence thatís rocking the consciousness of this country is exactly why I wanted to make a controversial film like this in the first place. People really seem to be paying attention and Iím enormously grateful for that.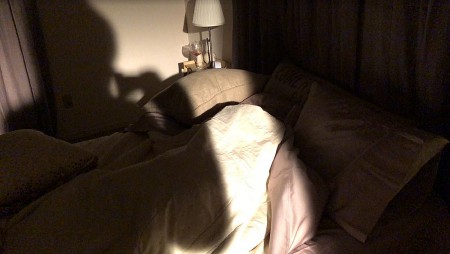 Any future projects you'd like to share?
I always have a ton of projects on my radar but Iím very passionate about what I work on, which limits my ability to focus on more than one project at a time. Iím working on an A&E documentary series right now but when we wrap towards the end of 2020, Iíd like to spend some time on a feature documentary Iíve been filming off and on since 2013 (Cracked) about my mentally ill, drug addicted, homeless older sister who is trying to reconnect with the ten children she lost custody of before she dies. I havenít figured out a log line for that one yet! At some point, Iíd also like to revisit my first screenplay, titled Halfbreed, which was one of the winners in the horror category of the PAGE International Screenwriting Awards.
From what I know, you've entered the filmworld as a TV producer - so what can you tell us about that ascpect of your career?
Iíve been directing unscripted television shows for many years and have especially enjoyed working on paranormal series like Fact or Faked: Paranormal Files, Ghosts of Shepherdstown, and Ghosts of Morgan City. Iíve always been intrigued by the unknown, but I didnít want to get pigeonholed into paranormal television or documentary filmmaking. At heart, Iíve always been a writer & filmmaker, so I decided it was time to take that leap and make my first feature film. Thereís a lot more time to refine the craft of storytelling with narrative fiction, to visualize what it is youíre trying say and how exactly youíre going to say it. My experience in television certainly leant itself to the technical side of making a film and I had the huge advantage of partnering with powerhouse producers, Elaine White and Austin Porter, who had pulled off miracles for me in the past. But I had to rely on an entirely different side of my brain to make a
movie. I had to turn inward, reflect, and use my imagination in a way that made me feel more alive than anything else Iíve ever done.
What made you branch out into directing eventually, and did you receive any formal education on the subject?
I studied film and theater in Emerson College and then moved into writing and directing theatrical plays. I started taking side jobs on television productions to pay the bills but it wasnít until I saw what my scripts turned in to at the hands of other directors who didnít share my vision, that I realized I was way too much of a control freak to sit on the sidelines!
How would you describe yourself as a director?
My strength is working with actors so Iím more of a performance director than anything else. Of course, Iím also the writer so I always have a very clear vision of what I want from day one, but thatís never interfered with my ability to recognize a genius creative choice when I see one. I mean, thereís nothing more rewarding than watching a truly gifted actor discover those nuances that give their character more dimension and depth than I could have possibly imagined. I think playing and experimenting and improvising during rehearsals is key when it comes to carving out what makes a character really tick. I jot things down a lot during rehearsals and if something works better than whatís in my script, I change it and print out a new script the next day. During the filming of this movie there were a few scenes with Abbey that were so emotionally raw, the only way we could get to the scripted lines was to let Melinda improvise her way there (her idea actually, and a brilliant one at that!). Iím also an editor and spent a lot of time in post on M.O.M. Mothers of Monsters - so I knew in advance that for this particular scene I could use a montage of jump cuts to tell the story I wanted to tell. I think itís important to collaborate as much as possible on a film set, as long as you have the technical understanding to know you only have to use what truly enhances your original vision of the film in the end.
Filmmakers who inspire you?
Patty Jenkins (Monster), Lynne Ramsay (We Need to Talk About Kevin), Kimberly Peirce (Boys Donít Cry) Yorgos Lanthimos (Dogtooth, The Killing of a Sacred Deer, The Favourite) and Sophia Coppola (The Virgin Suicides, Lost in Translation).
Your favourite movies?
Depends where Iím at in life but Iíd say Sophieís Choice, City of God, Napoleon Dynamite, Let the Right One In (2008 original), Monster, and Boys Donít Cry have certainly made a lasting impression.
... and of course, films you really deplore?
I always find something to appreciate in every film I watch but the few I never quite got into were Kill Bill (1 or 2), Irrťversible and maybe Showgirls (although I never even made it through that one).
Your/your movie's website, Facebook, whatever else?
Website: https://www.mothersofmonsters.com/
Facebook: @M.O.M.movie
Instagram: m.o.m.movie
Twitter: @MomsOfMonsters
Anything else you're dying to mention and I have merely forgotten to ask?

Feeling lucky ?
Want to
search
any of my partnershops yourself
for more, better results ?

The links below
will take you
just there!!!


Well, one thing I should mention is that some critics are starting to use the word ďcult classicĒ for this film because there are so many layers of story & hidden meanings throughout. Thereís a long trail of Easter Eggs that were meticulously planned in advance that I would never expect most viewers to get in one sitting. Some of them are not important to the story itself, like the characterís last name being ďBellĒ, which is the symbol of hope for those affected by mental illness (look it up because itís actually a pretty cool story). Or the fact that the whole film takes place during the month of May - national mental health awareness month. But there are a lot of other clues and messages that are integral to the story and will enhance the overall experience in a pretty remarkable way. If someone only plans on seeing M.O.M. Mothers of Monsters once, then Iíd encourage them to really pay attention, to listen to the audio design, to appreciate the nuances the actors are signaling, to look for signs, to be vigilant.
Thanks for the interview!
Holy cow, your questions made me think, thank YOU!