Your upcoming movie Soldiers of Fire - in a few words, what is it about?
Soldiers of Fire is about an American firefighter who goes to Baghdad to aid in the relief efforts after a series of bombings, but soon finds himself caught in the middle of a war.
With Soldiers of Fire being about the Iraq-war, how much research on that subject went into writing the script, and is any of the movie based on an actual true story?
In 2010, there was an attack on the Our Lady of Salvation Syriac Catholic Cathedral. The attack left at least 58 people dead, after more than 100 had been taken hostage. Now, what I have done is, I have woven a fictional story thread through the true events in the story, and gave our firefighter a reason for being in the Middle East during that time, under the protection of a counter-terrorism task force. All the events in the film are real, but the characters that we follow are fictional.
I've read somewhere that you graduated from the Firefighter Academy at Pueblo Community College - how much of your experience as a firefighter were you able to work into your script?
Quite a bit actually. In the fire academy, while everyone else was acquiring the knowledge and skills for a promising career, I was there as a filmmaker, taking A LOT of notes, observing how REAL firefighters overcome extreme obstacles in the face of overwhelming odds. So, if you can imagine a fireman running into a burning building while everyone else is running out... Now, imagine that building is a Catholic Church... in an active warzone... I basically took a real life hero out of his home town in the United States, and put him into hell, where he will use the same strategy and tactics of the fire service to survive the Middle East.
Other sources of inspiration for Soldiers of Fire, and how did the film get from being a mere script to being an actual project?
Our soldiers overseas were really what motivated me to write this story. The feedback we got from our Facebook fanbase was that "this is a story that needs to be told." It has became a passion project for everyone involved. Honestly, the sole reason why the film has gone from being a mere script to being an actual project is because of the long, dedicated hours that our producers Jack Skyyler [Jack Skyyler interview - click here] and Glenn Brannan have put into the project so far.
How do you plan to approach Soldiers of Fire from a director's point of view?
I plan to approach Soldiers of Fire with more or less a well-defined sense of its meaning. A "Soldier of Fire" by my definition is a soldier who breaks free from the bureaucratic restraints that bind him in order to save a life that would have become a casualty if he would've obeyed his orders. With such a powerful message, the only way to shoot this is to put the audience in the middle of the action, and keep them on the edge of their seat from the beginning to the end, with dynamic camera angles, stunning visuals, and the plot of a high-octane, global-spanning thriller.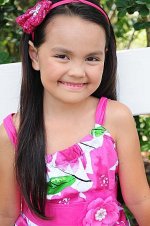 Chalet Lizette Brannan
What can you tell us about your projected cast, and why exactly these people?
The first time I sat down to write the story back in 2011, I immediately thought of Rick Ravanello (The Cave, True Justice) and Holt Boggs (Sin City 2, Hostage). I have been a huge fan of both actors for a very long time. The day I completed the first draft of the script, I reached out to Rick to see if he would be interested in playing the character of Jack Nolan in our film. With much surprise, he was very interested, and soon after, I got in touch with Holt about the role of Derek Snow... It wasn't long after we attached Holt that a wave of headshots and resumes came pouring in from other actors and actresses who wanted to be a part of the project. But one headshot stuck out above all the rest, and it was that of a rising star, Chalet Lizette Brannan. I never thought that ONE person could change the course of history, until I met Chalet and her Dad Glenn.
Making a film about the Iraq war, I think finding convincing locations is of the utmost importance. So what can you tell us about that aspect of the movie?
Well, it's obvious we can't fly to Baghdad to shoot a war movie safely. So we were scouting for locations long before we even had a script. Finding existing locations in the U.S. that resemble the war-bustling streets of Baghdad is very difficult, but so far, Texas appears to be the most logical place to shoot.
As far as I know, as we speak you're still raising funds for your movie - so what can you tell us about your fundraising efforts?
Recently, I put our entire fundraising campaign in the hands of our producers Jack Skyyler [Jack Skyyler interview - click here] and Glenn Brannan. With them in control of our campaign, our fan base has almost doubled overnight! In my experience, raising funds is the most intimidating aspect of filmmaking, because when you go to a producer with an "one-of-a-kind" idea for a Hollywood movie, and you send in the script, then you work together to break down the script into a budget. So quickly your amazing concept becomes harder and harder to create, but as an artist, it is my job to make the BEST movie we possibly can, with the budget we have. And even though this phase of development is the most intimidating, to me, it's the most exciting.
http://www.indiegogo.com/soldiersoffire?c=home
Once the funds are raised, how do you plan to proceed from there, and any idea when and where the film wil be released onto the general public yet (though I realize this might be waaay too early to ask)?
Once we raise our funds, our next course of action will be to establish a well-rounded cast and crew. From there, we work on scheduling, and executing the principle photography of the film. As far as release goes, there is talk about a theatrical release, and word about the film is spreading like wildfire, so it isn't impossible, but we will know soon enough.
Let's go back to the beginnings of your career: What got you into filmmaking in the first place, and did you receive any formal education on the subject?
I took a traditional animation workshop in 5th grade, and I wanted to be an animator for Disney. All through middle school, I kept drawing. When I reached high school, I took several art and animation classes, but slowly that dream evolved as I got my hands on my first computer animation software, and immediately fell in love. So, I spent many years studying the world of 3D, establishing a solid ground to walk on through the evolving realm of computer generated imagery (CGI). From CGI, I turned to photography, and began telling stories through the power of the still image, and that is what really geared my focus toward directing my first film project. I attended the New York Film Academy in Los Angeles, CA where I acquired the skills necessary to write, direct, and produce a feature film.
What can you tell us about your filmwork prior to Soldiers of Fire?
Well, before Soldiers of Fire, I was an extreme photographer. I free-climbed an 80 ft cliff to capture a shot of a rock climber as he jumped a 30 foot gap to catch a ledge. My experience in extreme photography will definitely cross over into film. But the thrill of doing something that most people would cringe at the thought of is most exciting to me.
Any future projects beyond Soldiers of Fire you'd like to talk about?
I am currently working on the second installment to the Soldiers of Fire-series titled, Soldiers of Fire: Harbor of the Saints. It takes our fans from the sandbox of the Middle East to the frozen tundra of the Alaskan wilderness as a former soldier now in the employ of the United States Coast Guard, and a SEAL team under the command of a CIA agent, have been sent in to investigate a reported shipwreck off the coast of Alaska.
I've read somewhere that you're known for your "low-angle roller dolly" technique and "run-and-gun shooting" - would you at all like to elaborate?
When I was doing special effects, I designed a camera system that allows the camera operator to move smoothly from third person to first-person using a low-angle rolling method combined with a dolly rig to give the effect that the camera is flying, eliminating jitters, and through Special Visual FX, we can move from third-person to first-person without the audience getting dizzy. In order to safely and successfully put the audience in the middle of the action, it requires fast reflexes, alot of strategic planning and choreography, but the "run-and-gun shooting" method has been used in ALOT of today's action films, but by shooting a gunfight from the outside, it gives the audience a sense of "speculation", like they are watching a football game on TV. But when you are able to put the audience in the middle of the firefight, it gives them the sense of "being in the character's shoes" and experiencing the fear, the excitement, the danger, and the thrill - it is very rare that this technique is done with credibility, and we are going to utilize both techniques heavily within the film.
How would you describe yourself as a director?
This will be my first time in the director's chair, but the way I direct will reflect my attention to detail as an effects artist and as a photographer.
Filmmakers who inspire you?
Len Wiseman would have to be the ONE filmmaker who inspires me, because when he was pitching Underworld around Hollywood, several producers offered to buy his script, but no one would invest in a first-time director of a feature-film. But he stuck to his guns as the director, and Underworld was born.
Your favourite movies?
My favorite films are the Indiana Jones-series. Because as a kid, I always knew that no matter how shitty I thought my life was, Indiana Jones always had it worse.
... and of course, films you really deplore?

Feeling lucky ?
Want to
search
any of my partnershops yourself
for more, better results ?

The links below
will take you
just there!!!

Find Ty King
at the amazons ...

amazon.com

amazon.co.uk

amazon.de
Looking for imports ?
Find Ty King here ...
Something naughty ?
(Must be over 18 to go there !)

I would have to say Zero Dark Thirty! As controversial as this may be, Zero Dark Thirty glorifies illegal actions taken by our government, and the film portrays the killing of Bin Laden as anything but heroic. In my opinion, when a filmmaker says it's "based on real accounts," it sets the audience's expectation that it is going to be accurate history of what happened during the war on terror, but all it did was distort the history by leaving out the COMPLETE MORAL and political context in which this torture program took place!
Your/your film's website, Facebook, IndieGoGo, whatever else?
We are hoping to have an IMDb page up for Soldiers of Fire very soon!
Plus of course http://www.indiegogo.com/soldiersoffire?c=home
Anything else you are dying to mention that I have merely forgotten to ask?
I would like to point out the fact that without the help of Jack Skyyler [Jack Skyyler interview - click here] and Glenn Brannan, and our entire cast and crew, we would be no farther today than we were yesterday. Jack and Glenn have dedicated uncompensated hours to our campaign, and it has been because of their belief in myself and this project that everything is coming together!
Thanks for the interview!