Your new movie Me También - in a few words, what is it about?
In the fewest words, Female Empowerment. In a few more words it's the story of two women from very different worlds undergoing the same struggles in the workplace.
What were your sources of inspiration when writing Me También, and is any of it based on personal experiences?
All of my projects are based on personal experiences on some level. But I tried to shape it into a story that everyone can relate to. Oprah and the #MeToo movement.
From what I know, Me También is your debut as a writer and director - so what prompted you to tell exactly this story in your first directorial effort?
It's interesting how the circumstances pushed me to direct the project for the sake of the story. I'd handed the script to a male director and producer who wanted to make changes, giving the film a more masculine tone. When I objected they tried to push me out of my own project. So I decided to do it myself, and along the way realized that being a writer/director is my calling. It's funny: while making a film about female empowerment, I had men try to take my power away, but in the end, thank God, I gained more than I ever would have dreamed… feels like a script right?
What can you tell us about your overall directorial approach to your story at hand?
Planning things as much as possible is definitely part of the approach, but knowing and understanding when to improvise and to allow things to change and evolve in the moment is so key to capturing the magic that happens during the process of filming. Having the background of being an actress, I always appreciated having clear direction but also the freedom to make moments my own, adding or cutting a line and making adjustments about what feels right for the character, so I definitely try to emphasize that when I'm directing. Collaboration is so crucial to elevating the story.
If a woman finds herself in a situation like either of Me También's two leads, what would your advice be?
Don't be silent, we now, in large part thanks to the #MeToo movement, have a lot of resources for victims to get help. Various hotlines as well as increased awareness and attention to such cases via our legal system. Especially as evidenced by the conviction and sentencing of Mr. Weinstein, you will be heard so don't be afraid.
You also play one of the leads in Me También - so what can you tell us about your character, what did you draw upon to bring her to life, and did you write Cristina with yourself in mind from the get-go?
Being a female illegal immigrant is a remarkably vulnerable position to be in. Christina's life and choices are so shaped and compromised by the increased risk of speaking out. She may be a nanny, but coming from poverty in Mexico, she's thrilled to have the job that she does, that's her version of the American dream. Which is why it feels that much more.
What can you tell us about the rest of your cast, and why exactly these people?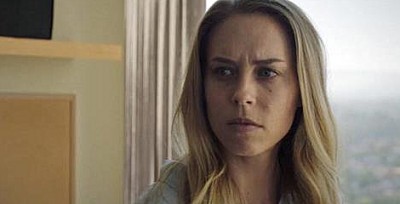 Kathryn Romine
Kathryn Romine, such a precious pearl for this film. I feel so lucky to have cast her, she is a genuine artist. Regen Wilson, I can't say enough, I would love to work with him again in the future. He was prepared and full of ideas, despite how different that character was to himself as a person.
A few words about the shoot as such, and the on-set atmosphere?
Chaotic but magical. I love and am grateful for every single person who was on that set. It will remain one of my best memories.
The $64-question of course, where can Me También be seen?
I'll give it to you for free, lol. The film is currently available on YouTube in honor of International Women's Day: https://youtu.be/O2JCh7iWZbU
Anything you can tell us about audience and critical reception of Me También yet?
The response to the film has been amazing, people have been overwhelmingly positive about the performances, cinematography and the filmmaking choices like the silences in certain scenes. We've been made an official selection of more than fifteen film festivals along with winning the Jury Award at Bentonville.
Based on the experiences gathered with Me También, will you ever return to the director's chair? And any future projects you'd like to share?
Absolutely, I'm planning to direct my first feature screenplay, It was Written. It's the journey of a Latin teenager, who escapes his abusive home life, finding the truth about his past and love along the way, through his poetry. It's a very compelling story with twists and turns and that I anticipate will take your breath away. I'm kind of obsessed with it, can't wait to bring it to life. I'm also developing a pilot for a limited series called Lady J about a woman struggling with infertility and her dark and unexpected metamorphosis.
What got you into acting to begin with, and did you receive any formal education on the subject?
I'm naturally an entertainer and the idea of portraying different characters, personalities was always so effortless for me. Being an actress was a dream of mine from a very early age in Patagonia, but my formal education as an actress really only started when I arrived in Los Angeles about six years ago.
What can you tell us about your filmwork prior to Me También?
I've done everything from being a featured extra in a Ben Affleck film, to voiceover work on a film with Will Smith, to a supporting role in Lost Fare, and a lead part next to great actors like David Arquette in the upcoming Domino: Battle of the Bones, etc. Every step of the path is an opportunity to learn, even working as an extra was a real opportunity for me to observe the filmmaking process up close, which actually helped me immensely when directing this film, as the director was acting at the same time. I really found that fascinating.
How would you describe yourself as an actress, and some of your techniques to bring your characters to life?
Very versatile, I've played a stripper on network television on Seal Team, to a mom in Disney commercials, a prostitute in an indie film, to Cristina a humble immigrant nanny, to a rebellious Chola in the upcoming comedy Domino: Battle of the Bones. As far as techniques, I use a combination of personalization with imagination but generally I'd say, prepare meticulously and then let it rip when you get to set.
Actresses, filmmakers, whoever else who inspire you?
Mira Nair for her passion for storytelling and for doing it with such little support and resources, her wisdom and love for filmmaking really inspires me. Definitely Ava Duvernay, especially because of how brave and determined she was to change the trajectory of her career from publicist to a storyteller with such an original voice. Kathryn Bigelow for sure, because of the types of complex stories she chooses to tell and her impeccable taste. And Mr. Tarantino, for so many reasons.
Your favourite movies?
Thelma and Louise, Monster's Ball, Cinema Paradiso, Amelie, Kill Bill, Pulp Fiction, and The Professional, among so many others.
... and of course, films you really deplore?
Any film that uses unnecessary violence or that's too predictable, turns me off.
Your/your movie's website, Facebook, whatever else?
@ValeriaVallejosInLA
@MeTambienFilm
Facebook.com/VallejosValeria777

Feeling lucky ?
Want to
search
any of my partnershops yourself
for more, better results ?

The links below
will take you
just there!!!


Anything else you're dying to mention and I have merely forgotten to ask?
Where do you see yourself in 10 years? I have aspirations for much larger scale projects that have been brewing for a long time. One specific story is based on my observations of the everyday lives of women while I was living in Africa, it's a bold and high concept tale I hope to be able to share with the world one day. I also dream of traveling to remote cities and villages of South America to empower little girls and help them break the generational chains of poverty, lack of education, and oppression after having already accomplished more than I expected including a family/team of humble and talented people around me.
Thanks for the interview!