First of all, why don't you introduce yourself to those of us who don't already know you?
My name is Veronica Blake, co-owner and Director for Doorway Productions. I also perform as Phoenix in some of Doorway's films. My webcam name is VeronicaBlake as seen on myfreecams.com (no space between the first and last name).
You are the new co-head of Doorway Productions - now how did you hook up with that company in the first place? And how did you become the company's co-owner?
This may sound so cliché, but it really was just a matter of me being in the right place at the right time. I met Joshua Maldonado [Josh Maldonado interview - click here] through a mutual friend and he approached me about performing in one of his upcoming films. I refused, stating that I certainly wasn't acting material, but it took little persuasion seeing as he is just that charming and I could no longer resist.
After portraying Chloe the Biker on The Interviewers, our paranormal-comedy reality series, it was becoming increasingly apparent that Joshua was beginning to lose interest in the company that he built from the ground up. It was heart-breaking to see him just "going through the motions" so to speak, and so I did what I do best. I listened to his concerns and decided to offer a helping hand with the business end of Doorway Productions. Up until this point, I was solely a performer and hadn't thought about what was really involved in a production company. However, Joshua was so impressed with my ambition to move things forward and the fact that I'm a quick study regarding editing, directing and other technical issues, that he eventually just said, "F%*k it... You take over!"
You took control of Doorway Productions at roughly the time it shifted its focus from softcore to hardcore adult entertainment. Why, and how did you feel about that shift?
This so-called "shift" was a direct result of a collaboration between Joshua, myself, and Joss Tarnez [Joss Tarnez interview - click here]. We decided that the soft-core horror had run its course and that it was time to move on to a new level of film-making. I feel that it was a wise decision and it has attracted more fans and opened doors of opportunity that otherwise would not have been possible. I am thrilled that we made the switch to hardcore films.
Why don't you talk about some of your favourite films you directed?
I had a blast directing Adult Double Drive-In Feature because of the wide range of talent that we were privileged to work with. Anytime you have multiple scenes and performers, the crazier things can get, but this is part of the fun.
I enjoyed directing Michelle for different reasons. First of all, this film took the longest to make because we were really concentrating on making sure all the camera angles were extremely precise while keeping the grindhouse-look and feel to it. This film proved to me that I actually know what I'm doing and gave me the confidence to continue directing additional films.
Any future projects you'd like to talk about?
For 2012, so far we have conceptualized two new films. One is a loose rendition of a live cam show style of experience, and the other is a POV film that will give the viewer a more intimate experience with the actresses. As most Doorway fans know, and for anyone new to Doorway, we always release a horror based film around October, and without a doubt there WILL be another for 2012.
Doorway Productions-movies usually feature quite a bit of bondage and fetish stuff. Something you are at all interested in in your private life, and your personal sexual preferences, if I may ask?
Although I am not a hardcore fetishist, I consider myself to be a switch. I enjoy sub/dom roleplay, and some light bondage, but it is not something I engage in all the time. It took me many years to figure out what kinds of sexual experiences were pleasureable versus "completely out of the question". I am accepting of many lifestyles, however a lot of them are simply just not for me.
Most of your films seem to show a strong influence of 1970's grindhouse (s)exploitation. Is this a comment you can at all live with, and would you like to elaborate?
I consider that a compliment, since a lot of our fans have a great appreciation for that era, and style of filmmaking. To be completely honest with you, I never grew up watching Indie films, or Cult Classic films, but I am grateful to have been introduced to that genre.
How would you describe your directorial approach in general?
I have a very open mind to suggestions from all those that I work with, including performers. Filmmaking is an effort of coopertaion, creativity, and dedication. There are no right or wrong opinons, and I appreciate working with people as a team. I am not a cruel dictator on set that believes "it's my way, or the highway." In short, I may be the director, but we really all work together to make our films a success.
What got you into filmmaking in the first place, and did you receive any formal training on the subject? And what got you to the adult side of the business?
Joshua was the real catalyst for my film-making career. I consider myself to be extremely fortunate to have such a wonderful mentor and friend that decided to take a chance on my desire to learn every aspect of the business, rather than just sticking to performing. I did not receive any formal training, and frankly, I don't desire to follow anyone else's opinion, free or for a paid degree on the subject. This is something that, like so many other artists know, you have to DO rather than study to be a true success.
As I stated previously, Joshua invited me to be in a film, and although I was extremely hesitant to do so, I quickly changed my mind after watching Goth Girls. I wanted to try something new and exciting and live a little bit. Life, I have found out recently, is too short to live with regret. I now see that life is to be embraced and not something any of us should take for granted. I didn't want to be the person that found myself in my older years wondering "What if?" So, I took up his offer and the rest is, well, history.
Your movies are most often written by your TS-star and Doorway Productions co-owner Joss Tarnez [Joss Tarnez interview - click here]. What's your collaboration like, and has he ever written stuff you just refused to film? And come to think of it, is there stuff you'd never film (apart from the illegal of course)?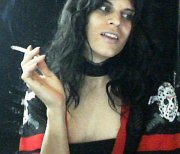 Joss Tarnez
Joss and I work extremely well together, being that we were raised in a similarly suffocating manner as far as our upbringing is concerned. We have a lot in common, such as our sense of humor, determination, and creative thinking. We bounce ideas off of each other all the time and we wouldn't be doing this without each other. We have a bond that is so rare in the fact that we may not always see eye to eye, but our compromising abilities far outweigh any creative differences that may arise. I really don't have any words to describe how great our collaboration is. It just is.
Joss is the kind of person that is completely logical, and would never waste her or my time writing something that wasn't plausible to film. We believe in working smarter, not harder, therefore everything that she writes is always with the best intention, for us and our viewers.
I don't think I would ever film a boy/boy scene. That is one of those things that just doesn't float my boat.
With Doorway Productions' former owner Josh Maldonado [Josh Maldonado interview - click here], you have done a TV show called The Interviewers. Would you like to talk about that one for a bit?
It was a (one season) show that we aired on our local CW channel. We had a lot of fun interviewing all of the people involved and none of it was ever scripted. Some of the subjects that we covered were ghosts, vampires, voodoo, zombies, Bigfoot, and UFOs/aliens. It was a comedy of sorts in the fact that a lot of our interview subjects sounded like complete mental cases, but everyone shared their experiences just as they remembered them. All in all, it was a great time.
Besides making movies, you are also a webcam girl. What can you tell us about your webcam shows, and this very special kind of audience interaction?
In my webcam shows, I dance, flirt, play games, talk dirty, and play with my sex toys. I perform on a couple different sites, and these sites have different rules regarding what can be done in free chat vs. private chat. Sometimes, I'll just go on cam to have fun and if guys tip, that's great. Other times, I go on with a specific goal in mind and raise tips before I perform anything sexually explicit. Interacting live with an audience while in the comfort of home is a fun and safe way to make some extra money while working in between films.
Has getting naked in front of a camera ever bothered you?
I think the first time anybody gets naked in front of a camera, it is intimidating. We all have insecurities and self perceived flaws. For me, I was scared to be in front of the camera even partially naked. The more you do it, like with anything else it eventually becomes easier.
Any other aspects of your career you'd like to talk about?
I have dabbled in many different creative subjects and all of them have helped me to get to where I am now. For instance, a passion for nature photography runs in my family and I started taking pictures with a 35mm camera in the 1980's. I once worked for a commercial photography studio and gained experience with how to make people look their best. I'm also musically inclined and arranged much of the background music that played in our three releases for 2011. I also started writing erotica about 20 years ago, and believe that this formed the foundation for my sexual creativity.
Filmmakers who inspire you?
John Carpenter, without a doubt. Robert Zemeckis (WAY too many films to list), Robert Hiltzik (Sleepaway Camp) and of course, I have to mention a female director that definitely inspires me... Mary Harron - American Psycho (2000), The Notorious Bettie Page (2005), I Shot Andy Warhol (1996) and The Moth Diaries (2011).
Your favourite movies?
I know you're going to laugh, but I'll tell you anyway: The Wizard of Oz has to be my all-time favorite film. I think because of the nostalgia of watching it every year on television as a child and then my mom purchased it for me as a graduation gift. What else do you give a kid that has everything? Just kidding...

Feeling lucky ?
Want to
search
any of my partnershops yourself
for more, better results ?

The links below
will take you
just there!!!

Find Veronica Blake
at the amazons ...

amazon.com

amazon.co.uk

amazon.de
Looking for imports ?
Find Veronica Blake here ...
Something naughty ?
(Must be over 18 to go there !)

I also love the first Back to the Future (Robert Zemeckis) film and saw that at the theater when I was 7 years old. God, am I giving away my age here?
... and of course, films you really deplore?
Anything made by Rob Zombie. Enough said.
Your website, Facebook, whatever else?
People can e-mail me at veronicablakexxx@yahoo.com
Find me on Facebook at http://www.facebook.com/DPVeronicaBlake
Follow me on Twitter: http://twitter.com/Veron1caVamp
I'm on Skype as well, but... I charge by the minute on there... lol
Anything else you are dying to mention and I have merely forgotten to ask?
Yes, you can also contribute to my luxurious lifestyle on www.mygirlfund.com/FoxyNative - again, just kidding. I actually do custom videos and picture sets for a lot of great guys on that site.
If you're interested, look me up and send me an e-mail!
Thanks for the interview!