Your new movie Tennessee Gothic - in a few words, what is it about, and what can you tell us about your character?
Lust and horror. And comedy. An old man and his son take in a young girl who's been brutally attacked, and then everything kinda goes to hell. My character, Paw, is slow but kind-hearted. And he's a man, so he tends to fall prey to carnal desires. And he likes Tootsie Pops.
What did you draw upon to bring your character to life, and honestly, how much Victor Hollingsworth can we find in Paw?
I really just kinda drew from real life to bring Paw to the screen. I grew up in Louisiana, and that state is full of characters. So, I remembered some of them. But most of Paw was just made up. There's not a whole lot of Victor Hollingsworth in Paw, really. As a character actor, I'm more used to playing detectives and authority figures, actually.
How did you get involved with the project in the first place?
A fellow Nashville Acting Studio student, Evan Taylor Williams, asked me to help him audition for the role of Caleb. So I went to his apartment and we set up the lights and iPhone for the video audition. I fed him his lines and we got the audition done. He mentioned that they were also casting the role of Caleb's father, Paw, and said I should go ahead and tape an audition, since we had everything set up. So I did. The Caleb role went to William Ryan Watson, and Jeff Wedding and Katie Groshong liked my audition for Paw, so they gave me the job. I had a blast auditioning for Paw. From reading the sides/script, I had a good idea of who he was, in all his corn-pone funkiness.
To what extent can you identify with Tennessee Gothic's particular brand of "Southern horror"?
I'm not really a horror buff, Southern or whatever. This was my first experience with it. I like scary movies but don't have time for "slasher" movies, where the bad guy can't be killed and all the teenagers wind up dead. Real-life movies, like Henry: Portrait of a Serial Killer, are much scarier to me. Or In Cold Blood. That shit really happens to people. We don't seriously have to worry about mask-wearing monsters with big knives who can't be killed.
Do talk about your director Jeff Wedding, and what was your collaboration like?
Jeff knew, pretty much, what he wanted out of Paw. He said I "understood" the character, which was great. That allowed me to follow my instincts about how to portray him. I loved Jeff's script. He also let me ad lib a little bit, which was fun.
What can you tell us about the shoot as such, and the on-set atmosphere?
It was a month spent in the cornfields of Viola, Tennessee. It was a lot of fun. We all stayed in a vacant church, sleeping on air mattresses. We'd shoot during the day, and then at night we'd eat these fantastic meals that someone local prepared for us. And we'd sit around a campfire and drink beer. It was a wonderful experience all around. It played a large role in the end of my marriage, but that's a story for another time.
Any future projects you'd like to share?
No acting roles at the moment. I'd love to get some! I'm really staying busy with my process-serving business, TN Process Servers -- tn-processservers.com. Attorneys and paralegals hire me to serve subpoenas, summonses, citations and such on people and corporations. I'm working for myself, for the first time, which I love. It's a lot of driving, but it's kinda fun. I had a lady threaten me with a pair of scissors last week. I had served her with a subpoena at her health-food booth at a farmers market. She wasn't happy. I'm lucky she didn't come at me with a gluten-free muffin or empanada.
What got you into acting in the first place, and did you receive any formal training on the subject?
After my journalism career ended in 2014, I decided to follow my lifelong dream of being an actor. I started attending classes at the Nashville Acting Studio, with Caroline Wooldridge Locorriere as my teacher. She is the bomb. I learned a lot, and it was very affirming -- it turned out that acting was something I could actually do.
What can you tell us about your filmwork prior to Tennessee Gothic?
Just short films. I really enjoyed The Family Keel, a short film I co-wrote that was directed by Cody Rogers and produced by Natalie Ruffino. Rogers and Ruffino were also students with me at the Nashville Acting Studio. The film is on YouTube, if anyone wants to check it out. I had a two-line role on an episode of Nashville a few years back. I played a preacher at a funeral. I need roles!
You're also an occasional writer with a past in journalism - so what can you tell us about that part of your career?
I was a journalist for 35 years. About 20 of those years were spent in print, at newspapers in Biloxi-Gulfport, Nashville and Charlotte. The last 15 years I spent in digital journalism, working at CNN.com in Atlanta. I was a copy editor, coordinating producer and finally senior producer. I was laid off in 2014 as part of Time Warner's ongoing restructuring. I was also older, making good money, and I'd had the audacity to publicly disagree with management on issues of journalistic practices. So they tried to get rid of me for several years and finally succeeded in 2014. But I'm not bitter. The bastards.
How would you describe yourself as an actor, and some of your techniques to bring your characters to life?
I don't really act. I just say the lines. Because I've lived so long, I can relate to the characters I play. I've either been in their shoes or known someone like them. It's mainly instinct. If I'm in an emotional scene, I think of past experiences and try to bring those feelings to the surface. I think most actors do that. Lots of sadness to draw from, even if it's not the healthiest way to practice the art of acting.
Actors (and indeed actresses) who inspire you?
The usual -- Brando, De Niro, Edward Norton, Burt Lancaster, Bogart, Ingrid Bergman, Helen Mirren ... and I loved James Whitmore.
Your favourite movies?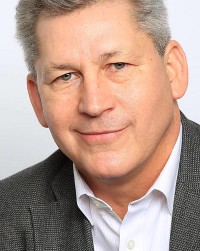 Feeling lucky ?
Want to
search
any of my partnershops yourself
for more, better results ?

The links below
will take you
just there!!!


Casablanca, The Godfather, The Wizard of Oz, The Shawshank Redemption, Forrest Gump -- there are just so many. Pulp Fiction. And, speaking of James Whitmore -- Them!, the 1954 sci-fi classic about giant ants.
... and of course, films you really deplore?
As I said, I pretty much deplore the slasher movies. They're just silly-ass. Also not much of a fan of the CGI-driven bullshit, where the actor (usually The Rock) jumps from one collapsing high-rise to the roof of another collapsing high-rise, so that he can jump onto the landing skids of a passing helicopter, firing an automatic weapon the whole time. Sure, the technology can make it look somewhat realistic, but it's insultingly unbelievable. I tend to agree with Scorsese on the superhero movies. And it's sad to me that Hollywood keeps making the same Batman and Spider-Man movies over and over again.
Your website, Facebook, whatever else?
I'm on Facebook, Twitter, Instagram, Pinterest, YouTube. Don't have a personal website, but my business does: tn-processservers.com. If you're an attorney or law firm needing papers served in Middle Tennessee or surrounding areas, hit me up. My rates are reasonable!
Anything else you're dying to mention and I have merely forgotten to ask?
I thoroughly enjoyed doing Tennessee Gothic and had a hoot filming Life Lessons with Paw Taggott. I think they're on the Blu-ray. Or parts of them are. They're also on YouTube. Just search for it. And send me film or television roles!
Thanks for the interview!
It was my pleasure. Thank you!