Your movie Everything is Forever - in a few words, what is it about?
Stephanie: Everything is Forever is an unflinching look at the universal creative process. Croatian-born Nenad Bach was a rock star in his homeland. Growing up under Communism and his resulting disdain for censorship, along with the lure of the American Dream, motivated Bach to emigrate to the US. What unspools on the screen is the raw reality of an artist who strives to have his voice and message heard. A peace activist, Nenad's lyrics and melodies reflect that calling, and his love for both Croatia and America are realized in a totally original sound. "I want to put ancient vibrations in the modern ear," says Bach on his journey back to Croatia to record the centuries-old acapella folk singers. We bill the film as a cinematic journey through war and peace and rock & roll.
How did the project come together in the first place - and how did you discover the music of Nenad Bach to begin with? And how did you ultimately get in touch with him?
Victor: I was working at CBS as an editor on a show called Street Stories back in the 90's. The war in Croatia was raging, and footage of a profile on Nenad made its way into my cutting room. He was trying to bring attention to the atrocities happening within his country. He had recorded a song which was an anthem to peace, called "Can We Go Higher". I thought he was an artist of substance and his music was very meaningful to me. The resulting segment remains one of my favorites from a decade of work on various magazine shows at the network. About seven years later we ran into each other in NYC and I thought it would be interesting to begin documenting him. I really had no expectations of what the result might be. Later that year we were en-route to Croatia. Once I was introduced to the beauty and culture of his homeland, I knew something deep would be the outcome.
How would you describe your narrative and directorial approach to your subject at hand?
Vic: There was no way to predict that the journey on this film would lead to shooting on and off for fifteen years.
Stef: It was never planned, but we had developed the habit of shooting and editing projects over the course of many years. At a certain point, one film would step to the forefront and we would concentrate on editing it, and one by one, our indies would get finished.
Vic: The truth is we were working on Songs & Stories: New York Remembers Rory Gallagher, Random Lunacy and Everything is Forever simultaneously, in addition to our latest film, Fanatic Heart, which is in its sixteenth year of production. I once read a quote by Truffaut, to paraphrase: "You never finish a film -- they just take it away from you." As renegade indies, there was never anyone to take our film away, so we eventually must self-impose a deadline, but it must be organic to the story line.
Stef: We do these films, mind you, while we earn a living in the industry as our day jobs.
As far as I know, Everything is Forever took about 15 years to complete - was it supposed to be a feature length documentary from the get-go, and how did the objective of the film shape and maybe change over the course of all those years?
Vic: About thirteen of the fifteen years were spent wondering: What the hell is this film? The truth was, as I began to edit the film in earnest, I realized some universal themes were becoming apparent. For example, a look at America through the eyes of an immigrant; Nenad's passion for sharing his Croatian roots with the world at large; and the rigors of artistic struggle.
Stef: Those rigors were all too familiar to us as filmmakers, and so weirdly enough, the storytelling became almost autobiographical.
What kind of a man is Nenad Bach, what was your collaboration with him like, and how did your perception of the man change over the years?
Vic: Nenad is a very good friend and we hang out all the time.
Stef: To his credit, he never asked us when the film would be finally finished. He trusted us, and we appreciated that.
Vic: The interesting thing is that over the course of time, Nenad was always writing and recording new music, and that influenced the eventual outcome. For example, the powerful song "Vukovar", which Nenad performed in concert in Zagreb in 2013, sets the stage for a wrenching scene that is a heartbreaking revelation into the horrors of war.
Stef: I can't imagine Everything is Forever without that climactic scene.
Any stories and anecdotes that didn't make it into the movie's final cut?
Stef: In 2005, Nenad launched a major tour, in which he brought the Croatian folk singers, called Klapa Sinj, to America. This was a high point in the film, and for Nenad, a moment in which he enjoyed the exultation of success.
Vic: After that tour, we eliminated events that happened over the course of the next seven years, and cut to a llfe-altering experience for Nenad. The cut is dramatic and I believe it is shocking enough to underline the unpredictability of life.
What can you tell us about your shoots as such?
Vic: The film was shot by me, a one-man crew. I'm not very technical, I put everything on automatic and shoot. But I do know how to cover a scene. For one concert we had the luxury of two other cameras, but for a variety of performances it was a one-camera shoot. There is a lot of crappy shooting, but thankfully, for the most important performances I had a steady hand, and as if possessed by a real cinematographer, the necessary material was captured. My strength is editing, so I was up to the challenge of creating performances from what I had. Since the film was begun in 1999 in standard def, I decided at the risk of commercial success (due to current prejudice about films not shot in HD), to continue shooting in this format to retain the integrity of what we started with.
A few words about audience and critical reception of your movie?
Stef: It has been a joy to screen at festivals, where we witnessed audience members of many different nationalities being genuinely moved by the film.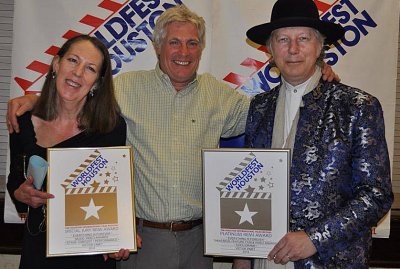 Stephanie, Victor and Nenad Bach at the Worldfest Houston
Vic: We had hoped American and of course Croatians would respond, but hearing reactions of Mexicans, Iranian, Australian, and many more were touched deeply by the film's message. To think that we inspired a sort of universality -- WOW. The film recently became available on Amazon, and in short order the fan reviews were many and very positive.
Any future projects you'd like to share?
Stef: Fanatic Heart is our latest piece of unfinished business. It is a film of poetry and politics mashed up with a dance party. "New York City's House Band", Black 47, and its frontman Larry Kirwan are the subjects of our latest rockumentary.
What got you into filmmaking in the first place, and did you receive any formal training on the subject?
Vic: I took some film classes in college but I learned everything that matters via real world experience.
Stef: I learned on the job also. I have a writing background, and having done newspaper and magazine articles, I already had a strong understanding of story construction.
What can you tell us about your filmwork prior to Everything is Forever?
Stef: For the sake of brevity, we will mention the docs we did for Bravo Profiles on Robert Duvall and another on Cyndi Lauper. The shows examined the creative process of two artists we hold in high esteem.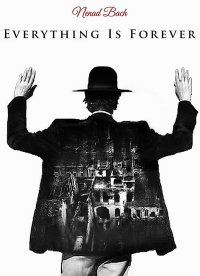 Feeling lucky ?
Want to
search
any of my partnershops yourself
for more, better results ?

The links below
will take you
just there!!!

Find Everything is Forever
at the amazons ...

amazon.com

amazon.co.uk

amazon.de
Looking for imports ?
Find Everything is Forever here ...
Something naughty ?
(Must be over 18 to go there !)

Vic: Random Lunacy, a documentary about a family who lived homeless by choice on the streets and waterways of the world, is worthy of mention. We wound up screening on the festival circuit for three years. Exhibiting this film in the US and abroad was one of the greatest experience of our lives.
Filmmakers who inspire you?
Vic: John Huston, Martin Scorsese, Noah Baumbach, and Shane Meadows.
Stef: Peter Weir, Kathryn Bigelow, Francis Coppola, Kubrick.
Your favourite movies?
Vic: GoodFellas, Midnight Cowboy, Fat City, This is England.
Stef: Picnic at Hanging Rock, Apocalypse Now, The Hurt Locker, Birdman, to name just a few.
... and of course, films you really deplore?
Vic: The film I hated the most in 2014 goes to Expendables Five.
Your/your movie's website, Facebook, whatever else?
https://www.facebook.com/B47MOVIE?fref=ts&ref=br_tf
https://www.facebook.com/pages/Everything-is-Forever/169763239856523?fref=ts
Anything else you are dying to mention and I have merely forgotten to ask?
I think that we blathered on pretty insistently, we will stop for now, thanks for asking! And thank you for taking the time to compose these questions and give us a chance to talk about what we love to do!
Thanks for the interview!