Your new movie Holy Terror - in a few words, what is it about, and what can you tell us about your character in it?
Holy Terror is a very edgy supernatural horror film. This film is about a couple, who is distraught over the loss of their son and sense he is reaching out to them from the afterlife. They enlist the help of a medium to make contact. But instead of their son, they accidentally invite a very vengeful demon who wreaks havoc into their lives. With the help of a priest and a nun, who are tormented by their own past experiences so much so, that they struggle to keep their faith, and they attempt to perform an extremely dangerous exorcism. I play the role of Hayley, a woman who is tormented and needs guidance finding her way in life.
What did you draw upon to bring your character to life, and how much Vida Ghaffari can we find in Hayley?
I spent endless hours doing research by watching actual exorcisms and docs about exorcisms. I've got to tell you that the research for this film, and I've done quite a few horror films, really scared me! In acting, I often focus on the "moment before", which is the moment before the story starts in my case. It's basically the backstory of the character, i.e. what happened the moment before the inciting action and what happened in Hayley's tormented life to lead her into this downward spiral. I also created a backstory for her, and sussed our her personality traits and quirks. Though Hayley was surrounded by darkness in her life and even in her surroundings, Rich Mallery (the writer, director and producer) and Gregory Hatanaka (executive producer and cinematographer) wisely thought I should wear light colors in terms of purity and how my character was perceived as before an unfortunate series of events. And I couldn't agree with them more. Wearing dark colors would have been too on the nose and would have been too emo in the case of this character.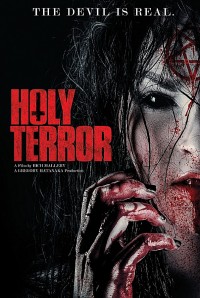 I think there is a bit of me in Hayley... maybe not in terms of being possessed (!), but in her tenacity to find her truth and her strong will. Even through the roughest of times, Hayley did her best and tried not to back down. I am a Capricorn, so true to my sign, I'm a bit ambitious and I don't like to give up or back down. Yet she was also a bit sassy, which I definitely am. I feel as a woman and a minority in a very tough business and especially during these tough times in our country, I really have to stand up for myself more than ever before and that can be seen in Hayley's character. I will say that this was the most strenuous shoot of my entire career, both physically and emotionally, and I have done my fair share of horror films as I've mentioned, but it was a really empowering experience as an artist.
What got you involved with the movie in the first place, and to what extent could you relate to the movie's horror theme?
Gregory, who was not just a great producer, but also an excellent cinematographer, had gotten in touch with me and thought I'd be a great fit for Hayley. I'm a big fan of his films, especially Mad Cowgirl, so it was a real honor to work with him. I was born and raised in the DC area, which is literally the backyard of where the actual exorcism in The Exorcist took place in real life, so I was always fascinated with that sort of storyline. I got my start in horror, so it's a very dear genre to me. It really makes me feel like my career has come full circle. The tone of this film is so different from any other horror film I've done as those were more campy, but this is a truly dark tale.
Do talk about Holy Terror's director Rich Mallery, and what was your collaboration like?
I was also able to go to a script reading/rehearsal for some of the scenes and that's where I got to collaborate with Rich initially. It was my first time working with him as well. Rich is great to work with and very focused. A very creative and well-read person, he was fabulous on set. He's an actor as well, so he really knows how to direct actors and make them feel comfortable, which can be challenging in this genre. I really enjoyed the script. I read it in one sitting late at night (big mistake!) and was too scared to go to sleep!
What can you tell us about the shoot as such, and the on-set atmosphere?
Even with the dire subject matter, it was a very fun shoot. The whole cast and crew were very kind and down to earth. It was great to finally work with Mel Novak and Kristine DeBell especially as I've always enjoyed their work growing up. They are so talented and both did great work. And Scott Butler [Scott Butler interview - click here] was fabulous as well.
Any future projects you'd like to share?
I'll be playing a prairie woman opposite James Van Patten in Rick Groat's western Copperhead Creek, which is cool as I'll be going from playing a hijab woman (I'm of Iranian descent and have often played those roles) to a prairie woman! Something I haven't done before! I am also cast in Fito Rivera's Scorpion Girl. And I have a few upcoming projects with Thomas J. Churchill.
Your website, Facebook, whatever else?
You can find me on Facebook at https://www.facebook.com/officialvidaghaffari/ as well as https://www.facebook.com/SoVeryVida/ and I'm at @vidaghaffari on Twitter and Instagram. My IMDb page is http://www.imdb.me/vidaghaffari and my blog is www.soveryvida.com
Anything else you're dying to mention and I have merely forgotten to ask?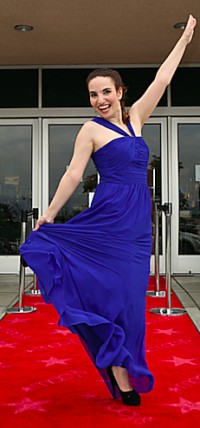 A jubilant Vida outside of Macy's Topanga Mall where she hosted the IberJoya Diamonds jewelry event wearing a Ralph Lauren Gown, jewelry from Macy's and heels from YSL. Hair by Maryam Motaghy and makeup by Estée Lauder
The entertainment business can be tough, but I'm excited to say that hard work and dedication does pay off. I actually have two movie premieres in the span of three days this week, one being Holy Terror and the other being Hybristophilia, which stars Quinton Aaron from The Blind Side (with Sandra Bullock). I'm really excited about both these developments and I am very grateful. Big shoutout to my wonderful publicist, Joe Williamson, for all his advice, his unwavering faith in me and my career and all his positive motivation.

Feeling lucky ?
Want to
search
any of my partnershops yourself
for more, better results ?

The links below
will take you
just there!!!


I also want to add that Holy Terror will have its exclusive debut on Amazon Prime starting on April 1st for the whole month, hence the #OnlyAmazonPrime hashtag. After that it will be released on other cable and digital platforms in May.
Thanks for the interview!
All photos courtesy of Guillermo Proano/PR Photos