Your new movie Surge of Power: Revenge of the Sequel - in a few words, what is it about?
It is a fun, humorous story about how intolerance can turn you evil and that you don't have to overcome every obstacle, just make a difference where you can.
Surge of Power: Revenge of the Sequel is of course the sequel to 2004's Surge of Power: The Stuff of Heroes - so did you ever plan to make a sequel to that movie, why did it take that long, and how has the basic concept evolved between the first one and the second?
At the outset, I wanted to make at least one movie introducing Surge with the hope of a series of 4 movies. This has now morphed into these 2 movies, our web series, Big City Chronicles, and potentially a 3rd movie to make a trilogy. So, there may still be 4 Surge of Power projects.
It took so long because of life interrupts, money, resources, and homophobes who tried to prevent it from being made.
The first movie was an origin story to introduce Surge, his archenemy, Metal Master, and set up the world of Big City. The sequel occurs several years later, after Surge has had a chance to get his sea legs on as a superhero. The concept of setting the sequel later in time is to someday do a comic book miniseries to tell the story in between movies.
The first movie was a big spoof on the superhero, comic and sci-fi genres. Now that the origin story is out of the way, I have a lot more territory to build out the Big City universe. I can now get into the characters, explore gay issues, and start expanding the story beyond spoofs and gags.
This might be a question about the first film just as much as about Surge of Power: Revenge of the Sequel - why make a superhero movie in the first place, and why make the superhero gay? And are you at all into superhero movies and comicbooks in your personal life, and some of your favourites?
The superhero genre is baked into my DNA. It started by watching the Super Friends cartoon as a kid, reading comic books since 1979, which led to making and wearing superhero costumes (now called "cosplay"), to becoming the mascot of a company I worked for that had a superhero character promoting its products, and now to this – contributing to the superhero genre with my own character.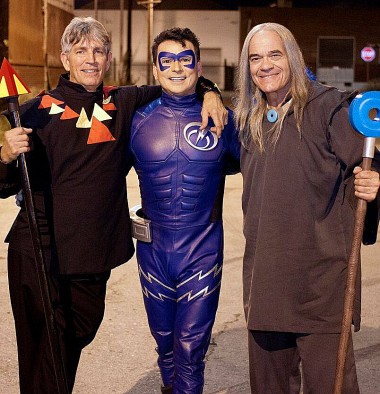 Vincent (center) with Eric Roberts and Robert Picardo
There are already so many superheroes out there in the comics, on TV and in movies that if I was going to introduce a new character, there needed to be something distinct about him. I wanted to introduce cinema's first out gay superhero and do it in a humorous fashion because levity allows mainstream audiences to look past the orientation and enjoy themselves. For example, look at Will and Grace – very popular to a mainstream audience with prominent gay characters, and, like Surge, came back after 10 years, haha!
(Other) sources of inspiration when writing Surge of Power: Revenge of the Sequel?
I make it a habit to keep up with the superhero movies and try to keep up with as many superhero TV shows. Sadly, that doesn't leave much time for reading comicbooks anymore.
Do talk about Surge of Power: Revenge of the Sequel director Antonio Lexerot, and what was your collaboration like? And as writer/executive producer/lead of the movie, how much creative control did you demand/were you granted?
Antonio and I get along great. He really adds a lot to the story. We see almost eye-to-eye, and when we're writing together, we're almost saying some of the same things. He was also very dedicated to getting the project done and was very supportive along the way with the ups and downs. As you might suspect as writer/executive producer/lead/primary financier and the creator, I have as much creative control as needed.
A few words about Surge of Power: Revenge of the Sequel's brand of humour?
The humor is all-ages, with double entendres so adults can enjoy, kind of like Bugs Bunny cartoons. The MPAA rated it PG-13 for "Some Suggestive Material", so you can get an idea that we're being respectful to a young audience but want adults to be entertained. It's very campy like the old Batman Adam West TV show, but with some more serious subject matters.
Surge of Power: Revenge of the Sequel does also feature some quite accomplished special effects - so could you talk about the effects work in your movie for a bit?
Like the first movie, we had 2 different VFX shops doing the design work, one better at 3-D animation (BFX Imageworks) and one better at energy effects (Charlie X). Both were great to work with and they appreciated that I had very specific ideas in mind. Their work resulted in us getting an award at a film festival for "Best Special Effects".
The VFX in the first movie, The Stuff of Heroes, but now, years later, VFX are much more affordable. We also needed to step it up a bit because big budget movies have raised the bar so high. We have a lot that needs to happen. Surge shoots blasts and flies. Metal Master throws metal objects around and destroys a bridge at one point in the movie. Surge's car that we affectionately refer to outside the movie as the "Surgemobile" becomes a character in the sequel. It has 2 different celebrities appear as its artificial intelligence. The car not only talks, but has some of its own tricks and turns into a robot and a jet plane at different parts in the movie. So, we needed some good VFX to tell our story.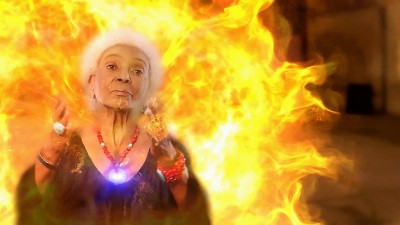 Nichelle Nichols
You also play the lead in Surge of Power: Revenge of the Sequel - so do talk about your character, and what did you draw upon to bring him to life?
I draw upon the basic nerd who has some erudite smarts but maybe not as many street smarts. Gavin Lucas is a comic book reader who longed to be a superhero until he got his powers and became Surge. Like any good comic reading geek, Gavin feels compelled to do something to make the world a better place, whereby our theme in both movies surfaces, with the help of Nichelle Nichols' character Omen, "Make a Difference Where You Can."
Do talk about the rest of Surge of Power: Revenge of the Sequel's key cast for a bit, and why exactly these people?
Nichelle Nichols is so important to our projects. Because of her legacy as the first black woman in a position of power on the bridge of Star Trek's Enterprise, she took a shine to our effort to put cinema's first out gay superhero on the big screen. It is quite poignant to have her with us, not only in these 2 movies, but she has also shot scenes with us for our Big City Chronicles web program and scenes for the 3rd movie, Call of the Champions.
As for others: The "why exactly" is that many of these were my childhood heroes, actors I watched and enjoyed the characters they portrayed. It has a lot of meaning for me to have them with me, embarking on my effort to have a gay superhero out there.
Surge of Power: Revenge of the Sequel also features cameo appearances from quite a bunch of fan favourites of the larger comicbook crowd - so how did you even get all these people to appear in your film?
I got all these celebrities by asking nicely, explaining the social importance of my project and how fun it is, negotiating with them and their managers and agents, and paying them appropriately for their performances.
What can you tell us about the shoot as such, and the on-set atmosphere?
Different shoots had different atmospheres. Many shoots were small crews shooting just one or two actors, many in front of green screens, so those were pretty easy. Larger shoots and on-location shoots like on the Hoover Dam, the Las Vegas Strip and Salt Lake City were more complex and stressful.
The $64-question of course, where can your movie be seen?
Folk should look at our website www.surgeofpower.org. The movie is playing in Los Angeles January 5-11 at Arena Cinelounge, New York City January 19-25 at Cinema Village, San Francisco at 4-Star Theatre February 9-15 and Chicago at Facets Cinematheque February 23-March 1. Our distributor will have it up on at least one online platform shortly. A few months later, the DVD and Blu-ray should be available. We'll post everything on our website and social media.
Anything you can tell us about audience and critical reception of Surge of Power: Revenge of the Sequel yet?
Yes, 9 reviews have come out so far and they have been great. Audiences have enjoyed the movie and we even made a Big City Chronicles episode of audience reactions to the sequel, which can be seen on our website and on YouTube that runs about 6 minutes. Here are some fun quotes in the last couple of days from publications:
Independent Critic: "immensely fun and good-hearted cinema" "practically impossible to not fall in love with it along the way"
Eye For Film: "A joyous low budget romp"
PopGeeks: "delivers just the right kind of fun"
Horror Society: "well rounded production that'll hit the heartstrings" "overwhelmingly charming and endearing"
Most of the criticism revolves around the low budget – so, yeah, I didn't spend $200 million, so what. Those comments are not true criticism. They're just measuring against the landscape they know – Avengers, Spider-Man, Justice League.
Will there ever be another sequel to Surge of Power: Revenge of the Sequel? And other projects you'd like to share?
As mentioned earlier, we have a web series, Surge of Power: Big City Chronicles that just concluded its first season. We'll launch Season 2 in a few weeks, after we get the theatrical release under way. As also mentioned, we have already shot scenes with Nichelle Nichols for a third movie, Surge of Power: Call of the Champions. We have also already shot 4 cameos for the 3rd movie.
What got you into making movies in the first place, and did you receive any formal training on the subject?
I did a little acting in my younger days and live stage performances, but not really behind the camera. My training came from making the first movie, Surge of Power: The Stuff of Heroes. It took 125 cast and crew, including 20 celebrities and was shot on actual 35mm film – rare for an indie movie then and unheard of now. So that was my training – baptism by fire.
What can you tell us about your filmwork prior to Surge of Power: Revenge of the Sequel?
My only filmwork before Surge of Power: Revenge of the Sequel was The Stuff of Heroes. Now I also have a full season of Big City Chronicles under my belt (17 episodes) and I already have 12 episodes in the can and ready to go for Season 2.
Filmmakers, writers, actors, whoever else who inspire you?
Filmmaking, I really like Josh Whedon, Tim Burton and Greg Berlanti. Acting, I really like Blake Lively, Jennifer Lawrence and Zachary Quinto.
Your favourite movies?
Star Wars the first 2 trilogies and Rogue One, ET, Nine to Five, Age of Adeline, Dreamship Surprise, Avengers.
... and of course, films you really deplore?
Your/your movie's website, Facebook, whatever else?

Feeling lucky ?
Want to
search
any of my partnershops yourself
for more, better results ?

The links below
will take you
just there!!!


Here is how folk can connect with us and keep up with goings on:
Website: www.surgeofpower.org
IMDb page: http://www.imdb.com/title/tt1989632
Twitter: https://twitter.com/SurgeOfPower1
Facebook: https://www.facebook.com/SurgeOfPowerSequel/
YouTube channel: https://www.youtube.com/channel/UCYpjSDEf1YPKpe5BjDAq32w
Instagram: https://www.instagram.com/surgeofpowermovies/
Anything else you're dying to mention and I have merely forgotten to ask?
Yes, both Surge of Power movies continue their stories all the way through the credits and have stingers at the end. So, you have to watch all the way through to get the full enjoyment.
Thanks for the interview!