Your new movie Face of Evil - in a few words, what is it about?
On July 4th, private Jay Williams returns home from the Middle East, but a mysterious epidemic breaks out and infects his friends at his party. On the road to salvation, Jay is joined by his ex-sergeant, who reveals chilling secrets leading to a conspiracy. The night has just begun, as they embark on a survival quest for the ultimate truth.
This is not another shootout zombie flick (spoiler alert!). It's about the inner journey of a person on the run from his demons, real or not, from an unknown enemy, who may attack anywhere, anytime. Perhaps it's the story of a victim, a brainwashed pawn, a scapegoat in a devious system, or perhaps it's just the story of an unwilling executioner. As fear confuses and deforms reality, Jay meets surreal characters and learns bits of truth on his way to salvation, or perhaps to damnation. The movie touches contemporary issues, like mysterious epidemics, terrorism paranoia, vets PTSD, mass shootings, big brother conspiracy and more. It's a contemporary tale of realistic madness. That's what this movie is about, in more than just a few words...
With Face of Evil being a sort-of zombie movie, is that at all a genre dear to you, and some of your genre favourites? And what do you think makes your movie stand out of the crowd of zombie fare?
I was always into horror movies, and horror movies can be placed in a realistic scenario, with causes justified by topical events. So my inspiration about the look of the infected came from a real nightmare I had when I was a kid, and that stuck to my mind. When I decided to make a horror movie, a few years ago, I adopted that look, but I thought it would be pointless to make just another genre movie about zombies... so I wrote the first draft in one month, a plain zombie action script, but it took me over one year to turn it into a psychological thriller that would make sense from the lead character's point of view. From a directorial standpoint, I think with horror or thriller you can express yourself better, show your style, leave your footprint on the product, while with comedy or action you heavily rely on actors, their charisma. You hear of horror movies directed by such or such, but for most genres, you need a star. Plus low budget horror is safer since it always sells, even in the worst case, which I hope it's not mine.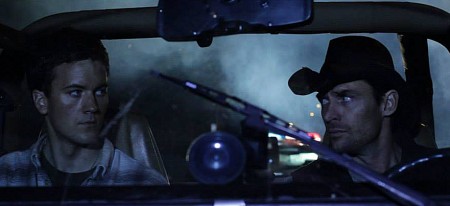 (Other) sources of inspiration when writing Face of Evil?
Evil Dead, Jacob's Ladder, 28 Days Later, and masters like Carpenter, Kubrik, Scorsese, Leone, but eventually it's the product of my own experience, with a European sensibility to the American practical style.
To what extent could you actually identify with Face of Evil 's lead character Jay on a personal level, meaning are there any autobiographical traits in him and the stuff he goes through (apart from the zombie outbreak I hope)?
There are always autobiographical elements to the style and the story. In this case, I believe in some conspiracies, in many topical issues such as people being too mistrustful and paranoid, as I previously mentioned. Also, I feel close to the military, whether I agree or not with some ethical issues, because my dad was and army colonel. Since I did not follow his footsteps, I eventually wrote about a soldier. Also, after making this movie, I got PTSD from the stress, haha, so I am very close to the character!
What can you tell us about your overall directorial approach to your story at hand?
I guess I can offer the creativity and sensibility of my European background with the practicality, technique and let's do attitude of the American way, which I learned in the last twenty years. I think it's a pretty good deal, and I hope I have brought this into my work. In particular, the golden age of Italian cinema in the 50-60s has brought a new realism to the eyes of cinema. In the 70s Italian horror was the new wave. Not to mention the spaghetti western genre by Leone, who created a style, more than a genre, meaning his style legacy is visible in many genres now. I'd like to think I carry in my DNA a little bit of all that. But believe me, Americans do things very well, but mostly, for everyone. The greatness of the good ol' US of A is that our language (I say ours because I'm part of it now) is a universal language, understood and appreciated by every culture, because there are visual parameters and ways of communicating that are common denominator of most, if not all cultures.
Do talk about Face of Evil's key cast, and why exactly these people?
I viewed a couple of thousand people online and auditioned most of them in person, only to select a few good men and women of good will and plenty of talent, to enlist in this mission. Auditions took four months, but it was fun, especially finding the right face for all characters. It was great to see how the characters finally took shape and matched exactly the idea I had in my mind, and how I wrote it on the script. The cast is my best asset in this movie. That's important especially when you write/option a character-based script, with well shaped personalities. I like character-based stories - if you notice, the most memorable movies are character-based - once you know the story, it's no big deal anymore, but if the story is based mostly on the characters and not just on their actions, we will never get bored of watching those scenes, because we are no longer interested in the story, but in the characters, you want to meet them, hang out with them, say the same lines with them. Those movies are evergreen, some become cults. That's why casting is so important.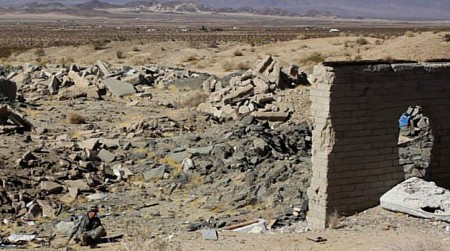 What can you tell us about the shoot as such, and the on-set atmosphere?
The on-set atmosphere was pretty much relaxed, for an indie horror film! It was not the typical production in terms of time frame and locations. I wrote the script thinking about the shoot and the limited budget. So I divided the film in two separate productions, and you saw they are almost two different movies. The first half takes place in a house I found in the valley. It was perfect as the owner was a hoarder so all I had to do is re-arrange the mess in a way that mad sense for the action of the story and the blocking of the actors. The second half was shot around LA, some permits, some guerrilla style. I also shot in skid row. One bridge was on Sixth Street by the industrial area. The other by Chinatown. The hospital was in LACC, as they had a nursing department and I knew people in the school. Finally, the desert scene, an homage to Sergio Leone's spaghetti western, was just outside LA, I was driving the day of the shoot with the two actors and a couple of crew members, knowing LA is surrounded by the desert, but not knowing exactly what to find, I believe on the 14 freeway, at some point I saw a town which looked exactly like a destroyed Afghanistan town, even better than what I was expecting, so we stopped and we shot. Note that every single shoot, location etc, was exactly planned in details in advance. The more you plan in advance, the more you can improvise on set, but that's true for any task in any business I guess. For example, the gas station scene was carefully rehearsed beforehand - since they didn't let us shoot on the spot, we went through the blocking many times in another gas station, already knowing the map of the actual gas station which denied us. Then we went on location, to the actual gas station, and while one of us was in the market, buying something, acting as a decoy, we promptly parked, shot with the two actors, and left in five minutes! It came out great. The interior was instead shot in another market in the valley. I could go on forever, but I'll stop here, that's enough behind the scene trivia I guess...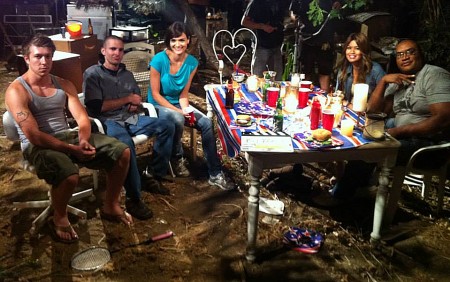 Anything you can tell us about audience and critical reception of Face of Evil yet?
Face of Evil has been received very well so far, people like it. It has been selected to the following festivals: Downtown Los Angeles Film Festival; Los Angeles Independent Film Festival Awards; Hollywood International Moving Picture Film Festival (Best Horror Feature, Best Director); Culver City Film Festival (Best Horror Feature); New York City International Film Festival (Best Horror Feature); Silicon Beach Film Fest, Venice (Best Sound Design); Action On Film Festival, Las Vegas (Best Action Scene); Salento International Film Festival, Italy.
Any future projects you'd like to share?
Next is to cure my PTSD from this movie, haha, then make a sequel, I also have a few ideas for remakes (I'm not going to mention now) and some other ideas. I'm also interested in optioning scripts, but smart, character-based ones.
What got you into filmmaking in the first place, and did you receive any formal training on the subject?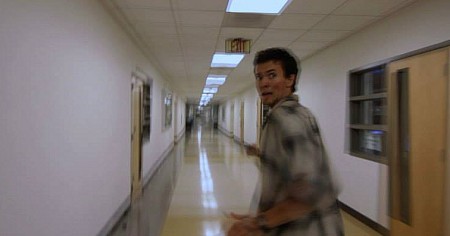 Since I was a kid, I watched a lot of movies. I often spaced out, imagined stories, characters, but you know, you are a kid... Growing up, I realized I was still living in la la land, plus, I was running out of movies to watch (nowadays that would be impossible), so I thought I should get real and learn the craft. I cautiously bought a few books on filmmaking, I enjoyed reading them like no other textbook before, and realized with big surprise that I already knew most of the theory, just by watching so many movies in those years. I wrote a couple of shorts, shot them with my mini VHS camera, and won a couple of small awards in Italy. Encouraged by those little achievements, I carefully considered all my options and realized the necessary step up was to physically go, indeed, to la la land. In 1999 Vito goes to Hollywood to study Cinema! I studied at LACC, SMCC and UCLA, I made a few more shorts, won a couple of awards, worked also in TV, like E!TV etc. Encouraged by those little better achievements, I realized it was time for a feature film. After many drafts and brainstorms, Face of Evil was born.
What can you tell us about your filmwork prior to Face of Evil?
I made a bunch of awarded short films and videos and segments of all kind, as mentioned before. Wrote a few scripts, and decided to make the most viable one, Face of Evil!
Your favourite movies?
The ones that inspired me, plus Blade Runner, The Big Lebowski... Besides the story, you can see that the common denominator is character-based films, which you never get tired of watching.
... and of course, films you really deplore?
Wow, that would take too many pages, most movies nowadays suck.
Your/your movie's website, Facebook, whatever else?
www.gravitasventures.com/faceofevil

Feeling lucky ?
Want to
search
any of my partnershops yourself
for more, better results ?

The links below
will take you
just there!!!


Anything else you're dying to mention and I have merely forgotten to ask?
I guess I said enough, now go watch the movie :) Oh, yes, let me mention the cast and soundtrack! My cast includes talents like Jamie Bernadette [Jamie Bernadette interview - click here], who has made herself a name in the horror genre, the multi-talented Janet Roth, the ex hardcore star Charmane Star, and the two awesome leads Scott Baxter and Chad Bishop. Music by famous Gram Rabbit, Kid Hustle, Raven Hughes and, of course, filmmaker Vito Dinatolo, haha! Yes, me. It ranges from electronica to ambient, rock, pop, hip hop and whatnot. It can all be found on the film website shop page www.FOEmovie.com/shop.
Thanks for the interview!
Thank you!