Your new movie Tilt - in a few words, what is it about, and what can you tell us about your character in it?
Tilt is a movie about a father & daughter who have been separated through the years by the loss of his wife & her mother. My character Paul never got over the loss of his wife & didn't know how to raise a young daughter on his own. They have grown apart & he has never really known how to deal with either situation in the best way. This has led a distant relationship between the two. They live in a small town so they run into each other all of the time even though they probably don't communicate on a normal level. When an unthinkable act befalls his daughter, Paul has to pull all of his emotions together & has to handle the situation, even if it isn't acceptable by the public or the law.
Your character in Tilt goes through quite an emotional rollercoaster - so what did you draw upon to bring that character to life, and how much of Wade Dienert can we find Paul?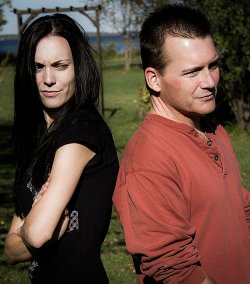 Wade with co-star Danielle West
My character does go through an emotional roller coaster in the film. I have a daughter roughly the same age as "Liz" my movie daughter, played by Danielle West, so it was not hard to put myself into the "what if" situation that unfolds in the film. We never know how we would really react in a given situation until it happens to you in real life, but let's just say I totally understand Paul's actions. Were I to fall into similar circumstances in real life... well, let's just say "You never know..."
How did you get involved with the project in the first place?
I saw a casting call on Minnesota TV & Film Board. I actually ran across it the day after submissions were due. I contacted the director Phil Holbrook & asked if I could still submit. He said yes so I got my film friend Alex Davidson to film the audition & had my theater friend Kevin Tengesdal read the other character. I sent in the tape & then waited. I was surprised when I got the call as I was sure the role had already been filled.
What can you tell us about your director Phil Holbrook, and what was your collaboration like?
Phil Holbrook was easy to work with as a director. He is a pretty easy going guy.
Do talk about the shoot as such for a bit, and the on-set atmosphere!
The shoot was mostly done at night. We shot basically 90 pages in nine days. I was the only actor in the film who had to be at all the days/nights of shooting. Most days we began rounding up mid-afternoon & then would shoot until 3-4-5:00 AM. The sun was coming up at least a few times before I went to bed. I didn't necessarily get a lot of sleep. The first Sunday was the longest as we had a late shoot the night before that involved a lot of extras, & then starting by 9-10 AM Sunday morning on a shoot that went well into the night/Monday morning. Even though the days/nights were long everyone was easy to work with & great to get along with. It was a fun shoot & we all hated to see it end, even though we were exhausted.
Any idea when and where the film will be released onto the general public?
We are not sure of a release date. We are in the festival circuit now & have won awards, including Best Editing for cinematographer Jeremy Doyle. We have also had several very nice reviews. We are currently seeking a distribution deal & will keep everyone posted as this process moves along. We have been selected to show at the Fantastic Horror Film Festival in San Diego over Halloween weekend & we also have been selected to show at the Forth Worth Independent Film Festival the weekend of July 19-20 so we are pretty excited about that. We hope to show at more festivals this fall.
Any future projects you'd like to share?
I just recently shot my 50th film, called Fatal. It is a short film by Jorge Sosa. This will by my fourth film with him so I am looking forward to the collaboration. One of my favorites through my years of film was Empty Trash, another film by Jorge so I am excited to do this one with him. A couple other features that I have done are in the festival circuit now. Worst Kind of People by Ezekiel Richter & Jay Warren, and Dust of War, an Andrew Kightlinger film that just recently got a distribution deal. Later this summer, Solitude, a feature by Taylor Scott Olson & Livingston Wade Oden, should start the festival circuit.
Going forward I have a few auditions out there with more to come. I also have a script to a pilot done that I would like to see shot within the next year. I am currently working on a script for a short film that we would hope to shoot by next spring. I am really excited about both of those projects.
What got you into acting in the first place, and did you receive any formal training on the subject?
I first got into acting in the third grade when I was cast as the lead in our grade school operetta. Pretty much by 5th grade I knew I wanted to be an actor. I watched James Garner in The Rockford Files & Clint Eastwood, John Wayne, Jimmy Stewart & Henry Fonda westerns with my dad. I always knew it was what I wanted to do. I have been involved with over 20 theater productions at Dakota Stage in Bismarck, ND. From there I started to pursue film work on my own. I don't have a theater degree etc. My degree is in education. I have of course attended classes & workshops, and read up on it constantly. There is a lot of good material out there by very talented professionals. I also attended Margie Haber's two week Intensive Studies Program in Hollywood.
Can you still remember your first time in front of a movie or TV camera, and what was that experience like?
The first film I did was You Didn't Say a Word, which was a short film shot in Minneapolis. I had been on stage so much prior to that film that it really wasn't that big of a deal. There is a saying in football that coaches like to use for players when they score a touchdown. "When you get in the end zone, act like you've been there before." I kind of took that philosophy to the set with me, even though it was my first official film.
What can you tell us about your filmwork prior to Tilt?
Tilt was my 26th film, so I had already done 25 films before Tilt. Mostly these were short independent films. Tilt was my first feature & of course then also my first lead in a feature. I have been averaging about 8 films a year since I started doing films. Getting to do Tilt was the kind of thing an actor works toward. All of the films up to that point were a great learning experience as well as a way to meet great people in the industry in my area. They have become life-long friends and a great network of film knowledge.
How would you describe yourself as an actor, and what are some of your techniques to bring your characters to life?
To describe myself as an actor would be to say that I keep it pretty simple. I think the biggest thing in acting is "don't act", so really you just want to bring yourself to the role, to be the character by bringing some of "you" to the character while still being that character, if that makes any sense. So basically, be the character by being you within the character without acting. Simple right?
Actors (or indeed actresses) who inspire you?
As far as actors that inspire me, there are so many great actors out there. I could rattle off my top 20 or even top 30 pretty fast. Of course my list would be completely different from the next person's & I would surely omit actors they would include & vice versa. And as much as I would love to bore you all with my long list, I will just keep it simple with my top five and leave it at that. I grew up watching James Garner as I mentioned before in The Rockford Files & his Western movies. So he is and always will be number one. A close second from the same era is Paul Newman, a truly great actor. My third & forth are from the next generation of actors & really are tied on my list even though I am sure they aren't even on some people's list. They are Tom Berenger & Kurt Russell. I watch everything they do & truly love their films. I would like to play the roles that they usually play, to do the types of movies they are usually cast in. And of course, what top five would be complete without Clint Eastwood? I love all of his work. What a great career he has had. So there you have it. My top five, and really they are so close on my list you could call any of them my favorite actor & be right, but everything has to have an order so that would be mine.
Your favourite movies?
Well, I could go on forever with that list, there are so many movies that I really, really like. And my list wouldn't necessarily be full of Academy Award type pictures either, but ones that are just fun to watch. If I had to pick a favorite one that has always stuck with me that I would say was my favorite would be The Big Chill. It touched on so many things plus I went to it in college with a group of friends, much like the friends in the film. Two of my group have since passed on so I can only imagine what it would be like if we all got back together in a similar fashion. A truly great film with a super cast, which yes, includes Tom Berenger.
And now, maybe instead of categorizing films as favorites, I will just mention some that I have watched many times over & could watch them again & again without getting tired of them. I always loved Eddie & the Cruisers. I think it was a super cool movie. I have watched Major League dozens of times & never get tired of it. Yes, they both have Tom Berenger in them! I watch 3000 Miles to Graceland every time it comes on. Kurt Russell & Kevin Costner are great in it. I also never tire of The Replacements, a truly funny football movie with Keanu Reeves & Gene Hackman. Tango & Cash with Kurt Russell & Sylvester Stallone is always a good watch. The Lethal Weapon movies with Mel Gibson & Danny Glover are always a good watch for me as well. Of course, I never pass up a Rocky movie. Unlawful Entry with Kurt Russell & Ray Liotta is always one of my favorites. Another is Tequila Sunrise with Kurt Russell & Mel Gibson. Three older movies that starred Paul Newman that I really liked were Absence of Malice, The Verdict and Nobody's Fool, also starring Bruce Willis. And of course who could forget Cool Hand Luke & Butch Cassidy & the Sundance Kid! There are dozens of Clint Eastwood movies to mention but I will just list Pale Rider, The Outlaw Josey Wales & Unforgiven. Of his more recent films I truly loved Million Dollar Baby with Hillary Swank, as well as Gran Torino. I love that film. Of course I have to throw in The Rookie, also starring Charlie Sheen & Raul Julia. And to show that Clint can be something other than a cop or a cowboy, I have to include True Crime, also starring Isiah Washington & James Woods, where he plays a reporter. And since Kevin Costner is on my list, I am always delighted to see him work together with Clint Eastwood on A Perfect World. Two Tom Berenger films I could watch over & over are The Last of the Dogmen, also starring Barbara Hershey, & Shoot to Kill, also starring Sidney Poitier & Kirstie Alley. I never tire of watching Desperado & Once Upon a Time in Mexico, starring Antonio Banderas & Selma Hayek, with help from Johnny Depp, Willem Dafoe, Cheech Martin, Mickey Rourke & Eva Mendes. Since I am a fan of Ray Liotta, Sylvester Stallone & Robert De Niro I have to list Cop Land as well. Get Carter starring Sylvester Stallone, Mickey Rourke, another favorite of mine, & Michael Caine is always a favorite watch too! I never pass up The Boondock Saints, starring Sean Patrick Flanery, Norman Reedus & Willem Dafoe either. I could go on of course & I am probably forgetting many, but too wrap it up I will list My Fellow Americans, a truly funny political twist that makes me laugh every time I watch it with James Garner, Jack Lemmon & Dan Ackroyd. And last but not least, Space Cowboys. What a great cast with Clint Eastwood, James Garner, Tommy Lee Jones & Donald Sutherland!
I knew I would forget one. How about Overboard with Kurt Russell & Goldie Hawn? Funny movie every time! Another one your kids can watch after you wean them off of Disney is Oscar, starring Sylvester Stallone. It shows he really is capable of doing comedy! Another one your kids would like that I enjoy as well is The Kid, starring Bruce Willis. If you want a tear jerker that you can watch with your kids it would have to be Jack Frost starring Michael Keaton & Kelly Preston. And of course, I have to include the Home Alone-movies.
Bad Santa with Billy Bob Thornton is priceless!!!! I have to give Jack Nicholson his due so the easy choice would of course be The Shining, but I really loved him in The Witches of Eastwick. That was the perfect role for him. Yes, Johnny Depp is on my list, so I have to include Secret Window, also starring John Turturro, Maria Bello, Timothy Hutton & Charles Dutton. I seriously laugh my ass off every time I watch The Super, starring Joe Pesci. I could say the same thing for In & Out, starring Kevin Kline, Tom Selleck, Joan Cusack & Matt Dillon. Funny stuff. And since we are talking Matt Dillon, how about Wild Things, starring Matt Dillon, Neve Campbell, Kevin Bacon & Denise Richards?
11 random films I remember I liked but no one ever seems to have heard of or talked about are The Grave starring Craig Sheffer, Gabrielle Anwar & Josh Charles. Another is Bitter Harvest, starring Patsy Kensit, Stephen Baldwin & Jennifer Rubin. Winter People starring Kurt Russell & Kelly McGillis is also on this list. Another from a few years back that I really liked was White Man's Burden, starring John Travolta, Kelly Lynch & Harry Belafonte. That movie has quite a twist to it. Another from a few years back was The Last Outlaw, starring Mickey Rourke, Dermot Mulroney, Ted Levine, John C. McGinley & Steve Buscemi. Now that was a cool western! More recently Around the Bend, starring Christopher Walken, Michael Caine & Josh Lucas is one of the those movies I loved that none of my friends had heard of. Another that I really liked that I never heard much about was Stand Up Guys with Al Pachino, Christopher Walken & Alan Arkin. Rounding out this group would be a recent film called Powder Blue, starring Ray Liotta, Jessica Biel & Forest Whitaker. I thought it had a really good story. The Raven starring John Cusack is also a favorite no one seemed to talk about. I really liked Meeting Evil, starring Samuel L. Jackson & Luke Wilson, as well. Another I really liked was The Sunset Limited, starring Samuel L. Jackson & Tommy Lee Jones.
A few suspense thrillers that have stood out through the years include a couple of Ray Liotta films. One is Identity, which also stars John Cusack & Amanda Peet. Another is Phoenix. I also like 1408 starring John Cusack & Samuel L. Jackson. Going back a few years I liked Pacific Heights starring Michael Keaton, Matthew Modine & Melanie Griffith.
Some movies that kind of stick with you, maybe for disturbing reasons, or maybe because they could be or are based in reality would be Sleepers, which includes so many talented actors including Kevin Bacon, Brad Pitt, Robert De Niro, Dustin Hoffman, Minnie Driver, Jason Patric & many more. Another I loved was Murder in the First, a great movie starring Kevin Bacon, Christian Slater & Gary Oldman. How could I not include Mystic River, a Clint Eastwood film starring Sean Penn, Tim Robbins, Kevin Bacon & so many more.
And of course would any movie list be complete if it didn't have a Quentin Tarantino movie? Therefore I have to include Death Proof with Kurt Russell, the all-time great film Reservoir Dogs with Michael Madsen & of course, last but not least how could I not include True Romance starring Christian Slater, Dennis Hopper & Patricia Arquette?
My favorite war movie of course would be Platoon starring Tom Berenger, Charlie Sheen & Willem Dafoe. And maybe my favorite Western would be Tombstone, starring of course Kurt Russell, Sam Elliott, Val Kilmer, Bill Paxton, Powers Boothe, Michael Biehn, Thomas Haden Church & Dana Delany. How fun would it be to get to be a part of casts like these films had?
Ok, now I will quit with one more I watch over & over just because it is fun & I love Charlie Sheen & Michael Madsen and that would be Beyond the Law. They were both great in this movie. It also starred Linda Fiorentino. Like I said, maybe no Academy Awards. But some on this list are truly great films.
... and of course, films you really deplore?

Feeling lucky ?
Want to
search
any of my partnershops yourself
for more, better results ?

The links below
will take you
just there!!!

Find Wade Dienert
at the amazons ...

amazon.com

amazon.co.uk

amazon.de
Looking for imports ?
Find Wade Dienert here ...
Something naughty ?
(Must be over 18 to go there !)

I won't really list a film I deplore because even if I don't care for the movie I know how hard it is to really get a movie made from start to finish so I have to acknowledge at least the work that was put in even if the movie stinks. However, what I will say is that it truly amazes me how many crappy films actually get into distribution. You can turn Showtime on pretty much any night of the week at 2AM & see some really shitty films, & I mean from all phases. As hard as it is to get funding for films etc., I really question who the hell throws their money at some of these films. And as hard as it is to get distribution deals, I really wonder how some of these turds ever pulled that off. It truly amazes me. Enough said... I won't go into a rant!
Your/your movie's website, Facebook, whatever else?
https://www.facebook.com/TILTtheMovie
http://www.imdb.com/title/tt2993348/?ref_=fn_al_tt_6
My page is under construction so please check back - http://www.wade-everett.com/
My IMDb page is always changing so please check often - http://www.imdb.com/name/nm4146344/?ref_=fn_al_nm_1
https://www.facebook.com/wade.dienert
Thanks for the interview!

Thanks for the interview Michael.