Your upcoming movie Dirty Tuppence - in a few words, what is it about?
It's about the most deluded rock band on the planet, Dirty Tuppence, who are a tribute to their drummer's previous group Bad Penny. Altho the Tuppence guys see it as being the other way round, with Bad Penny now the tribute to them! Also involved in the movie's plot are hopeless serial killer (Derek Pendulous), a pair of absent-minded private investigators (Jack Fire and Emily Brimstone), half a dozen wannabe rockstars ... and a lot of tribute bands getting killed in ridiculous ways !!!
What were your inspirations for writing Dirty Tuppence?
I've been in many rock bands in my life (as the bass guitarist), none of whom have ever done more than about a dozen live shows and all who have imploded after a short time! I also find the psychology of serial killers fascinating, but more than anything I just like entertaining people with a good story that makes them laugh ... while splattering the screen with blood and gore!
With Dirty Tuppence being about a rock band, you of course have to talk about the music in your film for a bit, and to what degree does it relate to your personal tastes in music?
The score will be written by the very talented and in-demand composer Gav Cantrell, although the movie will also include snippets of songs from up and coming rock bands from around the world. I've been into metal and rock music since I lived in Abu Dhabi (aged 12) for a couple of years in the late 70s and bought some AC/DC and Deep Purple cassettes in the local souk (AKA street market), hence the movie band being a loud and cocky rock band .. not a wet and rubbish cheesy pop band.
Do talk about your movie's approach to horror!
Well this is a comedy horror movie ... so although there will be some tense moments there will also be a lot of OTT ridiculousness leading to buckets of blood, mess and entrails.
You of course also have to talk about your Dirty Tuppence's brand of comedy?
I love slapstick comedy - and I'm a big fan of commedia dell'arte (the pantomime-esque theatre that originated in Italy in the early 1600s). People like Charlie Chaplin, Buster Keaton [Buster Keaton bio - click here] and Harold Lloyd were big influences on me when I was younger and remain so to this day. I also like really funny banter between characters, and I believe we have the cast members to really bring this to life. Plus my background in stand-up comedy and improvisation always helps.
You also play one of the leads in Dirty Tuppence - so what can you tell us about your character, how do you prepare to bring him to life, and did you write him with yourself in mind from the get-go?
I didn't plan to play the role of Egg (the wheelchair-bound rock drummer) from the start of me writing the script, but I soon realised it was the character I wanted to portray. I plan to prepare for the role by breaking both my legs with a large hammer and then spending the next six months in a wheelchair. If the hammer idea doesn't work then I'll have to forget about method acting and just pretend my legs are paralysed. I am also getting some drumming lessons, although how i'll be able to use the foot pedals with 2 broken legs remains to be seen. I will also need to ingest a LOT of hard drugs and drink far too much beer every day ... because Egg is kind of a cross between Ozzy Osbourne and Donald Trump!
Do talk about the rest of your cast, and why exactly these people?
The cast includes the most followed alternative model in the world - Dani Divine - who plays the role of Egg's carer, although she also moonlights as a kinky fetish performer. Well-known British TV comedian/actor Joe Pasquale was a great recent addition to the cast, and we also have Pete Bennett (the UK's most popular ever Big Brother winner) who suffers from Tourettes but is a total one-of-a-kind and has been in three of my earlier movies. We also have Gavin Felvus who is Axl Rose in leading Guns n Roses tribute band Guns 2 Roses, the beautiful cosplayer Alien Queen ... and my 6'6" Great Dane Otis is in the cast and has a speaking role !!! Although how he comes to speak is currently a trade secret haha.
You're currently running a fundraiser for Dirty Tuppence - so what can you tell us about your campaign?
The Kickstarter campaign is to hopefully cover all of the production costs as well as allowing us to make the special effect gore and splatter scenes as impressive as possible. Perks include DVDs of the movie with limited edition X-rated cover designs, the chance to visit one of the movie locations and meet all the cast and crew, selfies with star-in-the-making Otis the Great Dane, different t-shirt designs, tickets to the movie premiere and there's even the chance to be IN the movie and be killed in a particularly gruesome way. And uniquely we have a perk purely for seven particular A-list actors to become part of the cast haha.
http://www.kickstarter.com/projects/787464403/dirty-tuppence-the-movie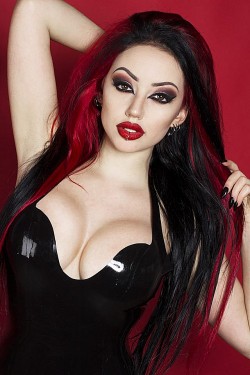 Dani Divine
Once the funds are raised, what's the schedule? And however tentatively, any ideas when and where Dirty Tuppence will be released?
We have already shot three small scenes for Dirty Tuppence when we took advantage of me being a special guest at Europe's biggest Comic Con in London and filmed some footage with some of the cast during the actual convention. But the bulk of the movie is planned to be shot in London during February 2018. If all goes to plan we hope the movie will be ready for release in July 2018 - and although we already have a worldwide DVD/download distribution deal on the table, we are hoping to sign a deal that will see the movie have a cinema run.
Any future projects beyond Dirty Tuppence?
I don't currently have any projects in the pipeline beyond Dirty Tuppence (although I do have a couple of completed scripts), but on November 13 my fourth movie Coulrophobia is released in the UK (and in the rest of the world in Feb 2018) - that one is about a group of roller derby girls who go camping in the remote wilderness, only to be abducted and by a family of on-the-run dangerous circus performers - it's been described as "disturbing".
What got you into filmmaking in the first place, and did you receive any formal training on the subject?
I have never had any formal training in film-making but I have read dozens and dozens of books on the subject, watched many YouTube videos and more than anything else ... I have been actively making films for the last ten years. As well as having been a writer and performer since I was twelve years old.
What can you tell us about your filmwork prior to Dirty Tuppence?
My five previous movies to date are the trashy comedy horrors Zombie Women of Satan 1 & 2, the feature length mockumentary Clown Panic, the aforementioned Coulrophobia, and in December 2018 the first part of my 150minute documentary all about latex clothing, design and the models who wear it is released around the world. All my movies have global distribution deals with a variety of different company's.
Quite a few of your films are of the horror variety - is that a genre particularly dear to you, and why (not)?
I've loved horror movies since I was a kid and used to get terrified watching the likes of American Werewolf in London, Evil Dead, The Shining, Last House on the Left etc etc. I've never stopped watching horror either and it is such an exciting genre to make films in because there are no particular boundaries like there are in the other much more boring styles such as romance, drama or action.
How would you describe yourself as a director?
Free-wheeling and easy-going who knows what he wants and isn't afraid to make sure he gets it.
Filmmakers who inspire you?
Charlie Chaplin, Rob Zombie, Christopher Nolan, Terry Gilliam, MJ Dixon [MJ Dixon interview - click here] and Russ Meyer.
Your/your movie's website, Facebook, Kickstarter, whatever else?
http://www.kickstarter.com/projects/787464403/dirty-tuppence-the-movie

Feeling lucky ?
Want to
search
any of my partnershops yourself
for more, better results ?

The links below
will take you
just there!!!


Anything else you're dying to mention and I have merely forgotten to ask?
My CV includes being Europe's longest serving male burlesque performer, a stand-up comedian for 7 years, promoter and DJ at the monthly Grindhouse Rock Night in Newcastle (England), director of the Newcastle Gateshead Comedy Festival for 3 years and I wrote a published text adventure game for the ZX Spectrum in 1984 !!
Thanks for the interview!
And thanks everybody for reading - and please don't forget to help funding the film via Kickstarter: http://www.kickstarter.com/projects/787464403/dirty-tuppence-the-movie