Your new movie Sarah's Dream - in a few words, what is it about?
Sarah's Dream is a short film about a troubled and rebellious teenager who is haunted by the same recurring dream night after night. The situation becomes desperate when the voice of her dead ex-boyfriend joins the dream and won't "let go".
How did the project come into being in the first place?
Well now this is an interesting question!!! Writer Wynn Reichert [Wynn Reichert interview - click here] and I were on a commercial set working as actors and we got a little bored in the holding area. I had a screenplay I wanted to direct for this year's festival season, but it was going to cost too much money to get into production soon enough. So, we laughingly came up with a simple horror comedy concept that we could do for little to no money utilizing locations we already had. (my house and the surrounding land) Wynn took the idea and ran with it writing the screenplay in just a few days. Things got a little complicated when I decided that it was a good idea to cut my thumb off with my table saw the day after the commercial. But, the show must go on of course, so we lined up the cast and got the project ready to shoot in 12 days.
What can you tell us about your collaboration with Sarah's Dream's writer Wynn Reichert [Wynn Reichert interview - click here]?
Wynn and I seem to have a similar dark sense of humor. As actors we are often paired up on set so I guess it only makes sense that we would work well together producing film. We tend to play really well off of each other on set so our scenes together seem to take on a life far outside the realm of the original screenplay. I think this is the first time we did not have a scene together come to think of it!
Do talk about Sarah's Dream's approach to horror, and is that at all a genre you're personally fond of, and why (not)?
I am a big fan of dark comedy or horror comedy. I think adding humor to an otherwise dark subject just ups the enjoyment of the story. Nothing like an uncomfortable laugh at something you really know you should not find funny!!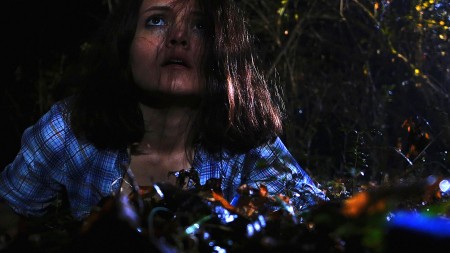 Bailey Ingersoll
At least for me, Sarah's Dream also features quite a bit of irony - would you at all agree?
Well I certainly I glad you caught that. The only "straight" character is Sarah (played by Bailey Ingersoll). The other characters are a mess of awkward and over the top comedic stereotypes. It was a conscious choice to portray the secondary characters comedic. It really was written to be played either way. I think choosing to take it a bit over the top adds a little charm to the film!!
What can you tell us about your overall directorial approach to your story at hand?
Every project is so different!! For this one it was about managing our time and resources. With such a small cast and crew you have to wear multiple hats. You have to trust the talented people you hired do their jobs without having to micro manage too much. We did do a little pre-production planning and had the shots pretty much lined up beforehand. As for the cast, I feel like you hire the right person for the role and trust the writing to speak through them. There are always those sweet improvisational moments that seem to sing in the edit. If you let your actors feel the role and allow them some breathing room you will get those juicy moments.
Because I was doing the edit on this I was able to really form the story that I saw when I read the script. It can be tough doing multiple jobs on set and in post but at the same time you are not stuck waiting on someone else to find time to work on your project. I find the more jobs I learn in post, the better. The more I can do the more I am able to ensure the final look and sound of the film is what I really wanted.
You also appear in front of the camera in Sarah's Dream as Sarah's mother - now what did you draw on to bring your character to life, and how much Wendy Keeling can we find in her?
I think I pulled from my very best "church lady" role to bring Claire to life. She is a very judgmental and hateful mother. Loved playing her!!! To be honest she is probably a little more of an "anti-Wendy" character. At least I hope so!!!! You may notice that my character doesn't use her left hand much. That was because I had a huge bandage covering the masterful series of stitches keeping my thumb intact. Hopefully it was not too noticeable!
Do talk about the rest of your cast, and why exactly these people?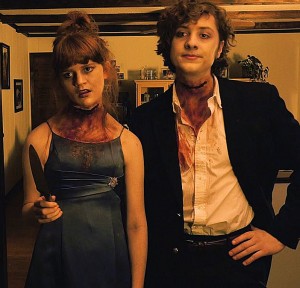 Allison Shrum, Sam Brooks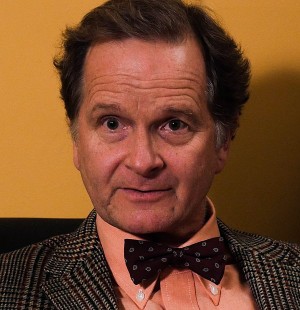 Wynn Reichert
Bailey and I played mother and daughter recently in the horror anthology 10/31 in the short segment called Killing the Dance directed by John Holt. I knew that I wanted to work with her and when this project came up she was my first call. Of course, Wynn and I had to put in our cameos. The addition of actors Sam Brooks and Allison Shrum was a welcome surprise. I had never worked with either of them. It seems to be more difficult to find 20 something actors with experience and the ability to roll with the punches of comedic timing. They both had good reels and came highly recommended by people I love working with so it was an easy choice. I was not disappointed as this dynamic duo really added the cherry to the top of our demented little story.
A few words about the shoot as such, and the on-set atmosphere?
Oh lord!!! Due to the timing of the shoot (just before Christmas) and the limited budget, it was tough getting the crew together. It ended up being myself, DP Nolan Uebelhor, Thomas Benton Wolf doing multiple jobs, and my poor husband running the generator for the night shoots. Thus the 4 Man Band reference.
Nolan came on with the recommendation of a fellow filmmaker. He and I had not worked together before so it was us pretty much rolling with the punches getting to know each other on set. Thomas and I have worked together many times and I know he will always jump in head first. We had a couple of brilliant ladies on makeup for this. Pamela Hawk and Elizabeth Wolf pulled off some really stunning makeup effects for us!
As you probably know, with indie film there always seem to be unforeseen challenges that arise during production. Unfortunately, we experienced a last minute cancellation by our sound guy the day we had dialogue to record. I have very little nice to say about this person as it put a bit crunch on our production and cost us hours on set and in post!! However, our little cast and crew were very supportive and flexible. Due to their professionalism we managed to pull through the shoot to come up with a gem of a short film.
I also have to send out huge thanks to our composer Landon Knoblock for his amazing work with the music on this film. He truly got my twisted sense of humor and brought it to the tone of the music. Joshua Suhy did a great job with the sound design and foley creating the mood of things and I owe many favors to the talented John Billings for working magic with the dialogue edit!
The $64 question of course, where can your movie be seen?
Can I have that $64?? Just kidding. Well not really, we really need $$ for festival submissions!! Seriously though, we are just starting to submit to film festivals now. Our first screening is at one of my favorites, The Bare Bones Independent Film Festival. This one is definitely a fest to attend as a filmmaker or if you just want to meet a bunch of eccentric filmmaker in their natural environment.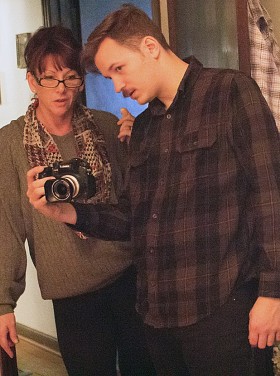 Wendy with DP Nolan Uebelhor
Anything you can tell us about audience and critical reception of Sarah's Dream?
Well the limited amount of people that I have showed the edit to have had some good things to say but we have not screened to the public yet. I am hopeful that we will continue to be a crowd pleaser on the festival circuit.
Any future projects you'd like to share?
I am in pre production for a feature that I will be directing this fall called Medicine Show Blues written by the talented Jeffrey Howe. There has also been some talk about creating an anthology feature from some of our horror comedy shorts which would be very cool!! I am still hoping to get the funding together for my short film Clown College to produce that this year. In addition, I am always looking for interesting roles as an actor. For some reason people seem to forget that I am an actor first. I am very excited about my roles in the soon to be released features Madhouse Mecca, where I work alongside movie legend David Keith directed by Leonard Warner, and Yesterday, directed by Willie Robbins where I play a stressed talent manager. Also, I am awaiting the release of the horror feature Don't Run directed by Ben Rood where I play a quirky mom. There are a couple projects potentially coming up but I am not able to announce them yet. I think that is a good start to 2018!!
Your/your movie's website, Facebook, whatever else?
I need to plug our fundraiser a bit! We are still raising funds for film festival submissions. No amount is too small to make a difference and you will have your name added to the credits. Larger contributions will receive producer credits in the film and on IMDb. Click this link to learn more:
Please also check us out on social media. Every LIKE/FOLLOW helps!
https://www.facebook.com/SarahsDreamfilm/
https://twitter.com/SarahsDreamfilm
https://www.facebook.com/WendyKeelingactor/
https://www.instagram.com/wkkeeling/

Feeling lucky ?
Want to
search
any of my partnershops yourself
for more, better results ?

The links below
will take you
just there!!!


Anything else you're dying to mention and I have merely forgotten to ask?
I just want to thank everyone that had a hand in helping with this film!! It is a huge compliment when people take time out of their lives to work on a project that basically just pays them with food! It truly takes a collaborative group to make films work and we really had that on this one. I am very proud of what we were able to pull of on a zero dollar budget and can't wait for everyone to see it up on the big screen!
Thanks for the interview!
Thank you so much for the interview!! I truly appreciate you supporting us struggling filmmakers trying to get our work out to the masses! Big hugs and kisses in your general direction!!