Your new movie Tennessee Gothic - in a few words, what is it about, and what can you tell us about your character?
Tennessee Gothic is about a couple of good oleí country boys (Paw and Caleb) who stumble upon a foreign bloody and beaten up girl. They bring her on to their farm to nurse her back to health and then strange occurrences begin to occur. They donít really understand until itís too late. And then all hell breaks loose. I play Caleb Taggot, a lonely boy trying to understand what being a man would be like, while still wanting to find love and lust all at the same time.
What did you draw upon to bring your character to life, and honestly, how much William Ryan Watson can we find in Caleb?
Iím originally from East Tennessee and my family comes from humble beginnings. Farm life and poverty are literally one generation away. My father and family fought hard to brighten my future. It was exciting and interesting to go back in time, in a sense, to understand where I come from and make peace with a lot of the old ways. To talk to me today, you wouldnít know I come from such amazing hardworking, heartland people. I cherish my family and this Southern way of life very much. I wanted to make sure I wasnít poking fun at this lifestyle but to embody it completely and realistically. There is a tremendous amount of Ryan that couldíve been, and that was exciting and freeing. I feel closer to my family, their past, present, and future.
How did you get involved with the project in the first place?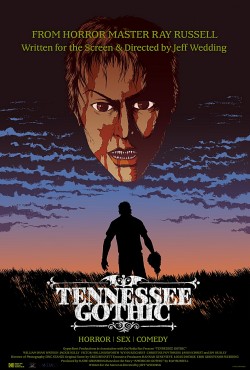 So, this is a long story. I auditioned for Tennessee Gothic with long hair (to my shoulders) and about 10-15 lbs heavier. I was growing my hair out for the first time and lifting a lot of weights. Needless to say, this wasnít the look Jeff and Katie were going for. So, a couple of months later, I see our producer Katie Groshong on a project we were both working on. I asked how the hunt was going for Caleb as I assumed I hadnít been picked. She said they were having trouble. I let her know how much I identified with this character and how much Iíd be interested in meeting with the director if she/he would be open to it. She told me how my hair was too long and I looked too ďbodybuilderĒ big for the role. I told her I could lose weight and cut my hair if necessaryÖ basically anything that they want. So, that scored me another reading in front of Jeff Wedding. I was super excited! I immediately slowed the workouts down and began to lose weight. I met with Jeff a week or so after Katie and Iís encounter. He apparently loved my reading and told me he was interested but didnít want me to have to cut my hair or anything before they were sure. So, I took it upon myself to cut my hair and continued to lose weight. The next time they saw me, I was 15 lbs lighter and I had already cut my hair to prove to them I wanted the role. The rest is history.
To what extent can you identify with Tennessee Gothic's particular brand of "Southern horror"?
I love horror, I love sex, I love comedy, and I love the South. What else is there to sayÖ?
Do talk about your director Jeff Wedding, and what was your collaboration like?
First of all, Jeff Wedding is a Pussy with a capital P. HAHA! I kid. Heíll get that joke and thatís all that matters. Jeff is the kindest, loving and nurturing director Iíve ever been around. He made everything feel safe and I consider this guy my big brother. Iím an only child so that says more than most will understand. I love Jeff, thatís all there is to it.
What can you tell us about the shoot as such, and the on-set atmosphere?
The set was like working with a bunch of old friends. Previously, I didnít really know anyone on set except Katie, and sheís always been great. We lived, ate and breathed farm life in Viola, TN. We got to sleep in an abandoned church on air mattresses. We woke up in the morning, walked outside and drank coffee looking at cornfields. I became super close with Harry Walker, who if you look on IMDb, does it all (camera, sound, marketing, production manager, producer... you name it!). He and I would regularly drink beers and smoke cigarettes by the campfire each night reminiscing on the daysí shoot. The atmosphere on Tennessee Gothic is something I will always cherish and always look back on something I wish I could stop in time, just to live a little bit longer.
Any future projects you'd like to share?
Yes! I am currently in a series called The Alley. My friends Jeffrey Brant and Cory Holland wrote this amazing pilot that we are pitching to some amazing streaming platforms that everyone knows and loves. Jeffrey Brant flawlessly directs a present-day millennial bowling dramedy that weíve been missing in our generation since The Big Lebowski and Kingpin.
What got you into acting in the first place, and did you receive any formal training on the subject?
I was a pretty animated child, however in public, morbidly shy. I saw The Mask when I was a kid and thatís all I ever wanted to do. Jim Carrey is God. Ha! However, after not really taking the leap to fail or succeed at acting I found a family at Nashville Acting Studio under the amazing Caroline Loccoriere. She brought me out of my shell, gave me structure, and helped me understand my true acting potential.
What can you tell us about your filmwork prior to Tennessee Gothic?
Iíve worked on numerous independent projects, as well as some big-budget items here and there. Tennessee Gothic is by far what I am most proud of. If youíre interested, Iím on IMDb and Instagram under William Ryan Watson ;)
How would you describe yourself as an actor, and some of your techniques to bring your characters to life?
I think Iím kind of a wild actor. I pull from all aspects of my life and the things Iíve learned and absorbed throughout. I definitely am a study of people, their emotions and how they react to certain situations. The only formal training that I have had is at Nashville Acting Studio. I just want to live on camera and on film as if no one was watching.
Actors (and indeed actresses) who inspire you?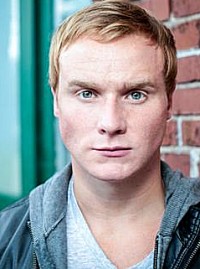 Feeling lucky ?
Want to
search
any of my partnershops yourself
for more, better results ?

The links below
will take you
just there!!!


Too many to mention, but Jack Nicholson's career is what I'd like mine to resemble with a sprinkling of Heath Ledger and Shia LaBeouf.
Your favourite movies?
Too many to name, but in this situation, The Shining comes to mind.
... and of course, films you really deplore?
No, not really. I'll watch anything even if it's bad. I can find something to learn with anything I watch.
Your website, Facebook, whatever else?
Instagram: @williamryanwatso
Iím on Facebook as Ryan Watson & on IMDb as William Ryan Watson.
Anything else you're dying to mention and I have merely forgotten to ask?
I'm going to get mushy.
I just want to thank all my friends and family from the bottom of my heart (especially my fiancee Emily Vandewalker and my parents Linda Watson & Jack Wood as well as my father Harry Watson & cousin Jenny Watson) for supporting me and all of my endeavors. Giving yourself away in any kind of art form is a huge endeavor for a person mentally/physically. Everyone I worked with on Tennessee Gothic are all beautiful people inside & out. Thereís so much heart and soul in this film that itís impossible to put into words. We hit some sort of magic on the set of Tennessee Gothic and no one understands that better than our cast and crew family. We became family for a month, and thatís something Iíll always cherish and remember for the rest of my short life.
So, thank you from the bottom of my heart. If youíve had a chance to watch it, if youíve been meaning to, and even if you never get around to it. Just know the likes, the love and all the silly stuff that comes with making a movie doesnít go unnoticed and itís truly appreciated. This will be a memory and a time in my life that is never forgotten.
Thanks for the interview!