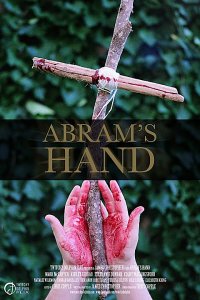 A group of college students (Mark McCarver, Ashley Serrao, Stephanie Dunbar, Colby Wallingsford, Natalie Wilemon, Benjamin Jabe, Terissa Kelton) who know each other from high school, decide to make a field trip together with guide Stan (Conrad Gonzales), just to reconnect - but the whole trip seems to be ill-conceived right from the beginning, as while most of the kids moved away from their hometown New Eden and have, ummm, loosened up considerably, Zach (Mark McCarver) has "studied" under his father, a conservative reverend on the outside who's really a Christian hate preacher who re-interprets the bible however he pleases and even condones murder under certain circumstances - and Zach believes every word he has taught him. But that's only the root of the problems, now add to that that Zach's own sister Miriam (Ashley Serrao) is a lesbian, which Zach only learns during the trip, and Zach's secret love Mary (Stephanie Dunbar) is not only engaged to Jesse (Colby Wallingsford), they even have premarital sex before Zach's very eyes. And when one of the other girls, Leia (Terissa Kelton) then seduces Zach, something snaps inside him.
Leia is found murdered a short time later, but everybody suspects Stan - who did try to rape her after she was done with Zach -, and when a short time later Leia's actual boyfriend Zeke (Benjamin Jabe) is found murdered as well, one can't be sure who the killer might be any more, wannabe alpha male Jesse, Stan (whose tainted past is soon revealedI) - or even confused biblethumper Zach. Just one thing's for sure: Our friends are lost in the woods, and whoever it is who's killing the others, he's brutal ...
At first glance, this might seem like your typical slasher, but on closer inspection, Abram's Hand actually has a lot to say about organized religion gone wild, about trying to force one's own moral set onto someone else/society, about religious extremism of any sort. Of course, this is not your brainheavy message flick but still a movie with gruesome murders (though much of the gore happens off-screen), a busload of suspense and tension, pretty girls chased through forests and whatever else you'd expect from the genre - and all of this is pretty well-made, too. It's just more than just another killer in another mask running through another set killing another girl, there are actually serious undercurrents in this one.
Pretty good, actually.