Hot Picks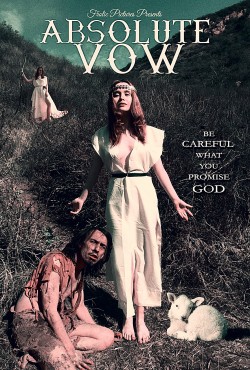 1,000 BC: Jephthah (Art Roberts) promised to sacrifice his virgin daughter (Parker Love Bowling) to God if God helps him usurp some neighbouring tribes - which God does. And the girl, who's pious and chaste as can be, is happy to submit to his father's wish, but asks to be granted to wander the mountains for 60 days with her best friends (Kansas Bowling, Meg Dick, Daphne Fisher, Dannah Hooper, Marley Uribe, Sierra Renfro) to do some proper pre-sacrificial mourning. But this retreat into the mountains is not as frictionless as our heroine might have wished, as her friends don't want her to die, think her unconditional faith is foolish, try to make her find happiness (even in carnal sin) before her untimely death, and ultimately leave her behind when her piousness becomes too overbearing. Also, our virgin meets many a character that make her question her path, including a demon (Aaron Berjohn), an angel (Dawna Lee Heising), a prophet (Aki Aleong), a magician (Lloyd Kaufman), even Christ the Redeemer (Troy Alexander) for 10 centuries in her future, and, more profanely, a shepherd (Kalvin Madsen) she kind of falls in love with (and vice versa). But will any of these encounters bring this story to a happier ending than was predestined?
This movie is very probably the most unusual entry into the rather unusual filmography of exploitation filmmaker Jared Masters, as it is an actual bible adaptation (Judges, 11:29-39), recounting, and pardon me for saying so, one of the more cruel bible stories that doesn't shed too favourable a light on God himself. And Masters isn't one to sugar-coat the story at all, instead he gives his own interpretation of it, which despite using many a page of your typical exploitation filmmaker's book (yep, there's sex and violence in this film ... just like in the bible in fact), does come across as intelligent, even thoughtful.
From a stylistical point of view, it certainly shows that this movie was made on a low budget, as it was shot almost 100% outdoors with no actual "sets", just what mother nature provides, and using almost exclusively natural light ... but that's part of the film's charm, as in refusing all the pomp that usually comes with bible adaptations, one gets a more intimate insight into the story at hand. Weirdly enough, this also puts Absolute Vow in line with low budget bible adaptations from decades ago made mostly by local churches for local distribution ... which adds sort of an extra charm to things.
Definitely an unusual movie, but definitely worth watching, especially if one's not into bible adaptations as such.